The Trip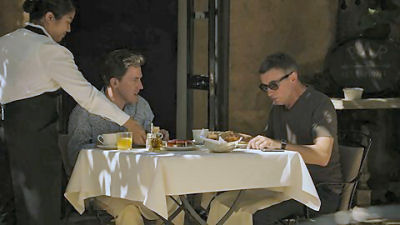 #1 - Hotel Locarno, Rome
Season 2 - Episode 4
Rob Brydon and Steve Coogan are having breakfast at their hotel when Rob tells Steve that he has an audition for a lead part in a film. Steve is genuinely shocked and jealous. Rob asks Steve to put him on tape, and has already persuaded the attractive receptionist to read with him. With Alanis Morissette playing on the car stereo, they make their way to the next hotel to meet Steve's assistant Emma and the photographer Yolanda. They head to the Keats-Shelley memorial and have lunch at Ristorante Oliver Glowig.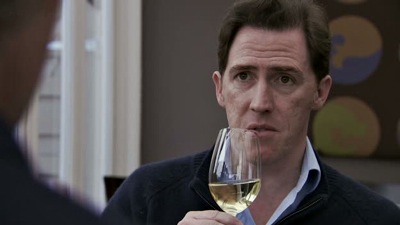 #2 - L'Enclume 8.20
Season 1 - Episode 2
Steve and Rob enjoy a taster menu at L'Enclume in Cartmel.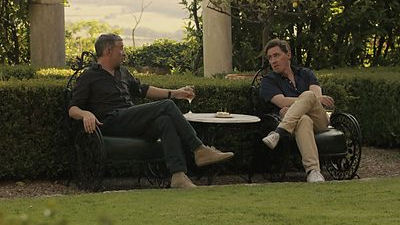 #3 - La Suvera, Pievescola
Season 2 - Episode 3
Steve and Rob visit Viareggio in Tuscany where Shelley's body was washed ashore, then have lunch at Trattoria Albana. Rob later gets a call from his agent saying that he needs to record himself on tape for a potential part in a film.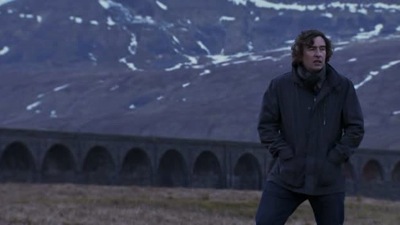 #4 - Hipping Hall
Season 1 - Episode 4
Steve and Rob visit Hipping Hall near Kirkby Lonsdale as they continue their culinary tour of the north of England, reviewing restaurants for a Sunday newspaper.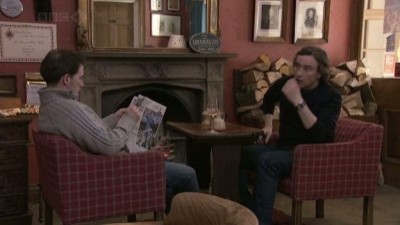 #5 - The Inn at Whitewell
Season 1 - Episode 1
When Steve is commissioned by the food supplement of a Sunday newspaper to review half a dozen restaurants, he decides to mix work with pleasure and plans a trip around the north of England with his food loving American girlfriend. But when his girlfriend decides to leave him and return to the States, Steve is faced with a week of meals for one, not quite the trip he had in mind. Reluctantly, he calls Rob, the only person he can think of who will be available. Rob, never one to turn down a free lunch (let alone six) agrees, and together they set off for a culinary adventure. Over the course of six meals at six different restaurants in and around the Lake District, Lancashire and the Yorkshire Dales, this ultimate odd couple find themselves debating the big questions of life over a series of culinary delights. Their first stop is the Inn at Whitewell in the beautiful Trough of Bowland.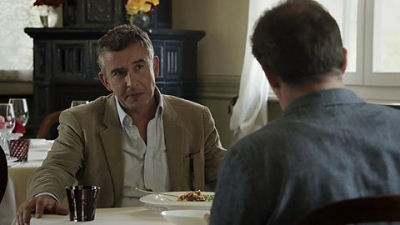 #6 - Il Cenobio dei Dogi, Camogli 8.06
Season 2 - Episode 1
Rob Brydon and Steve Coogan are asked by The Observer to do another series of restaurant reviews. The pair have six meals in six different places on a road trip around Italy. They begin in Piemonte at the Trattoria Della Posta before stopping at Byron's house in Genova on their way to the Cenobio dei Dogi in Camogli. Steve is on hiatus from his American series and isn't drinking, while Rob is looking to unwind during his time away from his young family.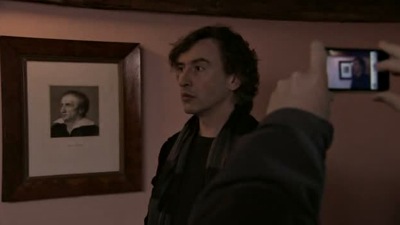 #7 - Holbeck Ghyll
Season 1 - Episode 3
Steve and Rob stay at Coleridge's old home, Greta Hall, in Keswick. They visit Dove Cottage and lunch at Holbeck Ghyll.
#8 - The Yorke Arms 8.00
Season 1 - Episode 5
Steve and Rob visit the world-famous Malham limestone pavement and eat at the Yorke Arms, as they continue their culinary tour of the north of England, reviewing restaurants for a Sunday newspaper.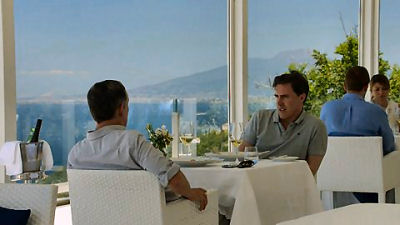 #9 - Villa Cimbrone, Ravello 7.97
Season 2 - Episode 5
Steve and Rob visit Pompeii and then have lunch at Relais Blu on the Sorrento coast, overlooking the isle of Capri. They then visit their next restaurant, where Michael Buble is the talking point. Continuing their journey in the car they head towards the next hotel where Rob receives a call from his agent telling him that he has got the part in the movie he auditioned for. After visiting another restaurant and doing more impersonations, the two of them head back to their rooms and Rob calls his wife wanting to tell her about his news - but she's too busy to talk and he doesn't get a chance to let her know. Steve calls his son Joe, who says he wants to join him in Italy.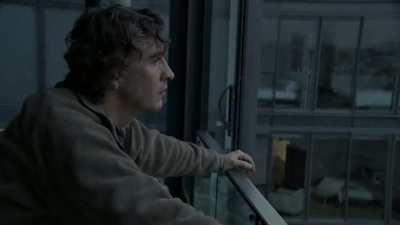 #10 - The Angel at Hetton 7.95
Season 1 - Episode 6
Steve and Rob visit Bolton Abbey and breakfast at The Angel at Hetton. On their way back home to London they stop off at Steve's parents' house.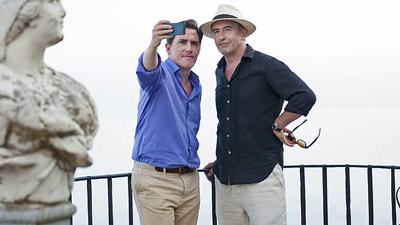 #11 - Da Giovanni, San Fruttuoso 7.95
Season 2 - Episode 2
Rob and Steve go on a boat trip, stopping off at the poet Shelley's house for a photo before continuing their journey and arriving at another restaurant. Rob goes for a walk on the beach with the woman running the excursion and asks how she ended up working on a boat in Italy, and confesses he is missing his young daughter.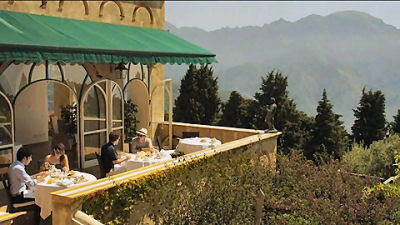 #12 - Il Riccio, Capri 7.84
Season 2 - Episode 6
Steve breaks the news to Rob that Joe is coming out to Italy - and it means that they will have to miss out Sicily. Rob is gutted but Steve says that Emma has organised a place for them to go on the island of Capri instead. Steve and Rob arrive at the cemetery where they are meeting Emma and Joe and all four of them get the ferry to Capri, where they arrive at another restaurant. During dinner, Joe reveals that Steve cried at the Mamma Mia film, prompting a Pierce Brosnan impression and setting Steve and Rob off on a round of further James Bond impressions. Rob reveals that he has got the part in the film he auditioned for. The next day, Rob and Emma go for a meal together while Steve and Joe go for a swim in the sea. Rob reveals to Emma that he slept with Lucy from the boat trip and asks for advice on whether he should go back to her. Following their swim, Steve tells Joe that he is going to buy a house closer to him - and that he is more than welcome to stay with him if he wants. The sun sets on Rob and Steve's journey as they both consider a different way of living.