The Red Green Show
#1 - The Big Inboard
Season 1 - Episode 1
The men at the lodge build a huge outboard motor out of a V8 engine. Red demonstrates the belt sander. Harold discusses sex education and Bill teaches canoeing.
#2 - The Not-Chicken Franchise
Season 5 - Episode 22
"Women enjoy good food done well; Men enjoy fast food done cheap." Red and Harold promote the new restaurant in town. Red makes a neon sign on Handyman Corner. Adventures With Bill features soccer.
#3 - The Beef Project
Season 4 - Episode 1
Junior Singleton inherits a cow from one of the local farmers, and the men of the Possum Lodge offer to butcher it for him.
#4 - Red's Hot Sauce
Season 14 - Episode 1
Special Guest – Colin Mochrie Red used a carpet roll on a forklift to paint a barn. Red creates his own spicy barbecue sauce that turns out to be made partly of jet fuel so he turns it into a gasoline additive. Red puts a refrigerator door on a house as a way to get teenagers to come home on time Harold presents a new segment called Hobby House featuring a local hobbyist who makes things out of hot dogs. Bill and Walter play with crossbows.
#5 - The Elvis Sighting
Season 1 - Episode 2
Elvis is sighted near Possum Lake. Red shows a youngster how to run a model airplane. A visit with Doug Franklin and his monster truck. Bill toboggans on garbage containers.
#6 - Doc's Loan
Season 2 - Episode 2
Doc owes money to Helmut who is big and strong and upset. Red shows you how to make a homemade lathe. Bill demonstrates water safety.
#7 - Car Pool
Season 3 - Episode 2
Red tries to start a car pool as an excuse to buy a 12 passenger van but the men only like to ride in their own vehicles. Harold gives some valuable tips on bully proofing, Bills has some new techniques for cutting down trees and Red makes an intercom out of old toilets. Featured Members: Glen Brackston, the world's laziest marina owner and Dougie Franklin the monster truck guy. Featured Expert: Hap Shaughnessy reveals some personal experience with explosives.
#8 - Rules of Engagement
Season 15 - Episode 1
Harold has broken up with Bonnie so Red tries to make him feel better by pairing up with him for a white water race in a two-man kayak Red made from washing machines. Bill and Winston get injured trying out a batting cage. Red makes his car pothole-proof. Mike tries to guess the word 'mistakes' in the Word Game. Red demonstrates a way to drive with no hands, and a trick to help you find your car keys.
#9 - Harold's Job
Season 9 - Episode 1
A major change in the show as Harold leaves the Lodge and moves to the city to take a job as Assistant Account Executive at Multi-Corp International Inc. This makes room for several new features that will be introduced throughout the season, the first of which is Ranger Gord¹s Animated Educational Films ­ this week's topic : Tree Holes. On Handyman Corner, Red demonstrates how to clean out your car with a garbage truck.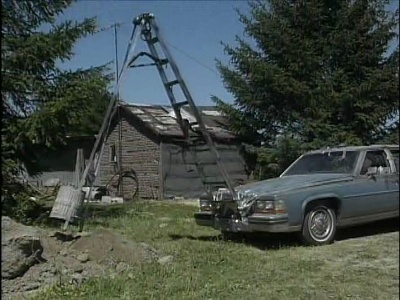 #10 - House Moving
Season 8 - Episode 2
Red and the guys try to move an old building by balancing it on pick up trucks. Bill discovers a correlation between ladders and gravity. Red turns a Cadillac into a backhoe. Special Guest - Graham Greene.
#11 - Sausage Envy
Season 10 - Episode 2
The boys do their wurst for the Possum Lake Sausage Carnival. Red meets with the network programmer - an 18 year-old woman played by Stephanie Beard of Toronto's KISS FM. Red makes popcorn in a clothes dryer, converts a hot water tank into a snowmobile, and uses his dog to wash his car. George Buza plays the lazy owner of the Port Asbestos Marina. Dalton locks the keys in his car and has to blow the doors off to get them.
#12 - The Drive-Thru
Season 13 - Episode 2
A delivery truck full of burgers flips over and turns the Lodge into a Drive Thru. Red makes a futuristic hybrid gas electric car out of two golf carts and a couple of satellite dishes. Harold has an adventure in a Lumberjack Contest. Red invents a way to iron your pants while you're wearing them and Ranger Gord presents an educational public service announcement. Red has a handy bathroom tip that involves a cordless drill and a small umbrella. Cast: Steve Smith, Patrick McKenna, Bob Bainborough, Wayne Robson, Jerry Schaefer, Jeff Lumby, Joel Harris, Rick Green, Peter Keleghan.
#13 - Missing
Season 2 - Episode 3
Someone has stolen Eddie's collection of Robert Goulet records. Red turns a water tank into a one-man sub. Bill accidentally ignites the ground.
#14 - The UFO
Season 1 - Episode 3
The men claim to have seen a UFO. Red refinishes a chair with a bunch of hairdryers. Bill uses jumper cables to build a campfire.
#15 - The Spawning Grounds
Season 3 - Episode 3
The Lodge backhoe rolled into Possum Lake and the men find out they can get government money if they use it as a shelter for fingerlings. Meanwhile, Harold starts his own news network. Bill demonstrates downhill skiing and Red makes the world's most complete too belt, the Super Duper Tool a Rama. Featured Members: Bob Stuyvesant, the golfing civil servant and Dougie Franklin, the Monster Truck guy. Featured Expert: Hap Shaughnessy describes the taste of dinosaur meat.
#16 - Gladiator
Season 11 - Episode 2
The Town of Possum Lake is staging a live version of the movie Gladiator with Dalton Humphrey (Bob Bainborough) in the lead role. Meanwhile Red demonstrates how to change a flat tire without stopping and how to fish with a musket. Mike builds a sailboat that runs on land. Harold drops in to advise a married viewer who has fallen hopelessly in love with Queen Elizabeth.
#17 - The Folk Art Convention
Season 15 - Episode 2
Red feels that the Lodge can make money by making objects of folk art and selling them at the local convention. Red drastically increases the horsepower of his car by using a toilet as a carburetor. Bill, Winston and Dalton have a three-man ATV race. Ed Frid goes for the word 'fuzzy' in the Word Game. Glen Brackston brings his slot cars to Harold's Hobby House. Red uses an extension ladder to pick up a heavy bench and makes a dolly out of beer bottles.
#18 - Sedgwick The Tenant
Season 6 - Episode 2
Old Man Sedgwick moves into the Lodge causing Red and Harold considerable aggravation. Red turns a car into a fire truck. Bill does his circus Flying Walenda act. Albert Schultz guest stars.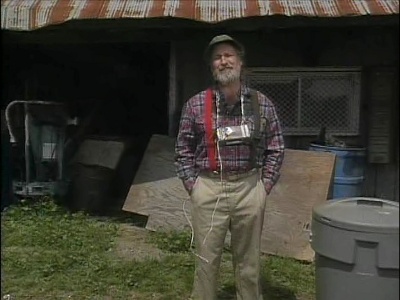 #19 - Neither Rain Nor Sleet
Season 8 - Episode 3
Red starts his own postal system. Bill demos the rifle range. Red makes a heart pacemaker out of a digital clock. Mike Hammer shares a trick for high school reunions.
#20 - Lady In Red
Season 9 - Episode 3
A beautiful young chiropractor goes into business in Possum Lake and creates more kinks than she removes. Red builds a forklift using a pair of skis and an extension ladder. The men turn the challenge of putting up a flagpole into a major adventure. Red visits Harold at work and crashes his computer. In a new feature, Red and Ed help Dalton convince his wife to watch action movies.
#21 - Foster Child
Season 10 - Episode 3
Red learns that the Lodge has a foster child who's coming to spend the weekend with him. Red demonstrates a fun way to take out the garbage and builds a revolving restaurant out of a dining tent. Ranger Gord presents an educational cartoon on cloud factories. Also featured is a biography of the first man in the Possum Lake area to put zippers into men's pants.
#22 - Once More To The Well
Season 14 - Episode 3
The well runs dry in Possum Lodge and Harold suggests that they should hook up to the town's water main; Walter and Harold milk cows; Winston goes on a blind date.; Red talks about younger people being smarter than him; Red makes a lure that make it look that that you have big fish and he builds his version of a fancy European mid-engine sports car.
#23 - School Demo
Season 13 - Episode 3
The men of Possum Lodge get to tear down the local Public School and have deep emotional reactions. Red converts an old car into a yard clock. All of the steaks go missing in a barbecue adventure. Red has a way to get more gas out of the tank using an enema bottle and a whoopee cushion. Red also has a handy tip explaining how to get two cars into the same parking spot. Cast: Steve Smith, Patrick McKenna, Bob Bainborough, Wayne Robson, Jeff Lumby, Joel Harris, Rick Green.
#24 - The Treasure Hunt
Season 1 - Episode 4
The men go on a treasure hunt. Red build a beer cooler out of a toilet tank. Bill demonstrates snow-shoeing. Hap Shaughnessy stretches the truth about his rubber farm.
#25 - The Receipt-A-Thon
Season 2 - Episode 4
The Lodge is being audited so everybody is busy forging receipts. Red makes a personal safety air bag. Bill has trouble with a Hammock.