The Practice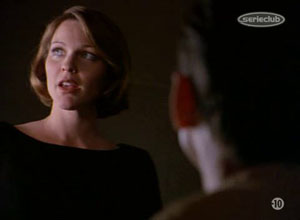 #1 - Mr. Hinks Goes to Town 9.33
Season 5 - Episode 8
Lindsay defends a psychiatric patient who claims to be a serial killer. His psychiatrist claims he's only a disturbed individual looking for a little notoriety.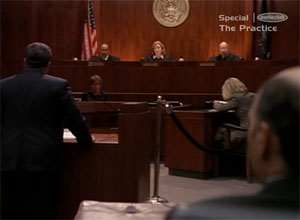 #2 - Liberty Bells (2) 9.24
Season 4 - Episode 20
Ellenor continues the Donovan case, following up on the various leads to exonerate her client.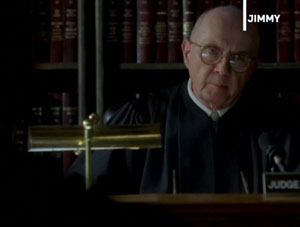 #3 - The Verdict 9.08
Season 6 - Episode 23
Lindsay stands trial for shooting Lawrence O'Malley, who became obsessed with her after her firm defended him in his murder trial.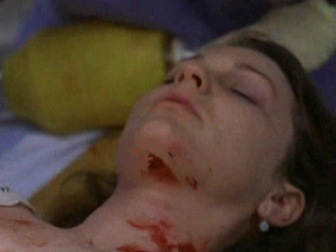 #4 - Happily Ever After 9.00
Season 3 - Episode 23
Lindsay is stabbed by an unknown assailant wearing a nun's outfit during a late night at the office. Lindsay manages to utter the word 'nun' to Bobby before she passes out. Based on the information, Helen drags nuns into the courthouse for interrogation, reasoning that a nun upset over Michael (the nun killer) Kingston's acquittal may have committed the crime. Jimmy finds a photo of Lindsay with her image defaced in Judge Kittleson's office, bring a fleet of police to her home. Other suspects include Kingston himself and Joey Heric.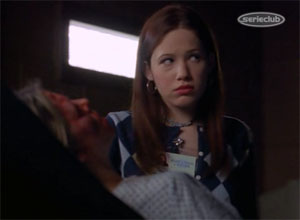 #5 - The Thin Line 9.00
Season 5 - Episode 13
Tensions at the firm are at an all-time high when Bobby is tried for the murder of William Hinks. Bobby is acquitted, though there is little to celebrate when a mysterious cassette recorder is sent to the office. Lucy and Rebecca hear Hinks' voice on the recorder, just before it triggers an explosion.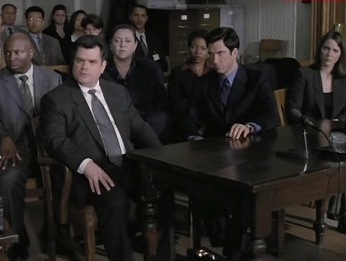 #6 - Love and Honor 8.93
Season 3 - Episode 10
Jimmy takes on Tommy Silva as he battles for the firm's future. He's forced to make unpopular decisions when both Ellenor and Eugene are ineffective witnesses.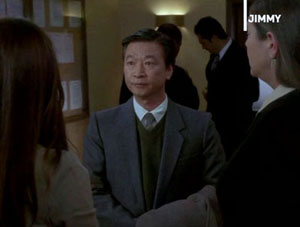 #7 - Equal Justice 8.91
Season 8 - Episode 10
Alan Shore uses unorthodox tactics when he's appointed by the court to defend a young man accused of murder. Meanwhile, Tara must try her first case when she's thrown into covering Shore's previously scheduled client.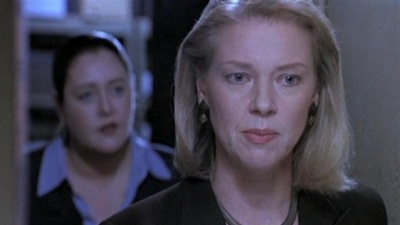 #8 - Cloudy with a Chance of Membranes (2) 8.88
Season 2 - Episode 20
The saga of Dr. Jeffery Winslow continues. Bobby uses every trick in the book to keep Dr. Winslow out of jail.
#9 - Life Sentence 8.88
Season 4 - Episode 22
Ellenor defends a deaf woman who shot and killed the man who allegedly murdered her young daughter. The client's crime is captured on video in front of dozens of witnesses, leaving no doubt as to who committed the act. The only to way to exonerate the client is to manipulate the jury's heartstrings. Meanwhile Lindsay learns that Bobby hates weddings and decides to spring a surprise elopement.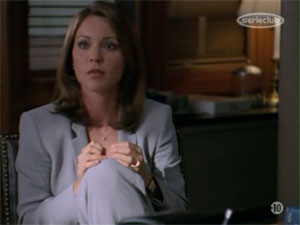 #10 - Loser's Keepers 8.87
Season 4 - Episode 3
Tensions flare when the 'male nun' starts infiltrating the office. Ellenor buys a gun for protection. Rebecca suspects that a wealthy man has bought a client's guilty plea.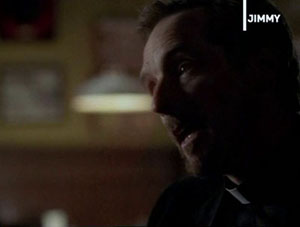 #11 - Pre-Trial Blues (2) 8.85
Season 8 - Episode 14
An ongoing, sensational murder case besets Shore with pre-trial anxieties centering on jury selection; a hostile judge; a priest's confession; and suspicions of malpractice that involve a manipulative witness for the prosecution.
#12 - Evil-Doers 8.83
Season 6 - Episode 21
An accused rapist and his identical twin muddy a trial; the Hannibal Lecter copycat continues to terrify Lindsay during a commitment hearing.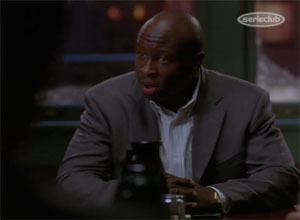 #13 - Payback 8.81
Season 5 - Episode 12
Bobby is arrested for conspiring to murder serial killer William Hinks. The entire firm, with Eugene at the helm, must now rally to defend him. Meanwhile, Rebecca discovers foul play in the wrongful death suit of a friend's husband.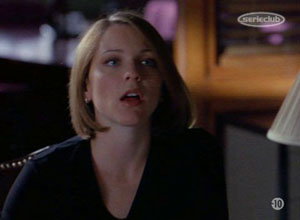 #14 - An Early Frost 8.80
Season 5 - Episode 11
After Scott Wallace kills his friend, Jimmy becomes a witness for the prosecution. Bobby, meanwhile, is still defending Wallace. Lindsay is convinced that serial killer William Hinks has claimed another victim, and fears for her own life. To protect her, Bobby takes matters into his own hands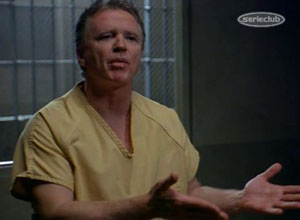 #15 - What Child is This? 8.80
Season 5 - Episode 17
Bobby and Jimmy employ the firm's notorious ""Plan B"" strategy in a last-ditch effort to save a client accused of raping and murdering his teen-aged stepdaughter. Bobby makes a case that the client's wife is actually the murderer, and the accused client is declared not guilty. Meanwhile, Ellenor goes into labor with only a panicky Helen Gamble there to assist her.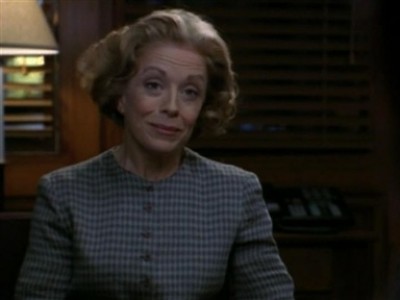 #16 - End Games 8.73
Season 3 - Episode 16
The office is thrown into turmoil when Ellenor's client Leonard Sowers rushes through the door with policemen giving chase and throws a bag of heroin onto her desk. Ellenor is arrested for possession of the heroin. A proximity search of her desk turns up a bloodied knife which turns out to be the weapon used to murder Susan Robins. The firm is dealt a surprise when Dickie Flood charges Ellenor with first degree murder. Lindsay & Ellenor bury the hatchet when Lindsay takes over her defense. The police, hoping to make another case for the murder, arrest George Vogelman for concealing a murder weapon and perjury. Meanwhile, Bobby defends Judge Kittleson when she's sued by a former clerk claiming sexual harassment. Jimmy is mesmerized by Judge Kittleson's frank sexual discussion.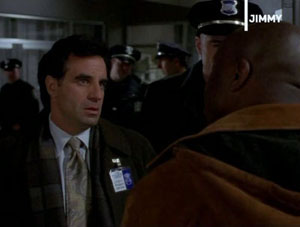 #17 - Police State 8.73
Season 8 - Episode 11
When the police torture a man they believe shot one of their own, Eugene, barely able to contain his emotion, takes the lead in seeking justice.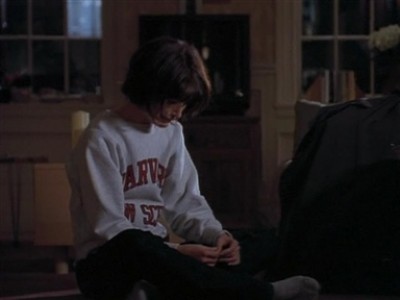 #18 - Closet Justice 8.73
Season 3 - Episode 19
Judge Hiller assigns Lindsay the repugnant task of defending nun-killer Michael Kingston. Lindsay discovers that the police search that found the body was unconstitutional and, against all her morals, moves that Kingston be released. Helen delivers an impassioned argument, stating that the constitution was designed to protect the innocent, a category that doesn't include Kingston. In the end, Judge Hiller has no choice but to strike the body from evidence and dismiss the charges. Meanwhile, Jimmy and Rebecca defend a man on solicitation charges, claiming that the undercover officer aroused the man, then announced she was a prostitute. Jimmy and Judge Kittleson arrange a private meeting.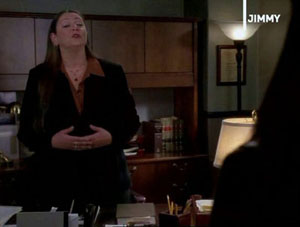 #19 - The Case Against Alan Shore (3) 8.71
Season 8 - Episode 18
Eugene and his firm stand against Alan Shore and his ""new"" firm. The entire episode revolves around Eugene, Ellenor, and Jimmy testifing that Alan doesn't deserve the amount of money Alan proposed. Can Ellenor really testify against her friend? How will Alan go against his old firm?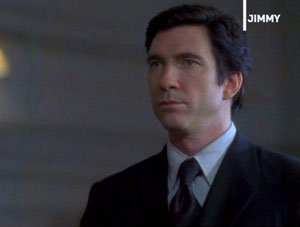 #20 - The Good Fight 8.70
Season 7 - Episode 9
A cop-killing case rattles Bobby, whose anemic defense of an unsavory client leads Helen to suspect that he's "tanking the trial"; a drug bust raises search-and-seizure issues.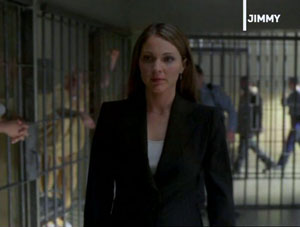 #21 - Silent Partners 8.70
Season 7 - Episode 10
Bobby has been benched due to his erratic behavior, so Eugene must take his place as lead counsel in a controversial murder case. Meanwhile Lindsay defends a killer, against her own better judgement, and Jamie is placed in a compromising situation involving a judge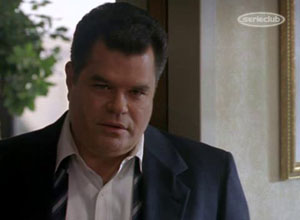 #22 - Hammerhead Sharks (2) 8.70
Season 4 - Episode 13
Dennis Mills maintains his innocence. The firm continues the trial, striving against all odds to exonerate Mills.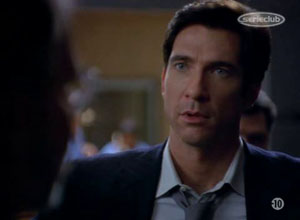 #23 - The Day After (1) 8.69
Season 5 - Episode 14
Unconscious and in critical need of blood, Rebecca's fate is left to a higher power when her mother refuses to allow a transfusion because of the family's religious beliefs. Bobby is awestruck when Lindsay gives birth to their son a month early. courtesy of ABC.com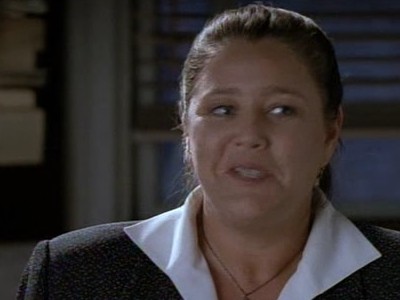 #24 - Part IV 8.69
Season 1 - Episode 4
SYNOPSIS OF FOURTH EPISODE This episode was filled with high drama and gritty action: certainly not just another average day in the life of ""The Practice."" It saw the culmination of the tobacco case and the bloody collapse of the Ronald Martin homicide prosecution. You had the opportunity to see the attorneys in ""The Practice"" function together in their effort to prepare Lindsay for the Opening Statement of her life. Never mind that it happened to be her first jury trial. There may never be anything like it again. David vs. the tobacco Goliath. A task which is nearly impossible. As the trial loomed, you saw Lindsay suffer all of the pressure cascading around her. And although it appeared she would buckle, in the end, she pulled it out. And when the trial finally began, Lindsay's opening was phenomenal. Great television. In summarizing what the Plaintiffs were prepared to do, Lindsay fully used her opportunity to lay out the health case against tobacco companies everywhere. As it tur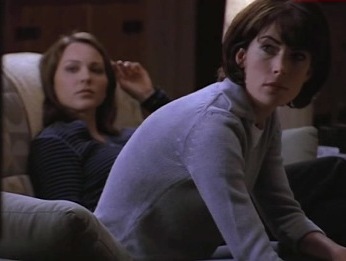 #25 - Home Invasions 8.69
Season 3 - Episode 20
Lucy is stunned to learn her landlord has planted video cameras in her apartment and is uploading sensitive videos featuring her onto the Internet. Judge Kittleson is outraged when she finds details of her private life on the 'net, including photos of her and Jimmy. Helen recruits Ellenor to advise a witness when he announces plans to change his story, clearing his father of charges of murdering his mother.