The Originals
#1 - From a Cradle to a Grave 8.75
Season 1 - Episode 22
As the baby's due date draws near, Klaus and Elijah embark on a search for Hayley, while Hayley herself is determined to do whatever it takes to keep her unborn baby safe and away from the witches. Francesca takes a meeting with Oliver and Jackson to determine the future of the werewolves in New Orleans. In the aftermath of a surprising attack on Marcel and his vampires at the compound, Davina and Cami join resources to take down Klaus. Finally, in a desperate move to protect those most important to him, Klaus makes a heartbreaking decision.
#2 - The Battle of New Orleans 8.49
Season 1 - Episode 21
Klaus and Elijah enact a plan to collect the sacred stones needed by Genevieve in order to forever change the fates of Hayley and the werewolf community. Realizing that Klaus' plan will lead to the extermination of all French Quarter vampires, Marcel rallies an army determined to take down the Mikaelsons and regain control of the city. Davina warns Josh to leave town as she is forced to make a fateful decision that will turn the tide of war. Meanwhile, Francesca threatens Cami, who attempts to decipher a code that results in a surprising revelation among the city's factions.
#3 - The Bloody Crown 8.42
Season 3 - Episode 22
After months of thwarting off dangerous threats and deadly attacks, the Mikaelson siblings finally come face to face with the one person that could lead to their ultimate demise. With the stakes higher than ever and the compound overrun by an army of his oldest sworn enemies, Klaus is put on trial for centuries of atrocities he's committed. Meanwhile, Marcel, who has been spiraling out of control following an act of betrayal by those closest to him, is stunned by the unexpected arrival of someone from his past. Finally, Elijah, Freya and Kol frantically search for a way to save their family before it's too late.
#4 - Ashes To Ashes 8.32
Season 2 - Episode 22
With time running out, Klaus' ultimate plan to protect baby Hope at all costs continues to take shape. As tensions between the siblings come to a head, Cami reveals a vital piece of information that causes Elijah and Rebekah to reconsider their plan of attack against Dahlia. Davina finds herself one step closer to fulfilling the promise she made to Kol, while Freya is forced to take drastic measures to protect herself against Dahlia. Elsewhere, Marcel has to put aside his fury at Klaus in order to protect himself and everyone in their sire line. Meanwhile, Vincent finds himself torn between the prospects of a magic-free life away from New Orleans and a personal obligation to protect Davina. Finally, with their risky plan in place, the Mikaelson siblings prepare for the fight of their lives.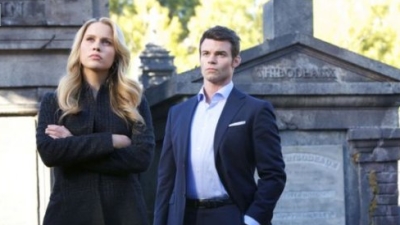 #5 - Farewell to Storyville 8.29
Season 1 - Episode 16
Despite Klaus' rage, Elijah is determined to protect Rebekah while the three of them are trapped in the City of the Dead cemetery by a witch's boundary spell. Klaus and Rebekah trade bitter accusations until Elijah steps in to reveal a long-held secret from the family's past. Meanwhile, Marcel races to free Rebekah, ultimately finding himself forced to make a deal with Genevieve. Finally, Rebekah and Hayley connect over their shared concern for Hayley's unborn baby.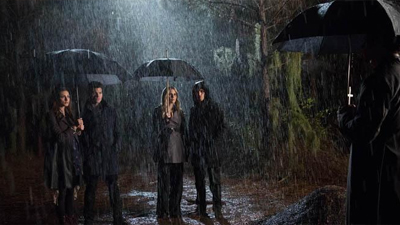 #6 - Après Moi, Le Déluge 8.29
Season 1 - Episode 11
When Davina becomes violently ill and the repercussions soon begin to affect the entire French Quarter, Marcel, Klaus, Elijah and Rebekah rush to find out what is going on. Sophie approaches the others with some startling information about the Harvest Festival and presents a drastic plan to save Davina. Elsewhere, Hayley is racked with guilt as she comes clean to Elijah about her role in Sophie's plan. Last, a sequence of unforeseen events sends shockwaves through the French Quarter.
#7 - The Devil is Damned 8.29
Season 2 - Episode 13
More dangerous than ever, Vincent remains one step ahead after joining forces with a powerful figure from his past. As the threat to Hope's life grows stronger, Klaus realizes he has no choice but to place his trust in his siblings to ensure she remains protected. Meanwhile, after being presented with an enticing proposition, Kaleb is forced to make a difficult life or death decision, and Elijah finds himself in the fight of his life after an unexpected visitor arrives at the safe house. At the bayou, Hayley and Jackson continue to prepare for the unification ritual, but things quickly go awry when they become pawns in Vincent's dangerous plan.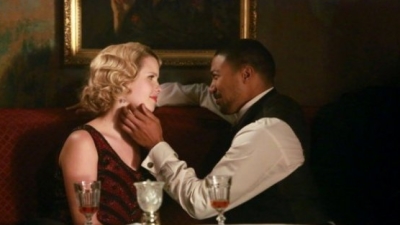 #8 - Le Grand Guignol 8.28
Season 1 - Episode 15
In a series of flashbacks to 1919, Klaus opens up to Cami and reveals details of the devastating secret Rebekah and Marcel were trying to keep from him. Elijah forms an unlikely alliance with Monique and asks for her help in locating Sabine. Elsewhere, Thierry is reluctant to get involved when Marcel and Rebekah approach him with a plan to take down the witches. Meanwhile, in the bayou, Hayley is at her wits' end and holds Sabine hostage in an attempt to get information that will reverse the curse on Phoebe's werewolf clan.
#9 - Fruit of the Poisoned Tree 8.27
Season 1 - Episode 6
When Klaus discovers Hayley's life is being threatened, he goes to extreme lengths to protect her and their unborn baby. Having a difficult time dealing with the tragic events of her past, Cami turns to Father Kieran for guidance. Feeling as though he can trust no one, Marcel visits an old friend to seek out some advice, while Davina takes steps to learn how to control her magic. Finally, Klaus delivers some surprising news to Father Kieran.
#10 - Sinners and Saints 8.27
Season 1 - Episode 5
Angered by recent events involving the safety of his unborn baby, Klaus demands answers from Sophie, believing she was involved. Sophie reveals to Klaus and Rebekah a troubling secret from her past. Meanwhile, Marcel asks Klaus to accompany him to the bayou after gruesome remains are discovered, while Rebekah, Sophie and Hayley set off on a mission of their own. Davina confides in an unexpected ally and reveals shocking information about the witches, ultimately leading to a disturbing revelation.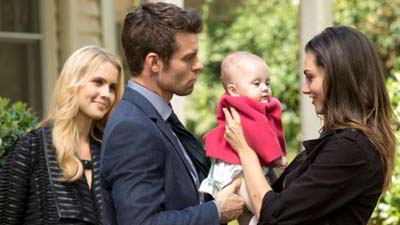 #11 - The Map of Moments 8.25
Season 2 - Episode 9
When Rebekah notices an unusual change in Elijah's behavior, she asks Klaus and Hayley to meet her at their safe house, reuniting them with baby Hope. After reliving memories of being the odd man out, Kaleb opens up to Davina about his resentment towards his siblings and sheds some light on a spell he created in 1914. Meanwhile, when Cami discovers Esther's plan will put her life in danger, she demands answers from Vincent, who remains steadfast in his convictions. Elsewhere, Esther makes an unlikely alliance that could prove dangerous for Klaus, and Hayley makes a decision that could change her relationship with Elijah forever. Lastly, while Elijah continues to struggle with the lingering effects of being captured, Rebekah and Klaus devise a plan to take their mother down once and for all.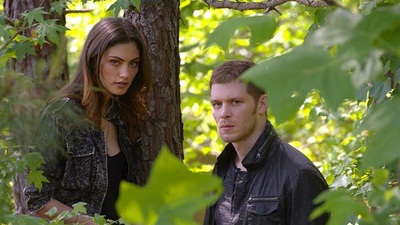 #12 - Rebirth 8.25
Season 2 - Episode 1
After months of being holed up inside his compound, Klaus enlists the help of Elijah and Marcel in plotting his revenge against the Guerrera werewolves, and vows to take down anyone who poses a threat to baby Hope's existence. Elijah watches helplessly as Hayley spirals downward while mourning the loss of her daughter and struggling to adapt to her new hybrid status. Exiled by the Guerrera werewolves, who now control the French Quarter, Marcel is still reeling over the destruction of his vampire family, and attempts to rebuild his home with the help of Josh. Elsewhere, Cami, who is attempting to regain some normalcy in her life, seeks comfort in a surprising place. Last, Davina continues her plan to use Mikael against Klaus, but gets sidetracked when she meets the mysterious, yet charming Kaleb, who holds a few secrets of his own.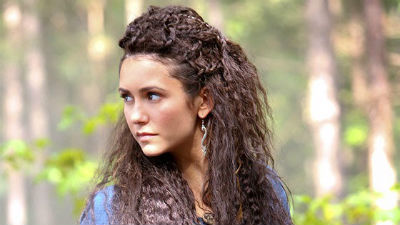 #13 - Red Door 8.24
Season 2 - Episode 5
In order to show Elijah that her plan is what's best for him, Esther forces him to relive a time long ago when he loved a young woman named Tatia. With the help of Marcel, Hayley is determined to find Elijah, who has gone missing, but is torn when she discovers that Klaus is also in trouble. Elsewhere, Cami finds herself in a dangerous situation when Mikael takes her hostage as a way to lure Klaus to him, and Davina makes an upsetting discovery about Kaleb's true identity. Lastly, a violent confrontation ensues when Klaus comes face-to-face with Mikael.
#14 - The River in Reverse 8.24
Season 1 - Episode 8
Rebekah, facing a difficult decision, turns to Father Kieran for guidance. Elijah struggles with the consequences of a recent fallout with Klaus. Hayley remains by his side but is soon drawn away by a mysterious figure who sheds some light on her past. Meanwhile, a frustrated Cami struggles to make sense of a cryptic message she's come across. Finally, when an unsuspecting Marcel uncovers some upsetting information involving Klaus, a confrontation ends in a surprising twist.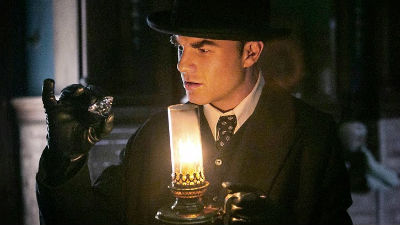 #15 - Wheel Inside the Wheel 8.22
Season 2 - Episode 6
Fed up with her antics, Klaus becomes agitated and demands that Esther release Elijah, whom she has captured. However, Esther reveals a few dark secrets from Klaus' past in an attempt to make him an offer he can't refuse. Meanwhile, Oliver ends up in a dangerous situation, prompting Hayley to reconnect with Jackson, who has been living a new life out in the bayou. Elsewhere, Cami, who still believes baby Hope's death was her fault, teams up with Marcel and Gia after she becomes suspicious of her faculty advisor Vincent. Lastly, in a surprising turn of events, Klaus comes face-to-face with a visitor from his past.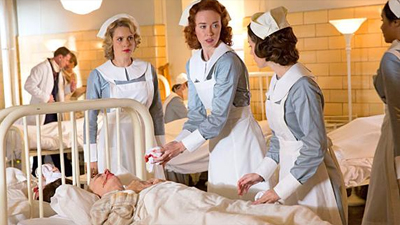 #16 - Long Way Back from Hell 8.22
Season 1 - Episode 14
When Rebekah finds herself locked up in the sanatorium where she worked in 1919, she realizes a witch named Genevieve is back to seek revenge and to reveal dark secrets that would destroy Rebekah if exposed. A distraught Elijah turns to Marcel and Hayley for help when one of his decisions puts Klaus and Rebekah's lives in danger. With time working against them, Marcel realizes he may hold valuable information that could lead them to Rebekah and Klaus, but revealing it will almost certainly result in deadly consequences.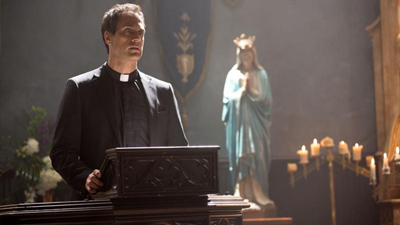 #17 - Crescent City 8.21
Season 1 - Episode 13
At the re-opening of St. Anne's Church, Father Kieran finds himself in a great deal of trouble after a run-in with a witch from his past. Marcel and Rebekah grow concerned when the reemergence of someone they once knew threatens to expose secrets they've kept buried for nearly a century. Elsewhere, Sophie is shocked when a discovery is made at the cemetery, but she soon realizes things may not be as they seem. With the full moon looming, Hayley lets Rebekah in on her plan to throw a party for her werewolf clan, but things take a dangerous turn when uninvited guests arrive. Meanwhile, Cami is conflicted when she makes a difficult decision involving the safety of Father Kieran, and Elijah finds himself facing his own dilemma when he has to choose between Hayley and his siblings. Finally, when one of his plans fails, Klaus takes drastic measures in the Cauldron, resulting in dangerous repercussions that affect everyone involved.
#18 - A Closer Walk with Thee 8.21
Season 1 - Episode 20
Hayley confronts a surprising enemy as she and her unborn baby fall into peril during a celebratory wake to honor a fallen member of the community. In order to save Hayley, Klaus and Elijah enlist the help of Genevieve who struggles to maintain control over Davina and the other young witches. Cami tells Marcel that Francesca is determined to find a mysterious key that may unlock a family secret. Meanwhile, as Klaus suffers from nightmares of his father Mikael, he is forced to examine his troubled relationship with his own adoptive son, Marcel.
#19 - No More Heartbreaks 8.21
Season 3 - Episode 19
Following a violent encounter that has left Cami's life hanging in the balance, Klaus is forced to rely on his family and allies to find a cure as he keeps a watchful eye over Cami at the compound. With time running out, Freya turns to her arsenal of spells, while Vincent and Marcel head to Cami's apartment to gather a crucial ingredient. Elsewhere, Hayley and Elijah travel to the bayou in hopes of bringing back a potential antidote that could save Cami's life. Finally, Davina confronts Lucien and learns some heartbreaking information that will change her future with Kol forever.
#20 - Girl in New Orleans 8.21
Season 1 - Episode 4
With the annual Dauphine street music festival around the corner, Davina, itching for a night out, convinces Marcel to let her attend. Marcel cautiously obliges but asks Cami to keep a watchful eye on Davina. Agnes convinces Hayley to visit a mysterious doctor in the bayou where she makes a shocking discovery. Meanwhile, Klaus takes a special interest in Cami who reveals some alarming information about her past, and a determined Rebekah is on a mission to get to the bottom of a recent strange encounter involving Elijah.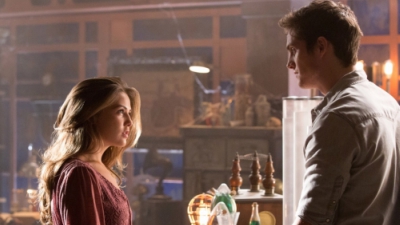 #21 - Chasing The Devil's Tail 8.20
Season 2 - Episode 7
When Klaus discovers that Elijah has been afflicted by Esther's magic, he heads to the bayou in search of an antidote, but quickly realizes he's not alone. Armed with intel gathered by Aiden, Hayley teams up with him, Marcel, Cami and Josh and launches a plan to take down Vincent by exploiting his one weakness. Meanwhile, with Esther determined to carry out her plan, Vincent and Kaleb are forced to reconsider their own strategies. Intrigued by Davina's unwavering attempts to create an unlinking spell, Kaleb lets her in on some secrets from his past and brings her to a place he frequented in 1914.
#22 - The Casket Girls 8.20
Season 1 - Episode 10
As the French Quarter prepares for its annual celebration of the Casket Girls Festival, Cami suffers through as Davina attempts to free her of Klaus' mind compulsion. Elijah and Marcel form an unlikely alliance as Klaus sets his plan in motion to get Davina back. Once it's known that Davina is missing, Sophie gets in on the hunt to track her down. Meanwhile, Hayley is forced to make a tough decision after receiving an unexpected phone call, and Rebekah sets her own plan in motion when she enlists the help of someone from Marcel's past.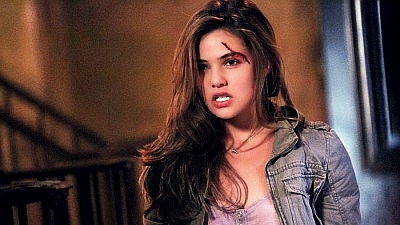 #23 - The Brothers That Care Forgot 8.19
Season 2 - Episode 8
Rebekah, who has spent months away living a normal life with baby Hope, finds herself on the run when she realizes Esther has uncovered her whereabouts. Convinced that Vincent and Kaleb would be powerful allies in his fight to take down Esther, Klaus sets a plan in motion to turn his brothers against their mother. Meanwhile, Hayley is conflicted when she and Jackson stumble upon an ancient ritual that would get their werewolf packs out from under Esther's control, but would require her to make a tremendous sacrifice. Elsewhere, Rebekah is concerned when she notices something is off with Elijah. Finally, Davina takes matters into her own hands by turning to dark magic, and Cami finds herself at the center of Esther's dangerous plan.
#24 - Fire with Fire 8.19
Season 2 - Episode 21
After discovering that he's been betrayed by his own siblings, Klaus teams up with an unlikely ally and sets off on a warpath, hell bent on revenge. Amidst the news that Klaus is on the loose, Elijah, Rebekah and Freya move forward with their plan to lure Dahlia to the compound and take her down once and for all. Meanwhile, Hayley and Jackson attempt to escape through the flooded bayou, even as Marcel finds himself hunted by a dangerous new threat. Finally, Davina is presented with an offer that could allow her the chance to bring back Kol, though it will require her to make a life-altering decision.
#25 - Give 'Em Hell Kid 8.19
Season 3 - Episode 21
After receiving new visions of the looming prophecy, Freya uncovers that her family is on a collision course with a dangerous new enemy. Meanwhile, with the help of Detective Kinney, Vincent and Kol travel to the ancestral world to put a stop to the witches and take back their city once and for all. Elsewhere, Klaus and Elijah confront Marcel after a heartbreaking plan gone wrong has sent him spiraling.