The Oblongs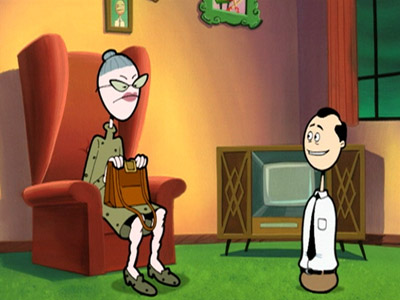 #1 - Milo Interrupted 8.33
Season 1 - Episode 3
After a disturbance in the Hills is blamed on Valley kids, the Valley's mayor appoints a child-services czar to improve parenting skills. Elsewhere, Milo learns that his freaky friend Helga has been abandoned by her parents and he is forced to spend every evening with his lonely pal. But Bob and Pickles suspect their son's late-night antics may be because he is on drugs... more than his numerous prescribed pharmaceuticals, that is. And Chip and Biff walk in on their parents at the wrong time. . .and end up having to scrub their corneas.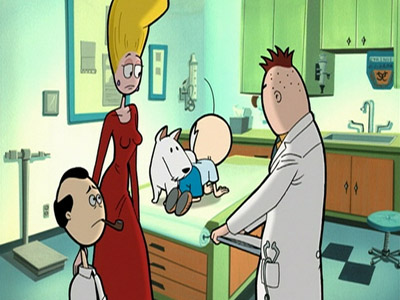 #2 - Narcoleptic Scottie 8.13
Season 1 - Episode 2
Milo soon grows attached to a stray Scottie dog the Oblongs take in, but the pet brings out the animal in the hyperactive boy, and the family gives the pooch away to Bob's boss, George, thinking he'll have a good home. But when his new owners soon tire of him, Scottie finds himself in an animal testing lab, sniffing perfume with narcoleptic side effects. So the Oblongs set out to rescue Scottie before it's too late.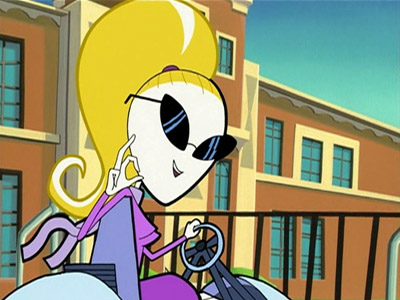 #3 - Misfit Love 7.70
Season 1 - Episode 1
Bob learns that the family may lose their medical coverage, so he urges the family to be extra careful. Milo brainstorms and realizes that if he gets hurt, he'll get to transfer out of the school for freaks, and go to "normal school" with his friends. So Helga sets out to injure him -- but there's really no need once Pickles inadvertently sends Biff and Chip to the emergency room. As a result, Milo gets to transfer to regular school, where he falls in love with Yvette, a girl who's literally out of this world.
#4 - The Golden Child
Season 1 - Episode 6
Bob fears his career is going nowhere. That is, until marketing genius Milo's sales take off for his new energy drink, "Manic," which improves Bob's co-workers' productivity. But the real secret of his success is found out when Bob's company anoints Milo as their new CEO.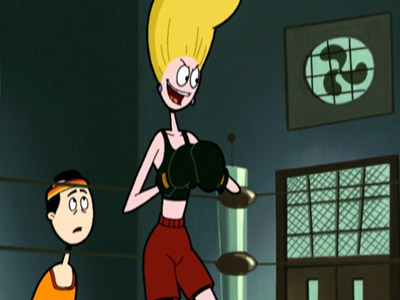 #5 - Heroine Addict 7.40
Season 1 - Episode 5
Pickles decides to quit smoking, but she replaces one addiction with another when she channels her nervous energy into becoming a reckless thrill-seeker. Her decision comes much to the dismay of Bob, who worries about her safety, and Milo, who resents her unseating him as the crazy one in the family.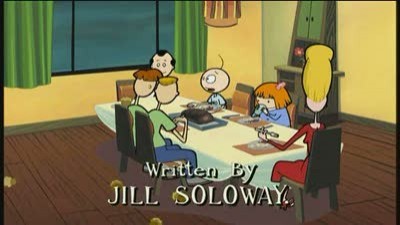 #6 - Disfigured Debbie
Season 1 - Episode 8
Milo runs for school president against Debbie Klimer, leader of the snobby Debbies, and he loses -- but then his opponent suffers a freak accident. The Klimer family fakes young Debbie's death while she goes under the plastic surgeon's knife, but the operation is less than successful and Debbie returns looking like The Phantom of the Opera. Shunned by her upscale family and friends, The Oblong clan and the valley kids take in the reject Debbie as one of their own. But when Debbie's cheerfulness starts getting on everyone's nerves, the valley kids turn to the freakish school nurse to get Debbie back with the in-crowd.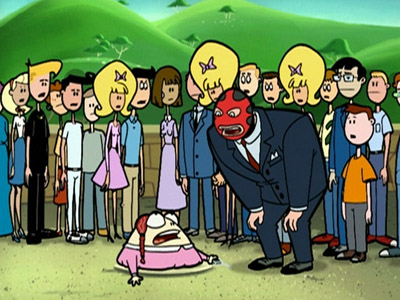 #7 - Flush, Flush, Sweet Helga 7.89
Season 1 - Episode 7
Milo and his friends crash a party thrown for the Mayor's daughter, Debbie Bledsoe, and they cause the Debbie's new locket to be tossed into the sewer. The zaftig Helga goes after the gift and gets lodged in the pipe, plugging it up like a human cork. The hill people and rescuers work feverishly to rescue... the locket, and leave Helga blocking the main water line -- just one flush away from the great beyond. Helga causes a disruption in the water supply to valley, but the hill people pay no attention -- until their water is cut off too.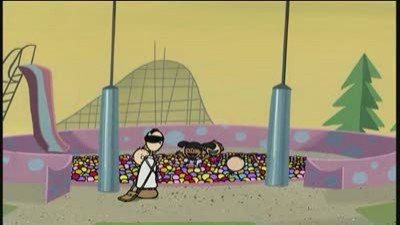 #8 - My Name is Robbie
Season 2 - Episode 4
A freak accident at a Globicide-owned amusement park leaves Bob unable to use his mouth. Out of compassion (and at the advice of their lawyers), the people at Globicide build him a robotic suit with limbs that he can use to perform his duties.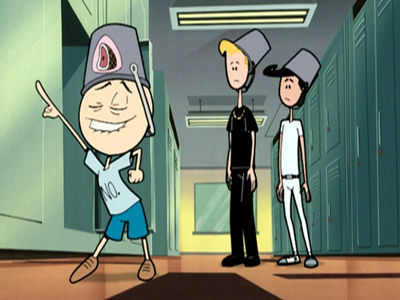 #9 - Bucketheads 8.42
Season 1 - Episode 4
To keep dry in the rain, Pickles puts a bucket on Milo's head and sends him off to school. Funzie, the cool guy, thinks Milo's bucket is hip, so the next day, everyone's wearing a bucket on their heads. Milo finds himself running with the in-crowd, so he sets out to launch a strange new line of apparel -- with disastrous results.