The Nanny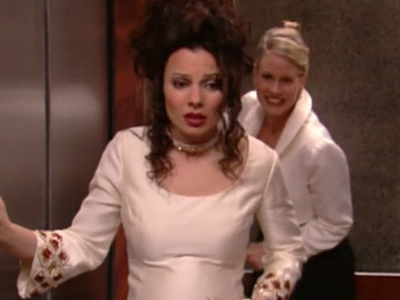 #1 - The Finale - Part 1 8.63
Season 6 - Episode 21
With the upcoming end of her pregnancy, Fran's feeling a little fat and overweight, and worries if she'll ever fit in her clothes again as she packs for the move. The Sheffields host their first anniversary party, where the entire family reunites before they move to Beverly Hills. While Fran and Max are nothing but happiness, Niles fears for his future with C.C. Once again he proposes, and once again she flees. Fran runs after her and they both get stuck in the elevator. When things can't get any worse, they get: Fran goes into labor! Maxwell and Niles finally arrive with help to get Fran and C.C. out of the elevator. The elevator repairman can't get the door open, but when C.C. says she'd be happy to marry Niles he opens it with no tools! They're all happy and ecstatic about Niles and C.C.'s engagement and forget Fran in the elevator, but Maxwell opens up the door and off to the hospital they go. To be continued...
#2 - The Dummy Twins 8.62
Season 6 - Episode 17
Ms. Babcock finds Niles's proposal pathetic and laughable. Fran tries to contour the situation and teaches Niles a better way for him to start things with Ms. Babcock – call her by her first name, or take her out to a romantic dinner. During the dinner, Niles gets nervous and proposes two more times. C.C. won't let it go and keeps rubbing it into his face, until Niles is fed up and decides to quit, for he can no longer live under such humiliating circumstances. Neither Fran nor Maxwell can do anything to make him stay, and even C.C.'s promise to let it go count for nothing. Finally, Niles tells C.C. she's pathetic and lonely, and will spend the rest of her life waiting for a man that will never come, until one day she looks back and sees she wasted her entire life. Niles storms out and C.C. realizes what he said is true. She decides to move on and quit too. At night, while fighting over some dummy twins the doctor gave Fran, she and Max go to Niles's room and find him and C.C. sleeping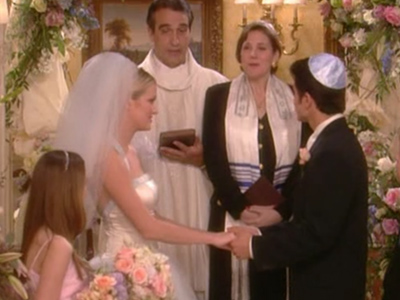 #3 - Maggie's Wedding 8.61
Season 6 - Episode 19
Michael got a modeling job in Japan, so he proposes to Maggie so they don't have to be apart. Maxwell has a hard time accepting the fact that his little daughter has grown into a mature woman, but eventually comes to terms with Michael. On the wedding day, Fran finds out Michael's cousin is James Brolin, Barbara Streisand's husband, and that Barbara herself is coming to the ceremony. Fran is in such shock for finally meeting her idol that has contractions and is rushed to the hospital. It's all a false alarm, but Fran does not want to stay in the hospital while Barbara is at her house. She sneaks out, but when she gets home there's nobody there. Max calls the house and reveals Fran he planned a little surprise for her: he took Barbara to the hospital. Fran doesn't forgive her, but the wedding goes on and Maggie finally marries the man of her life.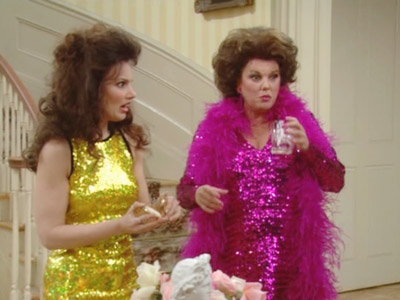 #4 - Strange Bedfellows 8.59
Season 2 - Episode 24
Fran attends the nanny retirement party for one of her friends. After drinking too much, she ends up in Mr. Sheffield's bedroom that night. The two try to determine whether or not anything happened between them.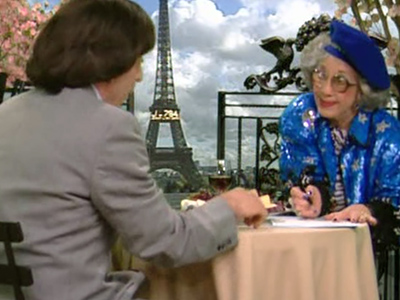 #5 - Yetta's Letters 8.58
Season 6 - Episode 18
While still shocked about finding out Niles and C.C.'s secret affair, Fran and Maxwell worry about something else: it seems like Max's biggest chance to beat Andrew Lloyd Weber at the Tonys is going to be wasted, since he can't get a decent play script and thus won't open any new shows. Fran shows him Yetta's old love letters she wrote to a waiter she met on the ship that brought her from Romania, but Maxwell doesn't think those will make a good play. The letters get accidentally sent to Andrew Lloyd Weber's office and he tries to buy the play rights for Yetta's letters, but Maxwell steps in – thanks to Sylvia's power of attorney – and opens one of the most exciting plays of the season!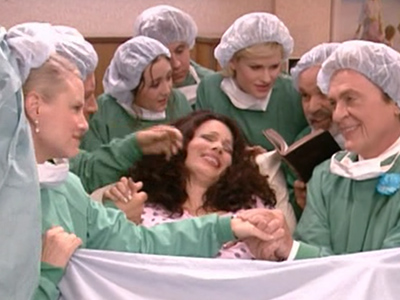 #6 - The Finale - Part 2 8.56
Season 6 - Episode 22
At the hospital, Fran is in her room and her mother and grandmother pay her a visit. ""Three generations of Fine women"", Sylvia says. Neither she nor Yetta thought they'd live to see Fran having babies. They leave and C.C. comes to talk with Fran. She's wonder why she's still sick even after saying yes to Niles. Fran's big moment comes, and Niles and C.C. decide to get married right there. The minister pronounces C.C. – Chastity Claire, that is – and Niles husband and wife. Everyone leaves and Fran finally gives birth to a twin couple: Jonah Samuel and Eve Katherine. A few days later, they all take Maggie and Brighton to the airport as they leave to Europe. It's hard for Fran saying goodbye to the children she considers being her own. But they leave. Now it's time for them to leave too – to California. Everything is packed up, and Fran's the last one to leave the house. As she walks to the door, she finds the ""Shades of the Orient"" valise she used after she was fired from Danny's bridal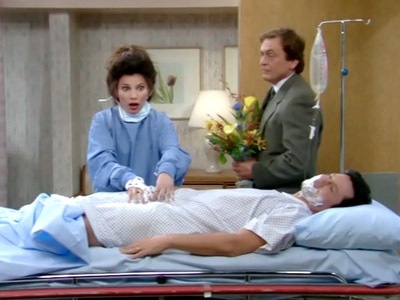 #7 - Close Shave 8.50
Season 2 - Episode 21
Fran convinces Mr. Sheffield to stop giving Maggie money and make her get a job to gain responsibility. Maggie takes a job at the hospital, and when she has a date with her boyfriend she gets Fran to cover for her. Meanwhile, C.C. is trying some new recipes for her cooking class and she is such a bad cook that Mr. Sheffield has his pains all day when he eats C.C.'s ""food"". Turns out he has to get his appendix out. A doctor mistakes Fran for a nurse and now she has to shave Mr. Sheffield. In the next morning, it all seems to be a dream to him. Until he sees Fran using the whipped cream spray...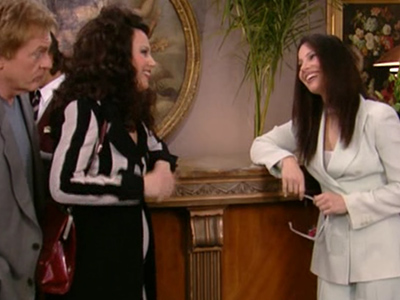 #8 - The Baby Shower 8.40
Season 6 - Episode 20
When Libby, the Chatterbox hairdresser/fortune teller, predicts Val will hook up with Fred the pharmacist and it happens, Fran worries her prediction might come true too. Libby said she saw Maxwell in bed with a leggy blonde in Beverly Hills. Coincidentally, Max has to fly to L.A. because his pilot was picked up. Fran and Niles assume the leggy blonde is Ms. Babcock and fly after them. After meeting Fran Drescher at the hotel lobby, they discover C.C. and Max changed rooms after Niles crawls up Max's bed! Turns out he's the leggy blonde! Meanwhile, Brighton has problems telling his father he doesn't want to go to Harvard and wants to take a year off instead.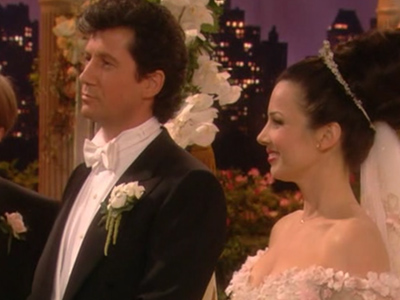 #9 - The Wedding (2) 8.38
Season 5 - Episode 23
Finally, after 5 long years, the wedding day has arrived. Fran spends her last night as a single woman at her mom's house, where Sylvia reads her a letter she wrote to Fran when Fran was born. They both cry. Just a few moments before the wedding, Maxwell's sister Jocelyn tells Fran that the social differences between she and Maxwell will ruin their marriage as it did to hers. At the ceremony, Ms. Babcock tries to give it one last shot and pretends being the bride, but it doesn't work. Fran doesn't show up at the altar, leaving everybody apprehensive about what happened to her. Sylvia goes to her dressing room and finds Fran crying on the couch. Maxwell arrives and Fran tells him that their marriage will never work and decides it will be better if they cancelled it. Max tells Fran that what happened with his sister will not happen to them, because they love each other. He tells Fran all the wonderful things she has and says he will never get bored with them. The wedding proceeds, and Fr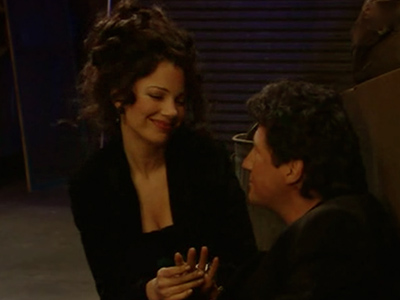 #10 - The Engagement 8.32
Season 5 - Episode 15
Fran is thrilled to tell the family that Maxwell has told her he loved her, and this time he didn't take it back! Everybody is happy for her (except for C.C.) and congratulate Fran. Maxwell reveals to Niles that he bought an engagement ring and is going to propose to Fran tonight. He, of course, can't keep a secret and tells Fran, who tells Sylvia, in a chain reaction that results in virtually everybody knowing about it. Maxwell asks Fran to invite her family over because they're having a very important dinner at the Rainbow Room and they should all be there. All the Sheffield and Fine families gather and wait for Maxwell, who never shows up. Afraid something happened to him (because she was sure he wouldn't just leave her waiting), Fran goes after him, and finds a passed out Mr. Sheffield behind the theater. He was knocked out by burglars who stole his watch and Fran's ring. Nevertheless, he proposes to Fran.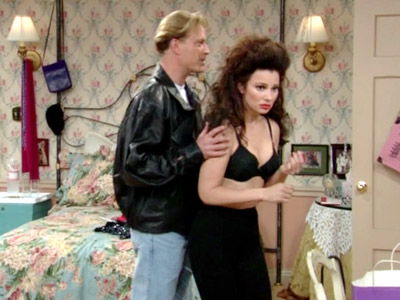 #11 - A Fine Friendship 8.31
Season 2 - Episode 19
Grace has a friend over and Fran meets his nanny. It's Kurt Jacobs, a very attractive man, who Fran treats as one of her girlfriends because she thinks he's gay. When he makes a move on her she freaks out (after all, this is a guy who's seen her without makeup on!). They still go out on a few dates, but it doesn't work out. Meanwhile, Gracie thinks she's pregnant after being late to watch The Lion King and overhearing Fran say women who are late are pregnant. And Niles tries to point out to both Fran and Mr. Sheffield how ""the last apple is only missed after it's gone"".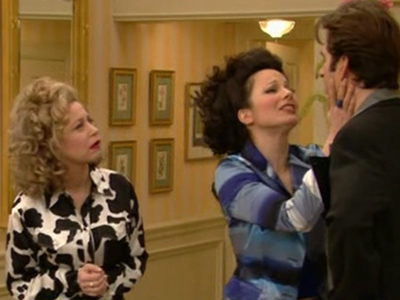 #12 - The Best Man 8.30
Season 5 - Episode 21
Maxwell's brother, Nigel, is back to throw him a bachelor party, and Fran is terrified because Maxwell doesn't know that she almost married Nigel a year and a half ago. She tries to keep it a secret, but after Nigel gets drunk at the party, he tells Maxwell, just as Fran comes out of the cake in a surprise for him (after Sylvia confessed that Morty cancelled his wedding and ran off with the cake girl - Sylvia!). Fran and Maxwell have a fight over it, and they end up calling the wedding off, until C.C. (under the influence of Prozac) tells Fran that Maxwell didn't spend 5 years ""doing the one man show"". So Fran gets Marla Maples, who had a quick fling with Maxwell a year and a half ago, and confronts Maxwell. They finally realize they love each other and call the wedding back on.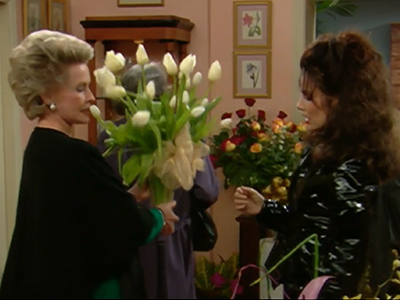 #13 - The Two Mrs. Sheffields 8.28
Season 3 - Episode 9
Fran fights with a woman over flowers at a store, but this woman turns out to be Mr. Sheffield's mother who's in town visiting! She annoys everyone in the house except for C.C., who right away tells her that Fran has her eye on Maxwell. Mrs. Sheffield tells his son to get rid of the nanny, but Maxwell proposes to Fran instead just to tease his mother. When Fran realizes the proposal isn't real, she decides to play with Mr. Sheffield and make him feel guilty for the fake proposal.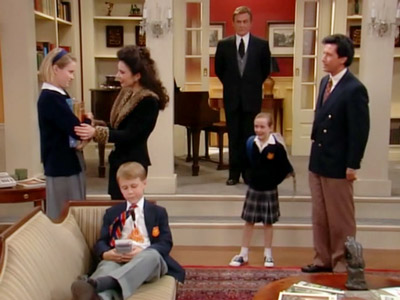 #14 - Pilot (a.k.a. The Nanny) 8.25
Season 1 - Episode 1
Fran gets a job as a nanny for the Sheffields after being fired from her job at her fiancé's bridal store.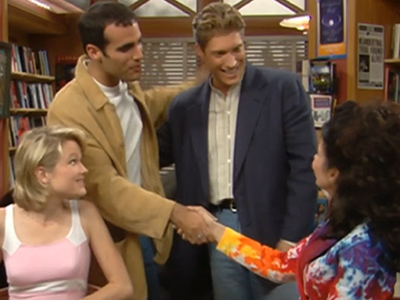 #15 - The Cradle Robbers 8.24
Season 4 - Episode 2
Mr. Sheffield is furious when he finds out Maggie is seeing a 25 year-old boy. He wants Fran to make it stop, but won't listen to her when she tells him to see a doctor for his hearing problem. Fran decides to chaperone Maggie on her (last) date with John, but she completely forgets Mr. Sheffield's orders when she meets John's gorgeous friend Mark, who is interested in Fran. Still, she has to fix Maggie's problem, so she decides to let it flow and wait until she gets tired of John, which doesn't take long to happen. Too bad it means that Fran will have to drop her 25 year-old as well. Meanwhile, C.C. misses an incredible opportunity of dinner with Max when she falls asleep (the result of a caffeine trick Niles pulled on her).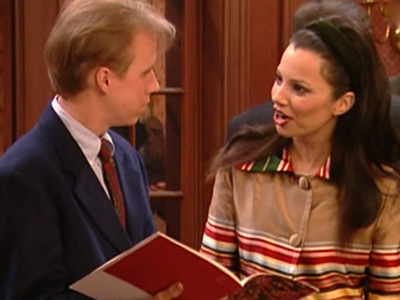 #16 - The Yummy Mummy 8.24
Season 6 - Episode 13
After Fran undergoes a sonogram, Dr. Reynolds delivers some exciting news to the proud parents-to-be. Meanwhile, Fran's feelings are hurt when Brighton goes on a tour of Ivy League universities and denies her request to accompany him. Fearing that Brighton thinks she is too stupid to meet his friends, Fran seeks advice on how to ""sound intelligent"" from Lynn Redgrave, who is visiting Maxwell to discuss a new play.
#17 - Danny's Dead and Who's Got the Will? 8.24
Season 4 - Episode 12
Danny Imperiali, Fran's former fiance, is dead. At his funeral (while comforting Danny's widow Heather Biblow), she meets a Jewish man who is ignored by his former lover's family and got nothing after he died. Afraid the same thing will happen to her, Fran stands up for herself and imposes Mr. Sheffield to do something. Afraid his grandmother (who's in town visiting), might judge him and remove him from her will, Mr. Sheffield does nothing, so Fran quits. When he realizes he might have lost Fran forever, Mr. Sheffield goes after her and takes back taking back saying he loved her.
#18 - The Ex-Niles 8.23
Season 5 - Episode 5
Fran and C.C. agree to let Dr. Joyce Brothers decide who's the better woman for Maxwell; Niles quits after he's denied a raise, a demand based on his faulty impression of Fran's salary.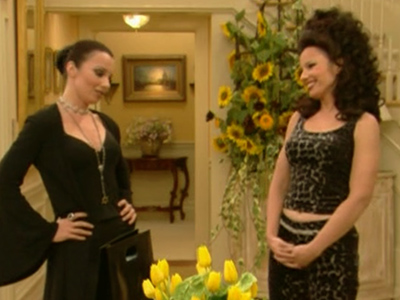 #19 - The Bobbie Fleckman Story 8.22
Season 5 - Episode 3
Fran screwed up with Elton John, and Brighton won a radio contest and the prize is that a film crew is coming to his house for a music video. When the film producers crew comes, a duplicate of Fran shows up, and Maxwell starts to fall for her. Guest star: Brian Setzer.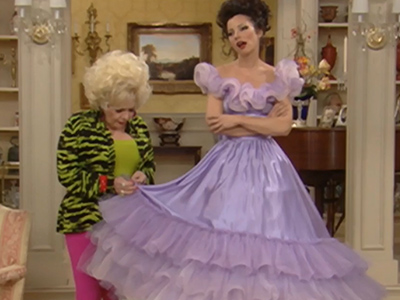 #20 - Kissing Cousins 8.21
Season 4 - Episode 13
Fran meets an incredible man at a singles bar. He's Jewish, he's a doctor, he's rich, he's everything Fran ever dreamed of in a man. But during her cousin's wedding - where she was a bridesmaid - Fran discovers that Mr. Perfect is her cousin! Seeing Fran devastated, Mr. Sheffield decides to send her to a therapist, and the therapist says Fran has an obsession about getting married. Fran decides to stop chasing men around, just to make Mr. Sheffield guilty.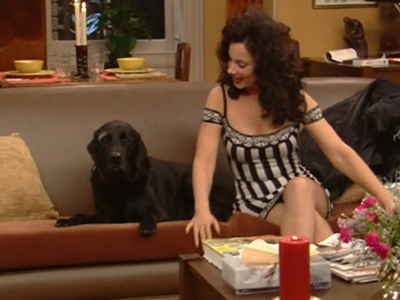 #21 - Educating Fran 8.21
Season 5 - Episode 9
Fran goes to Maggie's school to have a word with her Philosophy teacher and ends up developing a crush on him. After having to ask Maggie for her approval, Fran starts dating the gorgeous Jewish bachelor, which, of course, upsets Mr. Sheffield (who won't do anything regarding his true feelings towards Fran). Fran lies about her age to Professor Steve, and later pays the price when his astrologist tells him he should be with a woman in her mid-thirties – C.C.!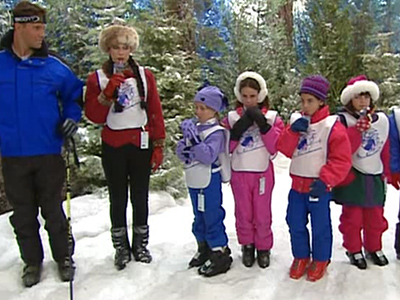 #22 - Oh, Say, Can You Ski? 8.21
Season 6 - Episode 9
Fran's obsessed about getting pregnant, so Max decides to take her up to a ski trip in Aspen to get her mind off it a little. He arranges for them to be at the First Family's table on his gala dinner, but advices Fran about all the things she's forbidden to talk about in their presence. Maxwell is the one who ends up embarrassing himself for a change. While practicing for skiing with the president, Fran and Max get lost in a cage, where they decide to ""warm"" each other. Fran catches a cold, but the pharmacy won't give her the antibiotics until they run a few tests. When the results come back, Fran discovers that she is pregnant!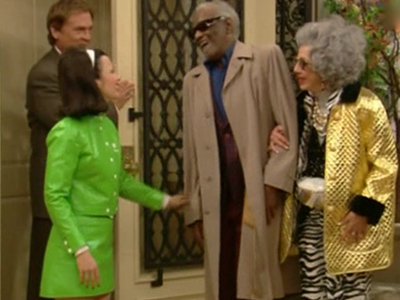 #23 - Fair Weather Fran 8.20
Season 5 - Episode 8
Upset about Yetta's upcoming wedding, Fran is advised by Dr. Miller to focus her energy on new life projects. She decides to pursue an old dream of becoming a weather girl, and thanks to Sammy, who's Bryant Gumbel uncle, Fran scores an audition for editorial commenter of Public Eye. Mr. Sheffield doesn't like the idea of Fran leaving the house, so he sets up a scheme with Gracie to convince Fran into quitting her new job. But they don't have to do that, Fran ruins her audition by herself (by mistaking gene therapy with therapeutic jeans). Meanwhile, Sylvia has problems accepting her soon-to-be stepfather.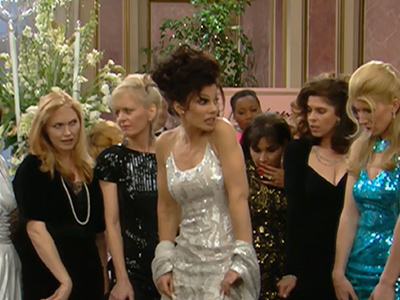 #24 - Your Feets Too Big 8.20
Season 3 - Episode 20
When Sylvia decides to have plastic surgery on her arms, the doctor tells her it's normal at a certain age for body parts to grow. Fran's feet modeling agency reunion is coming up, and Fran starts to freak out about her age and the fact that her feet have gone up a whole size. Luckily, she has Mr. Sheffield, who volunteers to escort her to the reunion.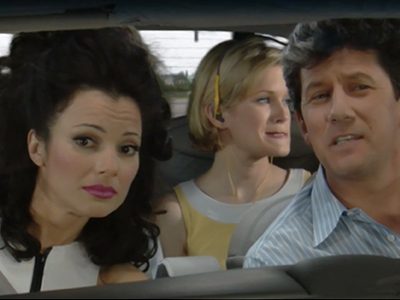 #25 - The Boca Story 8.20
Season 4 - Episode 25
Sylvia decides to invest in a condo in Boca. This much anticipated fact that should come as a blessing for Fran upsets her deeply, and Dr. Miller says it's because deep down she doesn't want her mother to leave. Mr. Sheffield thinks if he takes Fran to see the condo she'll accept the idea, and just when Fran finally realized how much peace she'd get from that, they discover there isn't any condo, only a swamp. Fran's devastated (specially when Sylvia interrupts her fantasy from coming true), but at least she won't have to separate from her mother yet. Meanwhile, Niles feels bad for being the only one of his friends who's still single.