The Muppet Show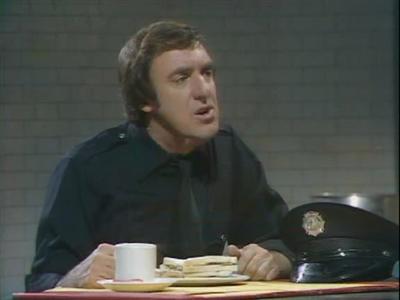 #1 - Jim Nabors 7.88
Season 1 - Episode 1
Two interesting observations about Scooter's debut. His entrance is in conflict with the Muppet Movie which shows him being the Electric Mayhem's road manager and Muppet Babies where he grows up with the other characters. While some fans lose sleep over this, this is hardly a serious contradiction as we're reminded throughout the Muppet Movie that it is just a movie, one with an alternate "history" (indeed if the films were to be taken at face value, they all contradict each other) and the Muppet Babies is also to be thought of as "just a cartoon" BASED ON the characters. The babies' Muppetized debut in Muppets Take Manhattan was part of a dream sequence. (But then there's the home movies of the Muppet Babies the Muppets watch in Muppet Family Christmas, Scooter included, but don't lose your head pondering this). This is episode 6, and Scooter's already appeared in episodes 1, 2, and 4! The first two episodes were shot before the rest as "pilots" so obviously the writers thought once the character was established that it would be fun to explain Scooter's entry. If it helps, think of this as somewhat of a "flashback" episode. A number of early episodes didn't include Scooter in them so they could be aired before this one as to not cause confusion. (Indeed, in some markets the Scooter-less Rita Moreno episode was the debut, but in others the Jim Nabors show was the second to air after the Sandy Duncan one which included Scooter. Since the Muppet Show was in syndication, meaning that episodes might air in different orders in each market, the writers probably didn't worry too much about this. Annie Sue's "debut" episode in season 3 also aired after the audience had seen her, and was also done after the character had been used. The original name for Miss Piggy was Miss Piggy Lee. This idea was quickly scrapped though the first Muppet Show Annual refers to her as such as well as a few articles around the time. The Talk Spot in this episode is the only time in the series where Piggy is addressed as "Piggy Lee".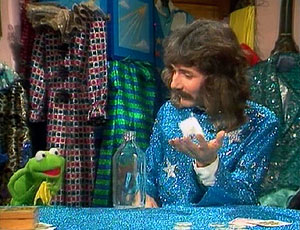 #2 - Doug Henning
Season 4 - Episode 21
Fozzie Bear tries out a magic act, pulling a rabbit from a hat. Instead, he gets a rabbi, and then a robot. He taps the hat too hard, and gets dozens of rabbits, who follow him around and call him "Daddy."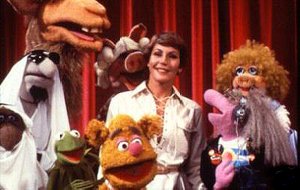 #3 - Helen Reddy 8.20
Season 3 - Episode 1
Sketches/Songs: ""Staying Alive"", ""How Can You Be"", Fozzie's dance number, ""Muppet Newsflash"", ""Beethoven's Sonata No.8, Opus 13"", ""You and Me Against the World"", ""Veterinarian's Hospital"", ""Tie Me Kangaroo Down"", ""We'll Sing in the Sunshine""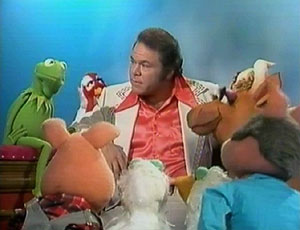 #4 - Roy Clark 8.30
Season 3 - Episode 2
Sketches/Songs: ""Rocky Top"", ""Swedish Chef"", ""Pigs In Space"", ""Yesterday When I Was Young"", ""I Don't Want to Set the World on Fire"", ""Talk Spot"", ""At the Barn-Dance"", Gonzo's Act, ""Sally Was a Good Ol' Girl""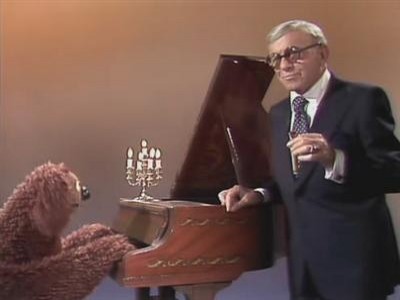 #5 - George Burns 8.64
Season 2 - Episode 1
Sketches/Songs: ""Cuento Le Gusta"", ""Train Back Home"", ""Chattanooga Choo Choo"", ""Veterinarian's Hospital"", ""Wotcher (Knocked 'Em in the Old Kent Road)"", ""I Won't Dance"", ""World's Most Powerful Explosive"", ""Medley""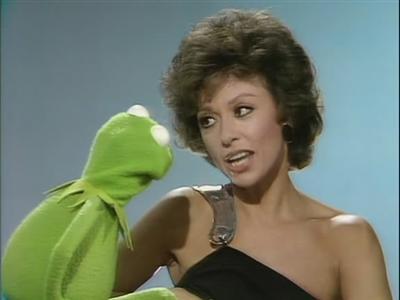 #6 - Rita Moreno 7.60
Season 1 - Episode 3
Rita Moreno won an Emmy for her performance on the show. This was a significant achievement considering this was only The Muppet Show's fifth episode. Three years later, Rita would co-host the special, "The Muppets Go Hollywood" and once again find herself trying to keep Animal under control! Frank Oz and Richard Hunt switch off performing Piggy in this episode. The only time she is not performed by Hunt is the Talk Spot. Marvin Suggs' Muppaphones, although there are many, are all voiced by Jim Henson and Jerry Nelson. This is Marvin Suggs' and the Muppaphones debut. The Conversation Panel features a rarely seen character, The Guru, who only had three minor speaking parts the whole run of the show. This character was known as Brewsters on The Muppets Valentine Show (1974), the first pilot for The Muppet Show. Sweetums' second appearance still recalls his debut from "The Frog Prince" as he keeps referring to Rita as "Nice Lady." Some names of Marvin Suggs' Muppaphones include Lucy, Bernard, and even one named Marvin! Miss Piggy's shining star is already taking off. She's in the first three onstage acts of the show as well as the discussion panel. The unseen announcer is usually performed in season one by John Lovelady though in its debut, it's done by Jerry Nelson. Jerry would do the announcer a couple more times in season one then become the regular announcer from season two onward.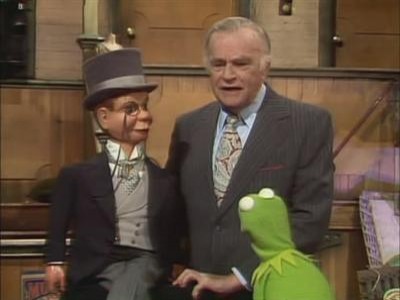 #7 - Edgar Bergen 8.57
Season 2 - Episode 3
Sketches/Songs: ""Baby Face"", ""Consider Yourself"", ""Muppet Newsflash"", Gonzo's Act, ""Pigs In Space"", ""Show Me a Rose"", Fozzie's Act, ""Time in a Bottle"", ""Down at Papa Joe's"", Edgar and Charlie perform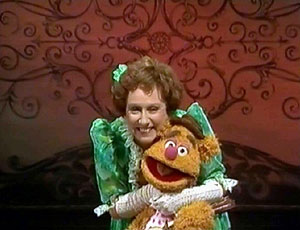 #8 - Jean Stapleton 7.57
Season 3 - Episode 3
Sketches/Songs: ""Tico Tico"", ""Play a Simple Melody"", ""At the Dance"", ""Daddy Wouldn't Buy Me a Bow-Wow"", ""Talk Spot"", ""Muppet Melodrama"", ""Muppet Labs"", ""I'm Just Wild About Harry""
#9 - Shields & Yarnell 6.00
Season 4 - Episode 3
Inspired by mimes Shields & Yarnell, Fozzie Bear works on a mime act, including "Bear walking against the wind". Kermit suggests that Fozzie find a more original act, so Fozzie tries out "Bear feeding spaghetti to an elephant" and "Bear going to a drive-in movie with a porcupine".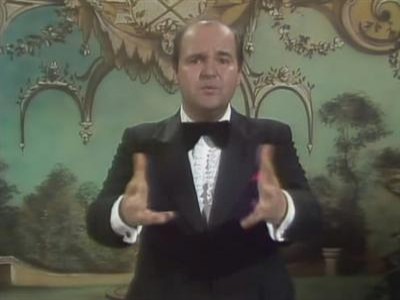 #10 - Dom DeLuise 8.83
Season 2 - Episode 4
Sketches/Songs: ""Don't Dilly Dally on the Way"", ""Merdlelidop"", ""Drum Solo by Animal"", ""Veterinarian's Hospital"", ""Henrietta's Wedding"", ""Don't Blame the Dynamite"", ""Animal Shelter"", ""We Got Us""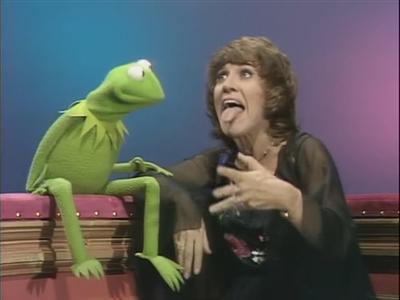 #11 - Ruth Buzzi 7.87
Season 1 - Episode 4
While Miss Piggy continues to pine for her frog, we also learn in this episode that she actually has a healthy libido in general! Throughout her career on The Muppet Show and beyond, Kermit will occupy a special place in her heart, but that doesn't stop Piggy from flirting with other men. Ruth Buzzi, in all of her sketches (talk spot in particular) demonstrates a marvelous rapport with her Muppet costars. Fourteen years later, she would become a regular cast member on "Sesame Street" playing Ruthie, the wacky owner of thrift shop Finders Keepers and breathing well-needed life into the adult characters on the show. This is Jerry Nelson's first credited episode. Ruth Buzzi was originally going to be the guest in episode one, but due to scheduling conflicts she had to appear later in the season. [In an odd moment, when Ruth starts to get tickled by the cast, a smiling Muppet Beach Ball briefly pops up into frame - though this puppet was not used anywhere else.]
#12 - Linda Lavin 7.38
Season 4 - Episode 2
Miss Piggy announces that this show is Kermit's birthday, and before he can react, she launches into the tribute she's organized. They've planned a This Is Your Life-style show with birthday greetings, including one from Mr. Dawson, Kermit's old acting coach from Leland, Mississippi. Wayne and Wanda, the singing duo from the first season, show up and give Kermit such a guilt trip that he rehires them. When they sing, Kermit remembers why he fired them in the first place.
#13 - Shirley Bassey 7.29
Season 5 - Episode 3
Kermit borrows fifty million dollars worth of gold for Shirley's closing number, "Goldfinger". Security guard Bruno is suspicious that Kermit wants to steal the gold, but keeping an eye on the frog makes him overlook a band of pig thieves, who steal all the gold as Shirley sings.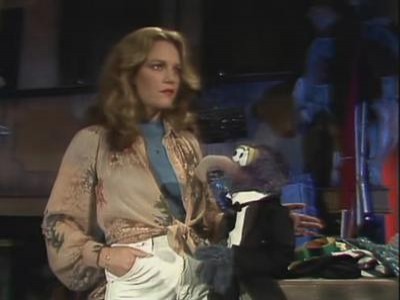 #14 - Madeline Kahn 8.31
Season 2 - Episode 2
Sketches/Songs: ""Happy Feet"", ""Feet"", ""Drum Solo by Animal"", ""Swedish Chef"", ""New York State of Mind"", ""Pigs In Space"", ""The Pig Got Up and Slowly Walked Away"", ""Sunny Day"", ""Muppet Newsflash"", ""Up and Away"", ""Wishing Song""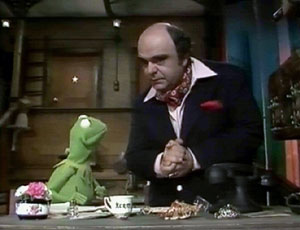 #15 - James Coco 7.86
Season 3 - Episode 4
Sketches/Songs: ""Octopus's Garden"", ""The Medium"", ""Eight Little Notes"", ""Swedish Chef"", ""Catch a Falling Star"", ""Veterinarian's Hospital"", ""Short People""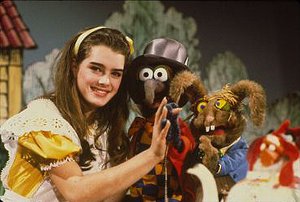 #16 - Brooke Shields 7.13
Season 5 - Episode 5
Thinking she was booked to do "The Muffin Show," Brooke finds herself growing and shrinking as the Muppets stage Alice's Adventures in Wonderland.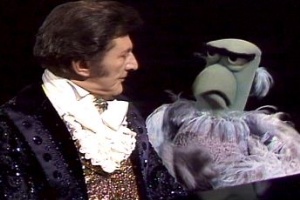 #17 - Liberace 7.33
Season 3 - Episode 5
Sketches/Songs: ""Never on Sunday"", ""Swedish Chef"", ""Veterinarian's Hospital"", ""Muppet Newsflash"", ""She Wants to Sing in Opera"", ""Liberace bird concert""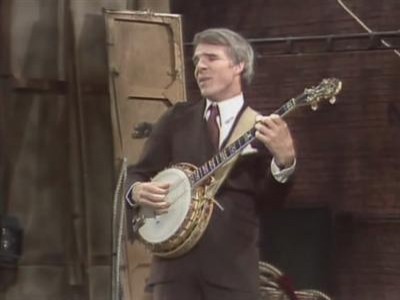 #18 - Steve Martin 8.61
Season 2 - Episode 6
Kermit auditions new acts for the next show. Songs/Sketches: ""The Garbage Can Can"", ""Swannee River"", balloons, ""Tie a Yellow Ribbit Round an Ole Oak Tree"", Baskerville auditions as comedian, Lenny Lizard auditions for emcee, The Four Fazoobs, ""Gonzales & Yolanda"", ""Old Man River"", ""Ramblin' Guy"", ""Varisity Drag"", ""Yes, We Have No Bananas"", ""Jugglin' Guy"", ""Flying Zucchini Brothers"", Steve plays with Lubbock Lou & the Jug-Huggers.
#19 - James Coburn 7.20
Season 5 - Episode 4
Animal hits it off with tough guy James Coburn -- but James decides that Animal isn't centered enough, and introduces him to meditation and Zen. Animal doesn't take well to Zen.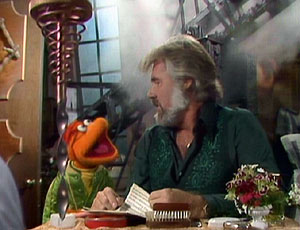 #20 - Kenny Rogers 7.87
Season 4 - Episode 5
During a sketch Kermit hurts himself and keeps getting frightened by jungle animals in his hospital room or injured further by some crazy inconvenience.
#21 - Paul Williams 7.52
Season 1 - Episode 6
The Paul Williams episode was nominated for an Emmy for Outstanding Writing in a Comedy-Variety or Music Series. This marks the beginning of Paul Williams' collaborations with the Muppets. He would later write the music for "Emmett Otter's Jug-band Christmas," "The Muppet Movie" (and provides a cameo), and "The Muppet Christmas Carol". Twenty-five years later, Paul would be the special guest star at the Muppets' first fan convention, MuppetFest, where he participated in a panel discussion and played a special grand finale medley during a live performance of "The Muppet Show". Fran Brill, the main female Muppeteer at the time, makes her Muppet Show debut in this, her first of only two episodes. Dr. Bunsen Honeydew's design was reportedly based on Sir Lew Grade's appearance. During the first season of The Muppet Show, Bunsen would be working alone in the lab. His assistant Beaker will debut in Season Two. Mary Louise must love frogs! She'll sing with them again in the Sandy Duncan and Steve Martin episodes. Having been mercilessly heckled by Statler and Waldorf in his monologues, the writers start to experiment with Fozzie's comedy spot, sensing it may not be working. Last week, Fozzie did impressions and this week he does a duo scene with Scooter. With a few exceptions, the rest of Fozzie's monologues this year will follow their standard format but Fozzie will also start to be used more in sketches and backstage plots in order to salvage the character. In later seasons, Floyd and Janice would become a couple, but in the show's first season, Janice would often be paired with Zoot! In this episode, they appear together in "At the Dance" and "Rowlf's Poetry Corner." Especially in these early episodes, Zoot is featured quite a bit, perhaps due to Jerry Nelson's fleeting availability as Floyd. In later seasons, Zoot would become more mellow and quiet since Dave Goelz tended to agonize over the delivery of Zoot's lines. He saw Zoot as someone who best expresses himself through the saxophone. The final number incorporates a chorus of Muppets gathering around the guest as he sings, providing backup. This would typically be done throughout the show's run and often allow some of the show's "non-performers" like Hilda the costume lady and George the janitor opportunities to come onstage.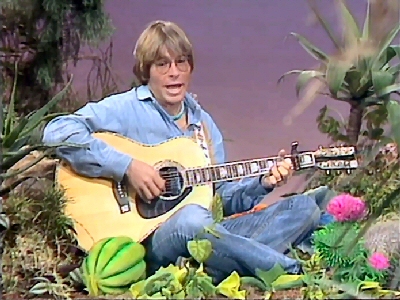 #22 - John Denver 8.38
Season 4 - Episode 1
John and Kermit have a surprise for the cast; they're all going to Kermits' home the swamp! But even Gonzo, even with his love of the nasty and strange, thinks it's a bad idea and no one is willing to take him up on the offer even when Kermit offers them to go.
#23 - Loretta Swit 7.44
Season 5 - Episode 1
How well can Loretta fit into Miss Piggy's roles? It all comes to a dramatic climax with the ""Pigs in Space"" installment.
#24 - Sandy Duncan 8.15
Season 1 - Episode 2
Though never seen on camera, Gags Beazley will be a recurring reference throughout the Muppets' history often alluded to as Fozzie's writer - and as one of the quote sources at the beginning of the 1981 "Muppets Go to the Movies" special. Unlike the hatrack in the Peter Ustinov episode, "Gags Beazley" does not get a writing credit.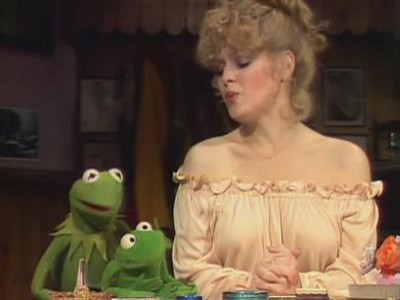 #25 - Bernadette Peters 8.43
Season 2 - Episode 7
Sketches/Songs: ""How Could You Believe Me When I Said I Loved You When You Know I've Been a Liar All My Life"", ""Take a Little One-Step"", Chickens playing piano, ""Veterinarian's Hospital"", ""The Sheik of Araby"", ""The Ant and the Grasshopper"", ""Just One Person"", ""Swedish Chef"", ""Muppet Labs"", ""I'm Five"", ""Muppet Newsflash"", ""Apple Jack""