The Grim Adventures of Billy & Mandy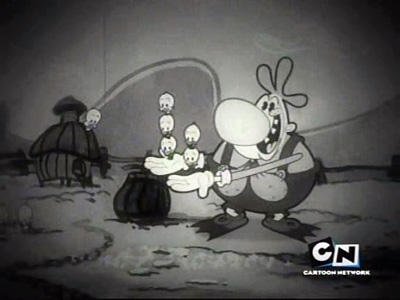 #1 - Billy Ocean
Season 6 - Episode 1
At the beach, Billy wants to dump sand on Grim for fun. Mandy told him to go swim in the ocean. While he's having fun, a whale ate Billy. Inside, he finds Pinnochio and his papa, Geppeto. Grim and Mandy had to find the whale and get Billy out of there.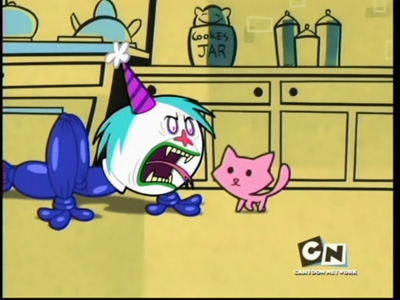 #2 - Attack of the Clowns
Season 3 - Episode 25
After Billy wakes up from another nightmare involving clowns, he is more terrified than ever towards them, so Mandy and Grim try to cure him of this clown-a-phobia. First, Mandy asks Grim to bring to life a clown's head made on paper mache to entertain Billy, but the spell apparently doesn't work. Then, they dress up as clowns in an attempt to look harmless. However, after consulting with his imaginary "Inner Frat Boy", Billy changes his feeling from being afraid to being angry at clowns, and attacks them with Grim's scythe. In the end, Billy is apparently cured of his fear, but then the paper mache clown attacks and eats them.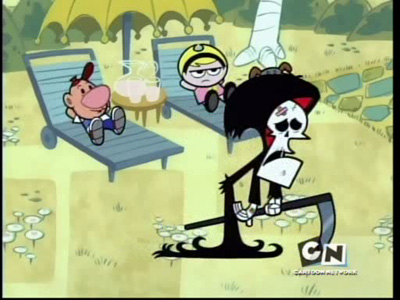 #3 - Opposite Day
Season 1 - Episode 3
Billy and Mandy tell Grim it is "Opposite Day" and that, when they say something, they really mean the opposite. Due to his difficulty understanding the concept of Opposite Day, Grim has to do Mandy's chores. Finally, Grim thinks he understands when Billy and Mandy say they "want" pie, meaning they "do not want" pie. However, Mandy then says that when she said it was Opposite Day, it really was not.
#4 - The Secret Snake Club
Season 4 - Episode 1
At school, Billy, Mandy and Irwin look for a club to join. Irwin plans to join the Macrame club in order to meet girls; Billy inquires on the Junior CIA club, which forcefully recruits him; Mandy joins the "Secret Snake Club", a snake-themed club consisting of three geeks. In their headquarters, the nerds reveal that their "secret agenda" is to resurrect Shnissugah, a giant snake which lived hundreds of years ago in Canada, to take revenge against the popular kids, but they lack the power of the Underworld to do so. Then, Mandy calls for Grim, who proceeds to revive Shnissugah through the internet. In the end, Billy, as a junior agent of the CIA, stops a criminal plan by Irwin, who was using the Macrame club for personal gain; and Shnissugah turns out to be a tiny, 8-cm (3.14-in) long, harmless snake.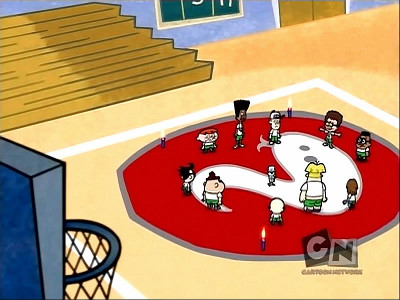 #5 - The Secret Snake Club vs. P.E
Season 7 - Episode 3
As Billy realizes the three geeks of the Secret Snake Club get doctor's notes to avoid Physical Education (P.E.) class, he wants to know their secret to avoid the class too. Then, all the boys in the class join the club and all, except Billy, get doctor's notes from Billy's dad, who poses as a doctor. Then, while Billy is the only one exercising in the class, the Snake Club summons a snake to destroy the gym. However, since the invoked snake is tiny, Sperg uses Grim's scythe to make it a giant. In the end, Mandy and the other girls beat the boys and their snake because they did appreciate the P.E. class as an outlet for their aggression.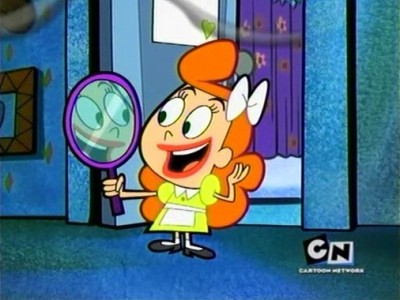 #6 - Mommy Fiercest
Season 5 - Episode 4
When Billy's mom, Gladys, discovers crow's feet on her face, she panics and doesn't want to leave the bathroom. As Grim needs to use the bathroom, he uses his scythe to make Gladys a young girl again, thus without wrinkles. Then, Gladys goes to see Billy, but neither he nor Mandy nor Irwin recognize her, and instead, Billy calls her "Corn", because of the white bread she gave him. Then, when Corn tells Billy to do his homework, Mandy tells him to go to the movie theater instead. In consequence, Corn and Mandy struggle over who gets to control Billy. In the end, Billy's father, Harold, plays with Grim's scythe and also becomes a child; he then goes to the movies and gets together with Gladys (Corn) again.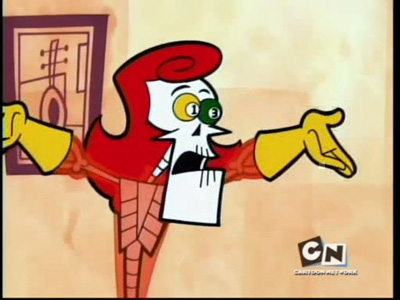 #7 - Look Alive!
Season 1 - Episode 4
Grim is bored of being left alone while Billy and Mandy are not with him. Grim decides to fulfill his dream by working as a swimsuit model, but, as he is a corpse, he isn't hired. Subsequently, Billy and Mandy give him a makeover to look more human. In the end, Grim gets the job in a TV ad, but he is only in the commercial for a few seconds and is portrayed as an ugly person.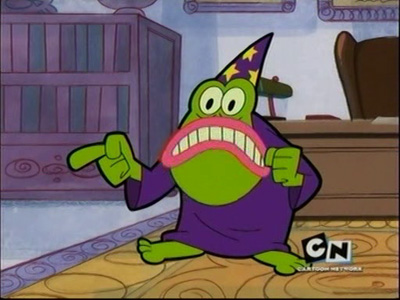 #8 - Toadblatt's School of Sorcery 8.87
Season 2 - Episode 1
In a parody of the Harry Potter series, Grim sends Billy and Mandy to a sorcery school so the latter duo could avoid boring summer camps they were supposed to go to. The sorcery school is owned by Dean Toadblatt, an anthropomorphic frog. Billy and Mandy are sent to the most hated house on the school, Weaselthorpe, while Grim becomes a prefect for a more loved house, Gunderstank. Billy and Mandy then team up with boy wizard Nigel Planter to sabotage Gunderstank. During the episode, Planter takes all the credit for the sabotage (which was Mandy's idea in the first place), but in the end, he is punished for it once he is "accidentally" found out by Toadblatt.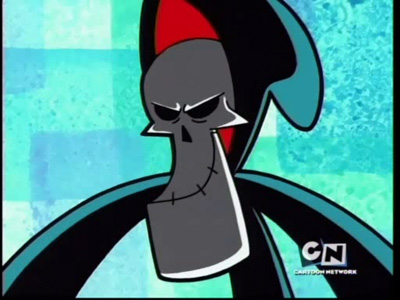 #9 - Meet the Reaper 7.41
Season 1 - Episode 1
Billy's pet hamster, Mr. Snuggles, celebrates his 10th birthday, so the Grim Reaper comes for him. However, Mandy, Billy's friend, is reluctant in allowing it, so she proposes a deal to the Grim Reaper: if he beats the kids in a game, he can take the hamster, but if he loses, he will spare the hamster's life and become their "best friend forever". The Grim Reaper transports the kids to limbo, where he challenges them to a game of limbo. Despite his best effort, Grim ends up losing because he is attacked by Mr. Snuggles at Mandy's command.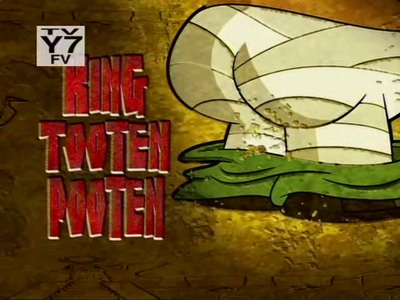 #10 - King Tooten Pooten
Season 7 - Episode 4
When Billy, Mandy and Grim attend an Ancient Egypt exhibit at the museum, they meet with Irwin who explains that, as his mother is a mummy, they are visiting Irwin's grandfather, the great Pharaoh King Popen Locken. Later that night, Irwin's grandfather visits Irwin in his room and offers him the Pharaoh's crown and the possibility of building his own pyramid to attract women; Irwin accepts, calling himself King Tooten Pooten, and soon they turn the citizens into slaves to build the pyramid. In the end, against his mother's wishes, Irwin decides to finish the pyramid; however, there is something he didn't anticipate, as he, the Pharaoh, needs to remain entombed inside it.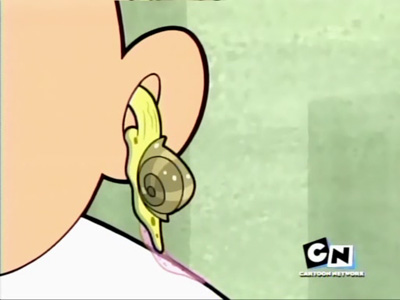 #11 - Dumb Luck
Season 3 - Episode 3
After spilling salt in a restaurant, and not throwing salt over his left shoulder, Billy starts having an unusual amount of bad luck. The next day, Grim analyzes Billy and finds out he has a "Catastrophe Snail" attached to his brain, which is causing him the bad luck.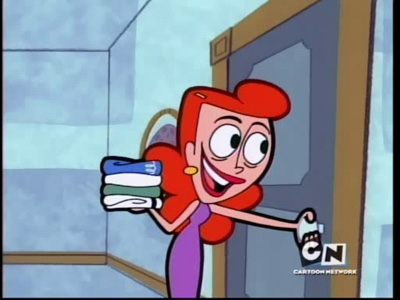 #12 - Skeletons in the Water Closet
Season 1 - Episode 2
Billy's mother, Gladys, first notices Grim in Billy's bed, then in the shower and subsequently starts to get panic surges thinking that Billy is in danger. Meanwhile, Harold, Billy's dad, just thinks that Gladys is imagining things. In the end, Gladys ends up going living with Billy's aunt, Sis to try and calm herself down.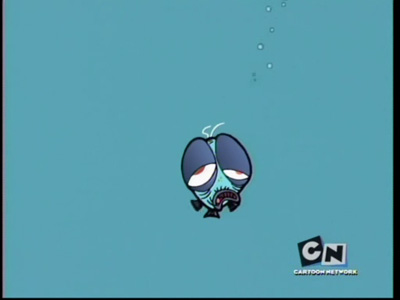 #13 - Lil' Porkchop
Season 3 - Episode 5
After he turns down his dad's invitation to go fishing, Billy gets a tiny, weakling, pet fish(Arnold Schwarzenegger), which he names Little Porkchop. Then, to make Billy happier, Grim makes the fish grow overnight to become a giant. However, Billy takes Porkchop to play under the Sun, and never gives him water again, so he burns to ashes and is flushed down the toilet. In the end, Billy's dad returns form his fishing trip having caught Porkchop, which returned to his normal size, but plans to cook him.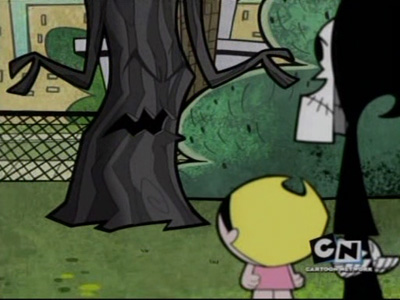 #14 - The Taking Tree
Season 5 - Episode 5
When Billy, Mandy and Grim notice things have been disappearing in the house, they set out to investigate using a supernatural detector. They find the culprit is a talking "taking tree" in Billy's yard, who has been stealing objects since Billy's dad was a child. In order to make the tree happy, Mandy and Grim set out to trade the stolen belongings for a highly-valued Mickey Munchle baseball card, which is worth eleventy million dollars. In the end, Mandy and Grim return from the baseball shop with the real Mickey Munchle. Then, the tree returns all of the stolen things, but keeps the player.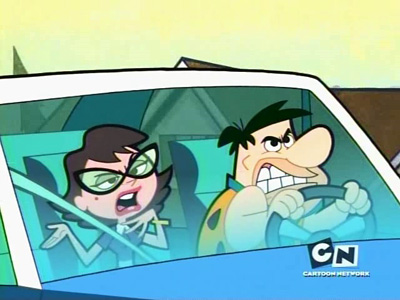 #15 - Modern Primitives
Season 6 - Episode 6
While Billy was trying to dig his way to the Earth's core, he stumbles upon a frozen caveman. It's Fred Flintstone! Grim and Billy thawed him out of the ice. Grim wants to reap Fred's soul, but Billy wants to keep him as a friend. At school, he presented the caveman to the class. Then Fred goes crazy and kidnaps Mrs. Butterbean.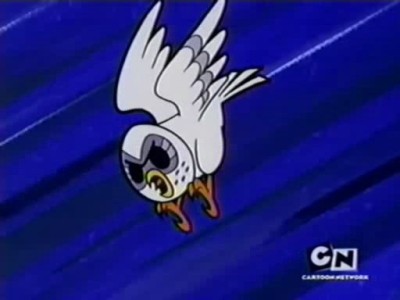 #16 - Reap Walking
Season 5 - Episode 6
When the mall's surveillance cameras capture Grim's silhouette attacking endangered owls, a naturalist named Corey Nebraska blames Grim for the attacks, while Mandy suspects Grim is sleepwalking again. Then Billy, Mandy and Nebraska follow Grim while he sleepwalks, but they realize it is actually Gladys, Billy's mom, the one attacking the owls. When discovered, Gladys reveals her hatred toward the owls as she recounts the story on how an owl ate her pet rat, Sniffles, years ago. In the end, Billy's dad reveals that he was in fact the one who ate Sniffles merely to survive until lunch time. Note: this is the only episode without a title card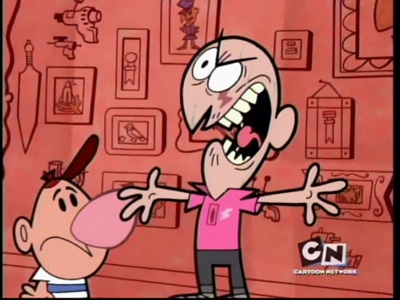 #17 - Skarred for Life
Season 3 - Episode 6
General Skarr (originally appearing in Evil Con Carne) buys a home in Endsville and becomes Billy's neighbour. Then, after Skarr invites Billy to his new house, Billy mentions Grim's scythe as the most powerful weapon in the universe, and Skarr tries to battle his desire to be evil again. Eventually, Skarr steals the scythe, but Mandy proves to be scarier than he is and takes it back.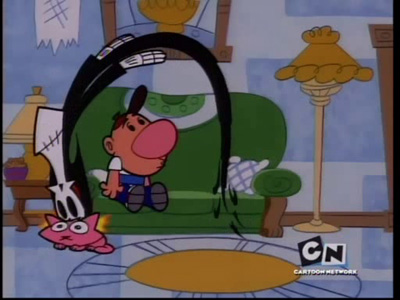 #18 - Get Out of My Head!
Season 1 - Episode 6
After watching a movie, Grim teaches Billy to possess people by jumping into their heads. Billy possesses Mandy and makes her do assorted things like flirting with Irwin, kissing Mandy's mother, going into both men's and women's restrooms and eating earthworms. In the end, Billy leaves Mandy's head, but later that night, Mandy possesses Billy's cat, Milkshakes, to maul him as a form of revenge.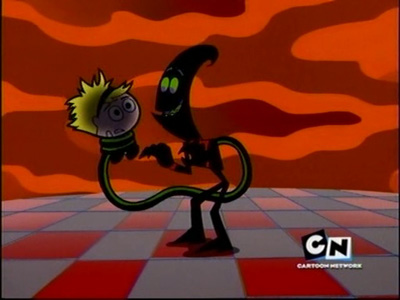 #19 - Fiend Is Like Friend Without the 'R' 6.92
Season 1 - Episode 7
Billy wanders into a junkyard, where a massive hole in the earth opens up and pulls him down in. Later, Mandy and Grim get pulled in as well. They land at the center of the Earth, which is home of Nergal, a devilish creature. The lonely Nergal, who has been watching Billy and Mandy for some time, wants Grim to hand over the kids to him so they can be his friends forever. Grim happily leaves the kids behind as he returns to the surface; however, he later goes back for them because he can't handle the guilt of abandoning his friends. In the end, Grim is defeated by Nergal's electrified tentacles, but Mandy defeats Nergal merely by kicking him in the shin.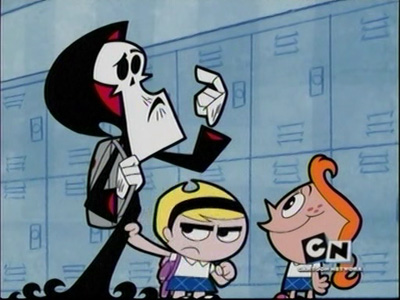 #20 - Educating Grim
Season 2 - Episode 2
Billy and Mandy take a reluctant Grim to school with them. There, Mandy's nemesis, Mindy, befriends Grim to annoy Mandy. In consequence, Billy calls for their other friend, who is Abraham Lincoln. In the end, Mandy devises a plan in which Mindy ditches Grim, and keeps Abraham as her friend instead.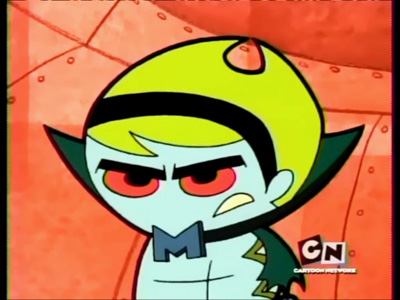 #21 - Mandy, the Merciless
Season 2 - Episode 7
On a hot day when Billy, Mandy, and Irwin are bored, Grim uses a crystal ball to show them the future. In the distant future, Mandy has turned herself into a giant worm-like creature to be immortal, and now rules the whole world. Mandy gives false information to a clone of Billy, in order to capture the members of a resistance that try to defeat her. The episode parodies the science fiction novel God Emperor of Dune by Frank Herbert.
#22 - Guess What's Coming to Dinner?
Season 5 - Episode 3
When Billy's parents leave for their second honey moon, Billy is left alone at the worst possible moment, since he has invited Principal Goodvibes over to dinner so he can recommend him into Rollington Academy for the Gifted. Then, Billy's dad suggest Billy to use Eris, the goddess of chaos, and Hoss Delgado, spectral exterminator, as his substitute parents during the dinner. Naturally, the dinner is a disaster with Delgado terrorizing Goodvibes, and Eris unleashing giant alien zombie lobsters. In the end, Goodvibes forcefully recommends Billy into Rollington Academy which, as it turns out, is actually a military school.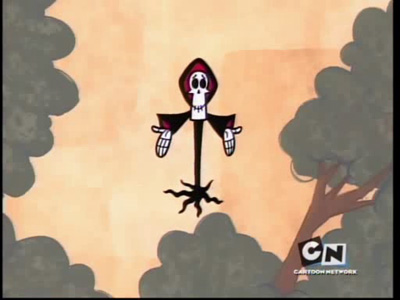 #23 - Mortal Dilemma
Season 1 - Episode 5
Grim misses his life as the reaper of souls and, due to his bet, he cannot return to the Underworld, much to the hilarity of his Underworld co-workers. Having a sudden epiphany, Grim decides to be good and help people rather than try to take their souls. However, Grim's attempts at being good are faced with resistance from people, who are scared off by his appearance.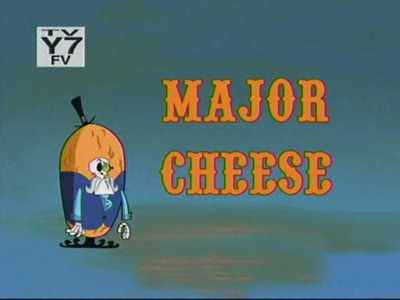 #24 - Major Cheese
Season 6 - Episode 5
Tired of having to deal with false alarms and giving out bonus life points, Grim visits Mighty Moe. Grim gave Mighty Moe an award for staying healthy and alive longer than anyone else. Grim finds out how to end Moe's life. So he dresses up like a snack that tastes like cheese. Will he ever get Mighty Moe to eat the cheese snack?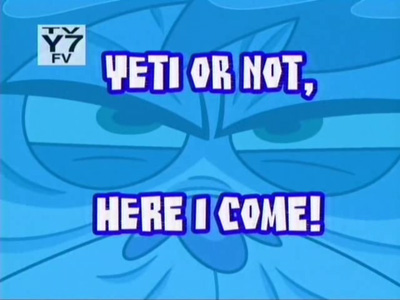 #25 - Yeti or Not, Here I Come!
Season 7 - Episode 6
After watching the Unsolvable Mysteries TV show, Grim realizes he forgot a million years ago to reap the Abominable Snowman living in the Himalayas. Then, Billy, Mandy and Grim go there to finish the job and also to obtain videographic proof of the snowman's existence. The Yeti, who likes to be called Abom, manages to escape Grim several times, before finally being trapped by the moving glacier. In the end, as Grim watches the TV show again, it is apparent that he may have forgotten to reap the Loch Ness monster too.