The Good Wife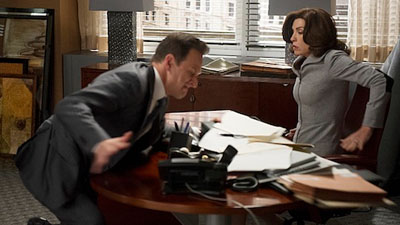 #1 - Hitting the Fan 8.83
Season 5 - Episode 5
A desperate battle to retain clients begins when Cary and Alicia's plan to leave the firm is exposed.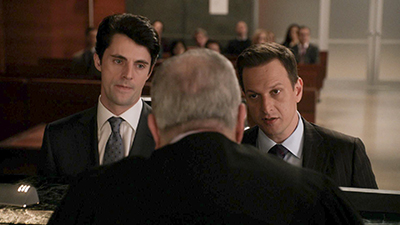 #2 - Dramatics, Your Honor 8.63
Season 5 - Episode 15
Alicia enlists Cary as her lawyer when Nelson Dubeck approaches her to participate in a deposition regarding his investigation into election rigging. Meanwhile, Will continues the difficult defense of Jeffrey Grant as he faces off against a new prosecutor who proves to be a formidable adversary.
#3 - Another Ham Sandwich 8.45
Season 3 - Episode 14
With her investigation complete, Wendy presents her evidence against Will to the grand jury in hopes of sending him to prison for bribery. Eli and Stacie Hall square off once again.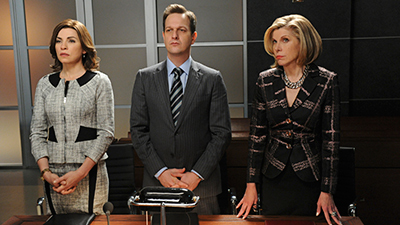 #4 - What's in the Box? 8.41
Season 4 - Episode 22
When Zach thinks he has witnessed vote tampering, Will, Alicia and Diane race to a series of emergency court proceedings on the night of the gubernatorial election. An unexpected source offers to help Cary start his own firm.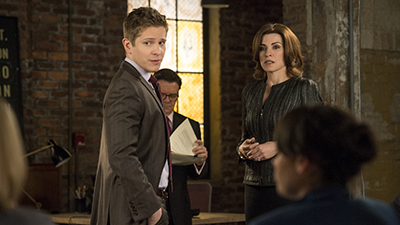 #5 - The Decision Tree 8.37
Season 5 - Episode 10
Alicia is shocked to learn that a former client bequeathed her millions, but Lockhart/Gardner quickly contests the will on behalf of the deceased's wife. Meanwhile, Diane asks Kalinda to look into Damian's background. Also, Eli and Marilyn are concerned about Peter being seen with Alicia's more disreputable clients at the Florrick/Agos holiday party.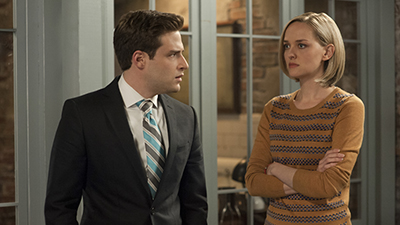 #6 - A Weird Year 8.34
Season 5 - Episode 22
An open feed from a camera mistakenly left on after a teleconferenced deposition between the lawyers of Florrick/Agos and Lockhart/Gardner reveals a threat to the firm that Alicia and Cary never saw coming. Meanwhile, the fate of Lockhart/Gardner hangs in the balance as Louis Canning vies for a larger role. Also, Alicia entrusts Zach's high school graduation party to Jackie and Veronica.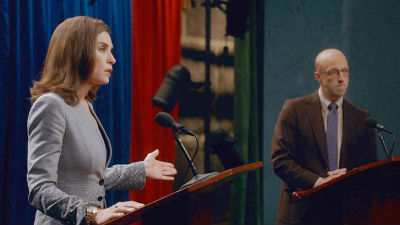 #7 - Hail Mary 8.29
Season 6 - Episode 11
Cary hires a prison consultant to prepare him for incarceration while the team at Florrick/Agos/Lockhart does everything in its power to help him. Alicia practices for the State's Attorney candidates' debate.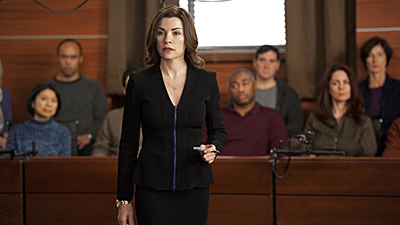 #8 - Red Team/Blue Team 8.26
Season 4 - Episode 14
Office politics come to a head when Will and Diane ask Alicia and Cary to face off against them in a mock trial, only to get more than they bargained for. Eli tries to avoid losing his role in Peter's campaign to Jordan, as he continues his fight with the Justice Department.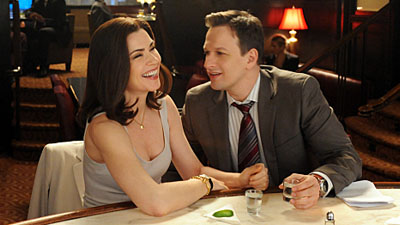 #9 - Closing Arguments (2) 8.26
Season 2 - Episode 23
Despite their tense relationship, Alicia and Kalinda rush to prove their client's innocence in a murder trial. The timing may finally be right for Alicia and Will to pursue their relationship.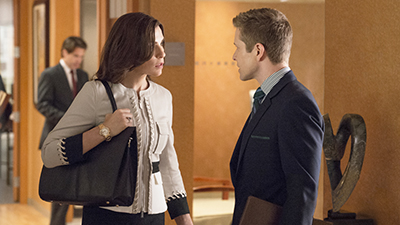 #10 - Everything Is Ending 8.23
Season 5 - Episode 1
Alicia works to prevent the execution of a convicted murderer as she plans her exit from the firm with Cary. Eli helps Peter put together his staff.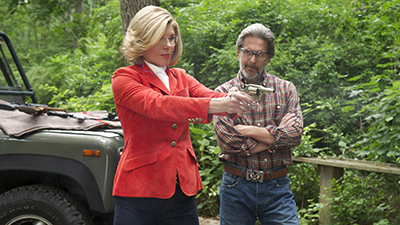 #11 - Outside the Bubble 8.21
Season 5 - Episode 4
Alicia tries to obtain Lockhart & Gardner files as she prepares to exit the firm. Faced with a sexual harassment lawsuit, the firm hires Elsbeth Tascioni.
#12 - The Line 8.21
Season 6 - Episode 1
Despite pressure from Eli, Alicia is determined not to run for State's Attorney. Diane considers joining Florrick/Agos. A crisis threatens to tear the firm apart.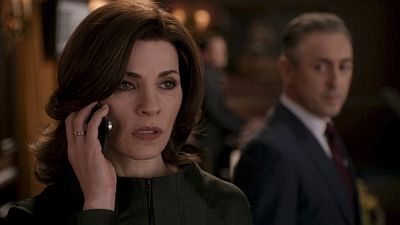 #13 - The Last Call 8.21
Season 5 - Episode 16
Alicia searches for answers as she tries to make sense of Will's death in the aftermath of the courthouse shooting. Meanwhile, Diane delivers the somber news to the partners at Lockhart/Gardner who must decide how to move forward.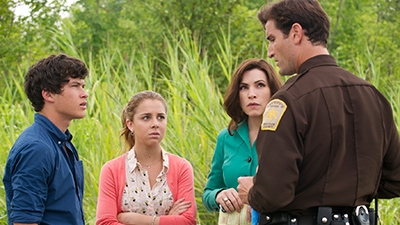 #14 - I Fought the Law 8.18
Season 4 - Episode 1
A state trooper targets Zach, putting Alicia on the offensive; Kalinda decides to face her problems; Diane and Will explore the firm's financial issues.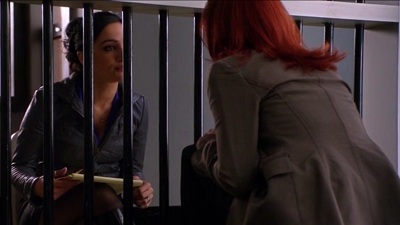 #15 - Je Ne Sais What? 8.18
Season 4 - Episode 12
Will, Diane and Alicia help Elsbeth Tascioni when she is arrested. Eli and Jordan give Peter conflicting pieces of advice.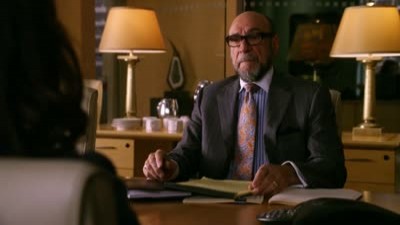 #16 - Alienation of Affection 8.17
Season 3 - Episode 12
Lockhart & Gardner faces trouble when a recently divorced couple claims they influenced their separation for their own personal gain.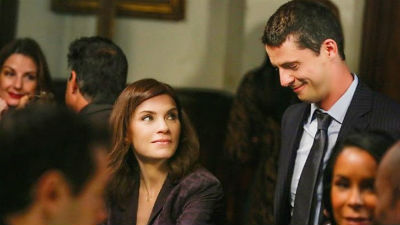 #17 - Oppo Research 8.16
Season 6 - Episode 4
Eli asks a respected campaign manager to help Alicia explore the option of running for State's Attorney.
#18 - Blue Ribbon Panel 8.16
Season 3 - Episode 19
Alicia is assigned to be on a blue-ribbon panel that is investigating a police shooting, but she soon begins to question the actions of the panel chairman.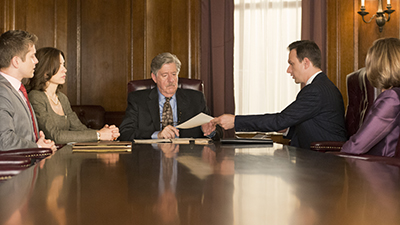 #19 - The Next Day 8.14
Season 5 - Episode 6
Alicia and Cary represent a client who changed firms and Will and Diane delay turning over the case files. Marilyn tries to give advice to Alicia.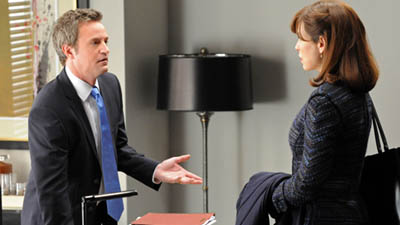 #20 - Pants on Fire 8.14
Season 3 - Episode 20
As Alicia counsels a client whether to accept a strict plea deal, she's distracted by Peter's newest political rival, whose actions force her back into the public spotlight.
#21 - Parenting Made Easy 8.14
Season 3 - Episode 10
A routine arbitration turns into a battle of wills between Alicia and Louis, but the pair makes an unexpected connection when a personal crisis interrupts the proceedings.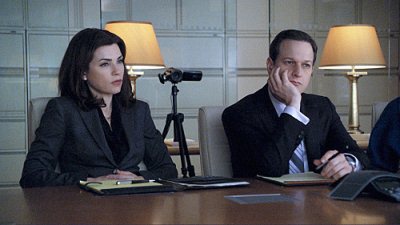 #22 - Great Firewall 8.14
Season 2 - Episode 16
The law firm of Lockhart, Gardner and Bond sues a social networking site on behalf of a Chinese dissident. Eli gets a tip that he hopes will drive Childs out of the race. Will and Diane hope to wrestle the firm away from Derrick Bond once and for all.
#23 - The Dream Team 8.13
Season 3 - Episode 22
Will and Diane scramble when Louis and Patti team up to bankrupt the firm. Alicia faces conflicted feelings regarding her relationship with Peter. Kalinda's past catches up to her.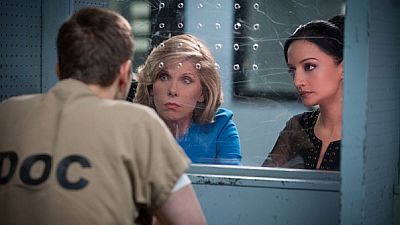 #24 - Trust Issues 8.12
Season 6 - Episode 2
As the firm deals with an internal legal crisis, Alicia tries to hold onto their biggest client. Diane plots her move.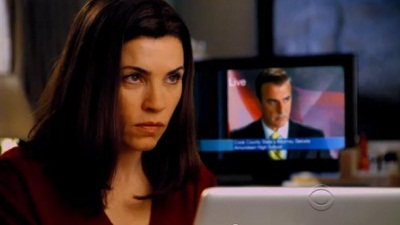 #25 - Nine Hours 8.12
Season 2 - Episode 9
When Alicia gets a vague tip from a courthouse clerk in the appeal case of a death row inmate, the law firm races to secure a stay of execution. Peter Florrick prepares for his first debate with Glenn Childs and Wendy Scott-Carr.