The Ellen DeGeneres Show
#1 - Mariah Carey
Season 7 - Episode 1
#2 - Allison Janney, Jimmie Johnson
Season 12 - Episode 173
She's hilarious and an Emmy-winning "Mom"… ALLISON JANNEY is back! There's always more fun where this talented actress came from, and she's here to share it with Ellen, as the sun gets brighter and the summer temps set in! Plus, NASCAR driver JIMMIE JOHNSON is here to chat and share some favorite moments from his hilarious stint on "Repeat After Me"!
#3 - Ellen's Season 12 Premiere
Season 12 - Episode 1
Adam Levine, Blake Shelton, Gwen Stefani and Pharrell Williams; a man with ALS; Maroon 5 performs
#4 - Lady Gaga (MTV Video Music Awards)
Season 8 - Episode 1
Ellen kicks-off Season 8 with the biggest premiere ever -- direct from the MTV Video Music Awards! The incredible LADY GAGA, nominated for more VMAs than any other artist in history, is headed straight from the VMAs to Ellen's season premiere! That's not it! JUSTIN TIMBERLAKE, KATY PERRY, and JUSTIN BIEBER are all stopping by... plus, you never know who else may drop in!
#5 - Britney Spears, Simon Cowell
Season 10 - Episode 2
#6 - Mindy Weiss/Shawn Johnson
Season 6 - Episode 2
#7 - The Real Housewives of Atlanta
Season 7 - Episode 3
#8 - Pamela Anderson/Tim McGraw
Season 2 - Episode 3
Actress, model, producer PAM ANDERSON talks about the new title in her resume: author of her first book, ""Star: A Novel."" Plus, one of today's hottest country stars, TIM McGRAW, performs his new #1 single ""Live Like You Were Dying.""
#9 - Michelle Obama/Jonas Brothers
Season 6 - Episode 1
#10 - David Beckham
Season 7 - Episode 2
#11 - Season 9 Premire - Ashton Kutcher
Season 9 - Episode 1
It's Ellen's giant premiere show spectacular! To kick off Season 9, Ellen is giving away the surprise of a lifetime to an amazing woman who is dedicated to helping people in need. You won't believe what happens! He's the new star of the hit show "Two and a Half Men." Ellen has the exclusive daytime interview with ASHTON KUTCHER! He'll be telling Ellen what it was like stepping into the show during such an electric time. He's also bringing the only sneak peek from "Two and a Half Men" that you'll see before the season premiere!
#12 - Kim Kardashian West, Iggy Azalea, Rita Ora
Season 12 - Episode 2
Kim Kardashian West; a 10-year-old CEO; Iggy Azalea and Rita Ora perform.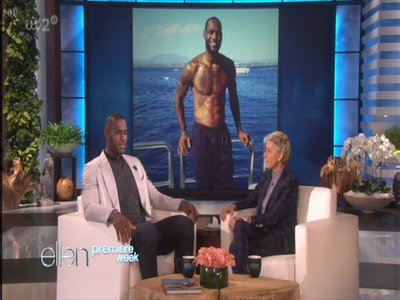 #13 - Britney Spears, LeBron James, Aly Raisman
Season 14 - Episode 2
#14 - The Incredible Celine Dion
Season 11 - Episode 3
#15 - Betty White/Sherri Shepherd
Season 1 - Episode 3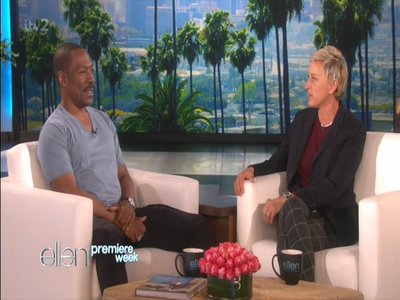 #16 - Eddie Murphy, Alessia Cara
Season 14 - Episode 3
#17 - Matt LeBlanc/Nelly/Paul Hamm
Season 2 - Episode 4
Former star of NBC's Thursday night mega-hit ""Friends"", MATT LEBLANC talks about leaving his ""Friends"" and heading west to star in his new spin-off ""Joey."" Later, Hip-hop sensation and platinum selling artist NELLY performs ""My Place"" from his new double CD ""Sweat/Suit."" Plus, the United States 1st ever Men's All Around, Olympic Champion PAUL HAMM, drops by to discuss the controversy surrounding that win.
#18 - Pink, Patrick Dempsey, Gabrielle Douglas, McKayla Maroney, Kyla Ross
Season 10 - Episode 1
#19 - Megan Mullally
Season 1 - Episode 4
#20 - George Lopez, Jeff Corwin, Jeff Lewis of Flipping Out
Season 5 - Episode 4
#21 - Cast of The O.C./George Lopez
Season 3 - Episode 4
#22 - Caitlyn Jenner
Season 13 - Episode 1
Olympic champion and Arthur Ashe Courage Award recipient CAITLYN JENNER makes her first talk show appearance since becoming one of the most high-profile transgender women in the world. Ellen's exclusive will learn all about her new life – what's the same, what's changed, what's gotten better since her transition – and they'll discuss Caitlyn's outlook for the future and hopes for the transgender community. Caitlyn will also give details on the finale of her fascinating docuseries, "I Am Cait"! Then, Ellen shares a heartwarming story of a chance encounter and act of kindness that has inspired people around the world!
#23 - Pamela Anderson/Misty-May Treanor/Kerri Walsh
Season 6 - Episode 4
#24 - Brad Garrett, Patrice O'Neal, Ivan Koumaev
Season 4 - Episode 4
#25 - Emily Blunt, Ronda Rousey
Season 13 - Episode 5
Emily Blunt, is here! The talented and beautiful star of the new film 'Sicario' returns to give Ellen a replay of her summer, talk movies, and get into a little fun and games! Then, she's been causing quite a stir with her bold moves, empowering attitude and impressive feats of strength. One of the best female MMA fighters in the world, RONDA ROUSEY makes her debut on Ellen, and it is guaranteed to make headlines! The star athlete will give Ellen insight into her new autobiography, My Fight/Your Fight, and of course, Ellen is not going to let all that strength go to waste. You won't want to miss it! On Monday, Ellen's got girl power!