The Chaser's War on Everything
#1 - Episode 2
Season 2 - Episode 2
- Intro Joke; Swimmer who should've taken drugs: Grant Hackett. - Stunt; Malcolm Turnball's house for Sydney's hour of darkness. - Stunt; West Coke Eagles. - Clive The Slightly-Too-Loud Commuter; Calling doctor about his bent penis on a train. - Citizens' Infringement Officer; Bad tattoos. - Ad/Trailer; The Biggest Muslim - Firth In The USA; Punishment t-shirts. - If Life Were A Musical; Loose and tights pants. - The Fixers; Hanson and Oldfield (not fixed), British hostages in Iran (fixed), Brain Burke (fixed) and recycled water (Stunt; public taste test of water) (not fixed). - Pursuit Trivia; Tony Windsor, What is the official languague of Easter Island? (Incorrect)(Spanish). - The News According To Fox; Fair and Balanced, Chuck Norris, clutter screen with useless information and Anna Nicole-Smith. - Stunt; Blind taxi driver. - Andrew Hansen's Closing Comment; "Please note too that from next week we will be moving to Channel Seven like every other ABC comedy" - Credits, Pursuit Trivia Continued; "Which lovable beverly hillbilly died aged 95 in 2003?" (Incorrect)(Buddy Ebsen).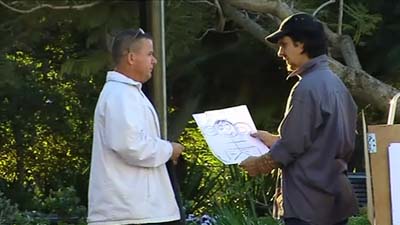 #2 - Episode 24
Season 2 - Episode 24
* Intro Joke; There's a Supreme Court injunction against this gag * Change of names; Craig - Defecting to Nine, Chris - Defecting to Seven, Julian - Defecting to Understanding 50 Ads, Chas - Defecting to Ten, Andrew - Defecting to SBS * Intro; Election campaign launches and slogans, people falling asleep at the sight of John Howard * Stunt; Craig posing as an outdoor portrait artist and demanding large amounts of money for drawing stick figures of people * Ad/Trailer; Least Favourite Things * Open Mic; QANTAS terminal * Stunt; Chas requesting a doggy bag for a very small amount of leftovers in a restaurant * Clive the Slightly-Too-Loud Commuter; Discussing a plan to murder his mother * Ad/Trailer; Elizabeth: The Golden Age with Bob Dylan taking Cate Blanchett's role as Elizabeth I of England (a reference to Blanchett playing Dylan in the film I'm Not There) * Election Watch; The Environment * The Fixers; o John Edward: Dressing up as the Ghostbusters and confronting Edward with a "bullshit meter" o Smoking: Julian pretending to be a terminally ill patient and asking people if they recognize him from the warning pictures on cigarette packets * What Have We Learned From Current Affairs This Week?; Lesson 25: Hiding bad acting, Lesson 26: Product placement, "Highly dubious reenactment" of the footage The Chaser shot at Today Tonight before being issued with a court injunction o Anna Coren's Segue of the Week; From the Melbourne Cup to a boy band * If Life Were a Musical; Craig applying to a talent agent with his terrible singing * Ad Road Test o The Loctite superglue ad where a man is glued to the ceiling by the soles of his shoes o Novotel commercial featuring wild animals checking into a hotel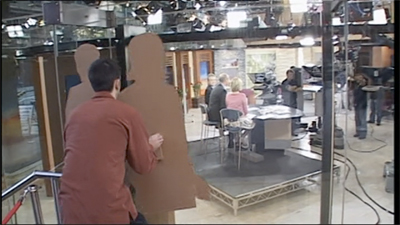 #3 - Episode 2 8.00
Season 1 - Episode 2
1: Winter Olympics Chris and Craig congratulate Australia's most successful Winter Olympics teams, reporting on an impressive medal tally. 2: Promoting Today on Sunrise Chas reveals why the Today show performs so badly in morning talk show ratings, and how he improves their ratings. 3: Saddam Hussein Trial "I may be a monster... but I'd never stoop so low as to get involved with those two." 4: Surprise Spruiker - AWB Andrew's public relation service, the Surprise Spruiker, cures the AWB's image problem. 5: Beazley Biggest Loser Follow one man's quest to loose 25 kilograms, and 3 federal elections. 6: Famous Faceoff - Newsreaders Jucinta Timann and Richard Morecroft go head-to-head with some tounge twisting headlines to find Australia's best newsreader. 7: Bonehead Challenge Jules see how many minutes it takes before some bonehead ruins their news cross. 8: Firth in the USA - Guns Charles Firth hits a Texan gun show to find out why American's love guns so much. 9: Current Affairs - Experts Lesson 2: How to spot an expert, and how easy is it to look like an expert? 10: Mr Ten Questions - Charlize Theron Mr Ten Questions meets Charlize Theron. 11: In Other News Bill Clinton visits Australia, AWB transport costs, Big Bird Flu, Ian Thorpe catches a virus, Ben Cousins caught drink driving, and a very good news story. 12: Tropfest Entry Chris has trouble using the signature item in his Tropfest entry.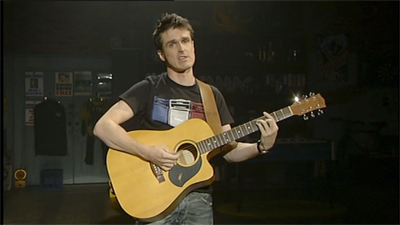 #4 - Episode 5 7.60
Season 1 - Episode 5
The 5th episode in the Chaser's war on everything.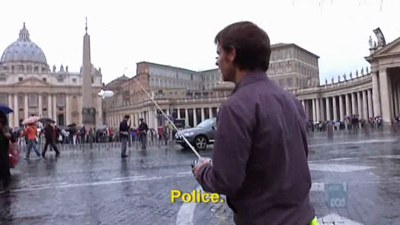 #5 - Episode 1 8.10
Season 3 - Episode 1
Featuring: The Chk-Chk Boom Girl, Hot Air in the Vatican, Walking with Jesus, Cross-dressing, Litigation and KKK members mixing coloureds with whites. So much offensive content even the Chaser boys are complaining.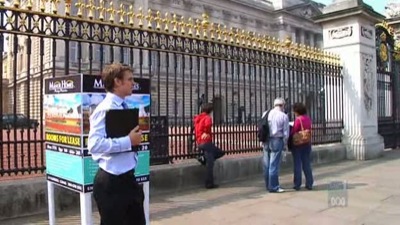 #6 - Episode 2 7.11
Season 3 - Episode 2
Let's Ask Jules to Join Us on the Couch; Transferring terror suspects to secret prisons overseas, with Julian putting up signs to help "hide" the Stare Kiejkuty military base. Trying to convert overweight Americans to a diet plan consisting exclusively of hay. How to make money during the recession. Craig polling UK citizens on whether they would be content to raise taxes to pay for the upkeep of the monarchy, then (when most respondents said no) trying to rent out rooms above Buckingham Palace. Make a Realistic Wish Foundation.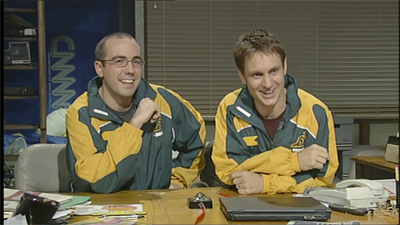 #7 - Episode 3 8.75
Season 1 - Episode 3
1: Rug Clearance Sale Ads It's the Rug Emporium's absolutely, positively, definitely closing down this time sale! 2: Where the bloody hell are you? After the reaction to a recent overseas advertising campaign, Chris and Craig test a few of their own slogans to promote Australia to tourists. 3: Howard 10 Years Tribute The Chaser team celebrates John Howard's tenth year as Prime Minister with clips highlighting his time in office. 4: Message from Osama Bin Laden – Dancing with the Stars Osama Bin Laden expresses his distaste with not being asked to perform on Dancing with the Stars. 5: Pursuit Trivia – Backstreet Boys This question goes to the Backstreet Boys: In Geography, what is the capital of Australia? None of the Backstreet Boys guessed the correct answer: Canberra. 6: Mosman Mosque Julian unveils plans to build a Muslim Mosque in Mosman, a suburb named as among the most racially intolerant in the country, and gauges local's reactions. 7: Rug Warehouse Clearance #2 Trust us, this time we're not kidding; it's the "We Really And Truly Are Closing Down For Sure Sale"! 8: Firth in the USA – Cool Charles Firth hits the street of New York to find out why America is so cool. 9: Commvenience Which bank? 10: In Other News Peter Costello gets tough on radical extremism; Tony Abbott withdraws comments; Trevor Flugge's AWB claims; Channel Nine's new logo; David Beckham does math; and ABC denies any leftwing-bias allegations. 11: Brokeback Mountain – Christian Edition A sneak preview Ang Lee's more Christian-friendly version of Brokeback Mountain. 12: The Complete Walks of John Howard DVD Featuring Mr. Howard's most memorable walks, with commentary! 13: Current Affairs – Visualisations Lesson 3: Using visualisations to explain complex stories. 14: Crazy Warehouse Guy – McDonalds The Crazy Warehouse Guy visits McDonalds. 15: Finally, Tonight... It may be time to put away the talking Boonie, but VB have brought out another drinking sporting legend: the talking Wendell. 16: Closing Credits Credits are played over another scene from Ang Lee's Christian Edition of Brokeback Mountain.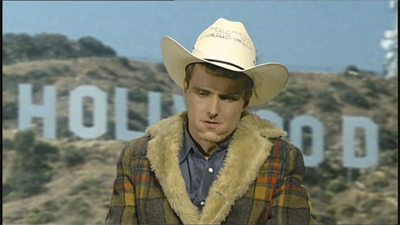 #8 - Episode 4 8.40
Season 1 - Episode 4
In this episode, the Chaser attacks targets such as The Commonwealth Games, Phillip Ruddick, The Cronulla riots, and Heath Ledger.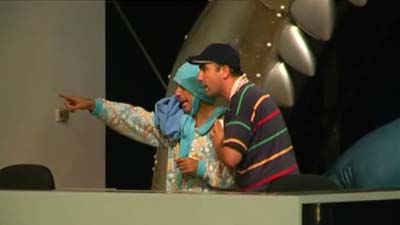 #9 - Episode 6
Season 2 - Episode 6
* Intro Joke; Apparent celebrity: Michael Weatherly * Change of names; Craig - Rove McManus, Chris - John Wood, Chas - Kate Ritchie, Julian - Bert Newton, Andrew - Natalie Blair. * Stunt; Mark Latham's Ghost. * Mr. Ten Questions; Jimmy Wales. * Stunt; Baby admission. * Song; Gas Guzzlin'. * Stunt; 3 Minute Angels. * Scenes From The Life Of The Crazy Warehouse Clearance Guy; Tourist photos. * The News According To Fox; * Ad/Trailer; Statue Parkinson disease. * The Fixers; Snoop Dogg, overweight children, Newsagents. * Ad Road Test; Fantastic Soho's Delites.
#10 - Episode 6 8.75
Season 1 - Episode 6
Episode 6 in the Chaser's war on everything.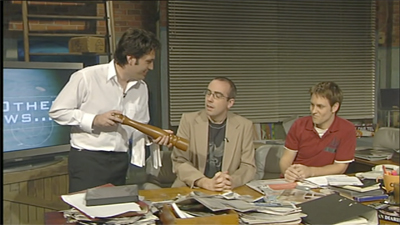 #11 - Episode 7 8.75
Season 1 - Episode 7
1: French Protests Craig goes out onto the streets to see if he can French-up Australia's protests of the new IR laws. 2: Family Contracts In Britain, McDonald's if offering family contracts, which means if you can't turn up for a shift you can send one of the members of your family. But what if other types of jobs allowed this? 3: Pursuit Trivia - Malcolm Turnbull Part 1 This weeks first question: In Science and Nature, Io is a moon of which gaseous planet? Malcolm did not guess the correct answer: Jupiter. 4: Warehouse Guy - Cinema This week the Crazy Warehouse Guy goes to the movies! 5: Name Our Next Cyclone Julian goes around to different top-company-heads to see if they'd like to buy the naming rights to the next cyclone. 6: ABC Promo - Director's Cut With director's commentary. 7: Ad Roadtest - Napisan How would people REALLY react if you charged into their home with a camera crew and started pouring stains all over their clothes? 8: Cracked Pepper There's nothing Chris hates more than those waiters who constantly interrupt meals offering cracked pepper, but how much worse would it be if they decided to spread beyond restaurants? 9: Pursuit Trivia - Malcolm Turnbull Part 2 This weeks 2nd question: Who won the 2002 Melbourne Cup? Malcolm once again did not guess the correct answer: Media Puzzle. 10: In Other News... IR dismissal laws; Relations with Indonesia; AWB Downer inquiry; Vega; Robert McCallum. 10: Firth in the USA Charles tries to get into Skull & Bones, the most secret and powerful society on Earth. 11: Celebrity Solitaire Get ready for TV's exciting new card game: Celebrity Solitaire, this week featuring Andrew O'Keefe. 12: Statue Busking Made Easy Simply rig yourself up an actual statue and watch the money pile up! 13: Credits Song "They always run credits over my song..."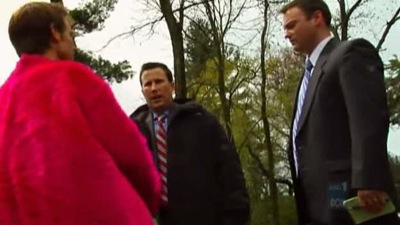 #12 - Episode 6 7.25
Season 3 - Episode 6
Barney the Dinosaur chasing down Dick Cheney for royalties from playing his songs at Guantanamo. Michael Palin - Around a Westfield in 80 days. Chas opens a Starbucks inside a Starbucks. Turning Kevin Rudds speeches into a song. Terry Gilliam shoots a Brand Power commercial. Nut Job of the Week featuring Steve G. Jones Hypnotherapist.
#13 - Episode 7 8.00
Season 3 - Episode 7
Highlights include: Hello Osama, Do you speak English? and Brothel Advertising.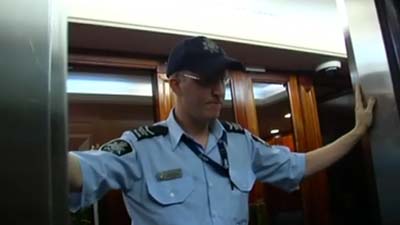 #14 - Episode 8
Season 2 - Episode 8
* Before Show Joke; Disclaimer stating The War do not reflect their content as much as Bastard Boys but just as biased. * Intro Joke; Special Guest Fainter: Kellie Connolly * Change of names; Craig - John Coombes, Chris - Chris Corrigan, Chas - Greg Combet, Julian - Peter Reith, Andrew - Bill Kelty. * Intro; Australian Cricket Team banned from Zimbabwe. * Stunt; Following John Howard with a boombox playing his recorded phone message. * Ad/Trailer; The Shawskank Redemption starring Paris Hilton (parody of The Shawshank Redemption). * Stunt; Finding Public Address systems in businesses and making announcements. * Song; I Still Can't Accept What a Knob I Am (parody of I Still Haven't Found What I'm Looking For). * What Have We Learned From History; Germany invading Poland in World War II. * Ad/Trailer; Inside the ACTU boardroom. * The Fixers; Fairfax (aimed at David Kirk), Taj El-Din Hilaly (for his tape over his mouth comment) * Nut Job of the Week; Road testing The Secret. * Ad/Trailer; Crocodile Dundee in Bermuda (parody of the Crocodile Dundee series of films aimed at Paul Hogan's tax evasion). * Stunt; UN peacekeeper's protecting Australia from violence.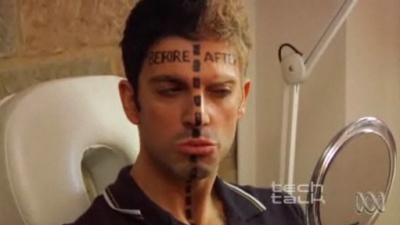 #15 - Episode 8
Season 3 - Episode 8
Final episode of Season 3, and the last episode to air.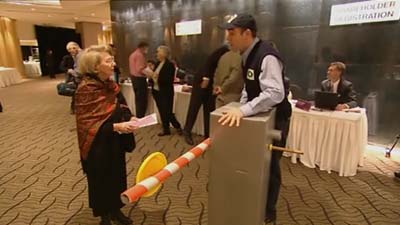 #16 - Episode 8 8.75
Season 1 - Episode 8
Macquarie Bank tolls A Message From Osama bin Laden Surprise Spruiker Chas calls a phone sex line Firth in the USA Monty Python. Mr. Ten Questions What Have We Learned From Current Affaris This Week? When a Telemarketer Calls In Other News Door Bouncer Challenge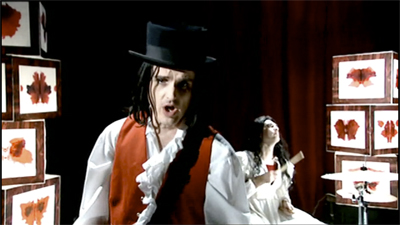 #17 - Episode 9 8.75
Season 1 - Episode 9
The 9th episode in the Chaser's war.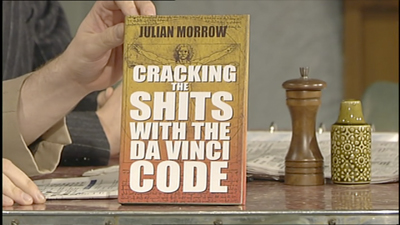 #18 - Episode 10
Season 1 - Episode 10
The 10th episode in the Chaser's war.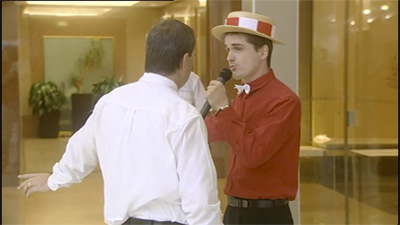 #19 - Episode 1 8.00
Season 1 - Episode 1
1. Kerry Packer's memorial service and memorial fund. Chris and Craig discuss the televised funeral and memorial to the late Kerry Packer, and then try to collect money for their own Kerry Packer Memorial fund. 2. Mega-Cheese crust pizza. Presenting the latest ad for pizza with more cheese than ever before! 3. Pursuit Trivia This question goes to Stephen Smith, the Shadow Industrial Relations Minister: What is the world's second highest mountain? He did not guess the correct answer: K2. 4. The Surprise Spruiker Andrew introduces his Surprise Spruiker for those who need it most. This week, those receiving his charity are: Giorgio Armani; The Department of Workplace Relations; and The Department of Immigration. 5. A Message from Osama Bin Laden Bin Laden admits he's responsible for all the evil in the world...except for the Up-Late Game Show with the Hotdogs. 6. AWB Corporate box; Big Day Out Sniffer Dogs; Australian flag fashion. 7. This week's subliminal message. 8. The Road to Turin Chris and Andrew are thoroughly practicing their ice-skating for the upcoming Winter Olympics in Turin. 9. Charles Firth in the USA Charles interviews football fans about the Superbowl. 10. In Other News... AWB kick-back scandal; Abortion pill UR486; Eddie McGuire; New footage of Iraq prisoner abuse; Bali 9 execution. 11. Evade Aid A live concert event to raise money for Packer's tax bill. 12. What have we learned from Current Affairs this week? Lesson 1: Dodgy Guys. How to spot a dodgy guy, and dangerous car parks. 13. Mr. Ten Questions This week he meets Hugh Jackman. 14. Danish cartoons on Danna Vale's website.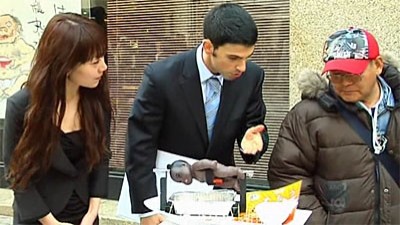 #20 - Episode 4 7.14
Season 3 - Episode 4
Vigil for Michael Jackson, Malcolm Turnbull email furore. Baby Day Spa. If Life Were A Musical; Chris, Andrew and Craig singing to a patron outside a theatre in the West End of London, about how the recession has forced them out of acting and onto the streets. Julian pretending to work for Apple Inc. and ordering people out of the queue for the new iPhone because they look too nerdy for the target demographic. French and Mormon versions of Cheaters. Getting Japanese people to eat unusual things. Noam - philosophical chat show hosted by Noam Chomsky. Chas testing the "Love Calculator" application on his phone. Parody of Touching the Void.
#21 - Episode 14
Season 2 - Episode 14
* Intro Joke; First human to catch horse flu: Matt Shirvington. * Intro; APEC Summit in Sydney, incorrect White House press releases o Stunt; New uniforms for APEC leaders o Stunt; Replacing Australian animals in the zoo o Stunt; Glorifying APEC security measures (including doing checks on a Melbourne tram and in Hungry Jacks toilets) * Ad/Trailer; The Horse Flu Handicap horse race at Phlegmington (featured horse flu related names for the horses racing) * Clive the Slightly-Too-Loud Commuter; Talking to his doctor about his wife lactating apple cider * Stunt; Sneaking weapons into prison * Song; APEC protester (parody of "Subterreanean Homesick Blues" by Bob Dylan) * Stunt; Andrew Hansen as a performer on Thank God You're Here * Ad/Trailer; "Dicko" (Parody of Sicko) * What Have We Learned From Current Affairs This Week; Lesson 21: Things learned during the break which featured apologising to an actor who was called a pedophile, Matell toys made with lead paint, on board Kitty Hawk, upcoming election stories, J.K. Rowling story rip-off o Anna Coren's Segue of the Week; Macquarie Bank to Harry Potter * Ad/Trailer; The new Australian WorkChoices advertisements * The Fixers; Kevin Rudd (following him around with a stripper), different versions of the "Kevin 07" t-shirts * Song; "Where's My E?" (about drug use by players in the NRL mainly Andrew Johns and is a parody of "That's My Team" NRL Theme Song]] * Conclusion; Fake incorrect White House press releases * Stunt; Julian driving around Sydney in a tank including crushing a car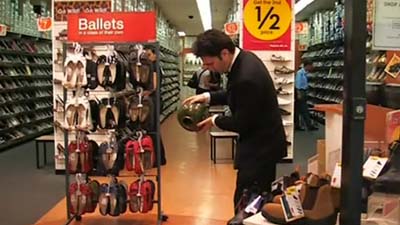 #22 - Episode 3
Season 2 - Episode 3
* Intro Joke; Bridalwear By Ray's Tent City. * What Have We Learned From History; Adam and Eve accepted fruit from a serpent. * Ad/Trailer; 2007 Global Warming Games. * Firth In The USA; Hillary Clinton Intern. * Stunt; Sprinkling of Mother Ashes. * Ad/Trailer; JTV Wolfmother. * What Have We Learned From Current Affairs This Week?; * Who To Blame? * Lesson 16: Humiliation. * Clive The Slightly-Too-Loud Commuter; Drugs on a Train. * The Fixers; Chas' Smell (not fixed), Libby Lenton and Bra Boys (Not Fixed). * Ad Road Test; The Flashbeer commercial for Carlton Draught. * Credit joke; Chris Taylor's mother is not really dead. Please do not send flowers.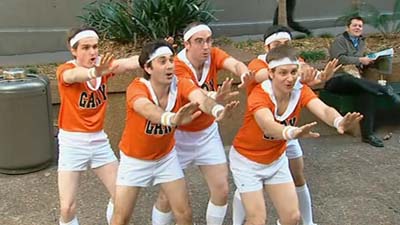 #23 - Episode 14
Season 1 - Episode 14
Nude Calendar, Angelina's Babies, Janette for PM, Nicorette Ad Road Test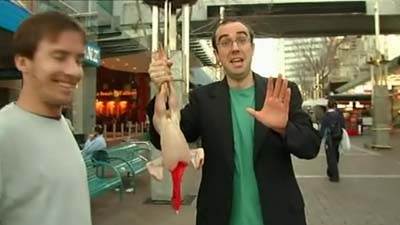 #24 - Episode 17
Season 1 - Episode 17
Pushers trying to save on fuel Are You Being Shagged? Complaing about bus route numbers Chas travelling in taxi boot Meanwhile in Iran Pursuit Trivia Acting inappropriate in smart cars Offering smart cars to people Mr. Ten Questions In Other News Turkey slapping survey featuring actual turkey Detective Superintendent Clive Pugh recites The Bard What Have We Learned From Current Affairs This Week?; Media-scrum for minor court cases Pushing ride-on lawnmower, tank and plane to save fuel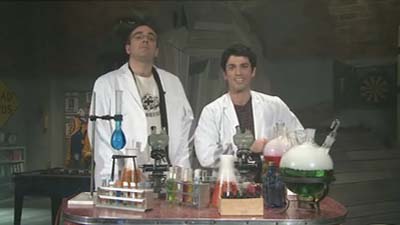 #25 - Episode 17
Season 2 - Episode 17
* Intro Joke; Now even more silent - Marcel Marceau * Change of names; Craig - Milko, Chris - Kate Richie, Julian - Sally, Chas - Don't Go Alf, Andrew - Quitter * Intro; The Australian Liberal Party dirt file, assuming John Howard is gay, Kevin Rudd and Alexander Downer talking about tax thresholds including Lateline's "other camera" * Stunt; Bring Rob Mills down to Tasmania to see if the Tasmanian premier Paul Lennon minds * Ad/Trailer; Classic Albums - Sounds of the Humpback Whale * Open Mic; Upmarket shopping centre, Target, Woolworths, Westfield Group shopping centre * Stunt; Seeing how many times Chas can complain about his meal at a restaurant and have it taken back * If Life Were a Musical; Chas singing about having all his hair on his body shaved off and not just his face in a Barber shop * Ad/Trailer; A Ingmar Bergman directed in-flight safety video, followed up by a review of it by David Stratton and Margaret Pomeranz from At the Movies * The Lab; This weeks category: Cosmetics - featuring various gels and creams (also featuring a scene with Julian dressing up as a primary school student and going to school due to the effects of an anti-ageing cream product) * Song; "Ass Sol" by Sol Trujillo (directed at his management of Telstra and a parody of the Denis Leary song "Asshole") * The Fixers o Mime: A mimed funeral of Marcel Marceau) o Kevin Rudd Asking him if he can speak Chinese and calling him a smart arse in Mandarin o Jetstar: Offering passengers safety ticket upgrades, parachutes and helmets * Andrew Hansen's Closing Comment; Now in the words of Marcel Marceau, Silence