Batman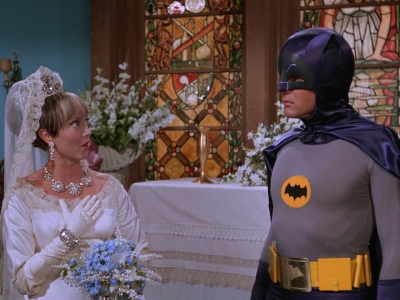 #1 - Marsha's Scheme of Diamonds 8.36
Season 2 - Episode 24
Hoping to obtain the Batcave's bat-diamond, Marsha searches for a new potion to use on the Caped Crusaders. Batman and Robin do some searching of their own and arrive at the criminal's hideout. But after Marsha douses them with her concoctions, the villainess seems to have a unique bargaining chip - two tiny caped toads - with which to gain Commissioner Gordon's help in locating the Batcave.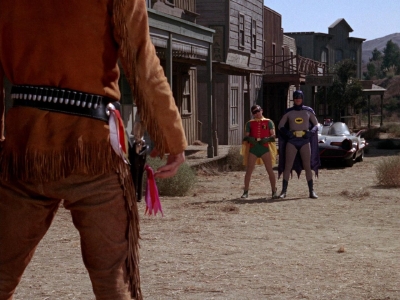 #2 - It's How You Play the Game 8.25
Season 2 - Episode 26
With his special truck finished, Shame goes to work on his final caper - the theft of four prize cattle worth over one million dollars. Batman and Robin deduce his plan, but realize they are too late to stop him and too slow to catch him. With little left to go on, the Dynamic Duo employ their "bat-logic" to try to figure out his next move.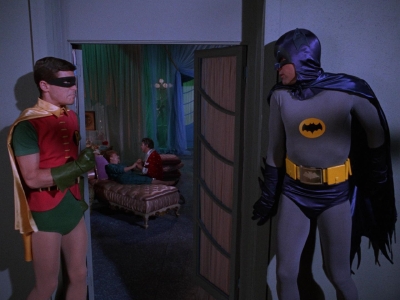 #3 - The Dead Ringers 8.11
Season 2 - Episode 16
Batman and Robin escape Chandell's trap. Once back in the Batcave, they deduce his plan to get the Wayne family fortune by killing Bruce Wayne and Dick Grayson, then marrying the rightful heir, Aunt Harriet. In order to trap the villain, Bruce and Dick fake their own deaths. However, Harry has also figured out his brother Chandell's scheme, and desiring the Wayne fortune for himself, concocts a plan to masquerade as his twin brother.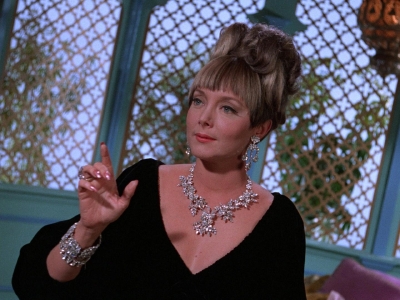 #4 - Marsha, Queen of Diamonds 8.00
Season 2 - Episode 23
Marsha, the Queen of Diamonds, is after the giant diamond that powers the Batcomputer. With her love darts, she puts both Commissioner Gordon and Chief O'Hara under her spell (and into her custody). When the Dynamic Duo show up, they too are injected with her love potion, and Batman must agree to marry Marsha if he ever wants his friends to be returned.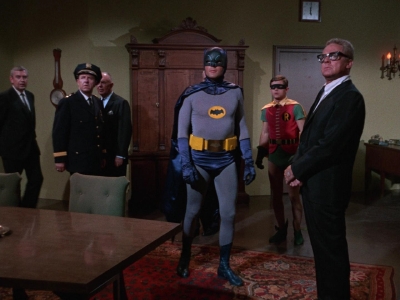 #5 - Barbecued Batman? 8.00
Season 2 - Episode 6
Failing to destroy Batman and Robin, the Minstrel enacts "Plan High C." He shakes the building of the Gotham City Exchange, and promises to send it crumbling down if his demands are not met in one hour. Batman assumes cutting off the building's power will thwart the villain, but when that plan fails, it's up to the Dynamic Duo to track down the Minstrel before it's too late.
#6 - Come Back, Shame 8.00
Season 2 - Episode 25
Shame is back, and is using stolen vehicle parts to assemble a truck so fast even the Batmobile won't be able to catch him. Bruce Wayne tricks him into stealing his limo, which he (as Batman) and Robin use to track down his hideout. But the villain gains the upper hand in the ensuing fight, and the Dynamic Duo find themselves staked to the ground in the path of a cattle stampede.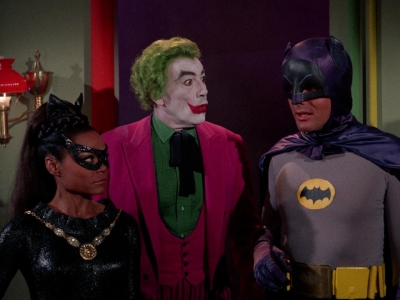 #7 - The Joke's on Catwoman 8.00
Season 3 - Episode 17
Following a tip from Batgirl, the Dynamic Trio meet up at the Grimalkin Novelty Company, hideout of the Joker and Catwoman. There, they overhear the arch-criminals' plot and secretly trail them to a stash of hidden gunpowder. A careless mistake spoils the villains' evil plan, however, and they are captured and brought before the Gotham City judge. But when the jury seems less than interested in justice, courtroom mayhem ensues.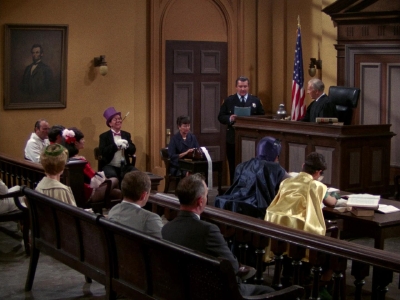 #8 - The Bird's Last Jest 8.00
Season 2 - Episode 28
Attempting to save Chief O'Hara from drowning inside a metal trunk, Batman and Robin find themselves under fire from the Penguin's henchmen. Batman instructs Alfred to pose as famous forger Quill-Pen Quertch (complete with false fingerprints), but the Penguin recognizes Alfred as soon as he puts on his glasses. The evil Bird-man and his cronies then visit stately Wayne manor brandishing a giant Butler-pie.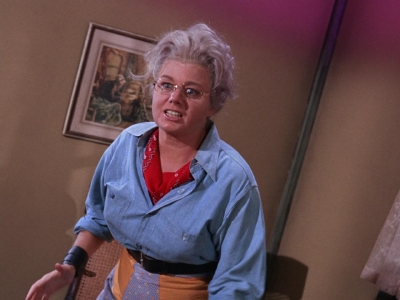 #9 - The Greatest Mother of Them All 8.00
Season 2 - Episode 9
Ma Parker and her delinquent children are pulling off a crime wave in Gotham City. Batman and Robin round up the gang one by one, but when the arrests seem all too easy, the Dynamic Duo suspect something else more sinister may be up.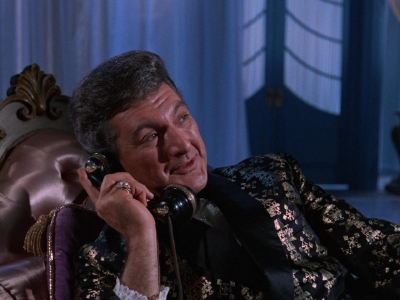 #10 - The Devil's Fingers 7.92
Season 2 - Episode 15
Chandell, the musical virtuoso, visits Gotham City for a piano concert. But unknown to the public, Chandell is being blackmailed into a life of crime by his twin brother Harry, who retains most of the profits. Chandell intends to buy off Harry forever, and he knows just where to get the funds - from the Wayne family fortune. With Batman and Robin out of town, he suspects the robbery will be a piece of cake. However, Batman has been listening to Chandell's concert remotely, and after detecting an anomalous chord, summons Robin back to Wayne Manor to investigate.
#11 - The Impractical Joker 7.90
Season 2 - Episode 21
The Joker pulls off a string of key-related pranks throughout Gotham City, then with his magic box, proceeds to snatch a priceless jeweled key right under the noses of Batman and Robin. The Dynamic Duo wise up to his ways and thwart him at their next encounter. However, the Joker has more devious plans to do away with them both before his final caper.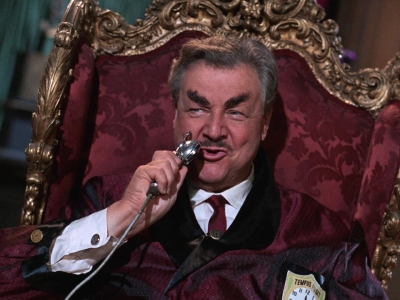 #12 - The Clock King's Crazy Crimes 7.90
Season 2 - Episode 11
After a robbery aided by a rigged timepiece, Batman and Robin deduce the Clock King must be in Gotham City. Disguised as a pop art expert, the villain brings his latest masterpiece to the Parkhurst Gallery. But everyone is surprised when the sculpture turns out to be more than just a piece of art, and the Clock King makes off with a valuable time-related painting. Batman and Robin follow a clue to the villain's hideout, unaware that a trap awaits them.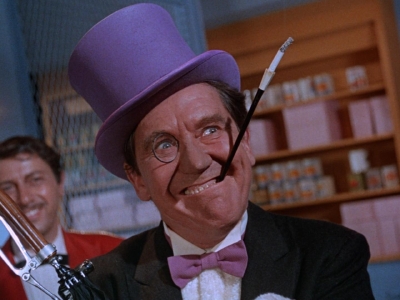 #13 - The Penguin's Nest 7.90
Season 2 - Episode 27
Penguin has opened a fancy restaurant called The Penguin's Nest. There every order has to be written down by the customers on a piece of paper. He then plans to get himself arrested and hand over the handwritten notes to a forger doing time by the name of Ballpoint Baxter. Suspecting a scheme, Batman urges the police not to send The Penguin back to his permanent cell. Unable to reach Ballpoint, The Penguin and his culinary cohorts escape from jail, taking Chief O'Hara along as a hostage.
#14 - The Duo Is Slumming 7.89
Season 2 - Episode 32
The Puzzler continues with his plan to hijack Artemus Knab's new airplane, the Retsoor, all the while leaving puzzles behind for Batman and Robin to ponder. He familiarizes himself with the jet's designs, then prepares to fly his prize to a foreign country where he will hold it for ransom. But the Dynamic Duo have an easier time with his clues than he expected, resulting in a climactic confrontation at the airplane hanger.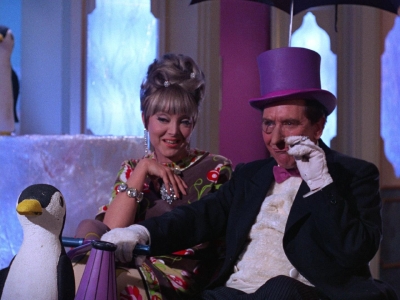 #15 - Penguin Is a Girl's Best Friend 7.89
Season 2 - Episode 42
As a front for his next crime wave, the Penguin forms a motion picture company. He teams up with Marsha, Queen of Diamonds, and gets Batman and Robin to take part in his movie. Marsha attempts to put Batman under her spell with drugged lipstick during the love scene, and filming at the Gotham City Museum of Antiquities turns out to be a good cover for the Penguin to snatch some ancient armor. Moreover, when the fight scene turns out to be all too real, the Dynamic Duo are captured and tied to a giant catapult about to be sprung.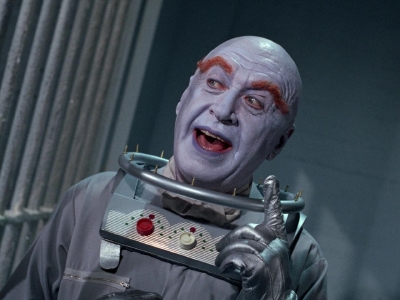 #16 - Green Ice 7.87
Season 2 - Episode 19
Mr. Freeze is in town, and has begun a new cold wave of terror. He launches "Operation Hate Batman," framing the Caped Crusader as taking a bribe and dressing his own henchmen as Batman and Robin. As the negative press mounts, Mr. Freeze works on his plan to turn the Dynamic Duo into human Frosty Freezies.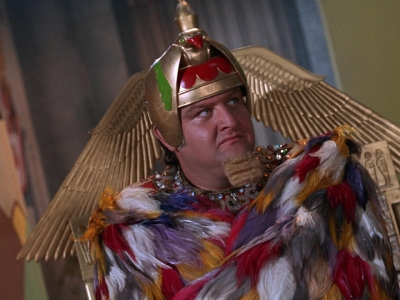 #17 - The Spell of Tut 7.86
Season 2 - Episode 7
King Tut has relapsed into his kingly ways, this time showing a marked interest in scarab beetles and apothecary potions. Robin infiltrates their hideout to discover their true intentions, relaying what he hears to Batman, but their plan is put in jeopardy when Robin's presence is detected.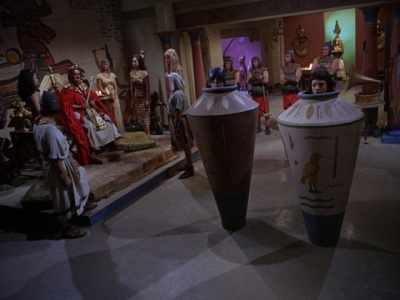 #18 - The Pharaoh's in a Rut 7.83
Season 1 - Episode 28
Bruce frees himself just before the cart he is riding goes over a cliff. As Batman, he works to bring King Tut to justice. But the hero is captured by King Tut instead. Batman is then tortured as King Tut drops a pebble on his head at a time. Robin works to track Batman in time.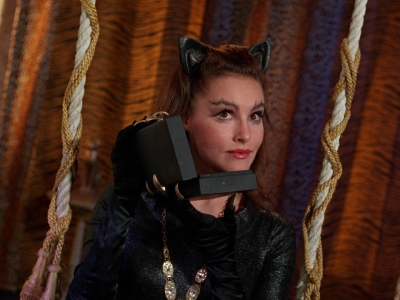 #19 - The Cat's Meow 7.82
Season 2 - Episode 29
The Catwoman "steals" the voice of a television talk-show host in the middle of an interview with Bruce Wayne. She plants clues to suggest either the Joker, Riddler or Penguin may have committed the crime. In the meantime, she has fooled Commissioner Gordon into thinking she has gone straight. She makes her first mistake when she masquerades as Miss Klutz, a dance instructor visiting Wayne Manor. Allergic to dogwood, she sneezes and gives herself away. Her next target is to "steal" the voices of British singers Chad and Jeremy. Batman and Robin eventually track her to a dance studio, where a fight erupts. After it appears the Dynamic Duo has triumphed over Catwoman's forces, she drugs them. The heroes are placed inside a chamber where the sounds of water dripping will be magnified many, many times and drive them insane.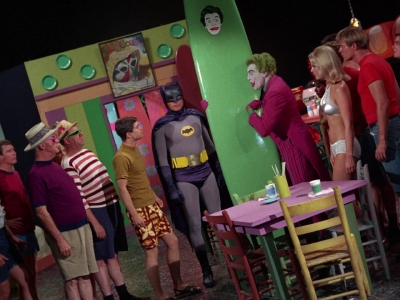 #20 - Surf's Up! Joker's Under! 7.79
Season 3 - Episode 10
The Joker plans to become the king of surfing, hoping the fame will give him control over the hearts and minds of Gotham City. He captures top surfer Skip Parker, then uses his "Surfing Experience & Ability Transferometer" to transfer the needed skills and stamina from Skip to himself. When all the other contestants drop out of the upcoming surfing match, Batman steps up to challenge the Joker's supremacy.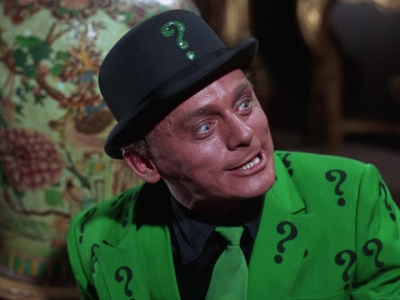 #21 - Hi Diddle Riddle 7.77
Season 1 - Episode 1
The Riddler leaves a clue at a Moldavian reception at the Gotham City World's Fair. Batman and Robin are summoned and are on the villain's trail. But he tricks them; the heroes think he's committing a robbery with a handgun. In reality, the gun is a cigarette lighter (the answer to one of the Riddler's riddles). Now, the villain is suing Batman, where he will be forced to reveal his true identity in court. The heroes, still convinced the Riddler is planning a major crime, travel to a discotheque. There, Batman is drugged by Molly, one of the Riddler's confederates, while Robin is kidnapped. Robin appears to be in great danger as the episode ends.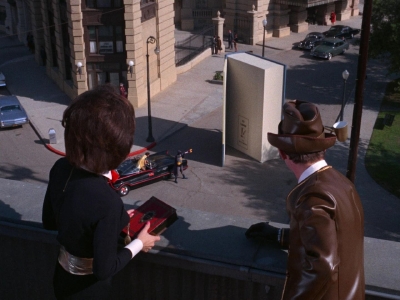 #22 - While Gotham City Burns 7.76
Season 1 - Episode 30
Batman saves Robin from the Wayne Memorial Clock Tower at the last possible Big Benjamin second. While they are busy in the Batcave, The Bookworm steals a priceless cookbook from stately Wayne Manor. He then lures the Dynamic Duo into an oversized cookbook on display in the middle of Gotham city and steals the Batmobile. Can Batman and Robin escape before their goose is cooked?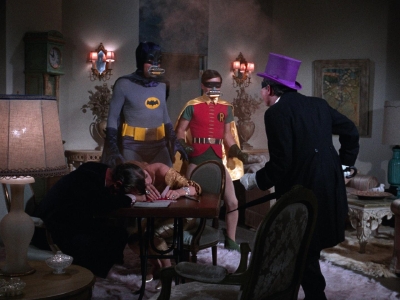 #23 - The Penguin's a Jinx 7.75
Season 1 - Episode 4
Bruce Wayne escapes the Penguin's deathtrap and returns to the Batcave. What he doesn't know is that one of the Penguin's clues, an umbrella, has a listening device. As a result, the Penguin listens in as the Dynamic Duo debate what the clues mean and what caper the Penguin may attempt to pull. As a result, the Penguin kidnaps movie star Dawn Robbins.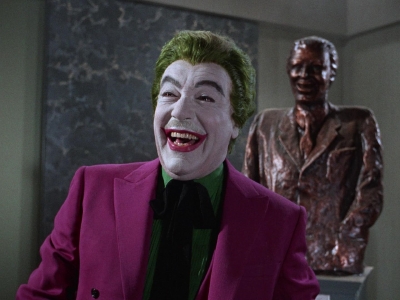 #24 - The Joker Is Wild 7.73
Season 1 - Episode 5
The Joker escapes from prison and begins another crime wave on Gotham City. After being foiled by Batman and Robin, thanks to Batman's utility belt, the Joker decides to make his own utility belt. The Joker eventually traps Batman and Robin and, on live television, he intends to unmask them.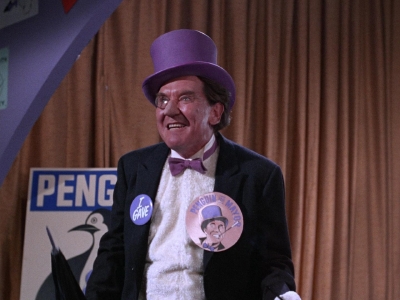 #25 - Hizzonner the Penguin 7.73
Season 2 - Episode 17
The Penguin appears to have gone straight. (Evidently the citizens of Gotham City have short memories; he tried the same trick in season one.) Not only that, he has emerged as the leading contender for mayor of Gotham City, thanks to a little-known provision of the city charter that permits felons to run for elective office. Mayor Linseed, facing almost certain defeat, convinces Batman to run for mayor. This displeases the Penguin, who doesn't want to leave anything to chance. He lures Batman and Robin into a trap and, by episode's end, things don't look good for the Dynamic Duo.