Sports Night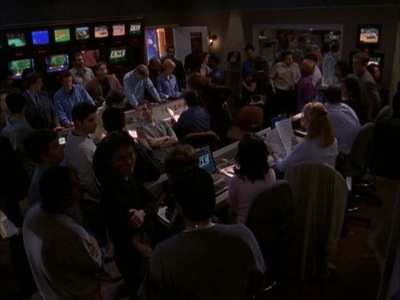 #1 - Quo Vadimus 8.59
Season 2 - Episode 22
Bidders drop out of the auction for Continental Corp., which causes concern for the future of the ""Sports Night"" team. Meanwhile, Casey prepares to look for new work without Dan, who is reunited with a familiar face from his past.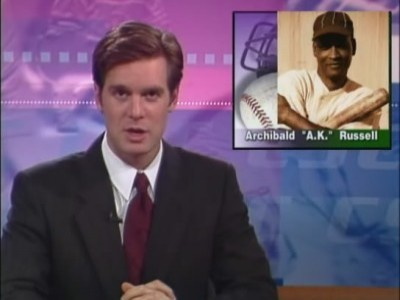 #2 - Dear Louise 8.41
Season 1 - Episode 7
Jeremy writes a letter to his deaf sister about his new job at Sports Night. In it he describes the last few days there, including Dan's writer's block and the beating of an 80-year-old Negro League ball player, Archibald Russell. He also talks about his love for Natalie. Isaac's mad that his daughter is dating a Republican and Casey tries to annoy Gordon, Dana's new man.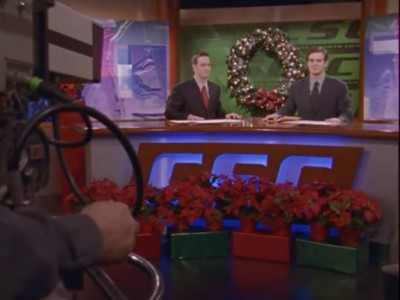 #3 - The Six Southern Gentlemen of Tennessee 8.32
Season 1 - Episode 11
A southern African American football player and five other students refuse to play at a Tennessee college where the Confederate flag is hung. Luther Sachs the owner of CSC and alumnus of the college sides with the college, but Isaac disagrees and says so on the show. Casey goes on "The View" and takes credit for his wardrobe, which he doesn't deserve and this leads Dan and another staffer to teach him that the show is a team.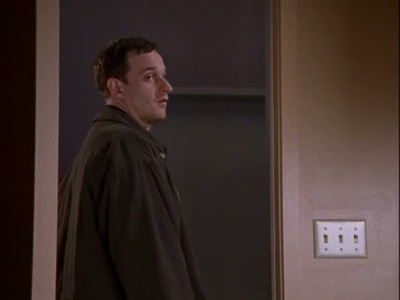 #4 - The Local Weather 8.31
Season 2 - Episode 16
Dan decides to skip therapy and spends an hour in Abby's office telling her so. Jeremy e-mails the porn star he blew off, then decides to tell her in person why he's not going to see her again. Casey decides to bribe the gang with international cuisine to get them to watch a track and field event in the wee hours. Dana decides to seek shelter from a rainstorm in church.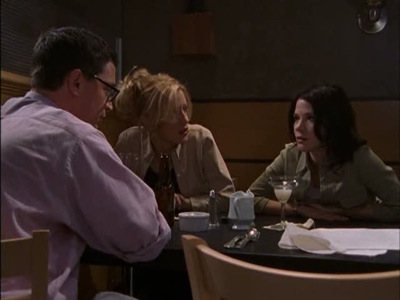 #5 - La Forza Del Destino 8.27
Season 2 - Episode 21
While at Anthony's trying to drown their fears about the future of ""Sports Night,"" Dana meets a mysterious stranger who seems to know a great deal about the bidding for Continental Corp.; and Dan tries to convince Casey that a move to LA might not be a bad thing.
#6 - The Apology 8.24
Season 1 - Episode 2
Dan is misunderstood on his opinion over marijuana and the law. When Luther Sachs reads this, he demands an on-air apology; Isaac seconds it, as does Dana. But no one will answer as to whom he should be apologizing to. Casey worries about why he is not considered ""cool"" like Dan is. Dan is stalked by one of the CSC fitness show stars.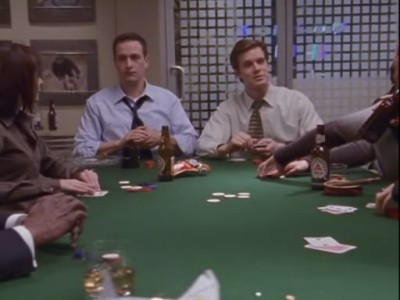 #7 - Shoe Money Tonight 8.22
Season 1 - Episode 10
It's snowing in Pittsburgh so, the anchors of the 2 AM West Coast Update are stuck and the staff have to stay to do the show. Instead of going to Atlantic City, Dan and Casey and the staff have a poker tournament. Natalie is angry with Jeremy because he skipped an outing with her to go play tennis with an old girlfriend who is now an actress. Casey approves a rundown from the 2AM producer, Sally without consulting Dana, making her feel very angry and unappreciated. Isaac is shrinking.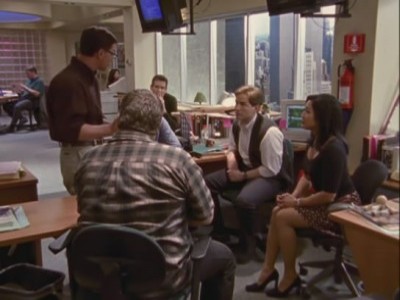 #8 - Sally 8.21
Season 1 - Episode 16
When Casey has a one-night stand and does not tell anyone, the entire staff, led by Dan, prods him for details. After Gordon cancels a date with Dana, she questions the status and future of their relationship. Jewish Jeremy, panics when he is set to visit Natalie's parents for a Catholic holiday, he knows nothing of.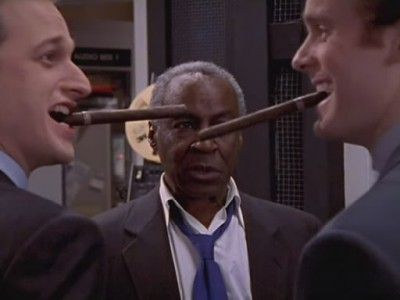 #9 - Thespis 8.17
Season 1 - Episode 8
November 23rd marks the birthday of Thespis, the Greek God of Theater. A legend states that on his birthday he has been known to haunt live productions, and for the first half-hour of it, Sports Night is targeted. This date also is the anniversary of Dan and Casey's first broadcast, and Casey can't remember. Issac worries over his expecting daughter, and Dana worries about making Thanksgiving for her mother.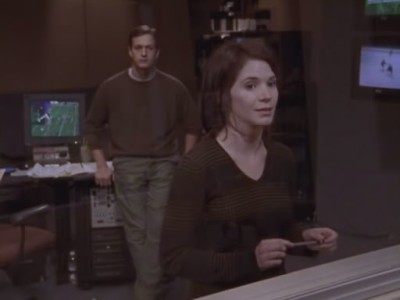 #10 - Mary Pat Shelby 8.16
Season 1 - Episode 5
Dana is excited to be getting a notorious football player, Christian Patrick on the show. The staff is not when his lawyers force them to not mention the ex-girlfriend he badly abused, Mary Pat Shelby. When Natalie goes to pre interview him, he assaults her. Dana's decision about whether to break the story is a difficult one, and it is not the same as Dan and Casey's. Also Dan wrestles with whether or not to get a goatee and Dana realizes her absence of a sense of humor.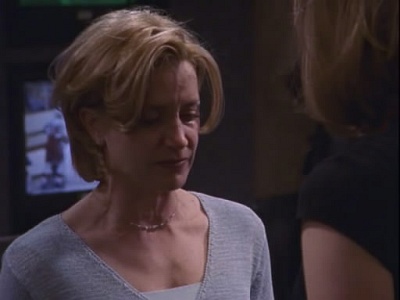 #11 - Napoleon's Battle Plan 8.11
Season 1 - Episode 22
Gordon has proposed to Dana, and Casey is seething, but tells Dan he plans to ""take the high road' and follow Napoleon's Battle Plan: Show up and see what happens next. Dan reminds Casey that Napoleon lost at Waterloo and died in exile, and announces his intention to ""step in"". So Dan tells Natalie about Gordon's fling with Sally. Natalie runs straight to Dana, who confronts Gordon who, in turn, tells Dana about Casey's fling with Sally. Then Dana confronts Sally, who reveals she has been sleeping with Casey for months. Confused? You won't be on the tonight's episode of . . . oh wait, that's another show!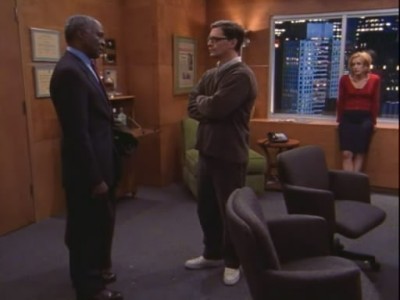 #12 - The Hungry and the Hunted 8.10
Season 1 - Episode 3
Jeremy gets the ""call"" from Isaac and Dana, to go out on assignment for CSC's hunting show. While he wants to move up, he has a problem with hunting animals. Natalie tries to orchestrate romance between Casey and Dana, during one of Luther Sach's parties. Technical errors occur on the set.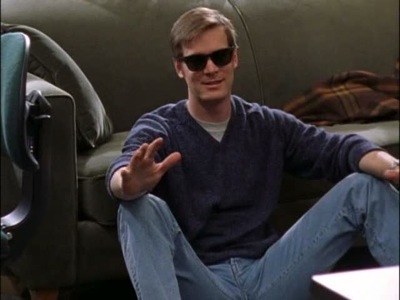 #13 - And the Crowd Goes Wild 8.10
Season 2 - Episode 14
Jeremy and Natalie's break-up ripples through the show after Jeremy asks for his ""stuff"" back. Casey's dilated pupils provide comic relief for Dan and the crew. Dana deals with Sam's imminent departure. A riot breaks out at Madison Square Garden and Natalie questions turning over the show's filmed coverage of the event to the police.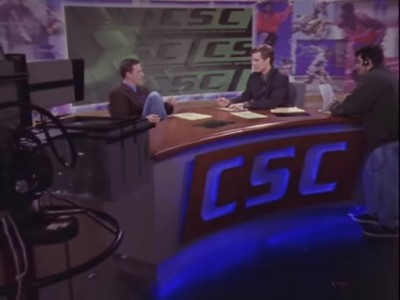 #14 - Pilot 8.10
Season 1 - Episode 1
Casey begins to slow down at the job, due to his impending divorce. The staff tries to get him out of his haze and J.J. and the network brass threaten to fire him. At the same time Casey himself thinks about leaving until he witnesses that he'd only do this for the wrong reasons. Dana hires a new associate producer, neurotic, but brilliant Jeremy Goodwin. Dan has a New York Renaissance....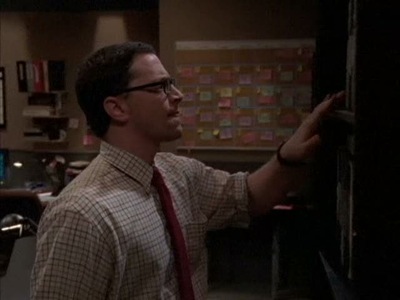 #15 - Draft Day: Part I - It Can't Rain at Indian Wells 8.04
Season 2 - Episode 17
Casey and Dana try to psyche each other out as they prepare to make their NFL draft day predictions. Dan gets glum when his golf date with PGA star David Duval is jeopardized - by his job. Jeremy tells Natalie about Jenny - except for the part about her being a porn star. Casey questions Dan's attitude and Dan questions their relationship.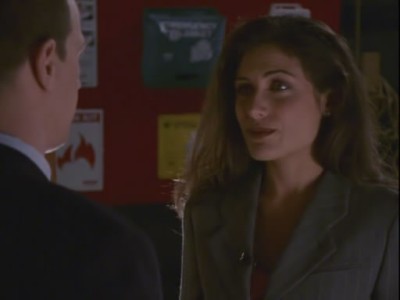 #16 - Eli's Coming 8.04
Season 1 - Episode 19
Dan's day is not shaping up to be a good one as Bobbi Bernstein returns to the broadcast, and he discovers Rebecca's husband hasn't quite reached ""ex"" status. Meanwhile, Casey and Dana's bickering escalates until news that Isaac has suffered a stroke reaches the staff.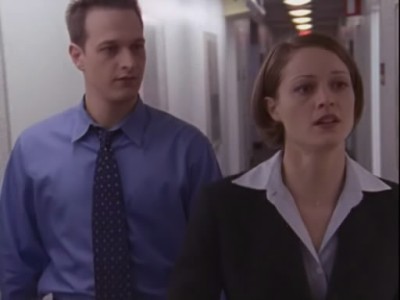 #17 - Dana and the Deep Blue Sea 8.04
Season 1 - Episode 15
Having been rebuffed by Rebecca, Dan turns to Casey for help in dating her. Casey, still wrestling with his feelings for Dana, refuses. Next Dan turns to Jeremy in his efforts to be ""more than friends"" with Rebecca. Meanwhile, Dana agrees to go snorkeling with Gordon even though she is terrified of fish. Casey: ""Sometimes you just stand there -- hip-deep in pie."" Rebecca [to Jeremy]: ""Is everyone who works on your show deranged?""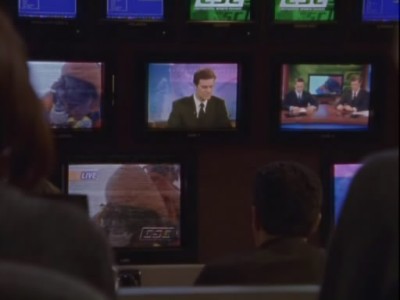 #18 - The Quality of Mercy at 29K 8.03
Season 1 - Episode 9
The team broadcasts an Everest climb, the first one since 1954. Jeremy realizes he's got something to live for, Natalie. Casey searches for food, as Dan searches for a charity to give to. Dana takes her niece to see ""The Lion King"", and discovers a love of the theater.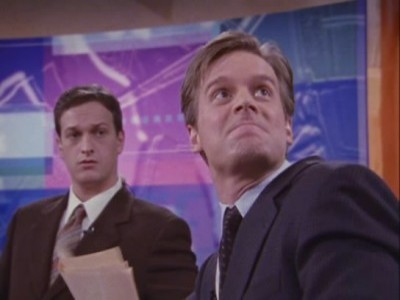 #19 - Intellectual Property 8.03
Season 1 - Episode 4
Casey spins out of control, due to jealousy when Dana starts seriously dating Gordon. He swats flies that no one else can see, kicks fire hydrants and other odd behavior. Dana, Natalie, and Jeremy wonder where all their ""good"" ideas went and CSC has to pay royalties after Dan sings Casey ""Happy Birthday"" on the air.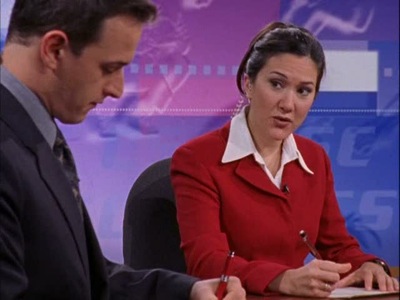 #20 - Kyle Whitaker's Got Two Sacks 8.01
Season 2 - Episode 7
Dana is extremely proud when her brother gets two sacks in a football game. She becomes determined to show others how he did it. Jeremy is nervous about firing Corbin Davis, a cousin of JJ's who is screwing up simple assignments. Jeremy gives him a pep talk and Corbin tells him, that he doesn't take sides when JJ talks bad about this show. Because of a drug scandal involving football players erupts, Casey travels to Ohio to find out the names, Tina fills in. When the names are uncovered, one hits close to home for Dana... literally... her brother.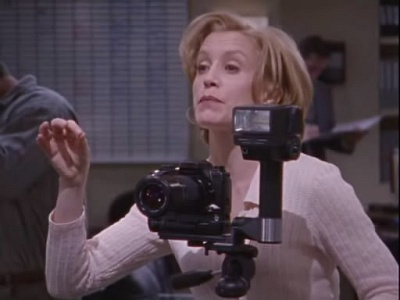 #21 - What Kind of Day Has it Been 8.00
Season 1 - Episode 23
Season One Finale. Gordon has an announcement for Dana. Dan helps Casey and his son Charlie with a problem. Dana has a big new camera and she's threatening to use it. Isaac's back!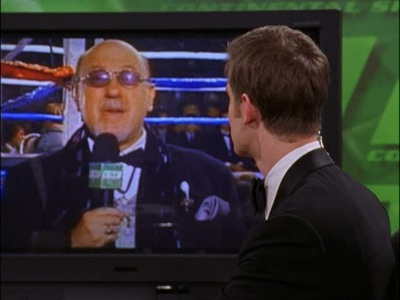 #22 - The Cut Man Cometh 8.00
Season 2 - Episode 11
While prepping to cover a major fight, Dana and Casey duke it out over their stalled fling, and Dan's dad, Jay, hits town for a tense visit. But after the match goes south, the CSC staff bands together to knock out a killer show, including an hour's worth of coverage of a fight that lasted under a minute and a correspondent who only will respond to being called ""the cut man"", calls Dan; Casey, and Casey; Dan. He also shows he has no idea what he is talking about, when he talks about the last winner of the Miss America pageant, Miss Rochester.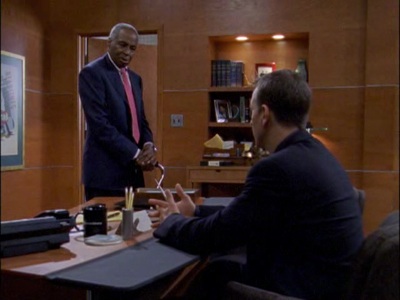 #23 - Special Powers 8.00
Season 2 - Episode 1
Second Season Opener Isaac returns to the job, but the effects of his stroke appear to be affecting his performance. The 90-day ""cooling off period"" following Dana's canceled wedding is drawing to a close, and Dan encourages Casey to ask Dana out. Natalie and Jeremy fight over a job she's offered in Galveston, TX.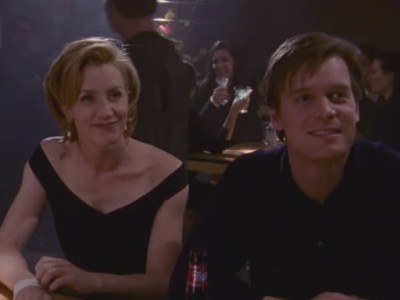 #24 - Small Town 8.00
Season 1 - Episode 13
It's Dana and Casey's night off, and neither wants to take it. They decide to double date, Dana with Gordon and Casey with Lisa a lawyer who's on a blind date. Natalie is left to produce the show for the first time, and has to handle an 11th hour trade, which in its chaos, Isaac and Jeremy question her authority. Casey's replacement is Bobbi Bernstein a psychotic woman who thinks that Dan slept with her in Spain and never called.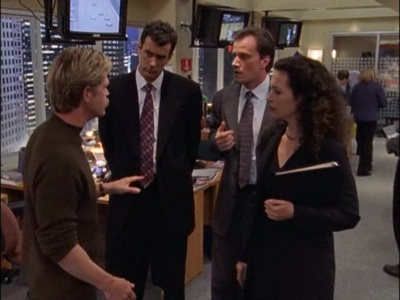 #25 - Cliff Gardner 7.97
Season 2 - Episode 3
With Sam Donovan around stiffness ensues both on and off the set. Dana debates leaving the show, after she feels everyone is blaming her for the shows problems. Natalie tells her that if she goes she has to bring her, and Jeremy, and Dan, and Casey. The tension grows, when the network bosses demand that the staff meet with J.J. and his boys for some notes. Sam is offered Isaac's job but he turns it down, and tells them where to go, thus showing he does have feelings.