Space Ghost Coast to Coast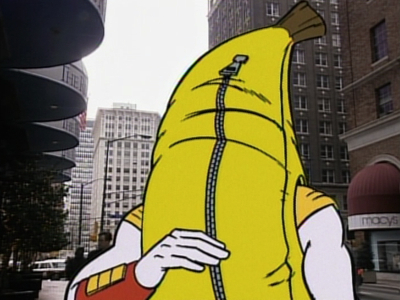 #1 - Rehearsal
Season 4 - Episode 1
A behind the scenes episode.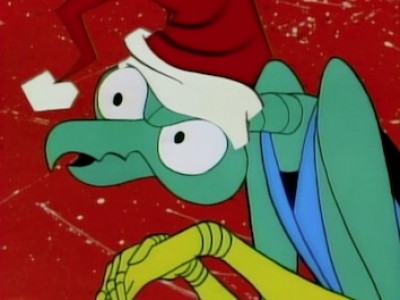 #2 - A Space Ghost Christmas
Season 1 - Episode 12
Space Ghost, Zorak, Moltar, and the Council of Doom unite for the festive season with altered variations of Christmas classics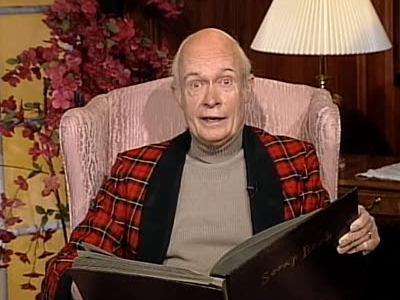 #3 - Story Book House
Season 2 - Episode 2
Kirk the Storyteller and Carl the Cartoonist offer Space Ghost viewers, through Carl's drawings and Kirk's narration, "exciting" versions of classic Space Ghost: Coast 2 Coast adventures
#4 - Baffler Meal 7.11
Season 8 - Episode 1
Space Ghost is forced into a raw deal with the deadly Colonial Man, forever altering the future of classic rock - again. Willie Nelson and a mockery of the Aqua Teen Hunger Force star in this episode.
#5 - Billy
Season 9 - Episode 1
Space Ghost interviews Billy Mitchell, the first person to reach a perfect score in Pac-Man and Donkey Kong score record holder.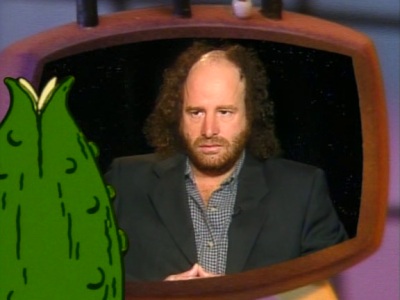 #6 - Snatch 6.25
Season 6 - Episode 2
Replicating Pods invade the Ghost Planet as The Blob blocks off all outside access. Space Ghost, Zorak, and Moltar come up with many unsuccessful plans and resort to drinking lots of coffee.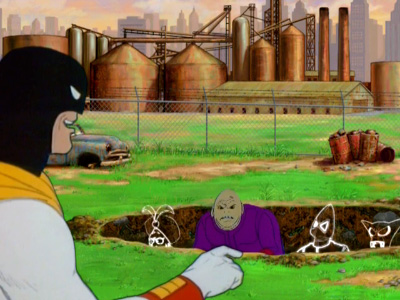 #7 - The Justice Hole
Season 7 - Episode 2
An agitated Space Ghost leaves his own show, but can't find anything to do.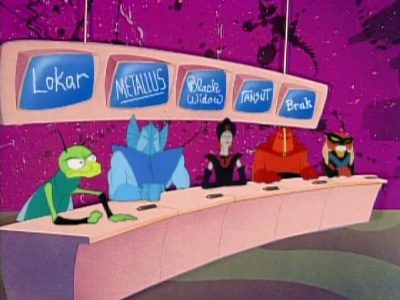 #8 - President's Day Nightmare
Season 2 - Episode 1
The fate of one animation creator hangs in the balance as Space Ghost hosts a series of new cartoon shorts, only one of them, or the winner of a swimsuit competition, will emerge victorious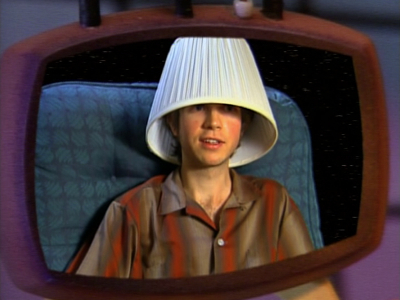 #9 - Edelweiss
Season 4 - Episode 3
Zorak is zapped until he can apparently no longer regenerate, leaving Space Ghost without a bandleader. Moltar is instructed to fill in for his dearly departed friend by singing renditions of German folk songs, which puts Beck, the show's lone guest, to sleep.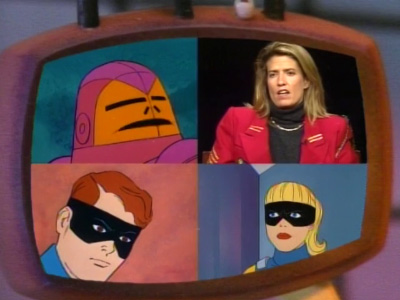 #10 - Lawsuit
Season 5 - Episode 3
Jace, Jan, and Blip from the original Space Ghost try to sue Space Ghost. Space Ghost gets out of it, and he blasts Blip. He also claims he destroyed Paris.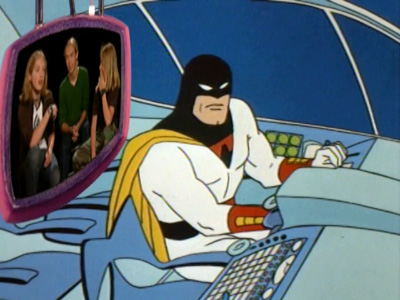 #11 - Girl Hair
Season 6 - Episode 3
Members of Hanson have long hair and Space Ghost is obsessed with combing it. Special appearances by the Tooth Fairy and Santa.
#12 - Kenny
Season 9 - Episode 3
Blues musician Kenny Wayne Shepherd is interviewed.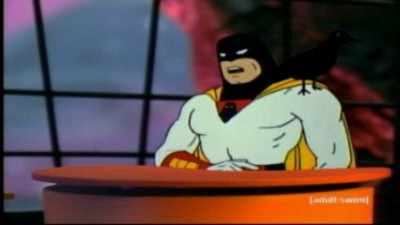 #13 - Eat a Peach
Season 8 - Episode 3
Space Ghost Explains The Birds And Bees To Zorak And Moltar. As in Bees can't drive and crows can shoot lasers out of they're eyes. Also, Moltar feels bad that Space Ghost seems to give Zorak more attention, as does Todd Barry when the crew decides not to share any crow with him.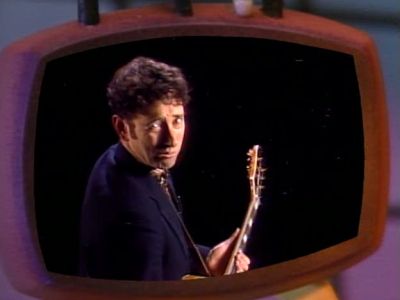 #14 - Transcript
Season 3 - Episode 4
Space Ghost interviews Jonathan Richman. That's it.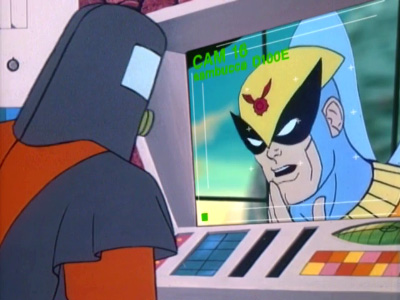 #15 - Sequel
Season 6 - Episode 4
After Space Ghost has been sent to the slammer for years of mistreating Jan and Jace, Birdman is called upon to guest host the show, but spends most of his time lamenting an impending divorce from his wife Galaxy Girl, a.k.a. Sylvia. This is a sequel to "Lawsuit".
#16 - Spanish Translation
Season 1 - Episode 1
After declaring his fondness for Mexican food, Space Ghost asks diet guru Susan Powter what super powers help "stop the insanity." Comedian Kevin Meaney discusses the virtues of wearing tight pants and the Bee Gees stop by for a short, bizarre visit.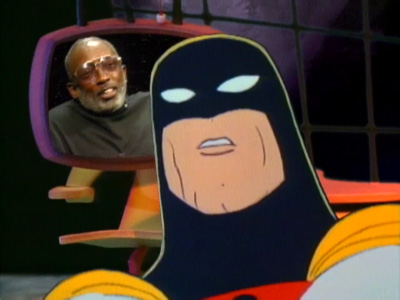 #17 - Cahill
Season 5 - Episode 4
A vicious storm on Ghost Planet has Space Ghost scared silly. (Note: The episode's name comes from the show's editor, Michael Cahill)
#18 - Stephen
Season 10 - Episode 2
Space Ghost interviews Stephen Bristow, an early employee of Atari who conceptualized games like Breakout.
#19 - Al
Season 9 - Episode 4
"Mr. pong", Allan Alcorn, is interviewed.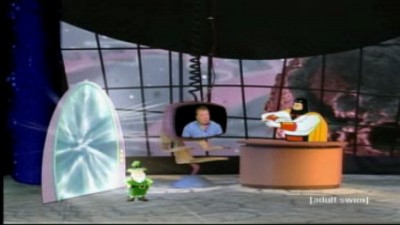 #20 - In Memory of Elizabeth Reed
Season 8 - Episode 4
In one of the most random episodes ever, Space Ghost's interview with William Shatner is cut short when he is called into action to take part in an epic space battle.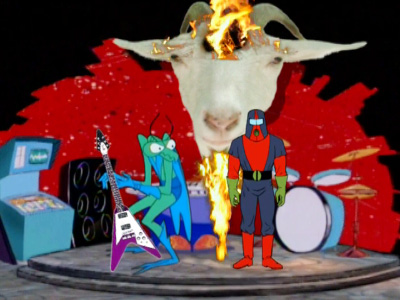 #21 - Sweet For Brak
Season 7 - Episode 5
Space Ghost becomes jealous when Brak's spin off, The Brak Show becomes a hit. Meanwhile, Zorak teaches the band Tenacious D how to perform.
#22 - Idlewild South
Season 8 - Episode 5
Zorak and Moltar are doing drugs and drinking booze when the show starts. Space Ghost wonders what they're doing, and Moltar encourages Space Ghost to drink some because it will "Make you feel like a Cowboy". After 1 sip he starts riding his TV, doing the Robot, and other crazy stuff, that eventually results in a series space ship related accident.
#23 - Steve
Season 9 - Episode 5
Space Ghost interviews Steve Wozniak, co-founder of Apple.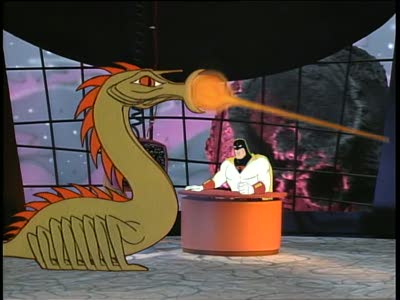 #24 - Banjo 8.41
Season 1 - Episode 6
While Zorak is trying to use hypnotic powers on Space Ghost, the pet sea monkey Banjo is steadily growing out of control.
#25 - Fire Drill
Season 2 - Episode 5
Donny Osmond comes prepared for Space Ghost...so does a woolly Panda.