Six Feet Under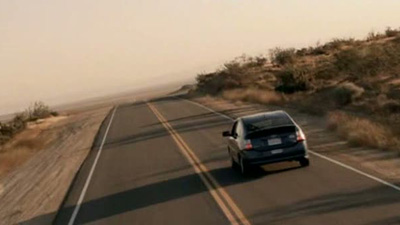 #1 - Everyone's Waiting 9.54
Season 5 - Episode 12
In the series finale, David finally embraces a demon; Keith gives 'tough love'; Nathaniel talks to his younger son; Brenda delivers and fights Nate's negativity; Claire gets an exciting call; and Ted inspires sexy photos.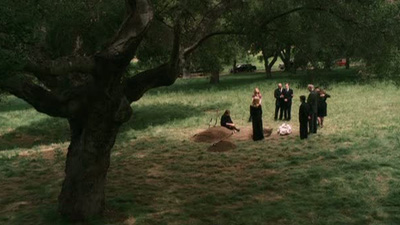 #2 - All Alone 8.87
Season 5 - Episode 10
Nathaniel Samuel Fisher, Jr. 1965 - 2005 David makes arrangements for Nate's funeral with Ruth and Brenda. Keith makes a humiliating discovery. Brenda must answer a difficult question for Nate's daughter, Maya. Claire reminisces on the past.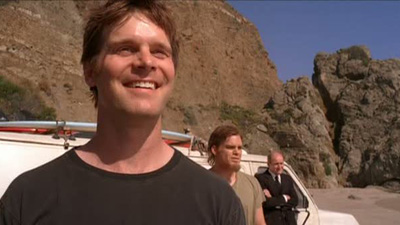 #3 - Ecotone 8.76
Season 5 - Episode 9
Lawrence Hall Matheson 1971 - 2005 David and Keith begin to feel comfortable in their roles as parents to Durrell and Anthony. Claire shares a common interest with co-worker Ted. Brenda faces common truths. Federico finally understands Vanessa. Feeling liberated after leaving George, Ruth goes camping with Hiram. Nate is checked into the hospital, while the rest of the family (except for Ruth, who is unreachable) waits to hear news from the doctors. Nate enters a brief coma after an operation to repair the damage from his AVM. He appears to be on the path to recovery when he suddenly dies, with only David by his side.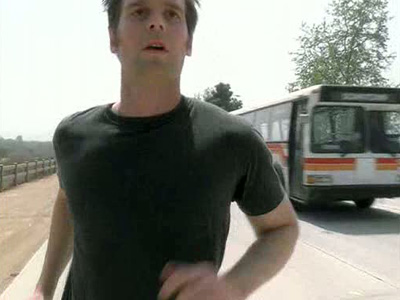 #4 - The Last Time 8.57
Season 2 - Episode 13
Aaron Buchbinder 1976 - 2002 Nate is not feeling well, emotionally and physically. Something is going on inside him. Keith's work situation changes, and this creates some extra problems between him and David. Federico makes the Fisher's an offer they cannot refuse. Claire graduates from High School.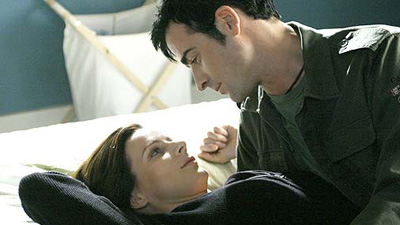 #5 - That's My Dog 8.39
Season 4 - Episode 5
Anne Marie Thornton 1966 - 2004 On the way home from retrieving a body, David picks up a hitchhiker, who then takes him for a ride. At the funeral home, Ruth plans to match her friend Becky, a cashier at the Fabric Shop and George's son Kyle up as a couple which George feels uncomfortable talking about. He believes she is meddling and to worry about her own children. Nate attends a Bereavement Support Group which offers little comfort. Brenda discusses her relationship with Joe to her mother Margaret over lunch. Federico attempts to break ties with Sophia, who asks that they should go out on a date.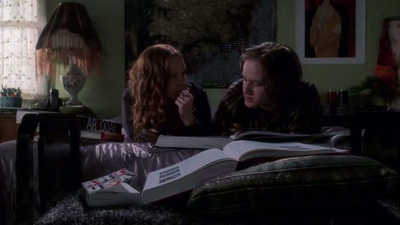 #6 - Nobody Sleeps 8.39
Season 3 - Episode 4
Robert Lamar Giffin 1955 - 2003 A room full of men are watching an old movie and one man is cuddled up with Robert, who is attached to an IV. The last thing Robert does is laugh with his head on his lover's shoulder. Nate is having strange nightmares about what his future might bring him. Lisa is planning a major birthday dinner for Ruth, but everything will not turn out as planned. Bettina and Ruth spend some more time together, during which Bettina shows Ruth some of the better sides of life. The lover of the deceased wants to make something spectacular for his lover, and is allowed to do so. Claire ends up at a bar with her teacher, and he is flirting with her. Russell reveals something that Claire did not expect.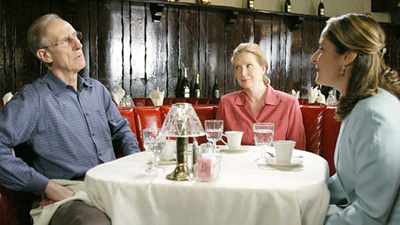 #7 - Untitled 8.37
Season 4 - Episode 12
Kenneth M. Henderson 1954 - 2004 George has a terrible nightmare connected to his apocalyptic fears. George's daughter, Maggie, comes to visit. Rico has trouble adjusting to life without his family. Claire prepares for her gallery opening. David is traumatized after having to identify his carjacker and decides to confront the man. Nate finds a disturbing photo of Lisa in a book given to him by Michaela.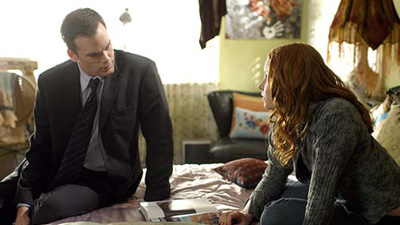 #8 - Falling Into Place 8.35
Season 4 - Episode 1
Bruno Baskerville Walsh 1951 - 1972 Nate is having a difficult time with Lisa's death. When problems arise in how to handle her remains, he comes up with a unique solution that satisfies everyone. Brenda is attracted to her neighbor, David and Keith discuss their relationship. Claire has an uncomfortable discussion with Russell.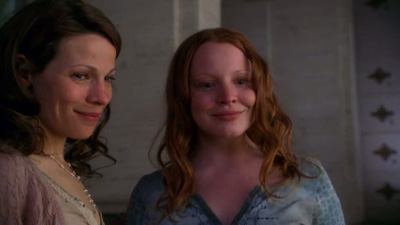 #9 - I'm Sorry, I'm Lost 8.33
Season 3 - Episode 13
Anahid Hovanessian 1951-2003 Ruth and George announce their wedding plans. Nate takes to the booze. A frustrated Rico finds comfort outside the home. Nate, Sr. comes and takes Claire on a tour of the afterlife and also comes to David to encourage him to make amends with Keith. Nate receives devastating news... Lisa Kimmel Fisher 1967-2003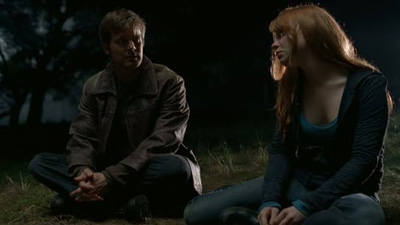 #10 - Static 8.33
Season 5 - Episode 11
Paul Ronald Duncan 1983 - 2005 Billy returns to help Brenda through her difficult time. An inebriated Claire rejects Ted. Rico is eager to discuss the future of the business. George wants to help Ruth tend to Maya while David is consumed with fear.
#11 - I'll Take You 8.33
Season 2 - Episode 12
Leticia Perfecta Perez 1929 - 2002 Some ladies are at the beauty parlor are getting ready for a Quinceanera (15th Birthday Party). When the stylist goes over to Leticia to see if she's done, he discovers she more than done. Nate and Brenda begin to start over, but something comes in the way, a secret Brenda is hiding. David and Keith apply to adopt Taylor. But what will the social worker think about two men living together? Federico and Vanessa gets an unexpected gift from a very unexpected place. Nikolai and Ruth's relationship takes a serious turn for the worse. Ruth also gets some wonderful news.
#12 - Singing for Our Lives 8.32
Season 5 - Episode 8
Pilar Sandoval 1970 - 2005 Claire attends a LAC-Arts benefit show with new friend, Ted. Brenda gets news from her doctor. Ruth babysits for Durrell and Anthony. Nate and Brenda attend a service at Maggie's church.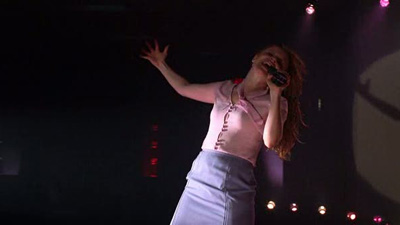 #13 - The Rainbow of Her Reasons 8.29
Season 5 - Episode 6
Fiona Lenore Kleinschmidt 1948 - 2005 Ruth is delighted when her sister Sarah calls. Claire finds a way to keep her money problems at bay. Nate reminisces about his love life while Brenda is away taking time out for a little rest and relaxation. Federico entertains an interesting offer unaware of someone's motives.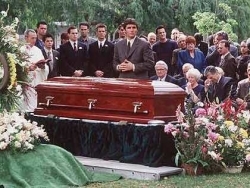 #14 - A Private Life 8.19
Season 1 - Episode 12
Marcus Foster March 5, 1978 - June 5, 2001 Rico and Vanessa finally have their new son. Brenda tries to handle her brother's obsessiveness and suggests he give her back her house key and start back on his medication. Billy does not react too well to this. David's feelings about his secret come closer to the surface due to a hate crime against a gay man, that the funeral home now must deal with. Ruth tries to get her son to bring up the subject, but has a very difficult time. Nate has a freakish encounter with Billy. Claire and Gabe continue their unusual relationship.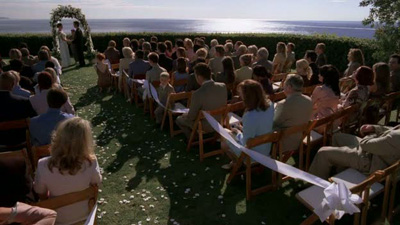 #15 - A Coat of White Primer 8.16
Season 5 - Episode 1
Andrea Kuhn 1963 - 2004 Ruth dreads George's return from the hospital in light of his recent diagnosis; Nate and Brenda prep for a big day, but an emergency makes them reconsider; David and Keith bring up alternative parenting options for discussion; Rico navigates new waters via internet dating; and Claire enjoys domestic bliss, but crosses a line with her camera, inciting an attack from Ruth.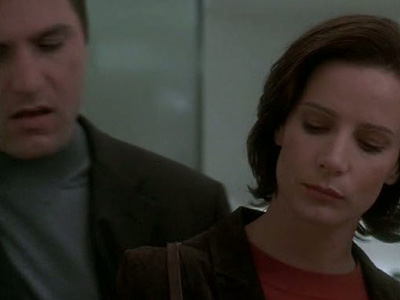 #16 - It's the Most Wonderful Time of the Year 8.16
Season 2 - Episode 8
Jesse Ray Johnson 1944 - 2001 It's the one year anniversary of Nathaniel Sr's death, and it gets the whole family reminiscing. Nikolai gets seriously injured and Ruth takes him into her home to take care of him. Claire gets sucked back into her love of the not-so-good boys. David and Keith continue to grow closer. Nate gets an unexpected gift that could possibly set him free.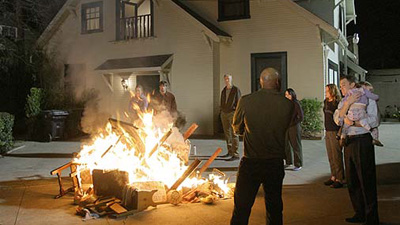 #17 - Parallel Play 8.15
Season 4 - Episode 3
Kaitlin Elise Stolte 1989 - 2003 David is training Arthur to perform more customer oriented duties. And with those responsibilities, new things are required like a new wardrobe so they go shopping. Ruth is still stressing over the poo incident, but seems temporarily at ease when the new "Mr & Mrs George Sibley" receive a beautiful gift basket full of treats, and some tricks. Nate takes Maya to a Mommy N Me class and they both meet some new friends. Brenda discovers her new friend has some interesting ideas about how their sex life should be playing out. Claire attends a party with her new friends from art school, but unfortunately Russell is there in all his glory. Claire also discovers that Edie is a lesbian, but seems more intrigued about it than anything.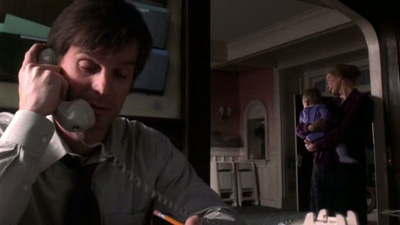 #18 - Death Works Overtime 8.14
Season 3 - Episode 11
Dorothy Su 1945 - 2003 David Raymond Monroe 1971 - 2003 Edward Tully 1955 - 2003 Nate still can't locate Lisa. The funeral home gets a number of cases, and needs all the help they can get. Arthur tries to learn how to interact with the funeral home's customers. Rico struggles to adjust to Vanessa's sister living with them. Brenda finds her own place in a dangerous neighborhood. Claire shuns Russell's apology, argues with Oliver, and gets some shocking news.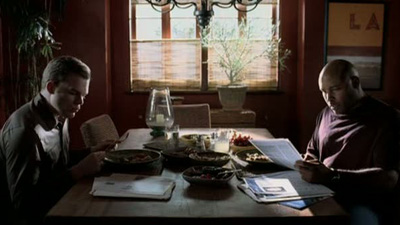 #19 - Eat a Peach 8.13
Season 5 - Episode 5
Daniel Holzenchenko 1939 - 2005 Keith and David wait anxiously for an update from their surrogate, Mary. Billy extends a dinner invitation to Claire. Ruth discovers a new relaxation method with George not around.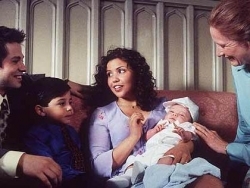 #20 - Knock, Knock 8.11
Season 1 - Episode 13
Lillian Grace Montrose October 4, 1936 - June 14, 2001 Tracy Montrose Blair is back but for very different reasons this time. Her Aunt Lillian has passed away and David is the only one that can help her. While David is trying to deal with Tracy's outrageous demands and cope with her ever-changing ideas, Nate is trying to deal with Brenda and her family. Interrupted from his funeral director's exam, Nate scurries over to Brenda's so he can take her to visit Billy. Ruth finally decides she doesn't want to be involved with Nikolai and gets fired because of it.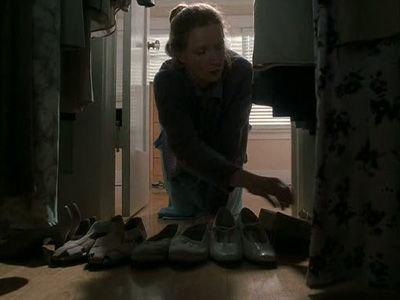 #21 - The Invisible Woman 8.09
Season 2 - Episode 5
Emily Previn July 14, 1954 - September 2001 Claire gets extremely upset when her friend gets another girl to take her SATs for her. Ruth takes an odd interest in the death of a single woman that has no family. Keith needs temporary attention from David, which causes issues in his current relationship. Brenda gets particularly wrapped up with one of her clients who happens to be a prostitute.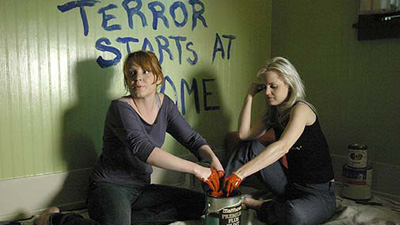 #22 - Terror Starts at Home 8.07
Season 4 - Episode 6
Robert Carl Meinhardt 1962 - 2004 David struggles with the aftermath of his attack. He downplays the incident with his family by telling them he was carjacked. He tries to go back to work, but has very little success. Keith returns to the Celeste tour with hesitation. Rico continues to juggle his two relationships, but starts to find it more difficult. Nate tries to get a job to fill his time. And, of course, he chooses to visit a dog kennel. Perhaps he is looking for Lisa again. Brenda and Joe's relationship goes a step further. Joe has found a house he thinks they should live in, so they can prepare for the coming onslaught of babies. Brenda seems a bit caught off guard by all this, but goes along. The family throws David a birthday party, and in true Fisher form, someone has to be drunk. Claire comes in feeling a little too happy. During her drug-induced haze, she and Edie get closer. Jimmy, Russell, and Anita get a bit closer too.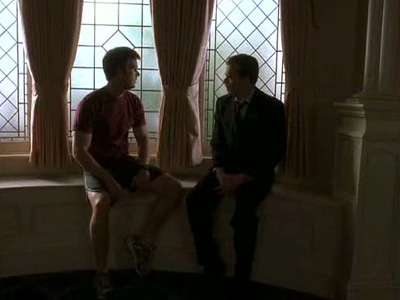 #23 - Out, Out, Brief Candle 8.07
Season 2 - Episode 2
Joshua Peter Langmead 1981 - 2001 Brenda is stressed about a dinner she is having for an ex-boyfriend and his wife. She wants to appear happier, more free, and generally just superior thus proving that he missed out by not being with her. Nate is attempting to deal with his condition with the help of a young man that died very young. Claire finds out that Gabe is changing in incredible ways, which includes stealing from her and her family. David and Keith are attempting a friendship again.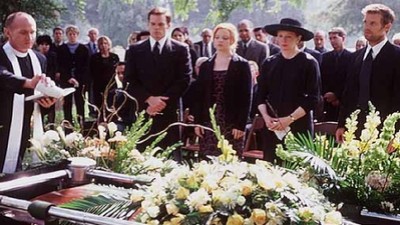 #24 - Six Feet Under (Pilot) 8.06
Season 1 - Episode 1
Nathaniel Fisher, Sr. 1943-2000 Meet the Fisher family. After the patriarch of the family, dies in a hearse-accident, the family comes together to mourn and decide the fate of the family Funeral Home. Nate, who works for an organic grocery store in Seattle, has to deal with more than just the death of his father. His mother, Ruth, is taking the death especially hard because she had been having an affair with her hairdresser, Hiram. David, the closeted homosexual who has helped with the business, has a difficult transition running things. Claire, the youngest of the clan, is a teenager in high-school trying to get comfortable in her own skin. On top of everything the family is already going through, they have a corporate funeral company hounding them to sell out.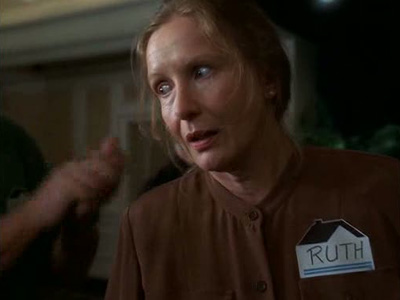 #25 - The Plan 8.05
Season 2 - Episode 3
Michael John Piper 1952 - 2001 Nate and David have their first customer for the wall-o-caskets. This mourner is unlike most, though. She can still talk to her deceased husband, and he helps her pick out the casket of his choice. Ruth goes to a ceremony for graduates of a self-improvement class and decides it's something she needs to do too. Nate and David attend a lunch for the Independent Funeral Directors where they vent about their mutual hatred for Kroehner. David and Keith continue to play racquetball together. Claire gets into a bit of trouble because of Gabe and his continuing downward spiral.