Sex and the City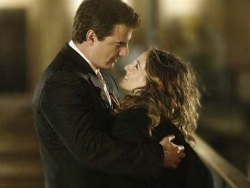 #1 - An American Girl in Paris: Part Deux 8.36
Season 6 - Episode 20
After Petrovsky leaves Carrie behind for a second time in Paris, she begins to wonder if she's doomed to follow in Juliet's footsteps. Back in New York, Samantha's chemo treatments are killing her sex drive, and she tries to push Smith away in an attempt to cope with it. Hoping to adopt a baby, Charlotte and Harry host an expectant couple from North Carolina, with the intent of acquiring their unborn child.
#2 - Ex and the City 8.07
Season 2 - Episode 18
Carrie wonders why she has never become friend with an ex-boyfriend, and decides that if she must start with someone, that someone mind as well be Mr. Big. She calls him up for inviting him over for a dinner, where he breaks the news that he's proposed to his new girlfriend, Natasha. Shocked, Carrie storms out of the restaurant, shouting and yelling about how with her he had a commitment problem for 2 years, but had found no difficulties on proposing to whats-her-name after 5 months. Meanwhile, the other gals try to find friends themselves. After running away (literally) from Steve, Miranda receives a visit from him in her place and ends up in bed with him – they're friends who have sex. Charlotte tries to become friends with a horse and overcome her trauma caused by her best friend – a horse – who threw her from his back when she was a child. And Samantha faces a challenge: she meets a man with a huge penis. So big that she isn't sure she can make it. When the doubt becomes a certain,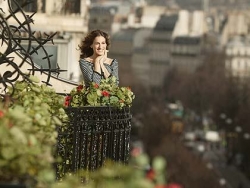 #3 - An American Girl in Paris: Part Une 8.04
Season 6 - Episode 19
Before leaving for Paris, Carrie runs into Big outside of her apartment, but she makes it clear to him that she wants him totally out of her life. Ms. Bradshaw then has one last dinner with Samantha, Charlotte and Miranda, and it's clear that the four women know that Carrie's absence will have a major impact on all of their lives.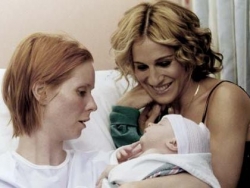 #4 - I Heart NY 7.99
Season 4 - Episode 18
Carrie accidentally finds out that Big is planning on moving away from NY and wonders if she should have goodbye sex with him. She tries to have a romantic evening with him, but Miranda goes into labor and Carrie has to ditch Big to join her friend at the hospital. Miranda still doesn't feel maternal at all – she doesn't want to be motivated to push and she gets annoyed every time Steve cries about the baby. Meanwhile, Charlotte sees her ex husband and his mother at the museum and decides it's time to date again, but her date freaks out with her apartment. Samantha wears a wig to catch Richard cheating on her with another woman.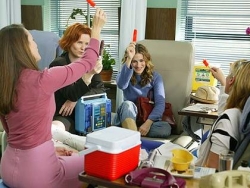 #5 - Out of the Frying Pan 7.96
Season 6 - Episode 16
Aleksandr prefers strong coffee and stronger realities. In the meantime, Charlotte runs to escape the pain of not having a child and bumps into a small bundle of joy; Miranda puts her own desires aside and emphasizes Steve's; and Samantha audaciously gets a new hairstyle.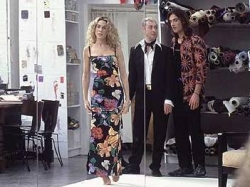 #6 - The Real Me 7.96
Season 4 - Episode 2
Carrie is asked to be a model on a fashion show mixing real models and real people. At first reluctant to believe she was chosen to be a model, Carrie is quickly swept off her feet with the glamour of the fashion business. But as everything that comes fast goes fast her dream turns into a nightmare when moments before the show her dress is changed to a jewelry panty. With a huge hair, heavy makeover and high heels, Carrie finally feels like a supermodel and enters the stage strong and confident, only to fall from the top of her shoes. Nevertheless, she gets up and goes on with the show, after all she's a real person and when real people fall they get back on their feet and move on. Meanwhile, Charlotte is embarrassed to change gynecologists when she develops a rash on her vagina, and even more embarrassed when the doctor prescribes anti-depressives for her vagina. But the real solution for Charlotte's depressed vagina is more attention, and so Charlotte finally meets her female part wi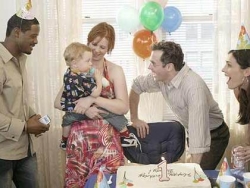 #7 - One 7.94
Season 6 - Episode 12
Alexander Petrovsky, an internationally acclaimed artist who sweeps Carrie off her feet show up in her romance life. In the meantime, Miranda and Steve celebrate Brady's first birthday; Samantha frets about her appearance "down there;" and Charlotte receives some surprise news.
#8 - Easy Come, Easy Go 7.92
Season 3 - Episode 9
After Mr. Big confesses to Carrie that his relationship with Natasha is not going well, they return to their old ways, resulting in a night of passion. Charlotte realises her greatest goal in life when she and Trey become engaged, though it was she who had to pop the question. Samantha has a difficult time with Adam, her latest boyfriend. Miranda and Steve are still sharing an apartment even though they've broken up, and they find out that it's not easy living with a former partner, particularly if they want to date someone else.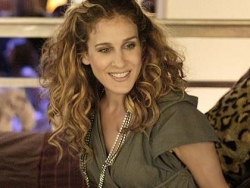 #9 - The Post-it Always Sticks Twice 7.92
Season 6 - Episode 7
Carrie and the girls are meeting for their usual breakfast when two bombshells are dropped. The good news is that Charlotte and Harry are engaged... but the bad news is that Berger dumped Carrie via a Post-it note earlier that morning. Carrie swears that she will refrain from giving Berger the satisfaction of an angry message, but winds up inadvertantly leaving one after badmouthing him to some of his friends at an exclusive club. Charlotte absolutely basks in the glow of her engagement to Harry. Her ring is enormous (and patterned after the one given by Richard Burton to Elizabeth Taylor), and all seems well. All, that is, except for the nagging feeling that somehow this second marriage will be somewhat less special than her first. She tells the girls that this wedding will be far less elaborate than the last, releasing them from bridesmaid duties. Charlotte's attitude changes after running into a enthusiastic barhopping bridal party, rejuvenating her spirits and causing her to re-enl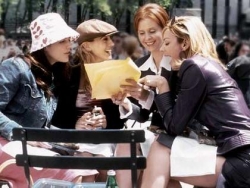 #10 - My Motherboard, My Self 7.91
Season 4 - Episode 8
Carrie freaks out when her computer crashes because her whole life was on the computer. Everybody starts telling her that she should have backed up her work. Aidan buys her a new computer and a zip drive and she gets angry at him for invading her space. He gets angry at her for not letting him be a part of her life more and he gives her back her key. Miranda's mother dies. Samantha buys a guide on the street featuring 1001 sexual positions and tries them with her wrestling coach boyfriend. For some reason she can't get off and fears that she lost the ability to have an orgasm so she masturbates all day to try and get it back. Carrie, Samantha and Charlotte go to Miranda's mother's funeral to give Miranda their support and Carrie is surprised to see Aidan there.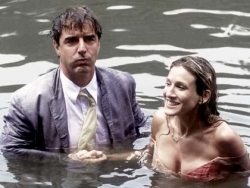 #11 - Cock a Doodle Do! 7.89
Season 3 - Episode 18
Mr. Big phones Carrie and invites her to lunch, which she accepts against Miranda's advice. Samantha's sleep is being disturbed by the noise made by some transsexual prostitutes, and she ends up inviting them in for a rooftop party with the other three friends. Charlotte receives an early-morning visit from Trey, who's finally ready for her. Miranda is feeling that her life is in a rut, and runs into Steve on a couple of occasions.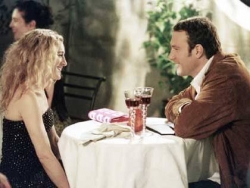 #12 - Just Say Yes 7.87
Season 4 - Episode 12
Upset with the idea of having to move out because her building is going co-op, Carrie faces an even bigger problem: Aidan suggested that they moved in together after he bought both Carrie's and the next door apartment to make one big place for them. It's a big step that needs some thinking time, which is not helped when Carrie accidentally discovers an engagement ring among Aidan's stuff. This makes her question if Aidan is really "the one" and if she is ready for it. But then again, are we ever ready? An unexpected bump into Big doesn't really help her, specially when the ring she saw has nothing to do with her – nevermind that it was Miranda who helped him pick it out. Finally, when she's not expecting, Aidan knees and pops the question. The right timing, the right place – and most important, the right ring – make Carrie say yes. Meanwhile, Miranda faces a proposal too, after she tells Steve she's pregnant with his child. But different from Carrie, Miranda is definitely not ready for
#13 - The Power of Female Sex 7.86
Season 1 - Episode 5
"Where's the line between professional girlfriend, and just plain professional?" - Carrie Carrie goes on a date with a gorgeous French architect who shows his thanks with a thousand dollars; a famous painter uses Charlotte as one of his models; Skipper becomes sexually obsessed with Miranda.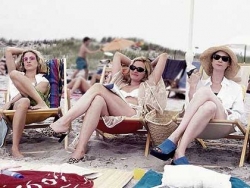 #14 - Twenty-Something Girls vs. Thirty-Something Women 7.86
Season 2 - Episode 17
Carrie, Samantha, Charlotte and Miranda head to the Hamptons and Charlotte meets a 26-year old guy. She tells him she's 27 and she starts to act like a girl in her twenties. They sleep together and he gives her crabs. Samantha fires her 25-year old assistant Nina and she steals her business rolodex. She gets jealous when Nina plans "The Hamptons Hoe-Down" and people who have never shown up for her parties show up for Nina's. She decides to congratulate her and is happy to discover that Nina needs her help because nothing is going as planned and to pay her back she sets her up with Greg, the guy who gave Charlotte crabs. Carrie gains a protege and can't believe that at 25 she's still a virgin. She goes to a book party and meets a doctor. Later at the hoe-down she runs into Mr. Big, who's back from Paris, with his twenty-something girlfriend whom he met in Paris.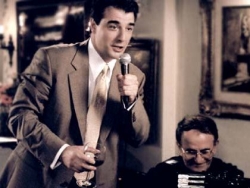 #15 - The Man, the Myth, the Viagra 7.86
Season 2 - Episode 8
Carrie continues her relationship with Mr. Big, but wants him to get to know her friends better. Samantha starts spending time with a wealthy seventy-something. Miranda has a bad experience with a married man, and starts seeing a bartender, Steve Brady.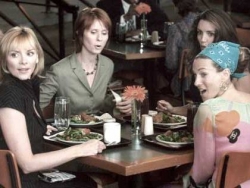 #16 - Hot Child in the City 7.85
Season 3 - Episode 15
Carrie meets a new man, Wade Adams, at a comic store, and falls in love with his fabulous apartment, but not with his mother. Samantha is hired as the publicist for the Bat Mitzvah of Jenny Brier, and finds that Jenny and her friends are as over-sexed at 13 as Samantha is at 34. Charlotte searches the internet for a solution to Trey's sexual problem, and then demands that they see a sex therapist. Miranda is having to wear braces, which make her feel like a teenager, but she gives them up after a date fears he'll get caught up in them.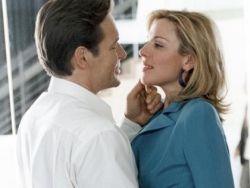 #17 - All That Glitters 7.84
Season 4 - Episode 14
The girls all go dancing at a gay club and Carrie meets a gay guy and they start hanging out but she soon discovers that she has to fight for his attention whenever they go out. Miranda runs into a co-worker who she didn't know was so she tells him that she's pregnant and he lets it spill at work so she accidently lets it out that he's gay. Samantha takes a hit of extasy and tells Richard that she loves him. Charlotte and Trey's home is featured in "Home and Gardens" but they grow farther apart and he moves out.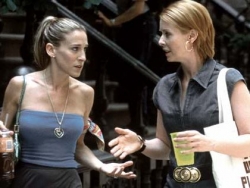 #18 - The Good Fight 7.84
Season 4 - Episode 13
Maybe having Aidan move in wasn't such a good idea, as Carrie feels her apartment overcrowded with stuff that isn't hers and noise that disturbs her alone time. Things only get worse once Carrie's old neighbor tells her she's not moving out until the end of the month, postponing Aidan's plans of breaking the walls. After a big fight, Carrie and Aidan spend three days without talking to each other, until she breaks and apologizes first. Turns out there's a lot more about moving in than just throwing out some one-time-worn clothes in order to make room for your future husband's stuff. Meanwhile, Samantha freaks out because she is actually falling in love with her perfect-dicked boss; Charlotte is extremely offended when Trey gives her a cardboard baby and Miranda wonders if having sex is going to hurt the baby.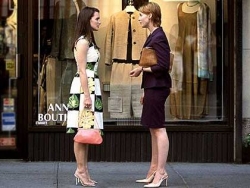 #19 - Coulda, Woulda, Shoulda 7.83
Season 4 - Episode 11
While Charlotte is frustrated that she's can't get pregnant despite her efforts with Trey, Miranda has the exact opposite problem: her lazy ovary combined with Steve's lonely ball somehow managed to get her pregnant in what Samantha called "a mercy fuck" ("he only had one ball", Miranda justifies). Although she's decided to have an abortion, she isn't sure about whether or not to tell Steve. Carrie thinks she should, despite never having told a waiter from The Saloon that she got an abortion herself after a drunk one night stand over a decade ago. In the waiting room of the abortion clinic, Miranda reconsiders her position as she wonder when she'll ever find time and chances to get pregnant again; so she decides to keep it. Meanwhile, Charlotte discovers her uterus is attacking Trey's sperm and considers in vitro fertilization; Carrie comes clean with Aidan about her past after meeting the waiter that knocked her up and Samantha has a hard time being the rep for Lucy Liu and finding a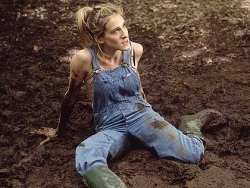 #20 - Sex and the Country 7.82
Season 4 - Episode 9
Carrie goes to Aidan's cottage with him and is bored, and scared of a squirrel, so she returns to the city where she has dinner with Mr. Big and he tells her that he's dating a movie star. She decides to give it another shot and returns to the country this time with Samantha. Samantha is bored until she sees Farmer Luke and she decides to ask if she can borrow some milk and they end up sleeping together. Miranda finds out that Steve has testicular so she tries to comfort him but it ends up pissing him off because he thinks she's pitying him. Charlotte and Trey go to Trey's mother's where they keep trying to have a baby.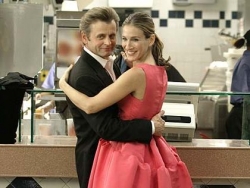 #21 - The Ick Factor 7.82
Season 6 - Episode 14
The relationship between Carrie and Petrovsky continues to develop, but one thing continues to nag at Carrie. Petrovsky is given to grand gestures of affection (including poetry reading and the composition of original love songs), and that's a bit too much for this slightly cynical New York girl. When Petrovsky takes Carrie to a premiere at the Met, she literally swoons. To balance things out, the artist takes her to McDonald's, where the pair become the most elegantly dressed duo in the establishment's history. Steve and Miranda decide to finally tie the knot, but vow not to have an elaborate wedding. Keeping things low-key isn't as easy as it sounds, but they eventually manage to work things out, finding a perfect community garden in which to hold their ceremony. Not to be left behind in the romance department, Harry takes Charlotte to an upscale French restauarant. The meal is wonderful, but later that night, the newlyweds both come down with acute food poisoning. The romantic eveni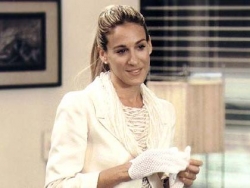 #22 - Ring a Ding Ding 7.81
Season 4 - Episode 16
Aidan moves out and leaves Carrie the option of either buying back her apartment for what he paid for it or selling it off but she doesn't have enough money for a loan so she goes to see Mr. Big who writes her a check but she finally decides that she wants to do it on her own so she tears up the check. Charlotte ends up giving her her wedding ring so that Carrie can use it as collateral to get her loan. Samantha discovers that Richard isn't the one that's shopping for all the presents that he buys her and that he isn't even signing the cards but his assistant is the one who does it so she gets his assistant to sign the most recent card "Love Richard" to trick him into saying I love you. Miranda and Steve discuss custody of their soon to be child.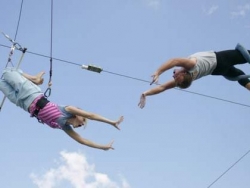 #23 - The Catch 7.81
Season 6 - Episode 8
An assignment sends Carrie to explore the newest pastime for singles in New York... swinging through the air on the flying trapeze. Try as she might, Carrie just can't allow herself to let go of the bar and allow her instructor to catch her. While relating this situation to the girls, Harry appears and introduces Carrie to his best man for the upcoming nuptials. After much coaxing, Carrie allows herself a one-nighter with her fellow member of the wedding party, but winds up wildly unsatisfied after he proves to be a less than sensitive lover. Also having relationship issues are Miranda and Samantha. Miranda finds herself hiding underneath her bed (nestled next to Fatty) when Steve drops by unexpectedly with his girlfriend Debbie. Miranda realizes that if she were to actually meet Debbie, she'd have to admit that Steve has found somebody else, and that's not something that she's overly eager to do. Equally troubled is Samantha, for loathe as she may be to admit it, Samantha realizes tha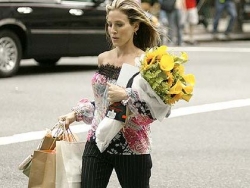 #24 - A Woman's Right to Shoes 7.81
Season 6 - Episode 9
Carrie and Stanford attend a baby shower thrown by their friends Kyra and Chuck. Upon arriving, they discover that Kyra's house rules include the removal of all footwear, regardless if doing so will destroy a carefully crafted outfit. The evening is pleasant enough, but when Carrie plans to leave the party, she discovers that her brand new Manolos have been stolen. Later, Kyra offers to pay for the missing shoes, but balks when she discovers that they cost $485. Carrie winds up leaving the apartment with no compensation, and a sense of shoe-induced shame. She wonders if she has somehow made a mistake by choosing the lifestyle that she did, rather than the more traditional one chosen by Kyra. Miranda finds herself with three separate problems: an open apartment in her building, Brady suffering from the chickenpox and her own growing need for male companionship. Luckily, one person solves all three problems, as Dr. Robert Leeds takes the vacancy and helps Miranda care for her sick child.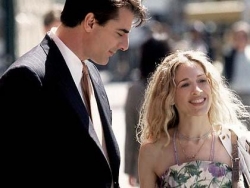 #25 - Old Dogs, New Dicks 7.80
Season 2 - Episode 9
Carrie tries to get Mr. Big out of some of his annoying habits. Samantha chances on an old boyfriend who is now a drag queen, named in her honor, at drag bingo. Charlotte is horrified to find she's dating an uncircumcised man. Miranda is still dating Steve, the bartender, but they have problems with incompatible life-styles and schedules.