Scrubs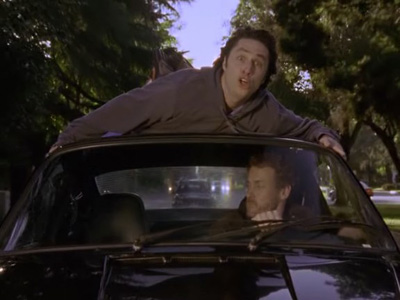 #1 - My Lunch 8.59
Season 5 - Episode 20
J.D. asks Dr. Cox out for lunch, but runs into annoying former patient Jill Tracy, who unexpectedly teaches him something about responsibility. Elliot and Carla discover that Todd has been lying about all his hospital "conquests" and suspect that he's been less than truthful about other issues. Turk warns them not to meddle in his affairs.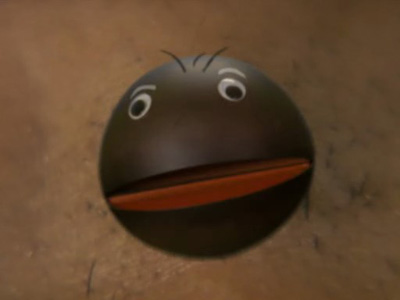 #2 - My Screw Up 8.55
Season 3 - Episode 14
Jordan's brother and sister return, but Dr. Cox learns that his brother-in-law Ben hasn't visited a doctor about his cancer in the two years he has been gone traveling the world.
#3 - My Finale 8.55
Season 8 - Episode 18
J.D. is planning on leaving Sacred Heart but before he goes there are a few things that he wants to do including; getting a hug from Dr. Cox, and learning the Janitor's real name. Elliot is ready for the next step in her and J.D.'s relationship and she begins moving her furniture into J.D.'s apartment.
#4 - My Fallen Idol 8.42
Season 5 - Episode 21
Dr. Cox starts drinking after his decisions result in the death of three of his patients. The staff tries to cover for him at the hospital, while everyone tries to convince him how inspiring he is for them. Turk starts his new rotation with orthopedic surgery, but isn't so fond of his attending doctor's touchy-feely methods. Thus, J.D. and the Janitor attempt to help Turk find ways to bond with his new supervisor.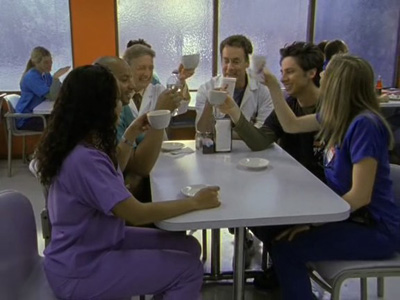 #5 - My Last Day 8.26
Season 1 - Episode 24
It's J.D.'s last day as an intern, and soon he will become a resident. Carla and Turk are arguing about dating other people. Elliot finally rebels against being everyone's doormat, and J.D. is just trying to stay out of people's way. Jordan has returned to get a physical and a new patient, Mr. Bober, has been admitted, because he needs his gall bladder removed. He really needs the surgery, but doesn't have the insurance to pay for it. They enlist the help of Dr. Cox, Dr. Wen and Jordan.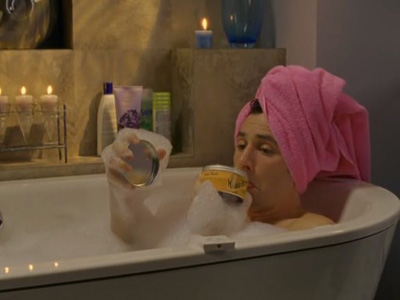 #6 - My Way Home 8.23
Season 5 - Episode 7
In a "Wizard of Oz" homage, J.D. is trying to go home, Turk searches for a heart donor and Carla worries, that she doesn't have the courage to become a parent. Meanwhile, Elliot doesn't believe, that she has the brains to lead a question and answer session. Also, the Janitor is painting color coded lines throughout the hospital for easier navigation.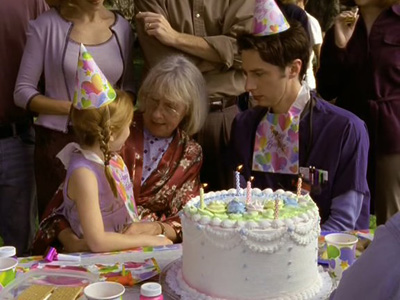 #7 - My Old Lady 8.23
Season 1 - Episode 4
The three interns are each assigned patients with various illnesses. Statistically speaking, one of the three is going to die. J.D.'s patient is 86 year old Mrs. Tanner, who is in renal failure. 20 year old David Morrison is Turk's hernia patient and Elliot's patient Mrs. Guerrero only speaks Spanish and might have lupus.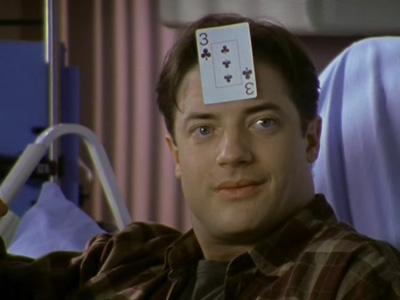 #8 - My Occurrence 8.22
Season 1 - Episode 22
Jordan's brother Ben is admitted at Sacred Heart for having an accident with a nail gun. J.D. learns that Ben has leukemia, but won't believe it, since there have been many mixups in the hospital lately, so he goes on a search for the real test results.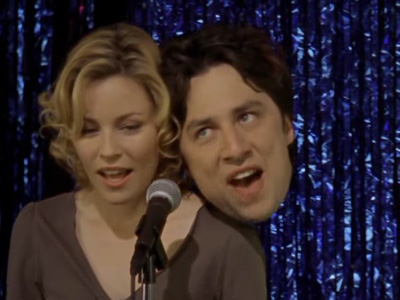 #9 - My Transition 8.14
Season 5 - Episode 24
J.D. plans a date with Kim on their night off but Elliot keeps getting in their way. Meanwhile, Elliot throws a baby shower for Carla.Perry and Jordan hand over all of Jack's stuff to Carla. And someone announces a very surprising pregnancy.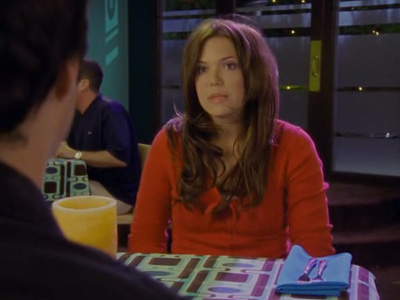 #10 - My Half-Acre 8.14
Season 5 - Episode 9
J.D. meets the klutzy Julie, and when he becomes smitten, Elliot attempts to help out with romance advice. Meanwhile, Carla tries to find Dr. Cox's soft side, when he refuses to kiss his son. Turk and the Janitor put together an air band to win a contest, but Kelso gives them a tremendous obstacle.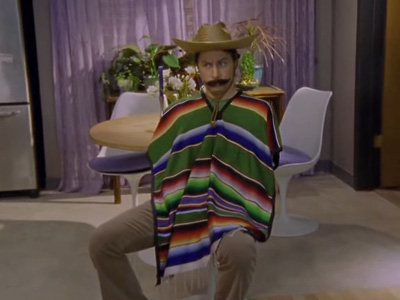 #11 - My Five Stages 8.13
Season 5 - Episode 13
J.D. and Dr. Cox go through the five stages of grief with their favorite patient, who is declining in health. Carla forces Turk to go on a string of double dates, including Elliot and her booty call Keith. Elsewhere, Dr. Kelso hits Ted with his car, thus Ted finally has the upper hand with a potential lawsuit.
#12 - My Hero 8.12
Season 1 - Episode 23
Ben takes the news of his diagnosis pretty well - at least better than his sister Jordan and J.D. Remarkably, it is Dr. Cox who is the voice of reason and compassion, until his own fears get in the way. Meanwhile, Turk and Elliot have their own issues to deal with. Turk is upset because he wasn't chosen to assist on a difficult surgery and Elliot is criticized during rounds by Dr. Kelso for the 100th time.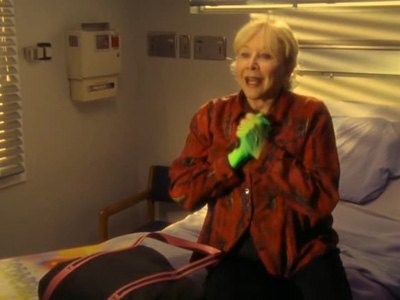 #13 - My Cabbage 8.11
Season 5 - Episode 12
Dr. Kelso is outraged, when he discovers, that a bird has been living in Sacred Heart. He orders the Janitor to dispose of it immediately. However, the Janitor likes the bird so much, he secretly keeps it as a pet. Meanwhile, J.D., annoyed with Keith, tries to get his intern fired, but things don't turn out as intended.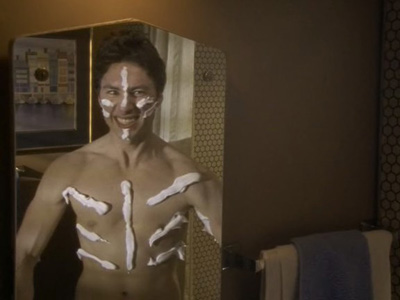 #14 - My First Day 8.11
Season 1 - Episode 1
John Dorian, "J.D." to friends, is a boyishly handsome, self-deprecatingly funny, likeable guy who would be confident if he only realized his assets. Four years of medical school have prepared J.D. for his first day as an intern at Sacred Heart Hospital - but he has his doubts. As J.D. is thrown into the chaotic world of hospital life, we not only get to see the quirky characters that he encounters, but also hear the humorous commentary of thoughts streaming through J.D.'s head. By J.D.'s side is his best friend since college, the handsome and confident Chris Turk. As a new surgical intern, Turk struts around with a gregarious and cocky demeanor that hides a terror that he only admits to J.D. Both guys initially have the hots for their attractive fellow intern, Elliot Reid, but J.D. quickly finds out her beauty is only surpassed by her hyper-competitive attitude. Guiding the interns' education are those with more medical experience. Dr. Robert "Bob" Kelso, Chief of Medicine, wants the interns to think they can count on him. On the other side of the personality spectrum is Dr. Percival "Perry" Cox, a steamroller of a man short on patience. Watching over the interns with a caustically teasing but caring demeanor, is nurse Carla Espinosa, a woman who is motherly and sexy at the same time - which appeals mightily to Turk.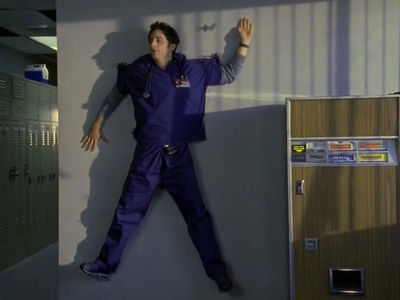 #15 - My Fifteen Minutes 8.11
Season 1 - Episode 8
J.D. and Turk become heroes after saving a cameraman's life on TV, while heading to a strip club. But Turk quickly becomes the target of a new publicity campaign led by Dr. Kelso, exploiting the hospital's diversity. Meanwhile, J.D. worries about his evaluation. Elliot is going out with Carla, but in the last minute she blows her off and later Elliot runs into her in a bar.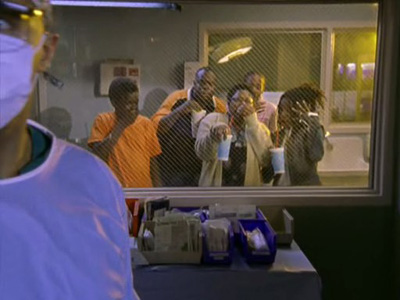 #16 - My Best Moment 8.11
Season 4 - Episode 12
When J.D. has to address a bunch of pre-med students about what it's like to be a doctor, he strays off the beaten path and chooses to discuss his best moments as a doctor instead. When he challenges the rest of the staff to do so, they all remember their best memories in the medical field. Meanwhile, Elliot is forced to face her fear of children, when she must befriend a ten year old boy, whose father is being treated in the I.C.U.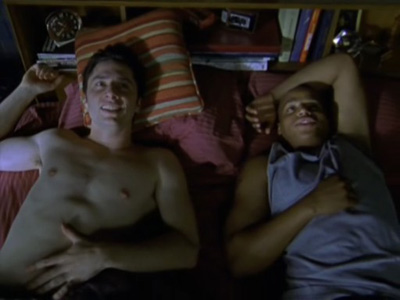 #17 - My Overkill 8.09
Season 2 - Episode 1
Relationships between the staff of Sacred Heart Hospital have been shaken since Jordan's revelations. Turk is sleeping on J.D.'s bed, after Carla kicked him out of his own. Elliot is having a hard time facing J.D. every day at work. J.D. desperately tries to get Dr. Cox's attention back, unsuccessfully.
#18 - My Soul on Fire (2) 8.09
Season 8 - Episode 15
The tropical seaside wedding goes ahead as the Janitor and Lady tie the knot which affirms the relationship of another couple.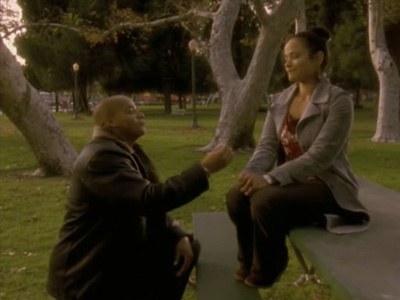 #19 - His Story 8.09
Season 2 - Episode 15
Elliot meets a nice guy at the bar, but freaks out when she finds out he's a male nurse at Sacred Heart. Turk keeps asking Carla to marry him, but she still won't give an answer. Dr. Cox feels the pressure he puts on himself everyday: His psychiatrist, his subordination to Dr. Kelso and his paternal feelings for J.D.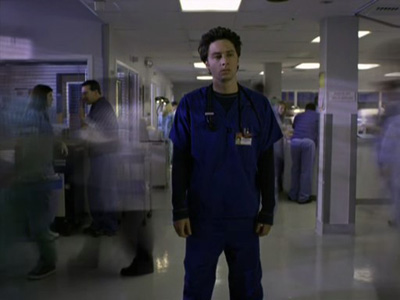 #20 - My T.C.W. 8.08
Season 2 - Episode 18
J.D. flirts with the wife of a patient who's been in a coma for the past two years, whom they all call T.C.W. (Tasty Coma Wife). He feels guilty for doing that, even though she wants to go ahead with it. Meanwhile, he can't stand listening to any more relationship problems, as everybody dumps their issues on his ears: Elliot, sabotaging her relationship with Paul over beef jerky, Carla, finding out her engagement ring passed through a patient's digestive system and Dr. Cox's unsucessful attempts to get some attention from Jordan, who can only think about her baby right now.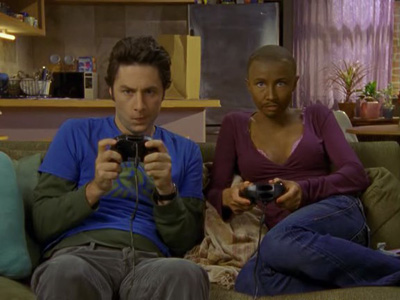 #21 - My Jiggly Ball 8.07
Season 5 - Episode 4
J.D. is asked to introduce Dr. Kelso at an awards dinner, so he wants to find out something good about him. Dr. Kelso and Dr. Cox each have a patient, whom they feel deserves the benefit of a new experimental treatment, but there is only one open slot. Elsewhere, Carla and Turk try to help Elliot get her old job at Sacred Heart back. And the Janitor taunts J.D. with the made up game of "Jiggly Ball."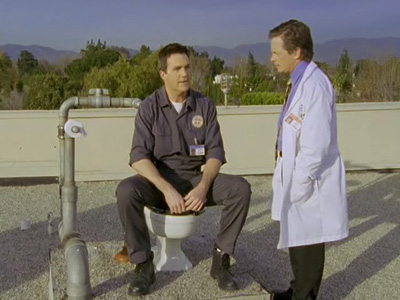 #22 - My Porcelain God 8.06
Season 3 - Episode 13
Elliot finds herself perplexed over a simple procedure that leaves her questioning her career path. She goes to seek Dr. Kevin Casey's advice but becomes frustrated when she learns that the epiphany toilet, which the Janitor secretly installed on the roof, is getting more attention than she is. Meanwhile, Turk asks J.D. to be his best man at his wedding, which sends J.D. into sheer bliss momentarily until he hears a phone message that makes him question his friendship with Turk.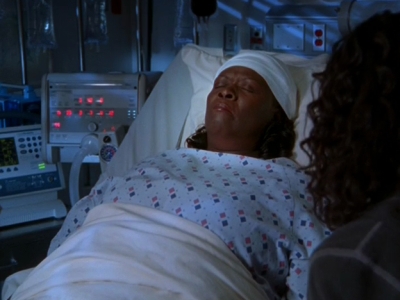 #23 - My Long Goodbye 8.06
Season 6 - Episode 15
Laverne is brain-dead, and her family decides to take her off life support. One by one, the staff say their goodbyes, except Carla, who stoutly refuses to accept what's happening. She consequently finds herself "haunted" by Laverne. Meanwhile, Jordan gives birth, but Dr. Cox doesn't want to tell anyone because he doesn't want his daughter's birthday to always be associated with Laverne's death.
#24 - My Catalyst 8.06
Season 3 - Episode 12
J.D. believes he may have finally found a mentor in Dr. Kevin Casey, a surgeon with obsessive-compulsive disorder, and it turns out that Dr. Cox has always been jealous of the guy. Meanwhile, the Janitor and his new assistant help Kelso out with a garbage problem.
#25 - My Best Friend's Baby's Baby and My Baby's Baby 8.06
Season 6 - Episode 2
J.D. and Kim start contemplating about their future and their baby's future. Meanwhile, Turk rushes Carla to the hospital after she goes into labor. And Jordan accuses Dr. Cox of not being a more defensive father towards Jack.