Red Dwarf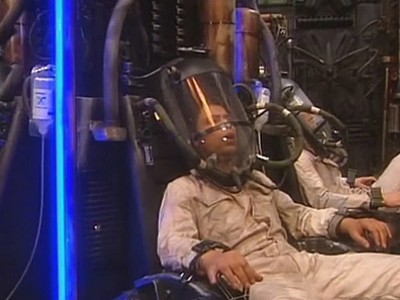 #1 - Back to Reality 8.43
Season 5 - Episode 6
The crew are on an ocean planet investigating a seeding vessel called the SSS Esperanto which was studying the life forms that had been introduced by humans. They find 3 people aboard who committed suicide, and a haddock who did the same. Lister notices an oil covering everything and Kryten suggests that it is a hallucinogenic venom much like the oil from an octopus or squid. He does a chemical analysis and rushes the others back to Starbug saying that the oil contains a hallucinogen which induces despair, enough to drive the crew of the Esperanto to kill themselves. They try to escape in Starbug to avoid it happening to them, but the despair squid chases them and they crash into a rock. Starbug is destroyed. The gang wake up to find they were playing a computer game called Red Dwarf for the last four years (and they only scored 4%). Lister is the rich and successful Sebastian Doyle, Rimmer (his brother, Billy) is a bum, the Cat is the saddest geek you will ever see named Dwayne Dibley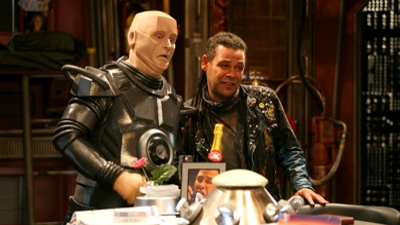 #2 - Fathers and Suns 8.30
Season 10 - Episode 2
Every year Lister sends himself a Father's Day card to celebrate the fact that he is his own father; but when Rimmer points out he's been a lousy father to himself, Lister decides to do something about it. Meanwhile, Rimmer and Kryten install a new computer: the beautiful - but lethally logical - Pree.
#3 - The Beginning 8.26
Season 10 - Episode 6
Hiding in an Asteroid, surrounded by a Simulant Death Ship and a fleet of Annihilators, the Dwarfers begin to wonder whether this is the beginning of the end. Only one man can save them. Unfortunately, that man is Arnold J Rimmer.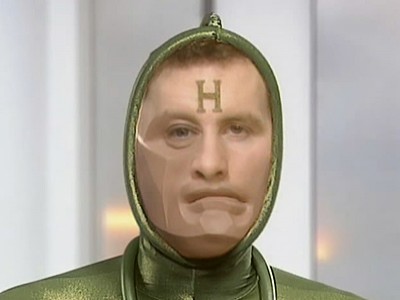 #4 - Legion 8.24
Season 6 - Episode 2
The crew stumble on an abandoned space station and board it hoping to get some supplies. A man named Legion appears and offers each of them everything they ever wanted in the world but only if they remain on the space station forever, making the Dwarfers suspect that Legion is not at all what he seems.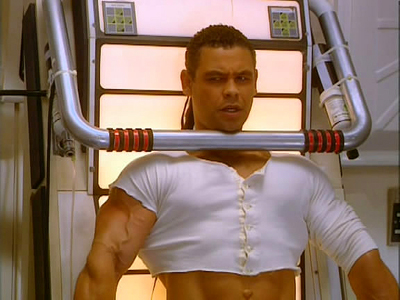 #5 - Nanarchy 8.23
Season 7 - Episode 8
Lister is quite annoyed that his right arm has been cut off, but seems to enjoy Kryten nursing him 24 hours a day; and Kryten is absolutely loving it. Kochanski becomes fed up with seeing Kryten doing things for him that he could easily do with one arm and comes up with a solution - use nanobots from Kryten's self-repair system to rebuild Lister's arm. Unfortunately, Kryten hasn't last seen the nanobots since they had met the Despair Squid (see Back To Reality) They all go into the deep sleep booths and make their way back to the ocean planet. The computer brings them out of deep sleep and they discover a planet which the Navicomp says is Red Dwarf. They are able to retrieve the original Holly and he explains that the nanobots had deconstructed Red Dwarf, created their own miniscule version of the ship and turned the rest into a planet for safekeeping. They realise that it was the nano version of RD that they were chasing and the nanobots evaded them by coming aboard Starbug and tra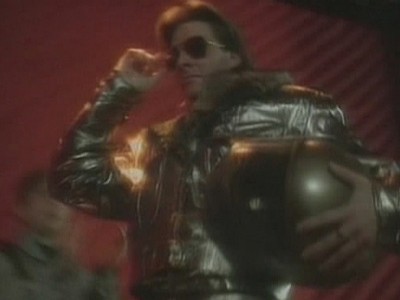 #6 - Dimension Jump 8.23
Season 4 - Episode 5
An alternate reality version of Rimmer literally crashes into his alter-ego while testing a dimension-jumping spacecraft. With Starbug downed after the collision, the daring, dashing Ace Rimmer attempts a one-man rescue, unaware that his doppelganger is, in this reality, an intolerable coward. Neither a broken arm nor hostile, jealous hologram can keep him from his duty, but when the company is this hopeless, even a hero finds it hard to keep his chin up.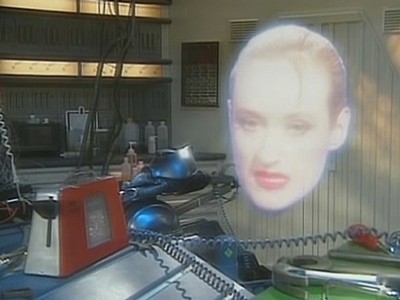 #7 - White Hole 8.20
Season 4 - Episode 4
An attempt to restore Holly's mind via "intelligence compression" backfires, giving her an IQ of 12,000 but just three minutes to live. With the aid of the infuriating Talkie Toaster, whose questions about life, the universe and everything invariably gravitate towards bread, the crew devises a solution, unaware that a nearby "white hole" is disrupting the passage of time. Alarmingly, it falls to Lister's contested pool-playing skills to put everything back in order.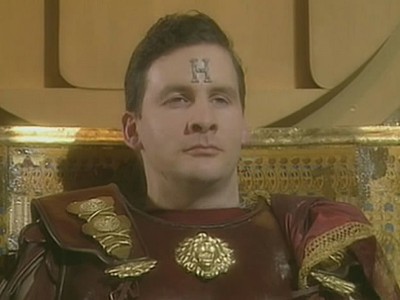 #8 - Rimmerworld 8.20
Season 6 - Episode 5
The gang come across the simulant ship they nearly destroyed in Gunmen of the Apocalypse and decide to board the ship and loot it for supplies despite the fact that a loud noise would cause it to disintegrate. They find a time and matter transporter on board and take it with them. One of the simulants is still alive and attacks them. Rimmer, always the brave, jumps in an escape pod but when it releases the ship begins to fall apart. The rest of the crew use the transporter to get back to Starbug and track the pod which is heading down to a planet. Unfortunately, the pod goes through a worm hole on its way causing Rimmer to be on a completely different time stream than Starbug. When he reaches the planet, Rimmer uses technology from the pod to create a woman in his image, but no matter how many times he tries all he can do is clone himself. When Starbug reaches the planet on the normal time stream, 600 years have passed on the planet and the Rimmer clones have taken over, banishing the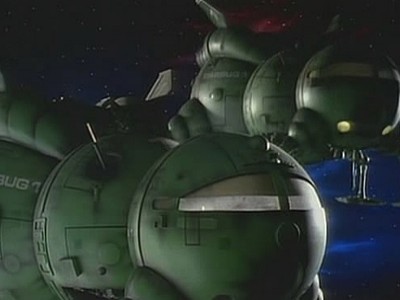 #9 - Out of Time 8.20
Season 6 - Episode 6
After Rimmer conducts a ""morale-meeting"", the crew find a cloud of fog from an imploded supernova and have no choice but to go through it. They get some bad turbulence, and Lister is injured revealing that he is an android! Kryten is angry that Lister is a lesser model then he and orders him to do all the work and even gives it to him for not having used a setsquare to cut the sandwiches. They find out they were in an unreality pocket, and Lister is indeed human. More of these unreality pockets pass until they decide to go into stasis until they get through the fog. In the centre of the fog they find a Space Corps derelict which is capable of time travel. They take the time drive and hook it up to Starbug's engines. After testing the time drive they are disappointed to find that although they can travel to any time in history, they are still in deep space, no closer to Earth than they were before. They return to their own time to find a future version of themselves. They invit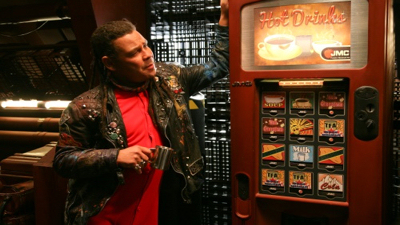 #10 - Dear Dave 8.19
Season 10 - Episode 5
Lister has women trouble when he gets himself in a love triangle with Snack Dispensers 23 and 34; then, to make matter worse, gets a letter from an old girlfriend telling him she's pregnant and it might be his. Lister and Rimmer hunt through the mountain of letters from the mail pod to discover if Lister is finally a dad.
#11 - Quarantine 8.19
Season 5 - Episode 4
The crew are on a snowy planet, when they come across an abandoned research centre. Rimmer objects to Kryten being in charge but is ignored by the others and goes to sulk. They send a scouter which reports that there is a scientist named Dr. Lanstrom inside the facility. Unfortunately she is a hologram and Kryten asks Rimmer to go back to Red Dwarf so they can rescue her, using another Space Corp Directive against him. Rimmer questions the validity of the Directives that Kryten uses so Holly gives Rimmer a hologrammatical copy of the directives manual, whereupon Rimmer again goes off to sulk. Going into the research center, they find the Doctor in stasis only to discover that she has contracted a holovirus that has made her insane but has given her extraordinary powers like hex vision and telekinesis at the price of her sanity. They escape when her life force is drained and she disappears, but the disease is transferred to Rimmer. When the rest of the crew get back on Red Dwar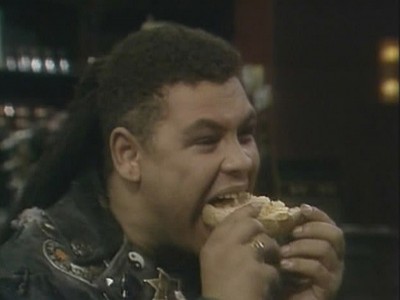 #12 - Backwards 8.18
Season 3 - Episode 1
Under Rimmer's supervision, Kryten takes a driving lesson at the wheel of Starbug, Red Dwarf's newly-revealed scout ship. A chance meeting with a wormhole, however, sends student and teacher to a world that literally has everything backwards. Conversations end at the beginning, fights un-blacken eyes, and beer tastes best when vomited into the glass. By the time Lister and the Cat mount a rescue, their crewmates have discovered the bizarre upside of life in reverse motion.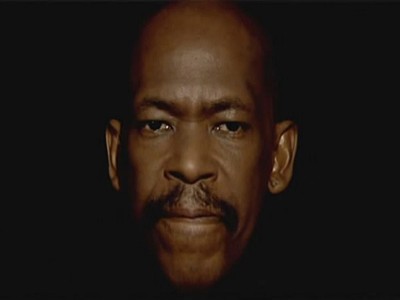 #13 - Queeg 8.18
Season 2 - Episode 5
Holly's absent-mindedness allows a meteorite to hit Red Dwarf, endangering the crew and damaging Rimmer's hologram generator. As an emergency measure, the backup computer Queeg 500 takes over the ship, subjecting its inhabitants to a physical and mental fitness regime that drives them to the point of despair. In a last-ditch bid to reclaim control, Holly proposes a winner-takes-all Chess match, despite accusations that his knowledge stems from the Junior Encyclopaedia Of Space.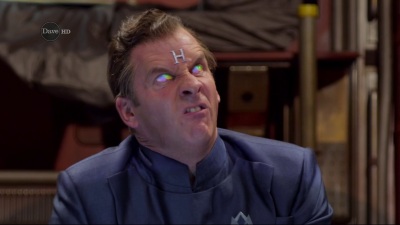 #14 - Trojan 8.17
Season 10 - Episode 1
The Dwarfers' mining ship is still creaking through the wastelands of unchartered deep space, but the posse soon stumble upon the mysteriously abandoned SS Trojan. As they inspect the ship Rimmer receives an SOS distress call from an old foe, and is suddenly faced with the dilemma of his life.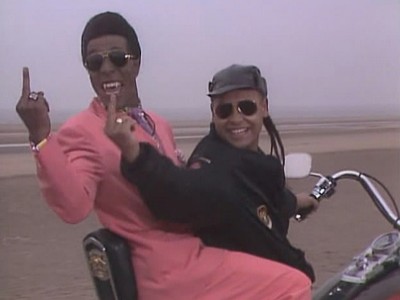 #15 - Better Than Life 8.15
Season 2 - Episode 2
A three million year old mail pod drifts into Red Dwarf's path, bearing the sad news of Rimmer's father's death. The grief is cut short, however, by the discovery of "Better Than Life", a total-immersion videogame that treats players to a hedonistic free-for-all. For the crew, this means fast cars, loose women and limitless wealth, Lister feasting on caviar vindaloos while the Cat dates Marilyn Monroe. How long, though, before Rimmer's neurotic brain stirs up trouble in paradise?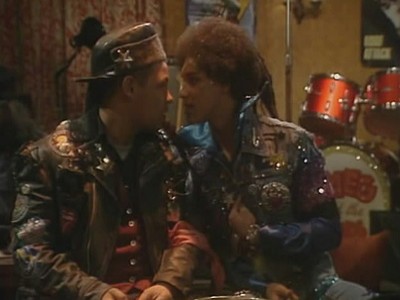 #16 - Timeslides 8.14
Season 3 - Episode 5
Lister's despair at life after humanity lifts when Kryten, having discovered some mutated development fluid, creates photographs that literally revisit the past. With no regard for the laws of causality, Lister looks to exploit the discovery for his own ends, talking his teenaged self into inventing the "Tension Sheet", a billion-selling sheet of painted bubble-wrap. Suddenly alone on Red Dwarf, Rimmer is left with little choice but to "save" his crewmate from a life of luxury.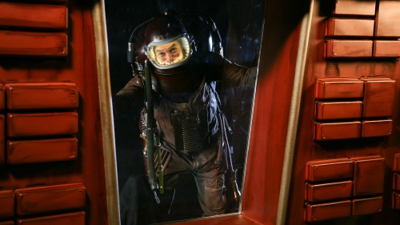 #17 - Entangled 8.14
Season 10 - Episode 4
Lister loses Rimmer in a game of poker to a group of Biologically Engineered Life Forms and in return gets an unwanted gift: a groinal exploder programmed to detonate in 24 hours unless Lister pays his debts. Meanwhile Kryten and Cat become quantum entangled and do everything in perfect unison.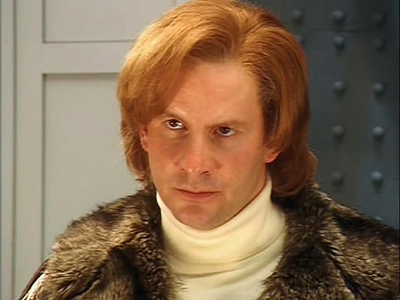 #18 - Stoke Me a Clipper 8.12
Season 7 - Episode 2
After traveling through countless realities, Commander 'Ace' Rimmer returns to the Red Dwarf crew to ask a favor of his alternate self. It seems that the real Ace Rimmer died years ago and has been replaced many times over by his counterpart from each reality. This Ace Rimmer will soon die and asks our Rimmer to be his successor as an inter-galactic hero. After a little push from Lister, which seems to bring the two closer together, Rimmer decides to accept the offer and begins his training. When Ace dies, Rimmer dons his outfit and says his goodbye to the crew before leaving Starbug.
#19 - Blue 8.12
Season 7 - Episode 5
While Kochanski is still trying to get back to her dimension and Kryten is still jealous of the relationship that she could have with Lister; Lister begins to miss Rimmer and reflects on some of the fun times that he and Rimmer spent together in the early days after the accident. When he has a dream that Rimmer returns and he and Rimmer kiss, Kryten tries some psychology to get to the bottom of Lister's problem. However Kochanski has a little talk with Lister and makes him realise why he misses Rimmer, much to Kryten's disgust. Kryten, having to be one step better than Kochanski, creates ""The Rimmer Experience"" a virtual reality rollercoaster created from Rimmer's memories, depicting him thinking of himself as a 'Hero' and a 'Remarkable Person', giving Cat fashion tips and believing that Lister has called for Rimmer to save him before he wets himself. As the ride finishes Lister is so angry at Rimmer that Kryten sticks it to Kochanski because his method worked better than hers.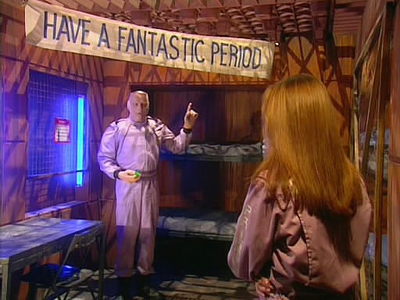 #20 - Only the Good... 8.11
Season 8 - Episode 8
An escape pod docks with the Dwarf and is carrying the only survivor of a ship which was attacked by a genetically-engineered corrosive life form. Unfortunately, the corrosive material is also on board and begins to eat away at Red Dwarf. Meanwhile Lister tricks Kryten into believing that Kochanski's 'time-of-the-month' is an event to be celebrated and he embarrasses himself in front of her. Plotting revenge, Kryten steals four flagons of illegal alcohol from an inmate and leaves it in Lister and Rimmer's cell just before an inspection. Lister discovers the alcohol and he and Rimmer are forced to drink it before their inspection. They only take one mouthful out of the bottle and are immediately drunk. Meanwhile, the crew learn of the life form destroying Red Dwarf and plan to abandon ship, leaving the prisoners aboard to die. The gang figure out a way to combat the life form by creating a doorway into an opposite universe and finding the opposite to the corrosive material.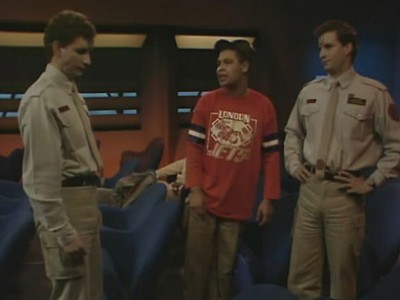 #21 - Me² 8.10
Season 1 - Episode 6
Lister's attempt to activate a second hologram - his dream date Kristine Kochanski - goes horribly wrong and creates Rimmer's ideal companion instead: himself. Moving into their own shared quarters, the two Rimmers quickly drive both the crew and each other mad, the city-sized Red Dwarf proving too small for such an insufferable pair. Before long, the conflict has escalated to the point where only one Rimmer can survive - and it falls to Lister to decide which.
#22 - Tikka to Ride 8.10
Season 7 - Episode 1
After Starbug was destroyed, the future crew no longer existed - therefore were unable to go back in time and kill the present crew, hence they survived. But unfortunately disaster has struck. Starbug is completely devoid of curries. Lister proposes that they go back in time to order a couple of hundred curries from an Indian Restaurant. The rest of the crew will not go back in time because they are afraid of becoming the future selves they saw. However, Lister removes a guilt chip from one of Kryten's spare heads and swaps them over, telling the new guilt-less Kryten to reassure them it will be OK. They go back and appear in the Texas School Book Depository in Dallas on November 22nd 1963 just as Lee Harvey Oswald is taking his shot at President Kennedy. They knock him out the window where he dies hitting the ground, preventing Kennedy's assassination. To avoid being captured they go ahead a couple of years, however Kennedy's survival causes an alternate reality where he has b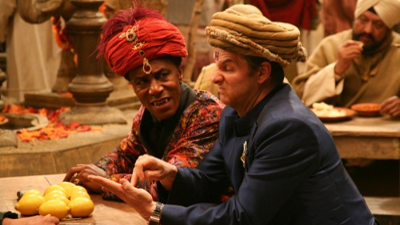 #23 - Lemons 8.10
Season 10 - Episode 3
Marooned in Britain in 23 AD, the Dwarfers need an 8-volt battery to power up their Returner Remote and get home. Remembering a lesson from school, Rimmer suggests they make a battery out of lemons - but the nearest lemon to Britain in 23 AD is in India, 4,000 miles away. They begin their journey, a journey that will ultimately lead them to a meeting with a historical A List Celebrity that could alter the entire history of civilisation.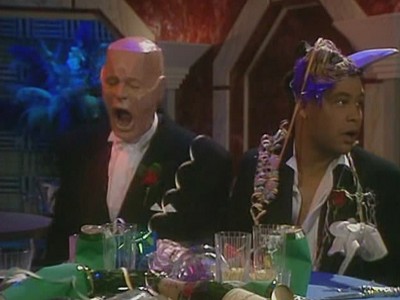 #24 - The Last Day 8.10
Season 3 - Episode 6
The crew intercepts a message from Kryten's manufacturer, DivaDroid International, declaring him obsolete and announcing his successor, the all-singing, all-dancing Hudzen-10. Left with days to live by an inbuilt self-destruct programme, Kryten reflects on his robot existence, taking solace in the thought of an electronic afterlife. A farewell party prompts a change of heart, however, jeopardised by the arrival of his super-strong, murderously deranged replacement.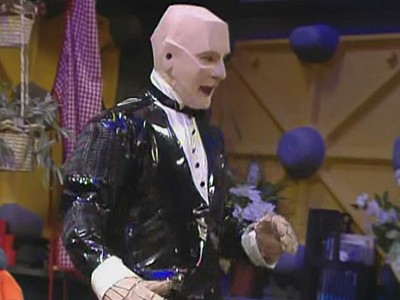 #25 - Kryten 8.09
Season 2 - Episode 1
The crew jump at the chance to answer a distress call from a ship crewed entirely by women, only to discover that they've been dead for years. Not that it's stopped their butler, a servile android called Kryten, keeping the place tidy and serving breakfast every day. To Lister's frustration (and Rimmer's delight), Kryten's programmed duties continue in earnest on Red Dwarf, an overactive guilt chip rendering him incapable of dissent. In the end, only Marlon Brando can snap him out of it.