Pretty Little Liars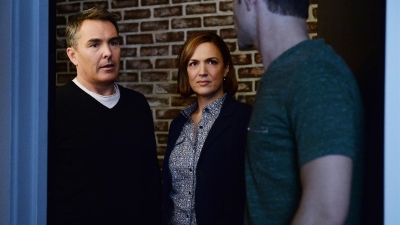 #1 - Welcome to the Dollhouse 8.64
Season 5 - Episode 26
"A" has always had fun playing with Aria, Emily, Hanna and Spencer, but now "they" have the biggest game to date in store for the girls. As shocking secrets come to light and the biggest clue to the "A" mystery is revealed, is this one play date the Liars can survive?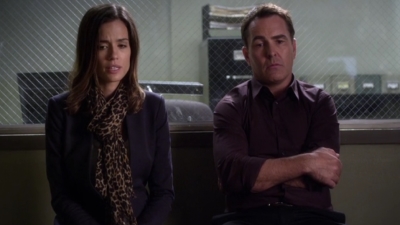 #2 - A is for Answers 8.64
Season 4 - Episode 24
After years of questions and mystery surrounding the night Alison DiLaurentis disappeared, her four best friends come face to face with Ali and finally learn what really happened to her that September night. Now with their newfound knowledge of Ali's long-held secrets, can Aria, Emily, Hanna and Spencer help Alison finally figure out who "A" is?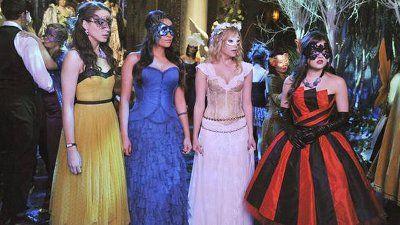 #3 - UnmAsked 8.62
Season 2 - Episode 25
Rosewood's Junior League Masquerade Gala is the perfect setting for "A's" next game of cat and mouse with his/her favorite targets. But with Aria, Emily, Hanna and Spencer fast on his/her heels, will this game be "A's" last?
#4 - The Lady Killer 8.52
Season 3 - Episode 12
In the midseason finale, Emily is caught in the crossfire as Maya's murderer is revealed and the girls are betrayed by someone close to them.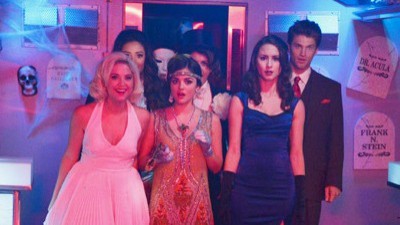 #5 - This is a Dark Ride 8.48
Season 3 - Episode 13
Trick or treat? The Rosewood Halloween Ghost Train becomes one killer party in this special Halloween-themed episode. Plus, Adam Lambert performs.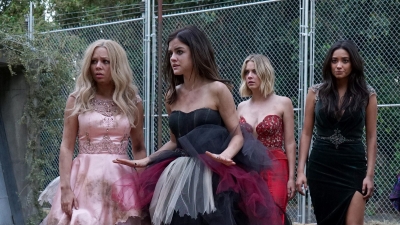 #6 - Game On, Charles 8.45
Season 6 - Episode 1
Moments after where the season five finale left off, Aria, Emily, Hanna, Spencer and Mona are trapped outside of Charles' Dollhouse with nowhere to go and must now deal with an angry tormentor. Just when the Liars thought Charles couldn't get any worse, his games take a more demented and darker turn. As the girls struggle to survive, the puzzle of Charles' story begins to come together. Meanwhile, Ezra, Caleb and Toby continue the fight to find the girls with or without Rosewood P.D.'s help.
#7 - Taking This One to the Grave 8.44
Season 5 - Episode 12
With Alison leading them down a dangerous path and "A" barring them from telling the police the truth, Aria, Emily, Hanna and Spencer feel trapped and are desperate to find a way out of this mess. With nothing else to lose, could the PLLs lose everything by putting their faith in a possibly untrustworthy ally? Meanwhile, Alison begins to build up her own army now that the PLLs have turned their back on her.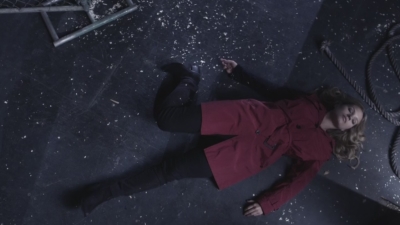 #8 - Now You See Me, Now You Don't 8.36
Season 4 - Episode 12
An intriguing riddle from "A" has the Liars hitting the road and heading to Ravenswood, where they are surrounded by some familiar faces. During a very special magic show, one Liar pulls a disappearing act, leaving the other three scrambling to make sure she hasn't succumbed to "A's" tricks. But before they can hightail it out of Ravenswood, they make a shocking discovery that proves that everything they thought they knew about "A" and the "A" team might be wrong. With this discovery, the Liars may just have started "World War A"-- #WorldWarA. Meanwhile, Hanna and her mother's joyous reunion is cut short when "A's" sights are set on a new target. And Toby uncovers some surprising information about Wren.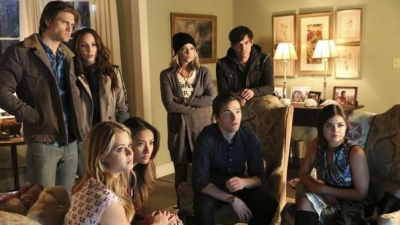 #9 - Miss Me x 100 8.32
Season 5 - Episode 5
The day has finally arrived – Alison's first day back at Rosewood High, and neither the PLLs nor Alison are really ready for it. Determined to put on a brave face, Alison returns to also help heal the damage she did years ago. But are apologies enough for those who Alison has hurt in the past? Not if Mona and her army have anything to say about it. Meanwhile, Caleb and an old foe return to Rosewood.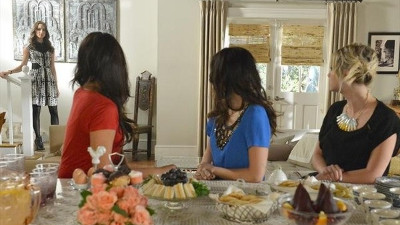 #10 - A dAngerous gAme 8.28
Season 3 - Episode 24
In the third season finale, the girls attempt to put an end to the game. With so much happening and new information uncovered, will the girls be ready for what is waiting for them?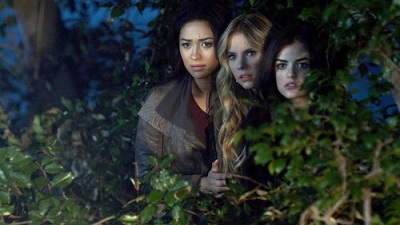 #11 - For Whom the Bell Tolls 8.27
Season 1 - Episode 22
Now that Aria, Emily, Hanna and Spencer are in possession of the information that Alison left them, the girls decide that it's time to finally put an end to "A" and the mystery surrounding their friend. But without certain proof that their hunch is right, how can the girls catch "A" in his/her own game? And with little more than a video and hazy memories of the night that Alison disappeared, the Liars may have to turn to an unlikely source of information to help them put a stop to "A" once and for all - or so they think.
#12 - Through Many Dangers, Toils and Snares 8.27
Season 2 - Episode 14
A month has passed on "Pretty Little Liars" since Aria, Emily, Hanna and Spencer were arrested and a lot has changed in Rosewood, and with the girls. No longer the mighty four best friends, the Liars are at each others' throats and Emily has been iced out completely. But what could have divided them so severely? Has "A" finally won the game of divide and conquer? With Emily now truly on her own, is she ripe for "A's" picking?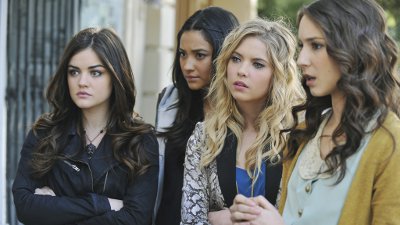 #13 - If These Dolls Could Talk 8.26
Season 2 - Episode 24
Aria, Emily, Hanna and Spencer search for the meaning of new clues leads them to a doll hospital that holds some very familiar looking dolls and a little boy that knows more than he leads onto. But what would bring Ali to such a creepy and weird location on her hunt for "A?" And what can the four girls learn about the secrets that are stashed away on the shelves between forgotten playmates? Meanwhile, Jenna's surgery brings about more than just the possibility of regaining her sight.
#14 - Grave New World 8.22
Season 4 - Episode 13
Aria, Emily, Hanna and Spencer crash the Ravenswood Founders Day Celebration after finding a clue in "A's" new lair that Ali may indeed be alive. Dressed in their finest Edwardian wear, the ladies hit the creepy cemetery party to find Ali before "A" can. But if Ali is truly alive, could the PLLs be leading "A" straight to their friend without knowing it? With Ezra lurking in the shadows, "A" may be closer than the girls realize. Meanwhile, Caleb heads to Ravenswood to help the girls and meets kindred soul Miranda along the way.
#15 - The First Secret 8.21
Season 2 - Episode 13
It's the Halloween before Alison disappeared and where all of the secrets and lies began for Aria, Emily, Hanna and Spencer.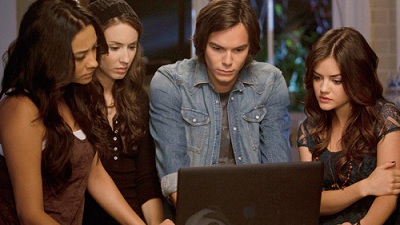 #16 - A Hot Piece of 'A' 8.17
Season 2 - Episode 15
After their recent encounter with "A", Aria, Emily, Hanna and Spencer think they may be closer than ever to figuring out whom "A" really is. But when the girls decide to enlist Caleb's hacking skills to help with their quest, Hanna no longer wants a part of the plan. The last thing Hanna wants is to get Caleb involved in something else shady and also to open the door to questions that Hanna can't answer. Once the girls realize that "A" has a helper, Hanna has no other choice. Instead of focusing on figuring out who the "helper" is, Hanna decides to put all of her efforts into throwing a surprise party for Caleb. But will a surprise party at Spencer's lake house be the diversion Hanna is looking for, or just a recipe for disaster? Meanwhile, Aria and Ezra must deal with the aftermath of coming clean.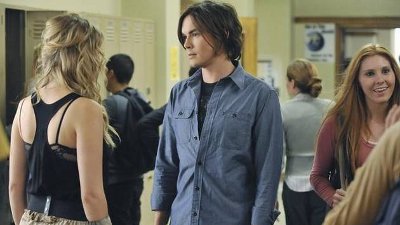 #17 - CTRL:A 8.16
Season 2 - Episode 20
Caleb's involvement in cracking "A's" phone has had Hanna worried from day one and now "A" is determined to punish him for it. With Det. Wilden and Garrett now circling Caleb on bogus hacking charges and in possession of his computer, Hanna and her friends are convinced that this won't end well. What are the police looking for on Caleb's computer and better yet, would could "A" have possibly planted on the computer to interest the police this much? Aria, Emily, Hanna and Spencer may soon get another example of what happens to people they involve in "A's" game. Meanwhile, Aria learns what Holden's been keeping a secret as Byron starts to question the relationship.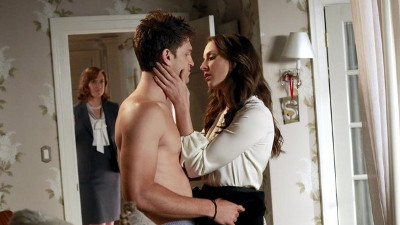 #18 - Misery Loves Company 8.14
Season 3 - Episode 16
Meredith (AMANDA SCHULL) helps take care of Aria when she is sick - but could Meredith have ulterior motives? Spencer surprises Toby (KEEGAN ALLEN) for their anniversary.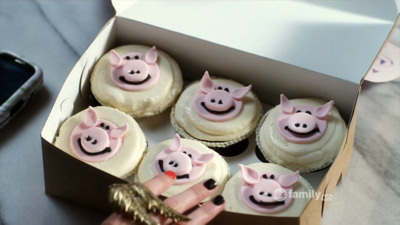 #19 - Know Your Frenemies 8.13
Season 1 - Episode 13
Relationships are in flux in Rosewood, PA as the Liars face many obstacles. As Noel steps up his pursuit of Ezra and what he can gain from his knowledge, Aria and Ezra start to feel like there may be no way out. Emily must also deal with opposition to her love life, as her mother Pam's perceived tolerance of Maya comes to a screeching halt. And Spencer must now handle the return of happy newlyweds Melissa and Ian, even though her suspicions of Ian's ties to Alison grow. But with the other girls' support and unexpected help form an unlikely source, the future for the Liars doesn't look so hopeless. Meanwhile, "A" has Hanna jumping through old habit hoops with regard to the stolen money. Will Hanna fall back into her old ways, or does she have the will power to stand up to "A" and her games?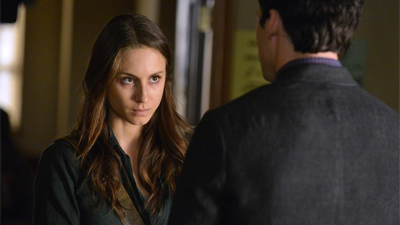 #20 - Hot for Teacher 8.13
Season 4 - Episode 18
With Spencer's possible Board Shorts revelation, she is now more determined than ever to prove her theory before bringing it to the other girls' attention – especially since it could have a devastating effect on one of the Liars. But with many sleepless nights fueled by prescription medication, Hanna starts to notice Spencer's odd behavior. Will Detective Hanna be able to figure out Spencer's secret before Spencer is ready to share? Meanwhile, Emily looks to make amends with Alison through Shana, and all of Aria's lies start to take a toll on her.
#21 - Keep Your Friends Close 8.12
Season 1 - Episode 10
"A" targets the girls once again as they attend an upscale camping trip for one of their friend's birthday party and they fear that "A" may want to crash the fun. The FBI becomes involved in Alison's murder case because of new evidence that they have found. Also, Ashley faces difficulties because of her financial situation.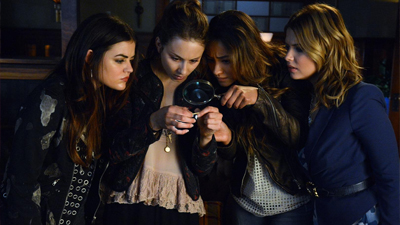 #22 - Bite Your Tongue 8.11
Season 4 - Episode 17
Hanna's new interest in crime novels helps her to come up with a plan to try and figure out whose body is in Ali's grave. While Hanna is on her hunt, Spencer is working overtime to decipher the stories in Ali's diary which she hopes will reveal the identity of Ali's mystery man. But with both girls hot on the trail, will their work lead them straight into "A's" path? Meanwhile, Aria is upset with the new friend Mike has made and Emily's dad is concerned about her behavior.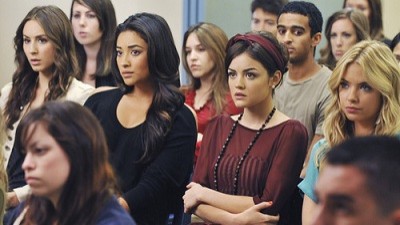 #23 - I Must Confess 8.09
Season 2 - Episode 11
Aria, Emily, Hanna and Spencer finally decide it is time to tell someone about "A". Meanwhile, Hanna's infamous grandmother drops into town for Tom's rehearsal dinner.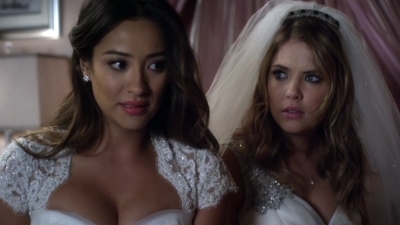 #24 - Unbridled 8.08
Season 4 - Episode 23
It is a rough time for all of the Liars as Spencer is reeling about the memories from her lost summer, Aria is still nursing a broken heart, Emily is reeling from Paige's Betrayal and Hanna unsuccessfully attempts to wade back into the dating pool. But as each girl tries to deal with her individual issues, they must focus their attention on their suspicions surrounding Mrs. DiLaurentis. Assuming that Mrs. D knows more about Ali and the night she went missing, girls decide to help out at her charity bridal fashion show to gain access to the DiLaurentis house to search for answers. Meanwhile, Ella and Jason return to Rosewood, each with something to hide.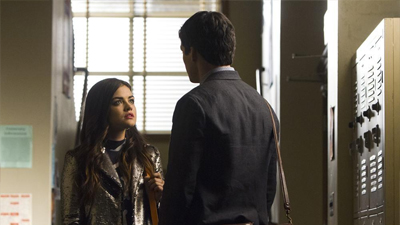 #25 - Free Fall 8.07
Season 4 - Episode 20
Spencer is determined that it is finally time to tell Aria about what she has found out about Ezra, but Emily and Hanna are worried about what it could do to their friend. A wrench is thrown into the plan when Ezra tells Aria about his concern and suspicion of Spencer's recent addiction problem. Now with Spencer's credibility being questioned, can the girls trust what Spencer has been telling them about Ezra -- could this all be a figment of Spencer's tired brain or really just a clever ploy by Ezra to cover his tracks?