Pokémon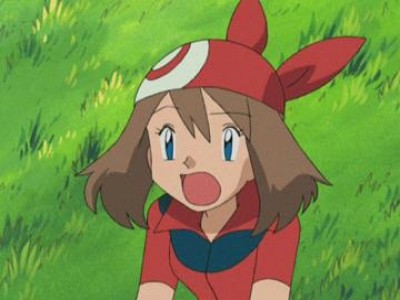 #1 - Get the Show on the Road!
Season 6 - Episode 1
In the land of Hoenn, a girl named May travels to Prof. Birch's lab. She is attacked by a wild ghost pokemon called Duskull. Scared, but unharmed, she travels on her bike to the lab in Littleroot Town.Ash also travels to Littleroot town and signs up for the Hoenn League. Ash arrives in town to discover that Littleroot doesn't have a pokemon center! Ash rushes to the Profesor's lab and talks to one of the assistants. The assistant alerts Prof. Birch and the he assists him.Meanwhile, May arrives at the lab to find that the Prof. isn't there. The assistants tell her that he drove into the woods and she rides after them.In the woods, the prof. tumbles down a cliff and lands on a Pochyena. He is suddenly surrounded by a group of the pokemon and he looks like he is in trouble. Suddenly, May arrives and the prof. tells her to take one of the pokemon out of his bag and use it to battle the Pochyena. She ends up throwing Mudkip. Birch tells Mudkip to do a water gun attack.As May and Prof.Birch find Ash. As the group is about to leave, Team Rocket arrive on the scene in a giant robot. They reintroduce themselves to Ash and let May and the prof. know who they are. Jessie still doesn't care about this mission and James and Meowth do the dirty work as they launch an arm that begins draining Pikachu's energy. However, it accidentely HEALS Pikachu and he uses a super-powered Thunderbolt.Back at the lab, May picks the fire pokemon, Torchic. Prof. Birch gives her a pokedex and she qiuetly says how she really doesn't like Pokemon. May's damaged bike due to Pikachu's thunderbolt makes her angry but she decides to ask Ash if she can go with him on his journey. He says OK and they head over to Oladale town as Ash's journey in Hoenn begins.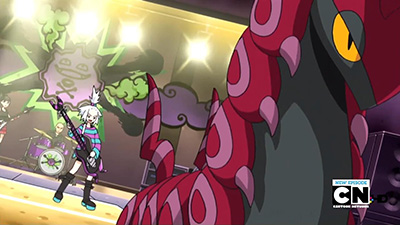 #2 - Rocking the Virbank Gym! (2)
Season 14 - Episode 84
Ash's battle against Roxie continues after her Koffing knocks out Ash's Boldore and Unfezant. Koffing is then knocked out by Ash's Leavanny and then Roxie sends out her Scolipede.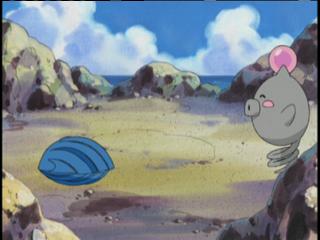 #3 - Clamperl of Wisdom
Season 8 - Episode 1
On the way to Mossdeep City, Ash and friends encounter Spoink again. It is floating on a log and a wave knocks it off. They rescue it, but it starts jumping around and the pearl on its head falls into the ocean. After searching the ocean with Mudkip and Corphish, Ash and friends head for a nearby island with the sad Spoink. There, they meet Isiah who is studying a blue pearl. Team Rocket tries to steal it, but Spoink ends up foiling their plans and runs off with the pearl!
#4 - Tears for Fears
Season 11 - Episode 1
On the way to Veilstone City, Ash and the other decide to have a picnic. When Chimchar sees the happy environment, it seems confused since Paul never treated it this way.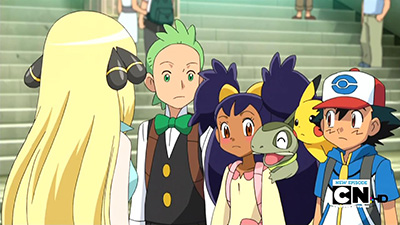 #5 - All for the Love of Meloetta!
Season 15 - Episode 1
After winning his eighth gym badge, Ash and his friends meet Sinnoh region champion, Cynthia at a Bearticone ice cream stand. They go with her to stay at her villa when they find an injured Meloetta on the road.
#6 - What You Seed is What You Get
Season 7 - Episode 1
The gang begins on a journey to Fallabor Town, so May can compete in another Contest. In a field on rare Watmel Berries, Ash battles with the protecter of the Watmels to strengthen his Treeko and make it learn new abilities.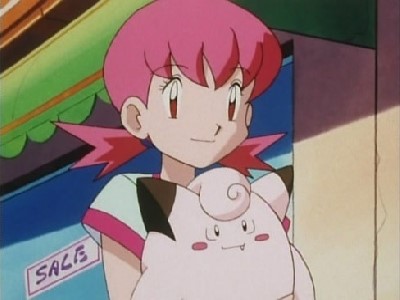 #7 - A Goldenrod Opportunity
Season 4 - Episode 1
Our heroes have finally reached the next stop on the road to Johto: Goldenrod City! Looking to challenge the city's Gym Leader, Ash finds out the gym is closed for the day. Knowing they must wait until tomorrow, the gang decides to shop around and enjoy the city when they run into a local trainer, Whitney. After a close-encounter with Team Rocket, our heroes realize Whitney is actually the Goldenrod City Gym Leader! Will Ash win his next Johto League badge?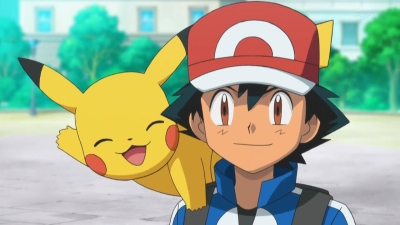 #8 - Kalos, Where Dreams and Adventures Begin!
Season 16 - Episode 1
Ash arrives in the Kalos Region with Alexa, who reveals her sister is a Gym Leader, but she seems to be away.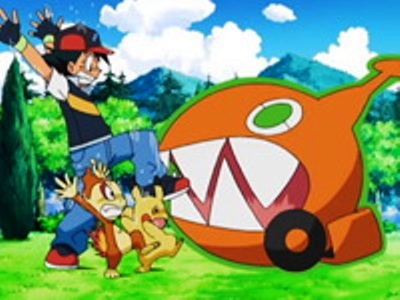 #9 - Get Your Rotom Running!
Season 12 - Episode 1
Ash contacts Professor Oak who tells them about a hotel in the city that serves a delicious dessert. They head to the hotel, but it is closed. As they turn to leave the door mysteriously opens. They then head inside where they are attacked by a Rotom.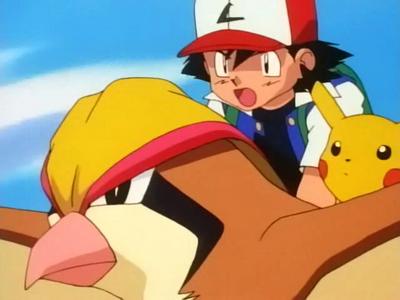 #10 - Pallet Party Panic
Season 2 - Episode 1
Following the completion of the Pokémon League, Ash is back home in Pallet Town. Professor Oak and Delia throw him a party which of course Team Rocket crashes, but Ash is able to send them off with the help of Charizard, who proceeds to wreck the party. Later that day Professor Oak asks Ash to run a errand for him. He wants Ash to go to the Orange Islands and pick up the GS Ball from Professor Ivy. He agrees and leaves soon after. Along the way they become trapped ina forest where the same flock of Spearow from the beginning of Ash's journey is still causing trouble, along with their newly evolved Fearow leader. Now they must figure out a way to get out of the forest before the Spearow manage to get to them.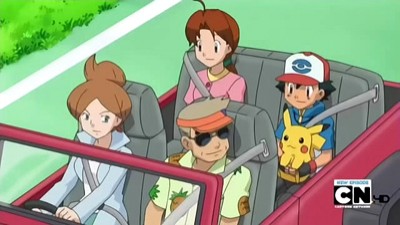 #11 - In the Shadow of Zekrom! (1)
Season 14 - Episode 1
Once again Ash sets his sights on a new region and a new adventure. Continuing his journey alone, Ash arrives in the beautiful Unova region with just Pikachu at this side. While on his way to visit Professor Juniper, Unova's resident professor, a mysterious shadow appears above and Pikachu loses the ability to use his electric attacks. Ash also encounters a trainer named Trip and the two decide to have an unlikely ending battle.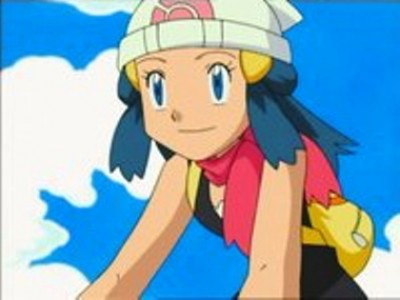 #12 - Following A Maiden's Voyage!
Season 10 - Episode 1
In the far-off region of Sinnoh, a girl named Dawn has reached her 10th birthday and has set out from her hometown of Twinleaf to meet Professor Rowan in Sandgem Town to receive her Starter Pokémon. Her dream is to take part in Super Contests positioned throughout the land. On her way, however, she gets lost. When she manages to reach the Lab, the three Starters, Turtwig, Piplup, and Chimchar, are fighting and manage to escape the building. Now it's up to Dawn to get them all back so she can begin her journey.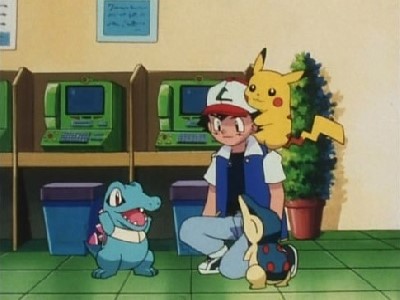 #13 - A Dairy Tale Ending
Season 4 - Episode 2
Whitney takes our heroes to her uncle's Miltank farm in the outskirts of Goldenrod City. Here they sample the finest in Miltank dairy products and learn how to groom and care for these Pokémon. Ash realizes this is a great opportunity to study Miltank first-hand and hopes it will help him against Whitney's Miltank in their next battle. After learning about Miltank and coming out victorious in a battle against Team Rocket, Ash realizes the answer to overcoming Whitney's strongest Pokémon is good old-fashioned team-work.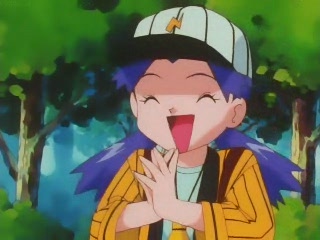 #14 - The Double Trouble Header
Season 3 - Episode 2
In Pokémon battle, Ash soundly defeats an ambitious young trainer, who runs away dejectedly. Before Ash can comfort the novice, though, Team Rocket steps in, convincing the lad that Ash won by foul play, and recruiting the girl to their cause.
#15 - A Ruin with a View
Season 6 - Episode 2
Ash is ready to head to Oldale Town to sign up for the Hoenn League. May has offered to show Ash the way in exchange for his company to Oldale Town - which is only fair, seeing as Pikachu destroyed May's bike when it was sick! In Oldale Town, May visits her first Pokémon Center and is amazed with all of its services, and by the ancient ruins next door. Things quickly turn sour when Team Magma, a mysterious band of criminals, shut down the electricity at the Pokémon Center and kidnap Professor Alden in order to invade the ruins. With no electricity, all of the Pokémon are in danger - including May's Torchic. It's up to Ash and May to save the day - and in doing so they uncover mysterious ancient Pokémon.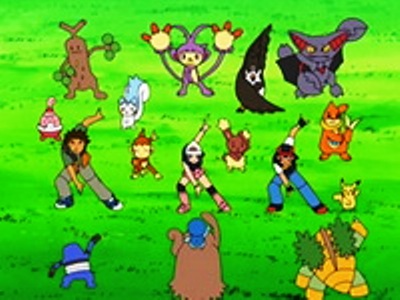 #16 - A Breed Stampede!
Season 12 - Episode 2
While awaiting the return of the Canalave Gym Leader, Ash decides to train. Dawn also decides to begin training her newly evolved Piloswine for its contest debut. However, Piloswine begins to ignore Dawn. Trying to reconnect with it, Dawn enrolls in a "Pokémon Friendship School".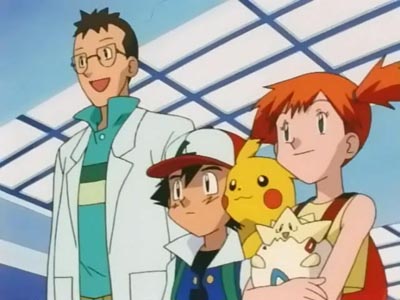 #17 - Around the Whirlpool
Season 5 - Episode 1
In a scuffle with Team Rocket, Ash and friends are thrown from the ship bearing them to the Whirl Islands. As powerful whirlpools draw them toward impending doom, a mysterious form under the sea shifts the powerful undertow, drawing them to safety. Shortly thereafter, a Corsola comes skipping over the sea's surface and guides the children back to a ship wherein awaits their old friend, Professor Elm. They ride the ship to a bustling harbor in the first of the Whirl Islands. There they learn of an upcoming competition in which Water Pokémon trainers will vie for the title of Whirl Island champion.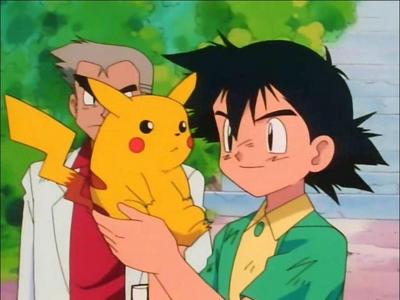 #18 - Pokémon! I Choose You!
Season 1 - Episode 1
After beginning his Pokémon journey, Ash is supposed to meet Professor Oak - a Pokémon researcher who is giving Pokémon to all the 10-year-olds in Pallet Town. Arriving late, Ash finds that all the Pokémon are taken - all except for Pikachu. After a harrowing misadventure together, Pikachu and Ash form an unbreakable bond of friendship.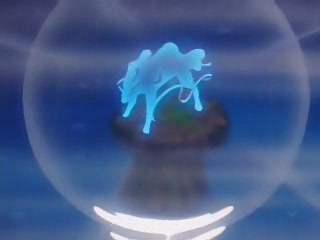 #19 - Don't Touch That 'Dile
Season 3 - Episode 1
Ash begins his journey in Johto, a region largely unexplored and populated with Pokémon entirely new to him and his friends.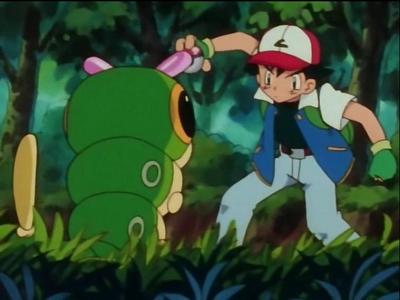 #20 - Ash Catches a Pokémon
Season 1 - Episode 3
Ash, Pikachu and Misty have entered the Viridian Forest. Ash has spotted a Caterpie and thrown a Pokéball at it. Capturing it, Ash is overjoyed at his first catch. Misty, however, hates bugs and screams every time it comes near her. Meanwhile, Team Rocket is following them, ready for a fresh attempt at capturing Pikachu. Ash decides to capture another Pokémon, and manages to get a Pidgeotto. Can he, Misty, and his Pokémon, fend off Team Rocket again?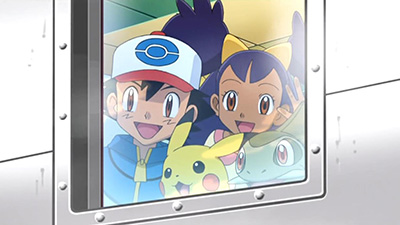 #21 - Piplup, Pansage, and a Meeting of the Times!
Season 15 - Episode 2
Ash and friends arrive in Undella town. When they get to Cynthia's villa they find out Dawn is also staying there. Ash challenges Dawn to a battle but is interrupted by Cilan who wants to battle Dawn first.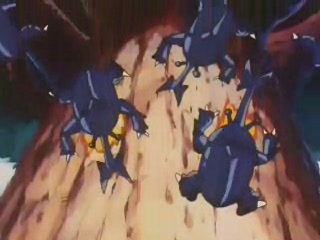 #22 - A Sappy Ending
Season 3 - Episode 3
Ash and friends discover a forest where Pinsir invaders are causing heavy deforestation. Investigation reveals the root of the problem: Team Rocket is carelessly harvesting sap from a nearby wood, thereby upsetting the balance of nature.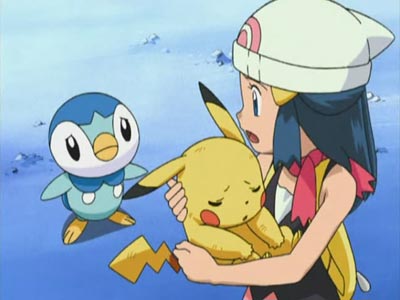 #23 - Two Degrees of Separation!
Season 10 - Episode 2
After getting her starting Pokémon, Piplup, Dawn begins her quest to compete in Super Contests. After many failed capture attempts, she runs into Ash's Pikachu who is still separated from Ash and she tries to catch it. The capture fails because Pikachu is already someone elses Pokemon. Then Team Rocket come and attack Pikachu! Meanwhile, Brock returns with new clothes and him, Ash, and Aipom set out to find Pikachu. Can they find Pikachu? and can Dawn save Pikachu?!
#24 - Once There Were Greenfields
Season 11 - Episode 2
On the way to Veilstone City, Ash and the others arrive in a town where the once again see Gardenia, the Eterna Gym Leader. Team Rocket also arrives in town. Gardenia asks Ash and friends to have a tag battle between her and James. Gardenia then tells James that he is not using Cacnea to its full potential, and offers to take Cacnea and help train it.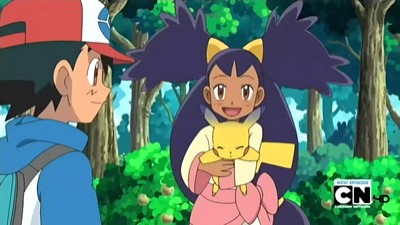 #25 - Enter Iris and Axew! (2)
Season 14 - Episode 2
With Pikachu healed up, Ash decides to not return with his mom and Professor Oak to Kanto and to travel around the Unova region instead. As he begins his travels he meets a girl named Iris and together they decide to travel with each other, but when Pikachu and Axew are stolen by Team Rocket, will they be able to save their only Pokémon?