Plebs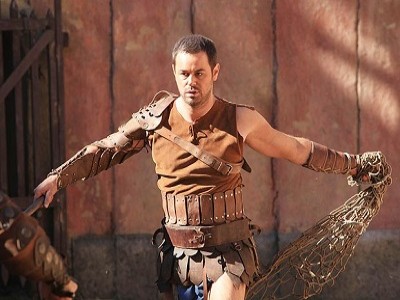 #1 - The Gladiator
Season 1 - Episode 2
Everyone is quickly charmed apart from Marcus who hopes that, one way or another, their relationship will be short-lived. Meanwhile, Stylax plays a prank on Aurelius which gets out of hand.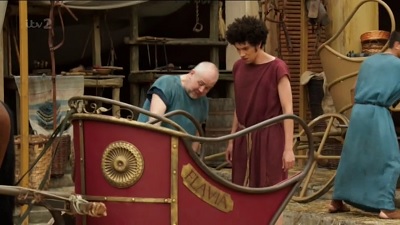 #2 - The Race 8.11
Season 2 - Episode 8
Marcus is stressed at the idea of the girls been deported if they don't raise 3,000 denari.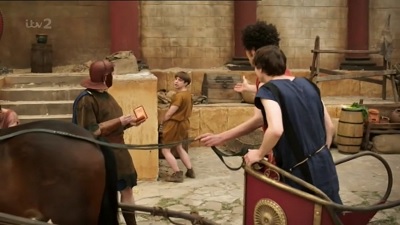 #3 - The Phallus
Season 2 - Episode 7
The boys have a meeting with Fabianus, a school friend who's now a huge lawyer living the high life in Rome. Stylax reconnects with his old flame, Cordelia.
#4 - The Cupid
Season 3 - Episode 4
The boys get cultured when Grumio is street-cast to play the part of Cupid in an upcoming play. Marcus becomes his agent and uses his new connections to impress Delphine. Stylax understudies the lead actor so he can meet some theatre groupies.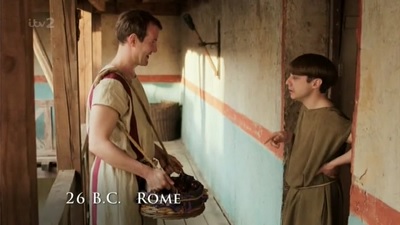 #5 - The Candidate
Season 2 - Episode 6
The local elections arrive, so Marcus and Stylax sign up as hired clappers for wig-wearing politician Victor of the Gracchii. Grumio, however, is drawn towards another candidate named Julius Priscus. Could it simply be because he is giving away free promotional plums?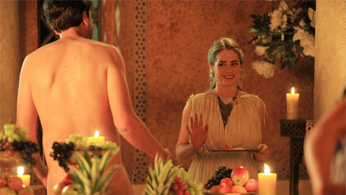 #6 - The Orgy
Season 1 - Episode 1
Things take an upward turn for the boys when Marcus meets some fit Britons in the courtyard and Stylax finds a flyer to an orgy. With his grocery budget now spent on orgy tickets, Grumio must scrimp and save in order to put food on the table.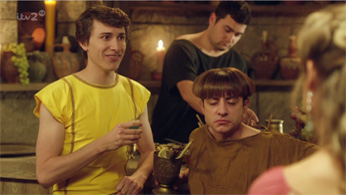 #7 - The Erotic Vase
Season 1 - Episode 3
Stylax buys Grumio an erotic vase for his birthday featuring a character who bears a striking resemblance to someone nearby. Marcus, under pressure from the girls, suggests they swap roles for the day. Meanwhile, Stylax hangs out with his cousin Lucretia, with whom he has an unusually close relationship.
#8 - The Herpes Cat 8.09
Season 1 - Episode 4
To endear himself to Cynthia, Marcus befriends a mangy cat whom he's rescued from the courtyard. Stylax is suffering from a disturbing itch and visits a sexual health clinic where he falls for an attractive nurse.
#9 - The New Slave 7.91
Season 2 - Episode 5
The boys buy an eccentric slave called Mushki at an auction. Grumio finds his position in the household gradually usurped as the new guy impresses Marcus. Stylax, however, has a sneaking suspicion that Mushki might be a psychopath.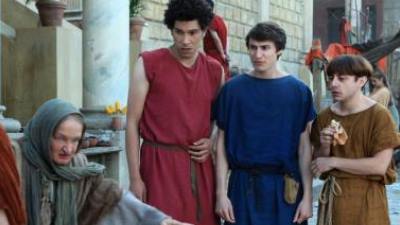 #10 - Saturnalia 7.88
Season 1 - Episode 6
Marcus hopes that the Roman festival of Saturnalia will provide the perfect backdrop for him to finally woo Cynthia, while Grumio makes it his mission to salvage as much sacrificial meat from the city-wide celebrations as possible.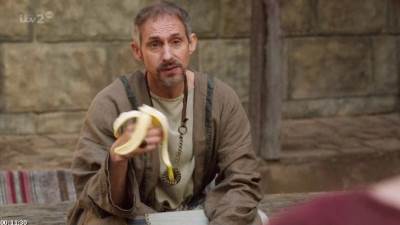 #11 - Bananae 7.79
Season 1 - Episode 5
Mass immigration from Thrace puts the boys into contact with a sexy Thracian lodger Irina and a dazzling yellow exotic fruit, the Banana. Meanwhile, Marcus has an unfortunate encounter with an elderly war veteran.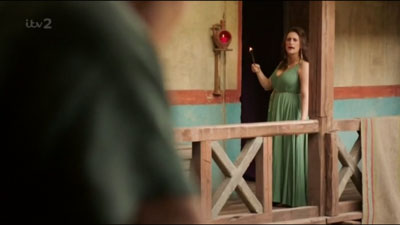 #12 - The Chariot 7.79
Season 2 - Episode 1
Having won 100 denari each through Stylax's betting on a chariot race, he and Marcus have very different ideas on how to spend the money. Marcus, naturally, wants to spend it on Cynthia, whilst Stylax prefers a more laddish approach.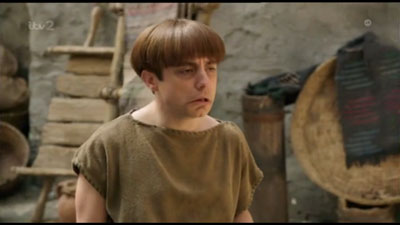 #13 - The Baby 7.75
Season 2 - Episode 3
While doing the recycling, Grumio finds a baby behind the bins and takes it home to raise as his own. Stylax uses it to strike up a relationship with an attractive young wet nurse. Meanwhile, Marcus tries to avoid seeing Cynthia's painfully boring one-woman play.
#14 - The Best Men 7.74
Season 2 - Episode 2
Surprisingly, Aurelius is getting married. Even more surprisingly, he invites his "best mate" Marcus to be his best man. Reluctant to say the least, Marcus plans a night on the cheap, avoiding the hottest club in town.
#15 - The Patron
Season 2 - Episode 4
Grumio falls ill after eating an apple on the loo. Marcus refuses to pay for his medical treatment preferring instead to go with Cynthia's remedy of candlelight and prayer. Stylax strikes up a rapport with a rich nobleman Gaius who agrees to fund his charioteering career