Overhaulin'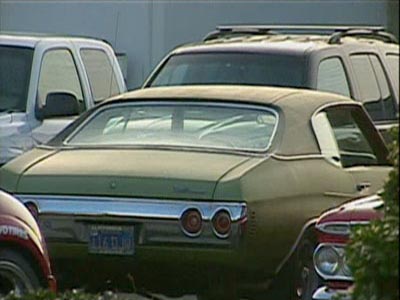 #1 - Parts Guy 7.73
Season 1 - Episode 1
Jeff Miller has dreams of singing rock and maybe doing a little sound engineering but for now, he works the counter at Original Parts Group, an auto supply shop in Huntington Beach, California. Jeff's very cool boss at OPG is Tony and he can see the potential not only in Jeff but also in Jeff's rather ratty '71 Chevelle. Our "Overhaulin' A Team", led by designer Chip Foose, is ready to get working and turn this ratty rod into a rad rod but first, they need to get the car away from Jeff. No problem! Jeff's boss is our insider who's going to pretend that he needs to borrow Jeff's Chevelle for a bogus infomercial. The fun doesn't end there though as we pull a few a pranks on Jeff to keep him on his toes and to keep him guessing as to what exactly is going on with his car. We even have one of our team members order parts for Jeff's car - from Jeff at the auto parts store! Hmmm, how many lime green Chevelles are there in Huntington Beach anyway? The time comes to show Jeff his new ride - complete with a new engine, custom paint job and totally redone interior. Will he even recognize it as his own?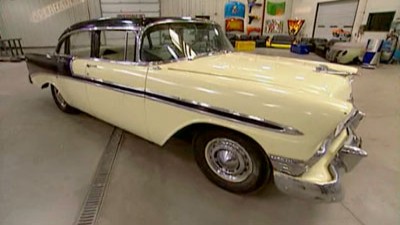 #2 - School's Out
Season 1 - Episode 6
Dale is one of the top dogs at the foundation that supplies both scholarship funding and project cars for the prestigious car-building college Wyoming Tech in Laramie, Wyo. Dale secures old donated vehicles for the school. But, unbeknownst to Dale, the OVERHAULIN' pranksters took one of those cars from his property and brought it to the WyoTech campus. It's there that over 30 student builders, along with the OVERHAULIN' build team of Chip Foose, Troy Trepanier, Bryan Fuller and Levi Green, transformed the dusty old '56 Chevy Bel Air into something truly special for the school. The finished car will be the mascot for WyoTech, as well as a possible scholarship funding source if the Chevy is auctioned off. But before that, Dale was led on a goose chase during the week of the build, hearing that the car was discovered crossing state lines and on its way to a chop shop. OVERHAULIN' made use of the school and city, painting Western themes, as Dale was finally led back to Wyo Tech, only to see a car that in almost no way resembled the one stolen from him just a week before.
#3 - Sarah's Skylark 8.16
Season 7 - Episode 1
Chip and the A-team design and overhaul Sarah's first car, a 1965 Buick Skylark Convertible. Sarah is a hardworking mother and Sunday school teacher. The Buick was a birthday gift from her father. She bonded with her Dad by working on it in high school.
#4 - In Too Depp
Season 9 - Episode 1
Actress Amber Heard's 1967 Ford Mustang is revitalized thanks to help from her father, fiance Johnny Depp, and metal magician Chip Foose.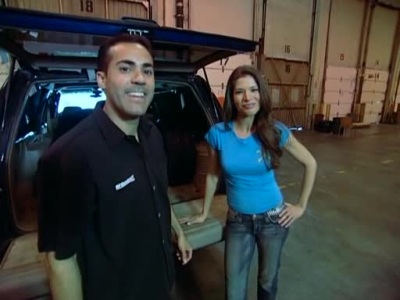 #5 - LeMama's Boy 8.00
Season 4 - Episode 2
The mark for this episode is Tony. and his '66 LeMans. His best friends Charlie Sheen and Rob set him up for his car to be overhauled. Tony always imagined his car being redone but soon realized that it would cost a lot of money.
#6 - Tony's 1966 A100 Van
Season 8 - Episode 2
Hockey fanatic Tony Farrell's Dodge A-100 has seen better days. But once "Motoring Mad Man" Chip Foose gets a hold of this old work van it will be as at home on the racetrack as it once was on the worksite.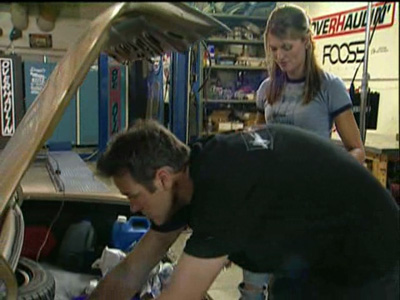 #7 - Cherry Nova
Season 2 - Episode 2
Katy is a young salesclerk who loves her dying '67 Nova. Katy thinks her car's been towed while the A-Team works her clunker into a vehicle of beauty.
#8 - Surfer Kid
Season 1 - Episode 4
Mylan goes surfing every day, getting to the beach in his rusty old 1977 El Camino. He's one of those rare teens who's both ultra cool and as nice as they come. Working as insiders, his folks Vicki and Tim knew that the tow truck that grabbed Mylan's car ("due to tickets") was OVERHAULIN', delivering the car to the A-Team of Chip Foose, Bryan Fuller, James Ferguson, Carl Lutes, Craig Chaffers, Revo, J.C. and surf legend Tyler Hatzikian. The tough assignment: making the El Camino into the coolest of surf-wagons. Of course, when Mylan went to our fake impound, he was turned away -- the car's in his dad's name. As the rebuild went on, surfer Tyler Hatzikian created custom boards to ride on the El Camino's tano cover. The final creative meld of surf toys and surf wagon was truly breathtaking. Mylan was soon sent to yet another fake car impound. This time, he was confronted with the truth of the whole strange week, along with his new ride. The incredible vehicle brought Mylan to tears, and when it was all over, there wasn't a dry eye in the shop.
#9 - Scott's 1967 Chevy Pickup Truck 7.92
Season 7 - Episode 3
Chip and the A-team design and overhaul Scott Hardison's 1967 Chevrolet C10 Pick up truck. Unfortunately, Scott didn't have the time or resources to restore his truck, a family heirloom once owned by his grandfather and father before they passed away.
#10 - Wake-Up Call 8.40
Season 5 - Episode 3
Chip and the A-Team overhaul Harrison's 1963 Chevy Nova. Harrison lost interest in working on it after his father's tragic death and now it's up to Chip and his team to bring a smile back to Harrison's face.
#11 - Family Truckster
Season 5 - Episode 2
Kathy helps Chip and the A-Team overhaul her husband's Chevrolet pickup truck. George had the truck handed down to him from Herb, his father-in-law and Kathy thinks it's about time it's restored to it's natural beauty for George to enjoy the truck as much as her father did.
#12 - 1965 Impala 7.85
Season 6 - Episode 1
In the sixth-season premiere, a '65 Chevy Impala is restored for a Marine Corps vet.
#13 - 1954 Chevy Pickup Truck 7.40
Season 6 - Episode 2
A 1954 pickup truck is restored for a retired teacher.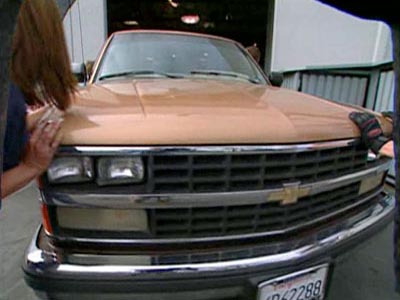 #14 - Search & Rescue 7.56
Season 1 - Episode 2
Mat Mershimer is a straight 'A' high school student, volunteers in search and rescue and is an Eagle Scout. He also drives his grandfather's old '88 Chevy pickup truck that's seen better days. Mat's dad, Jim, contacted the Overhaulin' A team because he would like Mat, who is always doing nice things for others, to have something nice done for him for a change. But we can't make it that easy for Mat. And we need to get a hold of that truck! Our host Chris Jacobs poses as a tow truck operator who comes to Mat's house to tow away the truck because straight-as-an-arrow Mat has too many parking tickets. Eagle Scout Mat has never gotten a ticket in his life but with some help from his father Jim, as our insider, away goes Mat's truck to our Overhaulin' garage. And little does Mat know but we've got Nascar driver Robby Gordon helping the A Team out, too! Chip Foose, our Overhaulin' A Team leader, starts designing the plans for one amazing search and rescue vehicle while we continue to play a few more tricks on unsuspecting Mat. It seems that tow truck guy who took Mat's truck is actually the leader of a car thief ring! Mat thinks he's never going to see his beloved pickup truck ever again. But what does Mat see in the garage when he's invited to take a tour of Robby Gordon's Speed Shop? No way can that be his old truck! Will all the pain, and pranking, that Mat's endured be worth it once he sees his new search and rescue vehicle?
#15 - Scout's Honor
Season 5 - Episode 4
Chip and the A-Team give Jim the shock of his life when they overhaul his 1956 BelAir convertible they he left abandoned in his driveway.
#16 - Bill's 1965 Mustang Fastback 7.86
Season 7 - Episode 2
Chip and the A-team design and transform Bill Garrett's 1965 Mustang Fastback into a Shelby style stunner. His dream of restoring his Mustang faded when thieves stole all the tools and parts he'd collected.
#17 - Number 1 Camaro
Season 5 - Episode 5
Chip and the A-Team overhaul Ken's 1967 Camaro, with the help of his wife Sandy.
#18 - Museum Worthy 7.89
Season 1 - Episode 3
Chuck de Heras is a car collecting aficionado. His true love of the automobile and its history has meant he's developed a friendship with Dick Messer - who runs The Petersen Automotive Museum in Los Angeles. A quick call from Dick to Chuck asking if he can borrow one of Chuck's cars from his collection, a '50 Ford Coupe, for a display at the Petersen is all it takes for our Overhaulin' A Team to get their hands on this shabby classic. Time to get to work! We've only got a week. But, it's not long before Chuck gets the call from his friend telling him that his car has been stolen from the Petersen Museum. While the team works round the clock on the car, hosts Chris & Courtney pose as insurance agents from hell and show up at the museum accusing Chuck and Dick of stealing the car to commit insurance fraud. Lies, all lies, and all part of the ruse to keep Chuck away from his car and keep our team working. When Chuck gets a call from Dick Messer asking him to come down to museum, Chuck finds cop cars and those two pesky insurance agents again when he gets there. Is it possible that his friend Dick is actually a car thief? Of course not but now we've got Chuck back to the museum to reveal his new, overhauled Ford.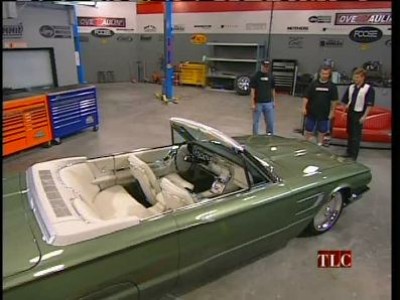 #19 - Illegal Fowl 7.64
Season 3 - Episode 5
Deputy Sheriff Mike more than loves his 1965 T-Bird; it was his father's treasure and he is beyond sentimental about the ride. His wife Stephanie works as an insider for Overhaulin' as Chris, Chip and the team at ACS grab the Thunderbird and decide to make the hardtop into a roadster. It's a big job if you have a while to pull it off; it's sheer madness to try in a week. But never underestimate the drive of Foose and the A-Team.
#20 - Victor's 1967 Ford Bronco 8.00
Season 7 - Episode 4
Chip and the A-team design and overhaul Fireman-Paramedic Victor Lopez's 1967 Ford Bronco. His dream is to share his Bronco and love of the outdoors with his three young children.
#21 - SEMA Special Chrysler 300
Season 6 - Episode 5
Chip Foose and the A-Team head to Las Vegas to Overhaul a Chrysler 300 and give it away to a SEMA Convention Attendee.
#22 - Tuner Car
Season 3 - Episode 1
Chip Foose and his team create a '95 Honda Civic tuner car. Dylan loves tuner cars and dreams of having a fast, slick Honda with cool paint, a fast motor, racing seats and all the bells and whistles.
#23 - One Ugly Horse
Season 3 - Episode 6
The Team at Overhaulin', get a hold of Mike's 67 mustang.
#24 - That's All, Volks! 7.50
Season 5 - Episode 6
Chip and the A-Team help overhaul Hot Dog Fred's microbus.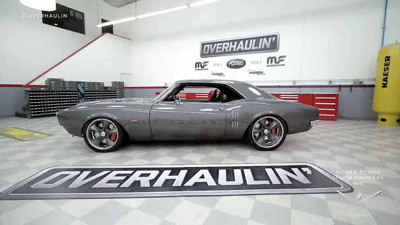 #25 - Dan's 1967 Pontiac Firebird
Season 8 - Episode 4
Dan is a comic book artist who has spent years hoping that he could raise his Pontiac Firebird from the ashes. Now, it's up to Overhaulin's master designer, Chip Foose, to put pen to page and make this bird truly fly once again.