Open All Hours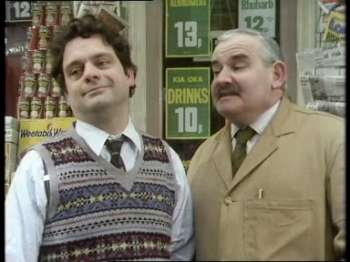 #1 - A Mattress On Wheels 8.50
Season 1 - Episode 2
Granville is fed up with having to do his rounds on his bike and tries to talk Arkwright into buying a van. Granville hopes that a mattress in the back of it will help his love life - and maybe Arkwright's, too!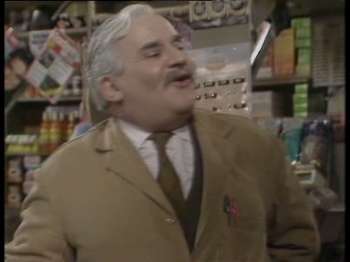 #2 - Laundry Blues 8.44
Season 2 - Episode 1
Nurse Gladys Emmanuel, having seen Granville struggling with the washing, tells Arkwright that he must buy a new washing machine. Arkwright has to come up with a plan so that she thinks he has done as she requests. He gets Neville to drop off a new machine, sneak round the back of the shop and take it away again, leaving behind a second-hand machine instead!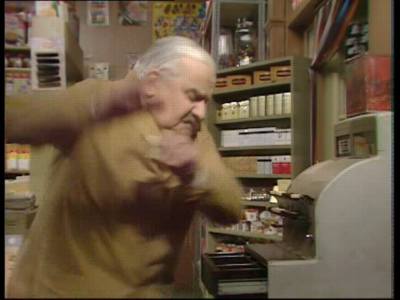 #3 - Soulmate Wanted 8.33
Season 4 - Episode 1
Granville advertises for female company and ends up with more than he can handle.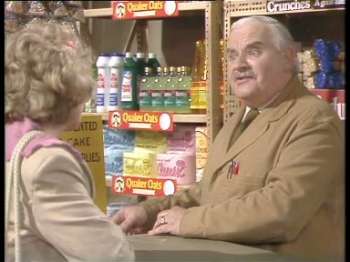 #4 - The Ginger Men 8.31
Season 3 - Episode 2
Once again Arkwright has overstocked on goods. This time he has a consignment of Ginger Cake to get rid of. By pretending that it has aphrodisiac properties, he hopes to sell the lot.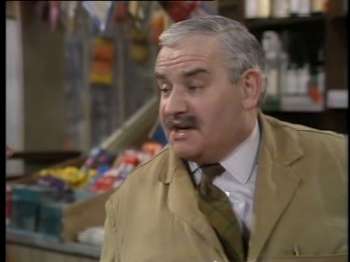 #5 - Full Of Mysterious Promise 8.29
Season 1 - Episode 1
Arkwright buys a load of damaged goods. The snag with them is that they are tinned goods without labels! He then tries to foist them off onto his customers.
#6 - Shedding At The Wedding 8.25
Season 2 - Episode 6
Arkwright goes to a wedding with Nurse Gladys Emmanuel. His suit smells of mothballs and he has to hang his trousers out of Gladys' car to air them. After his trousers are blown away and run over by a tractor, he has to borrow her trousers!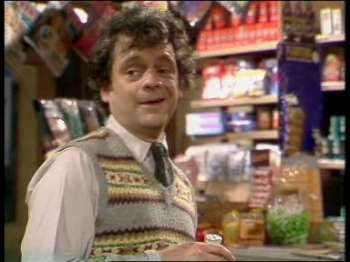 #7 - The Reluctant Traveller 8.13
Season 2 - Episode 2
Nurse Gladys Emmanuel and Arkwright are finally going to spend the night away at a hotel. Little does she know that the hotel is round the block! Whilst they are away, Granville is entertaining the milk-woman. Arkwright also has a problem with an over-tight money belt!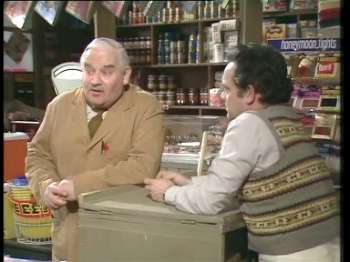 #8 - An Errand Boy By The Ear 8.08
Season 3 - Episode 1
The customers are upset by Granville continually being dragged around by the ear by Arkwright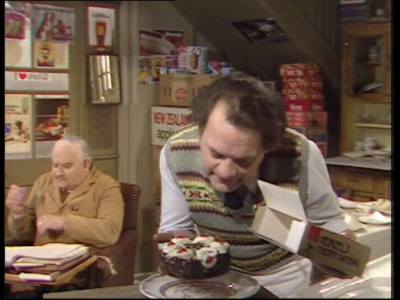 #9 - Happy Birthday Arkwright 8.08
Season 4 - Episode 5
Arkwright is on the alert after Nurse Gladys Emmanuel and Granville tell him that a man from the ""Good Shop Guide"" is visiting shops in the area. It is only a ruse by Granville and Nurse Gladys to teach Arkwright a lesson in good manners. Nurse Gladys dresses up as a man and is on the receiving end of some very polite behaviour from Arkwright.
#10 - Fig Biscuits and Inspirational Toilet Rolls
Season 2 - Episode 3
Arkwright once again is struggling to sell goods that no-one wants to buy. He therefore tries a special promotion to get rid of the goods, namely fig biscuits and toilet rolls with messages printed on them.
#11 - Apples and Self Service 8.00
Season 1 - Episode 6
Arkwright starts a sales drive to try and get rid of a large stock of apples that he had over-ordered.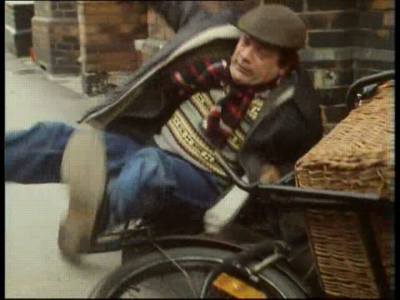 #12 - The Errand Boy Executive
Season 4 - Episode 4
Granville takes a fancy to Stephanie (""with a p-h"") who works in a boutique. He pretends that he is a young executive and that Arkwright is his assistant. Needless to say, Arkwright does not agree with this role-reversal.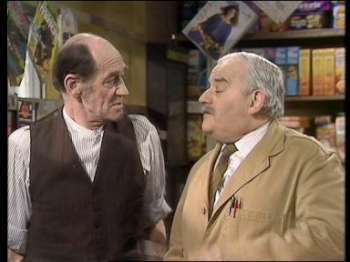 #13 - St. Albert's Day
Season 2 - Episode 7
Arkwright invents a Saint's day so that Granville can check the pockets of a foreign visitor who he suspects of shoplifting.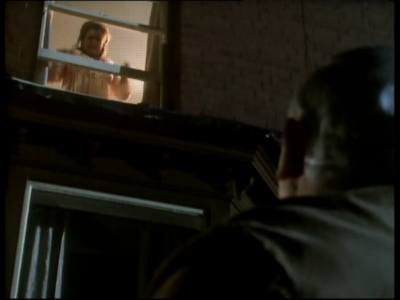 #14 - The Mystical Boudoir Of Nurse Gladys Emmanuel 8.00
Season 4 - Episode 6
Arkwright tries all manner of things in order to get himself into Nurse Gladys Emmanuel's bedroom, including the use of a ladder and a box of chocolates. Meanwhile Granville takes to wearing tights on his head.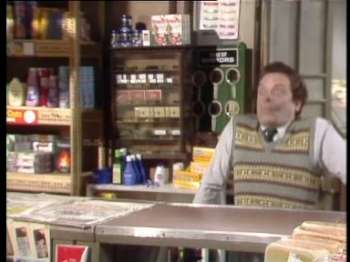 #15 - How To Ignite Your Errand Boy 8.00
Season 3 - Episode 4
Granville is tasked with making home-made firelighters, an essential ingredient being his shredded disco shirt.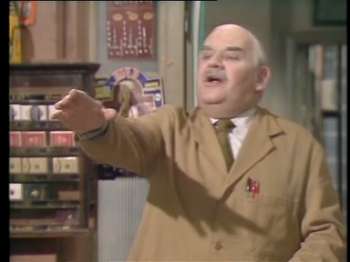 #16 - Duet For Solo Bicycle 8.00
Season 3 - Episode 3
A grocer's bike with a squeaky wheel is definitely ruining Granville's attempts to woo the girls, especially Wendy who suffers the embarrassment of being escorted by Granville and his squeak!
#17 - The Cool Cocoa Tin Lid 7.94
Season 3 - Episode 6
Granville gets rid of his old image by wearing shades and snappy threads, complete with a ""medallion"" made out of a cocoa tin lid.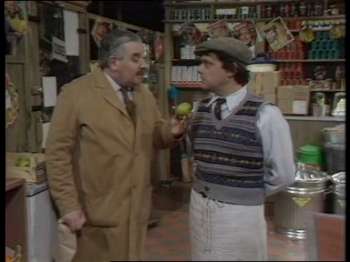 #18 - Well Catered Funeral 7.87
Season 1 - Episode 5
Parslow, an old friend of Arkwright dies and Arkwright handles the catering for the funeral, hopefully with a large profit coming his way!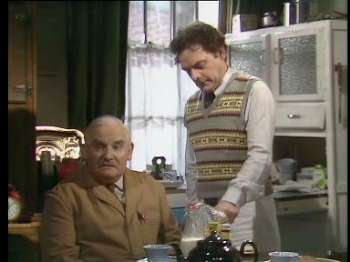 #19 - The Man From Down Under 7.62
Season 3 - Episode 5
Arkwright has a rival for Nurse Gladys Emmanuel's attention, as a visitor from Australia returns to his old stomping ground.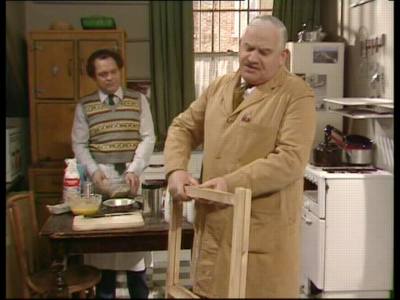 #20 - Horse-Trading 7.56
Season 4 - Episode 2
Arkwright smugly offloads a lot of clothes-horses to an rival Asian shopkeeper. However, when his rival starts making large profits using the clothes-horses as bait for customers, he makes Granville dress up as an Asian woman so that he can buy the clothes-horses back.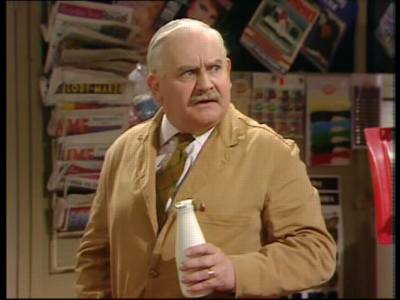 #21 - The Housekeeper Caper
Season 4 - Episode 3
Arkwright decides that to make Nurse Gladys Emmanuel jealous, he will advertise in the local paper for a live-in housekeeper. Unfortunately he is not prepared for Mrs Delphine Featherstone applying for the position!