My Teen Romantic Comedy SNAFU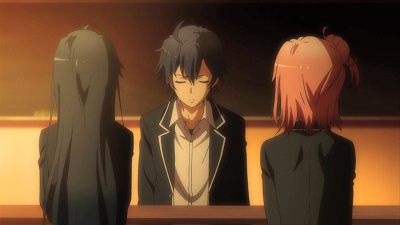 #1 - But Still, Hikigaya Hachiman Is... 8.58
Season 2 - Episode 8
Shizuka spots Hachiman about to return home from his chance encounter with Yukino and he outlines the desperate state of recent events. Shizuka gets right to his root emotional problem by explaining that his attempts to protect Yukino and Yui had in fact been the very cause of the rift within the Service Club. She then suggests that he contemplate his feelings until he figures out exactly what he had been trying to achieve. The following day, Hachiman takes Shizuka's advice and asks for Yui and Yukino's assistance after admitting the mess his plans had created. Yukino declines per her usual defensive trait and Yui tearfully highlights her unfairness to open up, but Yukino retorts by chastising Yui for hiding her true feelings as well. Hachiman then comes to the realization about what Shizuka had meant by not simply voicing one's feelings and fights back tears when he reveals that he truly wishes to understand the feelings of those around him. Hachiman's unfamiliar presentation then causes a conflict with Yukino's inability to discern a person's true emotional state which literally scares her off to the roof. Hachiman and Yui go after her and Yui's mutual sentiment for them to be more open with each other resonates with Yukino so much that she decides to help Hachiman.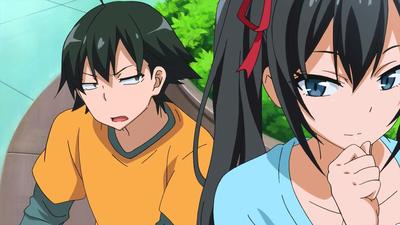 #2 - Finally, His and Her Beginning Has Ended 8.47
Season 1 - Episode 6
As Yui walks her dog, she can't help but be bothered by Hachiman's last words to her. As school resumes as normal, Hachiman and Yui have an awkward meeting at the shoe lockers, but Hachiman, as he progresses through the day feels satisfied that he was able to "reset" his relationship with Yui so that she is no longer burdened by guilt. The days progress and Yui seemingly drops out of the Service Club and Hachiman tries to explain to Yukino the reason for the friction between him and Yui. Shizuka pays a visit to the club and proposes a battle royale between Yukino and Hachiman to determine the winner of the wager they had set previously, by finding a person to "replenish the club's human resources". As they leave the club, Yukino tells Hachiman that she would like to get Yui to rejoin the club by celebrating her birthday which she deduced from the numbers of her email address. Yukino, then subsequently steps into uncharted social waters and asks Hachiman to join her on Saturday to shop for a gift for Yui, which he accepts and brings Komochi along. At the mall, Komochi eventually abandons Hachiman and Yukino. They then pretend to be a couple so that Hachiman would not get suspicious stares from the strangers as they enter women's clothing shops. As they shop around, they are unsure about what clothing Yui might like although Hachiman casually suggests that she might like some type of conformative designs that persons of low IQ would enjoy, which Yukino also casually agrees with. Eventually Yukino buys a top along with an apron Hachiman complimented her on. Afterwards, they are confronted by Yukino's older sister, Haruno, who mistakes them for being a couple and casually teases Hachiman. As she leaves, Hachiman remarks that the socially attractive attitude of Haruno is reminiscent of the "ideal woman" that every guy aspires to have and that it is just a facade, an opinion which Yukino compliments Hachiman on, suggesting that she already knew it. Eventually a dog runs out of nowhere and starts playing with Hachiman. While wondering whose dog it is, Yui shows up behind them and mistakes them for being on a date and hurriedly makes to leave, but not before Yukino asks her to visit the club on Monday. The following Monday, Yui shows up at the club, and as she and Yukino try to share their feelings, they inadvertently misunderstand each other, although Hachiman quickly clears this up. Yukino finally thanks Yui for all that she did for the club and gives her the birthday present. Hachiman also awkwardly produces a present for her as well, and refers to their last encounter at the "Workplace Visit". Yui laments that she doesn't want their relationship to end, although this time, Yukino sincerely helps repair the rift between them by stating that by "ending" one path, they can "begin" a new one, before she leaves to inform Shizuka of Yui's return. Yui opens Hachiman's present which turns out to be a dog collar, which she mistakes for a neckband and puts on, although she leaves happy. As Hachiman readies to leave, he picks up the book Yukino is always seen reading, while thinking of Yukino's sincere words.
#3 - One Day They Will All Know The Truth 8.33
Season 1 - Episode 8
The next morning, Hachiman is woken up by Saika and exchanges phone numbers with him. While the Sōbu High group have breakfast, Shizuka has them prepare for a bonfire as well as a special 'test of courage' scare quest for the elementary children for the end of the camp. Later that day, the Sōbu High girls have fun at the river. While watching the spectacle from the riverbank, Hachiman is joined by Rumi, Yukino and Yui. While they further discuss Rumi's issue of making friends Hachiman extrapolates the probability of remaining in contact with acquaintances in elementary school over the years, while taking into account physical attractiveness. As Hachiman leaves, he resolves to do something about Rumi's issue during the 'test of courage'. Later, as the Sōbu High group prepares for the 'test of courage' Hachiman tells them his plan, which involves virtually shattering the relationship between the group of girls who shun Rumi, and uses the dark nature of humanity's selfishness to support his hypothesis. During the 'test of courage' instead of cosplaying as ghosts to scare Rumi's group, Hayato, Rumiko and Kakeru pretend to bully them, while presenting them the option of deciding on three victims to stay. According to Hachiman's theory, the girls first unanimously decide on Rumi as the first, then in-fight amongst themselves for the remaining two. However, in a surprising turn of events, Rumi uses her camera to blind Hayato's group and helps the other girls escape, an admirable quality of 'true friendship' as judged by Hachiman. Afterwards, at the bonfire, even though nothing seems to have changed, Shizuka and Yukino praise Hachiman for his idea in their own unique way, while Hayato laments to Hachiman his desire to befriend him. The next day, as the Sōbu High group gets ready to leave, Yukino's sister Haruno shows up in a black limousine to pick up Yukino for a meeting with their mother. After a bit of casual teasing by Haruno to Hachiman and Yui, Yukino with a pained expression, leaves. Yui recognizes the limo as the one that hit Hachiman, although he casually claims that he cannot remember, when in reality he does, finally expressing that the group didn't see Yukino for the remainder of the Summer break.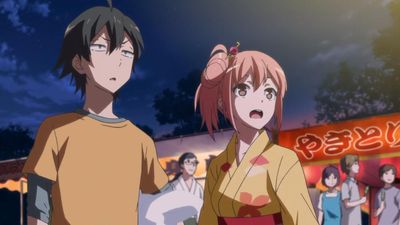 #4 - For The Third Time, He Returned To His Original Path 8.31
Season 1 - Episode 9
Hachiman grows restless as the end of summer approaches while at the same time babysitting Yui's dog Sablé. As thanks Yui invites Komachi and Hachiman to the upcoming Fireworks Festival, however Komachi slyly declines the invitation, instead pressuring Hachiman to go with Yui. On the day of the festival, Hachiman suppresses his human instincts of being with Yui with his own warped logic. As they shop for Komachi's items, they encounter Minami Sagami and her clique who innocently tease Yui for attending with Hachiman by making the Festival out to be a girls-only social event. As the fireworks start, Yui remarks on Hachiman's thoughtfulness, while running into Haruno. As the three sit and watch the fireworks, they discuss their relationships with Yukino, with Haruno lamenting that things never seem to work out for Yukino. At the end of the festival, Haruno offers to take Hachiman and Yui home in her limo, although they end up declining despite Hachiman's words that he isn't bothered by the past accident. Later, Yui asks Hachiman if Yukino had ever told him about the accident to which he negatively replies, stating they they not dwell on matters that Yukino would rather not discuss. Yui retorts that she would like the three of them to get to know each other better, hence be closer friends and suggests that herself and Hachiman would have been friends even if the accident hadn't occurred. Although Hachiman rejects Yui's theory on the basis of cause and effect. As the discussion takes a romantic turn, Yui is interrupted by a call from her mother and hurries off. School resumes the next day and Hachiman and Yukino run into each other. Finally Hachiman ends with a monologue explaining that he hates himself for believing his own ideal of Yukino, because just like any ordinary person, she too lies.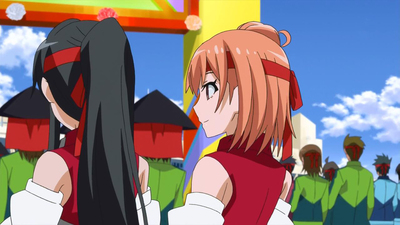 #5 - And Thus, Their Festival Doesn't End 8.29
Season 1 - Episode 13
In medias res, Soubu High School holds a Sports Festival and while walking around, Hachiman tries to justify his reasoning for not participating in any events by his own interpretation of a speech given by Pierre de Coubertin. Some time after the Cultural Festival, the Service Club receives an email asking for help in planning the upcoming Sports Festival. While the club discuss their ill experiences at the last Sports Festival, Meguri Shiromeguri enters the club room and reveals that she had made the request, which they accept. At the sports committee meeting, while everyone brainstorms ideas for events, Shizuka shoots them all down, on account that people have become more socially sensitive over what an event entails. Eventually Hachiman suggests that they call in Yoshiteru and Hina who are better with creative work and soon enough, get some ideas to work on. As the festival continues, the white team takes the lead over the red team thanks to Hayato's athletics. As the girl's main event gets underway, which was designed based on the historical Battle of Kōnodai by Yoshiteru, Yukino is able to help the red team catch up. Finally for the last boys' pole drop event, Hachiman uses Yoshiteru to create a distraction while he stealthily approaches the white team's pole by disguising himself has a white player using some bandages. Although he is stopped by Hayato, Hachiman reveals his double feint and at that moment has Yoshiteru charge at the pole and win the event and supposedly the festival. The next day at the Service Club Yukino reveals that the red team was disqualified because Hachiman's deception was akin to cheating, but they resolve to participate the next year. As things return to normal, Hachiman concludes by pondering that they will make the most of their high school lives until it reaches an end.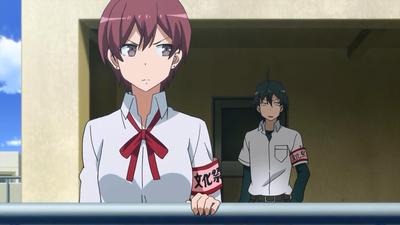 #6 - Thus, His and Her and Her Mistaken Youth Continues. 8.21
Season 1 - Episode 12
Soubu High's Cultural Festival continues and Hachiman is stuck carrying out his duty as a committee member by documenting the day's events on film. Komachi shows up and is surprised to find her brother actually taking a bit of responsibility. As the festival enters its last stages, Haruno entertains the audience with a full orchestra performance. Soon enough, as the closing ceremony approaches, Meguri reports that Minami is missing in action. Since she is needed to deliver the closing speech, the group decides to stall for time while Hachiman searches the campus for her. Hachiman eventually finds Minami atop the laboratory roof and realizes she is sulking because Yukino stole the spotlight away from her, despite asking for her help. Hayato and Minami's clique show up to get her, although she refuses to budge. Seeing no other alternative, Hachiman craftily uses reverse psychology combined with Minami's true social reality to guilt her into accepting her duty; using a tone which enrages Hayato. Afterwards, the festival ends as Yui, Yukino, Haruno and Shizuka give their extra musical performance followed by Minami's closing speech. Everyone shows mixed reactions on Hachiman's course of action but Shizuka compliments him for always finding ways to rescue people from their problems, but laments that it breaks her heart since he always sacrifices himself to do so. That evening, at the Service Club room, Hachiman and Yukino discuss how far they've come to know each other, with Yukino hinting that they've become friends. Yui eventually shows up at the club to invite them for an after party hosted by Hayato to celebrate the festival's success. Hachiman ends by pondering that while there aren't any second chances in life, his and Yukino's ideals on society may continue to be seen as deviances.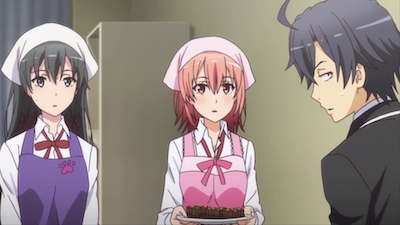 #7 - Still, The Thing He Seeks Is Out of Reach, And He Continues to Mistake What's Real 8.19
Season 2 - Episode 12
Hachiman meets with Haruno one day after being called out and learns that the Yukino that they've all come to know may just be a persona she invented. The Soubu students turn their attention towards Valentine's Day and the excitement causes Hina and Saki to seek help with making homemade chocolates from the Service Club along with Isshiki and Yumiko, who intend to give theirs to Hayato. Since Hayato had decided not to accept chocolates from anyone, Hachiman concludes that they would need an excuse to force him to accept them. This prompts Isshiki enlist the Student Council in throwing a joint Cooking Class event with Kaihin General. The event turns out to be a huge success in bringing everyone together and Shizuka expresses her content with the growth that Hachiman has made as an individual since expanding his social circle. Yukino and Yui later present Hachiman with their chocolates but Haruno shatters their moment together claiming it to be a facade. As the three walk home later that night, they suddenly encounter Yukino's mother and Yui and Hachiman get a glimpse at Yukino's struggle for individuality in her family's shadow. This leaves Hachiman with the impression that they all have yet to find their true selves hidden behind their personas.
#8 - In Other Words, He Has Few Friends. 8.12
Season 1 - Episode 4
Hachiman walks in on his sister, Komachi Hikigaya, reading a teen magazine. As he cleans up after her he subsequently starts to ponder what having a little sister in real life really means. On they way to school, they talk about the car accident Hachiman had been involved in where he saved a dog (belonging to Yui, although he does not know it.) At school, Hachiman is once again reprimanded by Shizuka for his "Workplace Visit Survey" where he tries to justify becoming a "house-husband," although he is left pondering on who he would group with for the visit. Arriving late for the Service Club meeting, he exchanges cell phone numbers with Yui for convenient contact and makes it known that he texted girls in middle school, although as Yukino points out, from the story he gave, girls were afraid of him and hence ignored his texts. At that moment, Yui and Hachiman receive a mysterious chain text implicating 2F's Kakeru Tobe, Ōoka, and Yamato as delinquents. At this time, Hayato enters the club room and requests that the Service Club help him stop the text from circulating without necessarily exposing the culprit. While requesting their help, Hachiman narrates that Hayato uses his charismatic personality as a popular person (which he calls "The Zone") to inadvertently cause people to flock to him. Being a victim of slanderous chain mails before, Yukino accepts the request. They realize that the texts are connected to the upcoming grouped Workplace Visit which has only three people per group while Hayato's clique has four people meaning that one person is spreading the rumors to get someone knocked out of the group. Yukino has Yui and Hachiman gather information on the three suspects, but Yui, unable to be subtle asks Yumiko and Hina Ebina for information, but they utterly misunderstand, with the latter of whom spewing a fujoshi fantasy about the suspects. Hachiman takes a turn and decides to instead observe the group, noticing that when Hayato is around they are all lively. While observing he is interrupted by the Saika who asks about the upcoming group event and hints at grouping with him. Hayato then approaches Hachiman and asks of his progress, just as Hachiman observes that the clique is now quiet and awkwardly checking their phones now that Hayato is no longer with them. Realizing the situation, Hachiman explains to everyone at the Service Club, that he doesn't know who the culprit is, but is indeed one of the three. Since their behavior when Hayato isn't present suggests that they are not close friends but instead are only acquaintances, with Hayato being their mutual friend, therefore they are literally competing for his attention. He solves the case by suggesting that Hayato have the three of them group and have a chance to get to know each other better, which seems to work. As thanks, Hayato groups with Hachiman along with Saika for the Workplace Visit. As Saika asks Hachiman when they should have their visit, he ponders if that social situation is "friendship" before everyone crowds around Hayato wanting to visit the same place as him.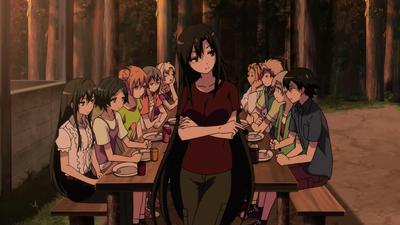 #9 - Either Way, Not Taking a Break During Summer Break is Weird 8.10
Season 1 - Episode 7
Hachiman tries to relax during summer break, but is continuously interrupted by a string of texts and calls from Shizuka, all of which he ignores, while at the same time, deducing that her constant nagging is a contributing factor as to why she remains single. Eventually Komachi gets Hachiman to take her out to Chiba, which turns out to be a trap by Shizuka to make Hachiman come out. Along with Yukino, Yui and Saika they head over to the Chiba Mura Park where they also meet up with Hayato, Yumiko, Kakeru and Hina. Shizuka then explains that they will all offer counseling services to an elementary school camping trip as well as providing a good opportunity for Hachiman and Yukino to interact with people from other social cliques. As the activities begin, the Sōbu High group remarks on the differences between high and elementary schools. Meanwhile Hachiman and Yukino immediately notice Rumi Tsurumi, a middle school loner, being shunned outright by her classmates. While they remark that there's bound to be loners where ever there are social groups, Hayama uses his charm to sway the other kids. Soon enough, as everyone helps prepare lunch, Hachiman and Yukino observe Hayama's failed attempts to talk to Rumi, while Hachiman outlines to himself the circumstances for trying to talk to loners as well as their appropriate responses. Rumi walks away and heads towards Hachiman and Yukino's location and after introducing themselves, she explains how the social disparities in her elementary school affect her, and resolves to make friends in middle school, although Yukino explains that the flaw in her plan is that since Rumi will end up in the same middle school as those ignoring her now, that behavior will likely be adopted by the new students as well. Afterwards, as the Sōbu High group finish dinner, they discuss Rumi's circumstances and try to come up with ways to help her, although in the end they can't reach a consensus. Yumiko even states that the reason Rumi is ignored is because she looks down on everyone else just like Yukino, but Yukino counters saying that the only reason Yumiko would think that is because she herself believes she is inferior. Later, Hachiman, unable to sleep, heads out of his cabin and finds Yukino out stargazing. Yukino explains that she inadvertently made Yumiko cry after spending thirty minutes refuting her arguments and also tells him that she wants to help Rumi because she reminds her of Yui and that Hayama's inability to do anything for her may be bothering him. As Hachiman asks about Hayato, she explains that she knew him since elementary school and that his father is an adviser to her family's company, finally saying that she's glad she was able to come to the park and leaves for bed. As Hachiman, looks at the stars, Rumi is seen squatting alone by the riverbank.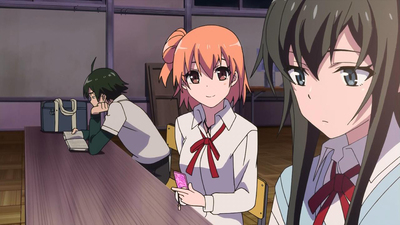 #10 - The Distance Between Them Still Has Not Changed As The Festival Is Soon A Carnival 8.07
Season 1 - Episode 10
Yui begins to notice the gap developing between Hachiman and Yukino during the usual Service Club meetings. After falling asleep during class, Hachiman is nominated, along with Minami Sagami as 2F's representatives for the committee responsible for Sōbu High School's upcoming cultural festival. At the committee meeting, Minami nominates herself to be its president in order to further her own social reputation as well as self-actualization. That evening, Yukino decides on suspending the Service Club for the festival when Minami and her clique visit and ask for their assistance in running the festival committee. Yukino solely accepts, upsetting Yui who makes Hachiman look out for her if anything goes wrong. As the committee starts preparing, Yukino, as the vice-president overwhelms Minami in her understanding and tactical management of the various priorities that encompass the festival. Later, Hachiman is able to dodge being apart of Hina's yaoi play due to his committee duties. Meanwhile, Haruno shows up at the committee and tries to apply for a musical performance much to Yukino's reluctance, but, after arriving late, Minami approves, in an attempt to get back at Yukino for taking the committee's spotlight. Afterwards, Minami suggests that they take a break and help enjoy setting up for the festival to Yukino's disapproval. Eventually the remaining committee members divide the work amongst themselves, with Yukino efficiently taking on most of it. Hayato and Meguri Shiromeguri grow concerned over Yukino's divison of work, but her initial stance is indirectly justified by Hachiman, causing her to reconsider. Minami arrives to check their progress and basically makes Yukino her committee proxy before leaving to enjoy setting up. Yukino takes most of the work home and the following day fails to show up at school because of a cold according to Shizuka.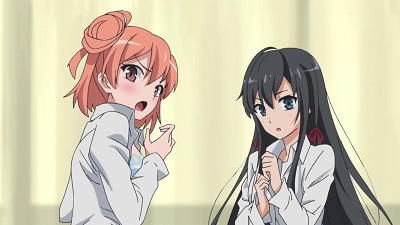 #11 - Occasionally, the God of Romantic Comedies Does Something Good. 8.06
Season 1 - Episode 3
During gym class, the teacher asks everyone to pair up for tennis practice. Not having a partner, Hachiman uses a trick he developed to ensure that he can practice by himself against a wall. At lunch, Hachiman eats alone at his favorite spot because of the nice sea breezes that blow in from the shore. He is interrupted by Yui who lost a bet with Yukino to buy drinks and subsequently discuss Yukino's characteristics. As Yui brings, up what happened on their entrance ceremony, they are both interrupted by Saika Totsuka. Having never paid much attention to anyone in his class, Hachiman is fooled by his androgynous appearance. At gym the following day, Hachiman pairs up with Saika for tennis who asks Hachiman to join the Tennis Club to help raise their strength. Unsure of what to do, Hachiman asks Yukino for advice. Yukino advices Hachiman (using her past bullying as a reference) that if he joins, the club members would unite under the theme of mutually hating him by sacrificing their own improvement hence instead focus all their energies on Hachiman, resulting in a no-win situation for both sides. Just then, Yui shows up with Saika who requests that the club help him practice, which takes a few days with no improvement. At the tennis court during lunch, while the Services Club helps Saika, Yumiko and her posse show up and demand to use the court. Hayato Hayama and Yumiko make a deal with Hachiman and Yui to have a double tennis match with the winner being able to use the court and help Saika practice. As Yumiko and Hayato steadily gain the upper hand, Yui sprains her ankle and leaves for a bit. While Hachiman prepares to throw in the towel, Yui returns with with Yukino as her replacement. After a bit of pregame banter with Yumiko, Yukino steadily dominates the game until her stamina runs low, and entrusts the game to Hachiman. Hachiman uses his knowledge of the sea breeze's speed and direction (from his time spent eating lunch alone) and is able to win the match, but as Yumiko would have hurt herself from intercepting his final pop fly, Hayato protects her from colliding with the fence. Thereby drawing the spectator attention to them instead of the Services Club's victory. At the end, Yukino leaves with Yui while Saika thanks Hachiman, who remarks that the "god of romantic comedies" is a retard for the end pairing which seems homosexual. As Hachiman returns to the club room, he walks in on Yui and Yukino changing. They knock him out with a tennis racquet before Hachiman complements the "god" on his sense of humor.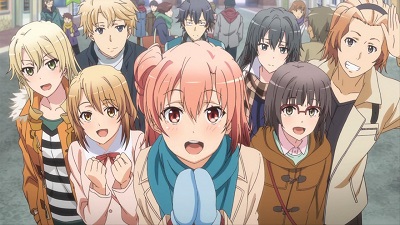 #12 - And, Yukinoshita Yukino is... 8.05
Season 2 - Episode 9
Hachiman fills Yukino and Yui in with the details of the next Kaihin-Soubu meeting before attending with Isshiki. This allows Yukino to witness first hand the disastrous state of the Christmas event preparations and the four decide to seek further guidance from Shizuka. Shizuka decides to encourage brainstorming ideas with tickets for a Christmas-themed event at the Destiny Land amusement park and Yui brings along Hayato, Yumiko, Hina and Kakeru for the outing. The group starts out the event by taking some pictures immediately followed by a space-themed ride and a panda bear-themed ride where Hachiman observes Isshiki's attempts to flirt with Hayato. The Service Club then takes a break at a gift shop to pick out presents for Komachi and Yui takes the opportunity to poke at her feelings for Hachiman. Hachiman and Yukino eventually get separated from the others on their way to another ride and Yukino opens up more to him about her relationship with Haruno. She explains that she would often think about the good traits that Haruno possesses and why she does not and further extends this train of thought to include Hachiman. They eventually meet up with the others for the fireworks show and with everyone distracted, Hachiman notices Isshiki and Hayato after which the former runs away in tears.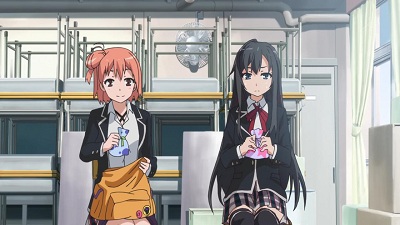 #13 - And So Our Wrong Youth Began 8.05
Season 1 - Episode 1
Hachiman Hikigaya is a pragmatic loner who has the ideal that "youth" is wasted on those who deceive themselves by its innocent bliss. He is forced by his language teacher Shizuka Hiratsuka to join the school's Service Club in order to improve his social nature. Hachiman meets the club's only other member, Yukino Yukinoshita and immediately enters a debate regarding the flaws of their respective personalities since Yukino believes in telling people the truth regardless of how harsh it may seem. Unable to reach a common ground, Shizuka proposes that they both contest their ideals by helping people sent to the club with the winner being able to order the loser around. The following day Hachiman returns to the club room to discover that like himself, Yukino is also a (paradoxical) loner; she is alone because of her beauty, rather than her beauty drawing people towards her. But rather than pretending to be oblivious of her beauty, she acknowledges it even if it means she is disdained, in order to change the way the world thinks, a quality that Hachiman respects. Just then, Yui Yuigahama enters the club with a request that they help her bake cookies for a boy she likes. Yukino tries and fails to get Yui to bake correctly with the cookies turning out disgusting. Hachiman takes a turn and tells them to leave for ten minutes while he prepares some cookies. Upon returning, the cookies Hachiman prepares are disgusting, but Yui eats them to not make Hachiman feel bad. Waiting for this realization, Hachiman points out that they are the same cookies Yui made. He then explains, (by indirectly making reference to a past experience of his) that it doesn't matter to guys how something made by a girl tastes, but rather they will appreciate the thought. The following week, at the club Yukino asks Hachiman about Yui's request, stating that she believes that people should push themselves to their limits to improve, but Hachiman retorts that simply putting in effort in working towards a goal is reward enough-which Yukino disagrees with. Yui then shows up and makes plans with Yukino to have lunch. She then gives Hachiman and Yukino cookies as thanks for their help.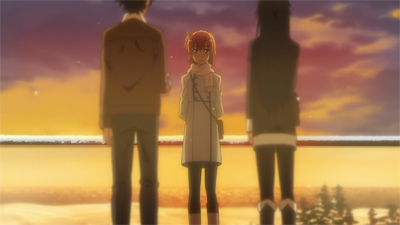 #14 - Spring, Bound Beneath the Thick Snow, Begins to Sprout 8.04
Season 2 - Episode 13
Haruno intercepts the Service Club on their way home one afternoon and lambastes Yukino for failing to make life choices on her own despite the immense freedom the Yukinoshita family has allowed her. Yui then allows Yukino to spend the night at the Yuigahama residence until things between the Yukinoshita sisters cool down. While Komachi heads out to her Soubu Entrance Examinations the next day, Yui invites Hachiman and Yukino out to the Kasai Rinkai Park where they spend the day at the aquarium and bond over their respective personalities while observing the various aquatic life. The three then share a reaction to the bonds of a pair of penguins and Yukino makes an allusion to her strained sense of belonging. Yui eventually states the true reason she called them out and as the day draws to a close, she uses her initial Service Club request to claim responsibility for the fractured bonds between them and further requests that they continue feigning their blissful status quo. However, Hachiman interjects that it would be better to suffer in their uncertainty rather than live in a deception, and the girls decide to accept his compromise. Yukino then decides to address Hachiman's request for them understand each other and finally confides her own request to the Service Club.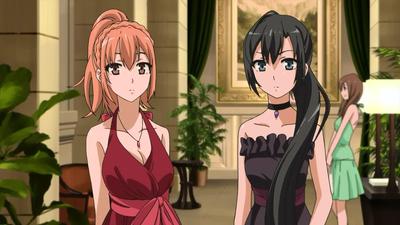 #15 - Once Again, He Returned To His Original Path. 8.00
Season 1 - Episode 5
Hachiman arrives late for his after school prep class and tries and fails explaining his tardiness to Shizuka. At the same time, another student, Saki Kawasaki also arrives late. As Hachiman leaves the class he notices Saki looking at a flyer for summer school classes. Later, Hachiman runs into Yukino, Yui and Saika having a study session at a local cafe. Unsurprisingly, Yui and Yukino blatantly reject him as part of the group until they are joined by Komachi and her friend, Taishi Kawasaki. After brief introductions and a bit of chatting, Taishi explains to them that he is worried about Saki since she comes home late every night. Yukino resolves to accept his worry as a request for the Service Club and determine what Saki's agenda is. While at school, the Service Club try and fail to get information from Saki after using a cat as an emotional catalyst since Taishi says Saki is allergic. They then inform Shizuka, but she is also put down after Saki mentions her marital status. Finally Yui suggests that Hayato should use his charm to get Saki to open up but she ignores him. Later on, Taishi informs them that Saki had received a message from the manager of a cafe with the word "Angel" in its name and upon some research, they find two cafe's in Chiba City matching the description. The first being a maid cafe, which yields no results, however Yui and Yukino try on maid costumes. The second, being a cafe on the top floor of the classy Royal Okura Hotel. Hachiman, Yui and Yukino show up in their best designer clothing and enter the cafe to discover that Saki does indeed work part-time there. After a small chat with Yukino, it is revealed that Saki lies about her age to the management so that she can work nights there for her own reasons. As the group leaves, Hachiman asks that Saki meet them the following day so they can talk about her brother, Taishi. The following day, Hachiman is able to reveal to the group that Saki is working to fund her summer school tuition so as not to burden her family, however as Komachi points out, Saki was inadvertently worrying her brother and goes on to explain how siblings should act by making a reference to the things Hachiman does for her. Finally Hachiman explains to Saki the requirements for a scholarship. Finally, as they walk home, Komachi, reveals to Hachiman that he already knew the owner of the dog he saved, i.e. Yui, shocking him. Afterwards, at the end of the Workplace Visit, Yui waits for Hachiman. He thanks her for her kindness to him and explains to her that she doesn't need to be kind to him out of guilt for the accident anymore and that he would still have been a loner if he hadn't saved her dog, hinting that they don't need to speak to each other anymore. Upset by his words, Yui runs off. Hachiman ends with a monologue explaining that a loner such as himself might easily get his hopes up when girls are nice to him, and thus might misunderstand their feelings, so rather than fall for the "trap" of misinterpreting feelings, he will always reject them.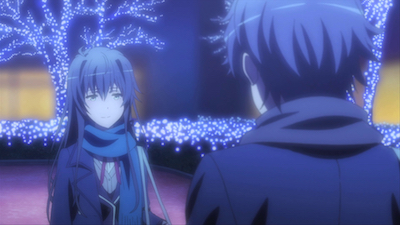 #16 - Yet, That Room Continues to Play Out the Endless Days 8.00
Season 2 - Episode 7
Yui laments on the state of the Service Club one afternoon before Hachiman later goes looking for Isshiki when she fails to arrive at the Kaihin-Soubu meeting. This lands him in an involuntary discussion with Hayato about their reactions to helping others. Isshiki later arrives and they discover that Tamanawa had outsourced some of the work to grade-schoolers. Hachiman then tries to get Tamanawa to begin weighing and eliminating possible ideas but he explains that everyone should have an idea somehow baked into the Christmas event. An unexpected encounter with Saika later makes Hachiman question his preconceived ideal for helping others. At the next meeting, Hachiman realizes that he had been made the virtual head of the Soubu council. This prompts him to once again try and get Tamanawa to narrow the ideas so that Isshiki can have a better understanding of what to do. Hachiman then assists Rumi Tsurumi with finishing the decorations and ponders on how his previous methods have affected others. Hachiman later runs into Yukino and while knowing that he had been assisting Isshiki with her request, she explains that he does not have to simultaneously look out for herself and Yui and offers a leave of absence from club activities to relieve him of that burden.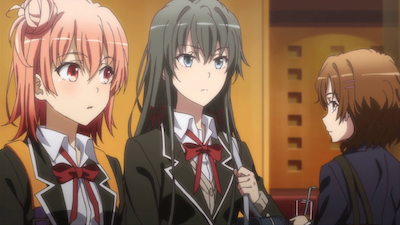 #17 - And Then, Yuigahama Yui Makes a Declaration 7.92
Season 2 - Episode 4
Hayato invites Hachiman to hang out with Kaori, Chika and himself one weekend but Hachiman unsurprisingly declines, only to reconsider after pressuring from Haruno. The four of them eventually go out one afternoon and the Kaihin girls continuously poke fun at the expense of Hachiman. The evening eventually builds to a climax at a local café when Hayato sharply defends Hachiman's integrity from the girls. Afterwards, Yukino voices her disapproval for being deceived by Hayato into aiding his point to the girls instead of discussing the election and Haruno only adds fuel to the fire after observing the entire episode. In the aftermath, Hayato apologizes for creating an uncomfortable situation since he had only intended to get Hachiman to see the error of his self-sacrificial methods. This offends Hachiman to the point where he argues that the consequences of his choices are his alone and should not be the concern of others. The next day, Yukino decides to enter the election against Isshiki as a solution for her request. Since this effectively jeopardizes the future of the Service Club should Yukino emerge victorious, Yui also decides to enter the election in an attempt to preserve the Service Club should she win. The choices of his club members however, leaves Hachiman with a feeling of uneasiness.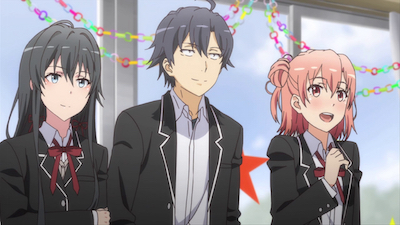 #18 - The Thing That the Light in Each of Their Hands Shines On 7.90
Season 2 - Episode 10
Isshiki forces Hachiman to take her home after her rejection by Hayato and reveals that his recent outburst in the Service Club had prompted her to act prematurely. Hachiman has the Student Council meet with the Service Club some time later and proposes that they adamantly push for a drastic change in the Kaihin-Soubu meeting to prevent a disaster in the Christmas event. The Soubu students then try this tactic at the next meeting and when Tamanawa shoots them down, Hachiman calls them out on their fear of responsibility coupled with their inability to perform under said responsibility as further proposed by Yukino. This has the desired effect and they soon settle on a musical rendition and stage play. Finally on the day of the Christmas event, Isshiki takes charge and the event turns out a huge success. The Service Club go out to celebrate the New Year a week later and Hachiman gives Yukino some advice to spend the season with her family. Hachiman and Yui go shopping for Yukino's birthday the next day and run into Haruno and Hayato while waiting on their parents. Haruno then calls Yukino over from home, much to her annoyance and her strained familial ties are expressed with her mother arrives and offers her to stay, but Haruno tells her not to.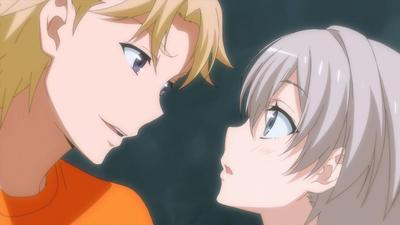 #19 - Thus, The Curtain Rises on Each of Their Stages, As the Festival Reaches a Feverish Pitch 7.90
Season 1 - Episode 11
After school, Hachiman and Yui visit Yukino to check up on her. Yui expresses a desire for her to rely on them more, which she confirms that she will at some point. Afterwards, Hachiman decides to alter the committee's mindset instead of conforming which they had been using as an excuse to escape their duties. The following day, the committee tries to decide on a theme for the festival. Hachiman indirectly teases Minami's suggestion, and counters with his own, which involves using wordplay on the Japanese Kanji for "human" which describes an analogy for half of the committee members slacking off from their duties, while relying on the rest and hence victimizing them. This gets Hachiman contemptuous looks from the members, but Yukino is able to see the method to his words, that allowed everyone to see their excuses for not working their hardest. The next day, the committee comes out in force with Yukino continuing to take charge. Haruno explains how Hachiman's stunt made him an enemy of the committee and if he works harder, that would motivate everyone else to unite and surpass him, which is fortified by Yukino when she assigns him an unbearable amount of work to get through. As the festival starts, Minami falters in her opening speech with a bit of stage fright. Eventually Hachiman goes to oversee Hina's play which turns out to be a huge hit. Afterwards, while taking a break, Yui brings Hachiman lunch and they discuss how to best get closer to Yukino. After they eat, Hachiman misreads the situation and tries to pay Yui back with money for the food, but Yui indirectly asks Hachiman out, which he awkwardly realizes. Meanwhile, depressed with her inability to do anything meaningful for the festival, Minami locks herself in the bathroom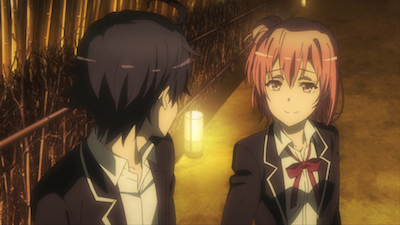 #20 - His and Her Confessions Won't Reach Anyone 7.81
Season 2 - Episode 2
On the second day of the Kyoto trip, Hachiman runs into Yumiko Miura at a convenience store and learns that Hina had rejected every one of her romantic suitors, with Yumiko voicing her content in the current status of their peer group. The Soubu students arrive in Arashiyama the next day and Hayato uncharacteristically confides in Hachiman about his myopic fears on the consequences that Kakeru's confession will have on the integrity of their peer group. Hayato then reluctantly tasks Hachiman with saving it. As the Soubu students quietly observe Kakeru's confession to Hina later that night, Hachiman once again risks his reputation by interrupting them and faking a confession to Hina. Hina rejects him and explains her desire to be single for the time being before running off. Kakeru then thanks Hachiman for saving him from the embarrassment of rejection before leaving with Hayato and the others. Despite Hachiman saving a peer group from imploding, Yukino voices her disgust at his choice of action and Yui tearfully yells at him for failing to see how his unorthodox problem solving methods hurt those who care about him. The next day, Hina thanks Hachiman for fulfilling her request in saving the status quo of her peer group.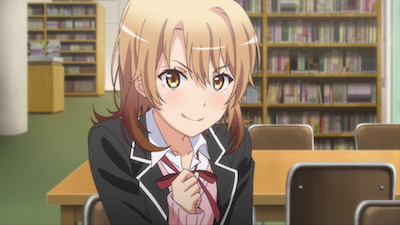 #21 - The Scent of Tea Doesn't Fill That Room Anymore 7.76
Season 2 - Episode 5
Hachiman decides to confide in his sister Komachi Hikigaya about the recent events and she gives him some words of encouragement before requesting that he find a way to keep both Yukino and Yui in the Service Club. The next afternoon, Hachiman meets with Yoshiteru Zaimokuza, Saika Totsuka, Saki Kawasaki and Komachi to brainstorm ideas for handling the student council election. They help Hachiman realize that his initial censure motion proposal was wrong since it would have damaged the only thing that Isshiki cares about, her self-image. Hachiman then has Saki draw up a list of potential candidates and further has Yoshiteru use the names to create an anonymous social media campaign. The following day, Hachiman manages to convince Isshiki into accepting the presidential position by using a combination of the social media statistics and clever reverse psychology to highlight its perks. Hachiman later presents the statistics to Yui and Yukino but does not tell them about how he falsely mined the data, using it only as a means to convince the pair that they need not run anymore since Isshiki would win. Yui then thanks Hachiman with a small understanding for his method. Isshiki eventually wins the election by default due to having no competition as it originally was and life moves on once again.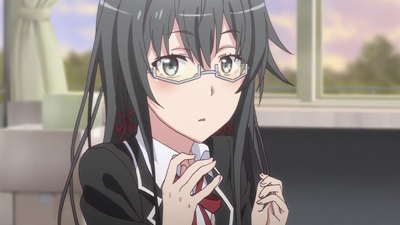 #22 - Hayama Hayato Always Responds to Everyone's Expectations 7.74
Season 2 - Episode 11
The senior students begin thinking about specializing their fields of study towards Liberal Arts during the new semester but quickly focus their attention on a rumor about relations between Yukino and Hayato. This prompts Yumiko to visit the Service Club where she tearfully exposes a fear of growing apart from Hayato since he had chosen not to share his future plans with their peer group. Hachiman then tries and fails in both directly confronting Hayato about his choice and indirectly from Haruno when she shows up at Soubu High to assist the Student Council. Hachiman eventually decides to use the Annual Winter Event Marathon Race to his advantage by using the stress of the event to goad Hayato into choosing Sciences. This unexpectedly causes Hayato's inferiority complex towards Hachiman to surface and he decides to do the opposite of the latter's words. Hayato eventually wins the marathon and dispels the rumor when he thanks Yumiko and Isshiki for their support. He also apologizes to Yukino for the rumor at the after-party. Hayato eventually tells Hachiman that he did not want to reveal his choice since the status quo of his peer group would have taken it entirely out of his hands and hence hurt his pride in deciding for himself.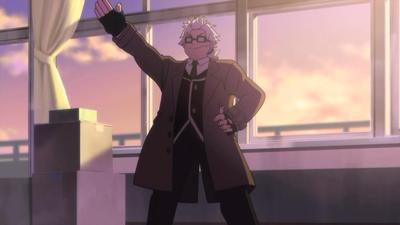 #23 - I'm Sure Everyone Bears a Worry of Equal Weight 7.70
Season 1 - Episode 2
While in class, Hachiman thinks about the pros and cons of forming social groups by comparing the act to the animal kingdom and wishes he was a solitary bear while subsequently drawing one on his biology assignment. While being reprimanded by Shizuka, she asks Hachiman about the club's progress and states that she simply wanted to separate both Hachiman and Yukino from everyone else because of their unorthodox views on society. At lunch, Hachiman observes Yui's continually failed attempts to break away from her social group led by the popular Yumiko Miura in order to have lunch with Yukino. Soon, Yui finds herself in a tight spot when she tries to explain why she has to leave to Yumiko without mentioning that she is meeting Yukino. Clearly upset by the situation, Hachiman texts Yukino, before he stands and tries to diffuse the situation but is put down by Yumiko almost immediately. Just then Yukino shows up and demands to know why Yui is late, but understands once Yumiko makes herself known. Yukino then proceeds to point out the flaws in Yumiko's personality, in that she imposes her beliefs on others as the unrequited leader of her social group, which Yumiko simply brushes aside as "making no sense." Following this, Yukino leaves as well as everyone else in the class, before Yui thanks Hachiman for his effort. Finally Yukino and Hachiman listen to Yui telling Yumiko her true feelings of the way she wants to be treated. After school, an acquaintance of Hachiman, the delusional Yoshiteru Zaimokuza shows up at the club in order to help him review a light novel he wrote. While walking home with Yoshiteru, Hachiman has a flashback involving a dog and a car while crossing the street. The following day, without hesitation, Yukino harshly critiques Yoshiteru's work, making him feel put down, but also glad that he was able to get honest opinions from people for something he wrote and promises to have them review his next work.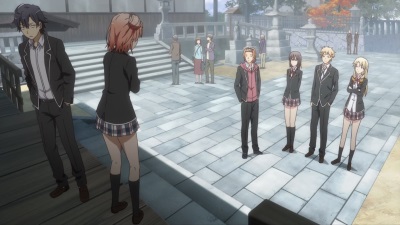 #24 - Nobody Knows Why They Came to the Service Club 7.60
Season 2 - Episode 1
The lively atmosphere of Soubu High School begins dissipating after the events of the recent festivals and the focus shifts to an upcoming field-trip to Kyoto. While the Service Club discuss the trip, they are rudely interrupted by Hayato Hayama and Kakeru Tobe, who request that they help the latter in a romantic pursuit of Hina Ebina. Hachiman Hikigaya decides to accept the request and outlines the risks of asking a girl out before they try to discern Kakeru's favorable traits. The following day, Yui Yuigahama outlines a plan to utilize the field-trip for the request until Hina interrupts them. Hina remarks about the evolving relationships of her peer group and further adds her support for Hachiman to become more sociable. Eventually, the Soubu High students arrive in Kyoto, and Hachiman and Yui make little progress in assisting Kakeru with Hina. Afterwards, Hachiman gives Yukino Yukinoshita a progress report on the request. However, when they spot Shizuka Hiratsuka attempting to sneak out of the hotel, the latter convinces them to keep her nightly escapade under wraps and sends them off with some words of reassurance. Eventually, the first day of the field-trip ends with Hachiman escorting Yukino back to the hotel.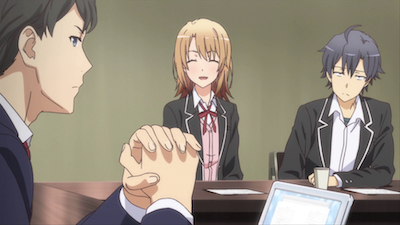 #25 - Without Incident, The Congress Dances, But Does Not Progress 7.54
Season 2 - Episode 6
The Service Club tries harder to maintain their usual atmosphere after the recent events. This causes Hachiman to try and maintain this charade with his fellow club members by becoming more sociable with them after observing Hayato's peer group. Isshiki eventually interrupts the club and asks them to help the Student Council plan a joint Christmas event with Kaihin General. When Yukino grows tense however, Hachiman decides to reject the request on behalf of the club and instead takes it on as a personal favor to Isshiki in order to maintain the facade of normalcy with Yukino. Later that day, Hachiman meets with the Soubu and Kaihin Student Councils at the local community center to begin planning the event. While Hachiman has difficulty following the jargon of the Kaihin brainstorms, Isshiki unwaveringly accepts their thoughts based on nothing more than their official presentation, much to the dismay of her fellow Soubu members. The next day, Hachiman tries communicating an idea in the Kaihin gibberish but it backfires and gets doubly misinterpreted in the organizational noise. Making no progress at the end of the day, Kaori catches up with Hachiman and mockingly laughs at him when she learns of his membership to the Service Club.