Mater's Tall Tales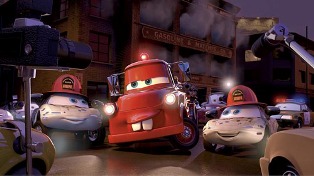 #1 - Rescue Squad Mater
Season 1 - Episode 1
Mater is a firetruck that has to rescue Lightning McQueen from a burning building. After he saves McQueen, he rushes him to the hospital, revealing that Mater is a doctor too.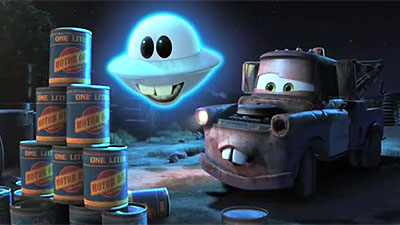 #2 - Unidentified Flying Mater
Season 2 - Episode 1
Mater meets a cute little bucktoothed UFO named Mator, takes him out for a night of fun and they quickly become best friends. But when Mator is captured by the military, Mater and Lightning McQueen come to the rescue.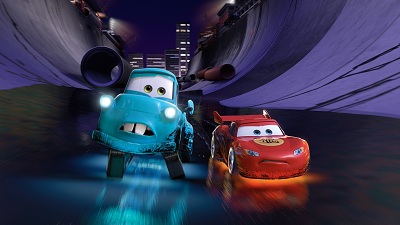 #3 - Tokyo Mater
Season 2 - Episode 2
A routine towing assignment lands Mater in Tokyo, where he is challenged to a drift-style race against a nefarious gang leader and his posse of ninjas. With the help of his friend, "Dragon" Lightning McQueen, and some special modifications, Mater attempts to drift to victory and become "Tow-ke-O Mater, King of all Drifters.
#4 -
Season 4 - Episode 4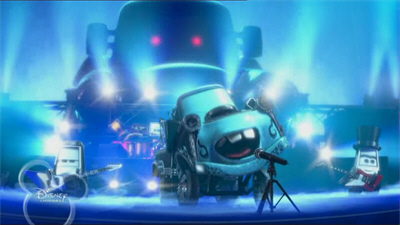 #5 - Heavy Metal Mater
Season 2 - Episode 4
Mater is a rock star in a heavy metal band. He starts out in a garage band and rises to the top with his hit song, "Dad Gum." Lightning McQueen joins him on stage in the middle of a huge concert and they rock into history.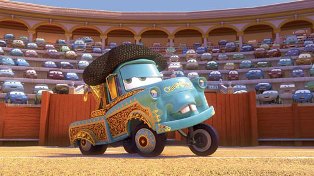 #6 - El Materdor
Season 1 - Episode 3
Mater is a matador fighting a herd of bulldozers in Spain. When Lightning McQueen enters the story, the bulldozers begin to chase him due to his red paint.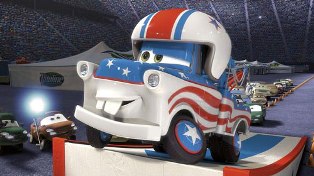 #7 - Mater The Greater
Season 1 - Episode 2
Mater is a daredevil, dressed in a style resembling Evel Knievel. At the stadium, Mater attempts to jump a long line of cars, but instead merely tiptoes over them. Mater performs other stunts and he said Lightning failed to jump over Carburetor Canyon while strapped to a rocket.
#8 -
Season 4 - Episode 1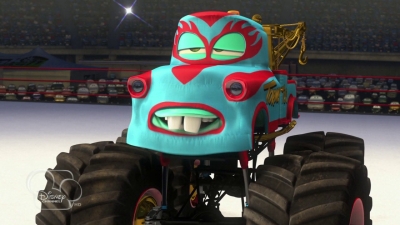 #9 - Monster Truck Mater
Season 2 - Episode 3
Mater is a professional wrestler who works his way up the ranks from amateur to World Champion Monster Truck Wrestler, wrestling all kinds of characters along the way. When faced with his biggest opponent yet, Mater tags in his "tag team partner," Frightening McMean.