Man v. Food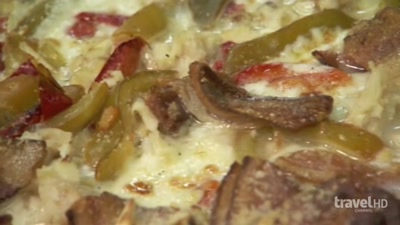 #1 - New Haven, CT 8.40
Season 4 - Episode 1
Adam Richman heads to New Haven, CT, to taste the original hamburger, a signature Clams Casino Pie and to help Man v. Food Nation member Ric Best take on the Caseus Cheese Truck Challenge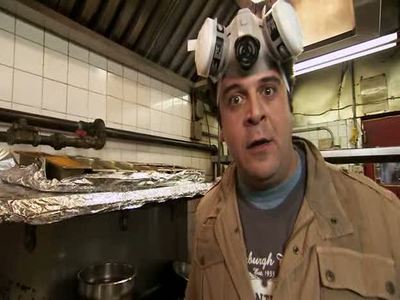 #2 - New York, NY
Season 1 - Episode 9
Host Adam Richman takes down iconic one-pound sandwiches at Katz's Delicatessen, savors soul food at Sylvia's Restaurant, and tackles the hottest curry in the country at Brick Lane Curry House during his return home to the Big Apple.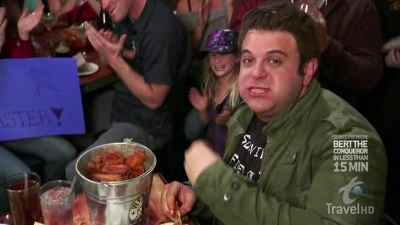 #3 - Boulder, CO 7.52
Season 3 - Episode 2
Adam visits Boulder, Colorado, to try the "Mountain Pie" at Beau Jo's, "saddlebag" pancakes at The Buff (located across from the University of Colorado), and the Wing King Challenge at West End Tavern, where he must try to finish off 50 buffalo wings in just 30 minutes.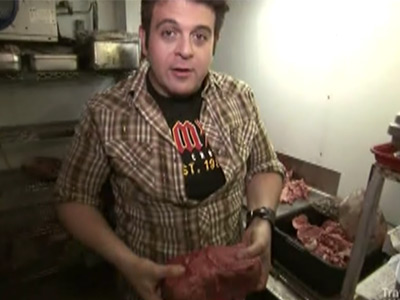 #4 - Amarillo, TX 7.88
Season 1 - Episode 1
Adam travels to Texas to take on a 72-ounce killer steak at the Big Texan Steak Ranch.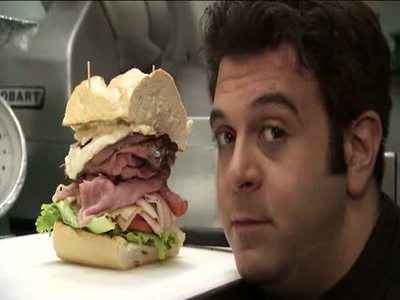 #5 - Columbus, OH
Season 1 - Episode 4
Adam takes on the 2 1/2-pound Dagwood Sandwich at the Ohio Deli.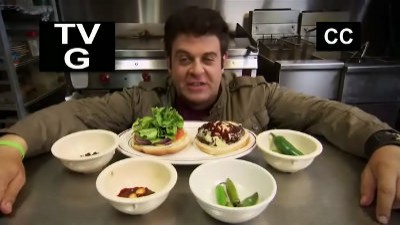 #6 - San Antonio, TX 8.05
Season 2 - Episode 1
Adam travels to the Lone Star State and visits Lulu's Bakery and Café for their 3 1/2-lb. cinnamon roll. Then he'll head to Big Lou's Pizza and Chunky's Burgers for the Four Horsemen Challenge.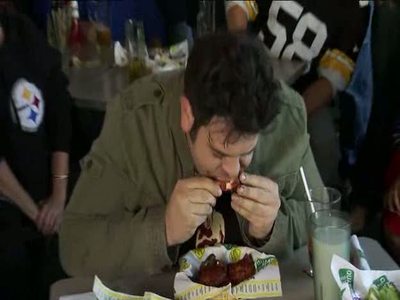 #7 - Pittsburgh, PA 7.89
Season 1 - Episode 3
Adam takes on Atomic Hot Wings at Quaker Steak & Lube.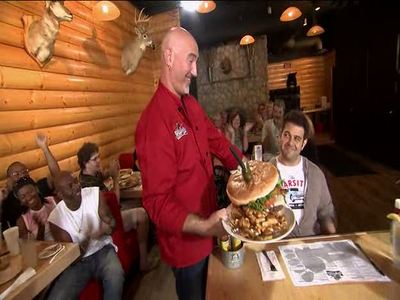 #8 - Memphis, TN 7.77
Season 1 - Episode 2
Adam travels Memphis and takes on the 6 plus pound The Sasquatch Hamburger at Big Foot Lodge.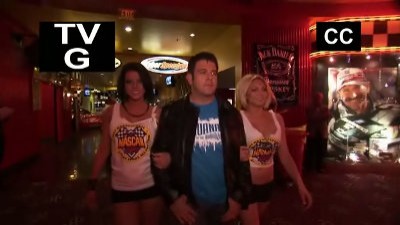 #9 - Las Vegas, NV 8.19
Season 2 - Episode 2
Adam is in Las Vegas for huge breakfasts, some of the hottest crawfish in the country and the Big Badass Burrito challenge at the NASCAR Café in the Sahara Hotel & Casino.
#10 - San Francisco, CA 7.52
Season 2 - Episode 4
Adam hits the West Coast for a stop in San Francisco, CA. He visits Taqueria La Cumbre for the Mission Style Super Burrito, Ike's Place, home of the Kryptonite Sandwich and finally, the San Francisco Creamery for The Kitchen Sink Challenge – a massive 2-gallon sundae heaped with 8 softball-sized scoops of ice cream.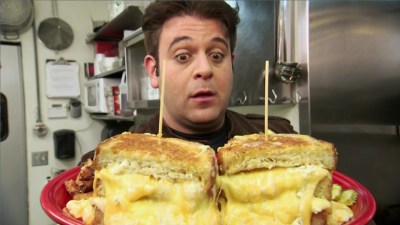 #11 - Cleveland, OH 7.83
Season 3 - Episode 3
Adam checks out Cleveland, one of his "favorite cities", for their big eats; he tries a large lamb-and-beef gyro at Steve's Gyro Stand, samples the "Polish Boy" kielbasa at Hot Sauce Williams, then visits Melt Bar & Grilled in Lakewood to take on the Melt Challenge: a nearly 5-pound grilled cheese sandwich which uses 13 different cheeses, and served with a heaping side of french fries and coleslaw. The taping at Melt took place on February 27, 2010.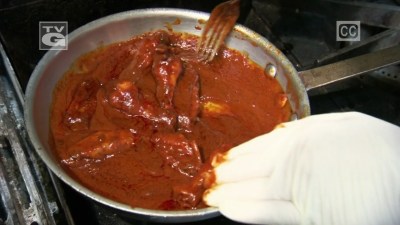 #12 - Richmond, VA
Season 3 - Episode 4
Adam visits historic Richmond, Virginia, with visits to Buz and Ned's Real BBQ, Black Sheep, and Caliente!. At Buz and Ned's, Richman sampled a rack of barbecued pork spare ribs. Black Sheep, the second stop, is known for its large submarine sandwiches (2 feet long and 2 1/2 pounds) known as "battleships". Adam tried a battleship called the "U.S.S Brooklyn", a baguette filled with peach chutney, Jamaican jerk chicken and cabbage slaw topped with roasted banana ketchup. Finally, at Caliente!, Richman squared off with the Stupid Wings Challenge, which had defeated 30 of its 300 challengers up to ths point. "Stupid Wings" use hot sauce, habanero powder and cayenne pepper, plus leftover "Stupid" sauce from past challenges and five drops of Capsaicin extract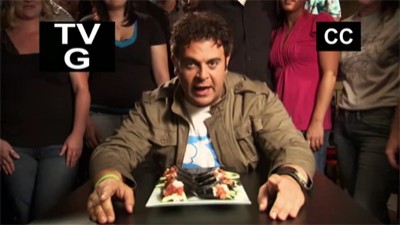 #13 - Charleston, SC
Season 2 - Episode 3
Adam travels to Charleston, SC, for a big serving of Southern charm and Lowcountry cuisine, including oysters served by the shovel, a fried chicken sandwich smothered in sausage gravy and a spicy tuna sushi challenge.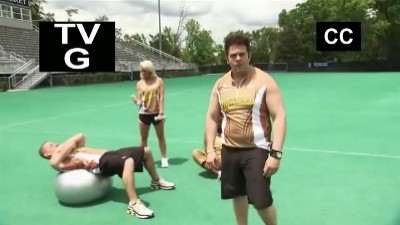 #14 - Durham, NC 7.92
Season 2 - Episode 5
Adam returns to Durham, NC, for burgers and barbecue, and to recruit a team for the Doughman Challenge -- a 4-member, food-and-sport relay race. Will Adam and the newest member of the Travel Channel team, Dhani Jones, form a winning combination?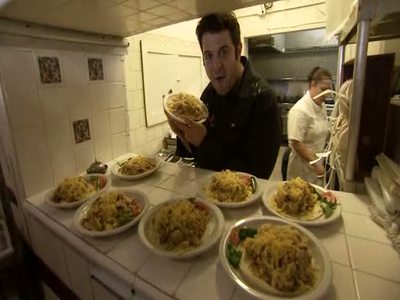 #15 - Austin, TX 7.98
Season 1 - Episode 5
Adam takes on Don Juan El Taco Grande -- seven huge breakfast tacos at Juan in a Million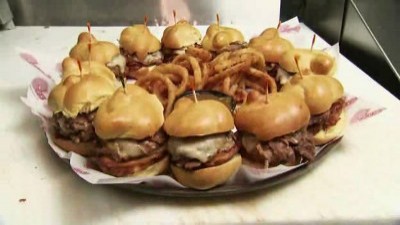 #16 - Phoenix, AZ 7.88
Season 3 - Episode 6
Adam takes on 12 slider style hamburgers with onion rings at Chompies restaurant and Adam must complete the meal in 30 minutes or less.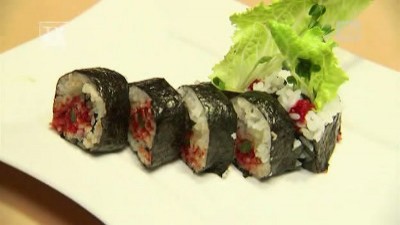 #17 - Salt Lake City, UT 8.03
Season 3 - Episode 5
Adam takes on the Hellfire Challenge in which Adam must eat super spicy sushi rolls and prior to the actual rolls he must qualify though 3 lesser hot dishes.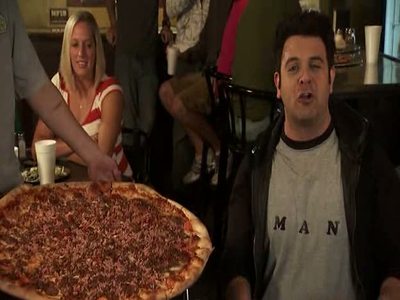 #18 - Atlanta, GA
Season 1 - Episode 7
Adam takes on the 13-pound Carnivore Pizza at Big Pie in the Sky pizzeria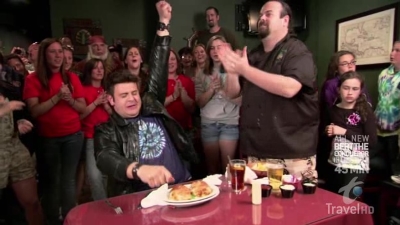 #19 - Long Island, NY 7.87
Season 3 - Episode 8
Adam stops by Ciao Baby; International Delight Cafe; Port Royal Grille.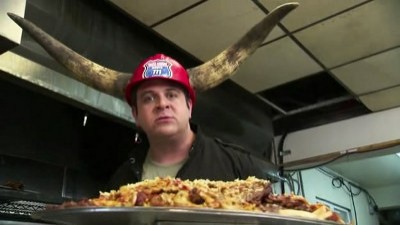 #20 - Puerto Rico 7.68
Season 3 - Episode 7
Adam visits Puerto Rico to take on the Vaca Acostá Challenge and attempts to eat a nine pound steak platter and to win the challenge he must complete the meal in 40 minutes or less.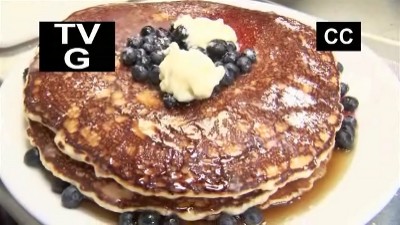 #21 - Honolulu, HI 7.91
Season 2 - Episode 6
Adam visits beautiful Honolulu, HI, for traditional eats like pipikaula short rib and the Loco Moco, a burger dish topped with fried eggs and gravy. But Adam better save room for the Mac Daddy Pancake Challenge that awaits him at MAC 24-7.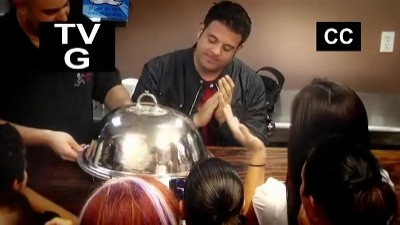 #22 - Sarasota, FL
Season 2 - Episode 7
Adam's food quest brings him to Sarasota, FL, where he'll enjoy deep-fried hot dogs, homemade pies and his first-ever Mystery Challenge.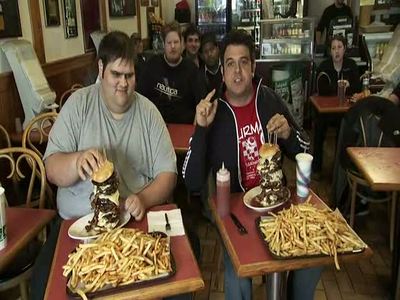 #23 - Boston, MA
Season 1 - Episode 8
Adam takes on the 10-pound Eagle's Challenge Burger at Eagles Deli.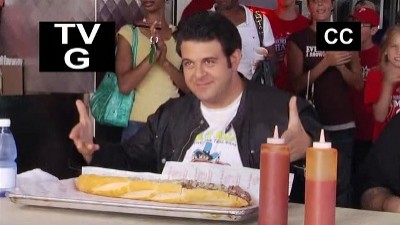 #24 - Philadelphia, PA 7.75
Season 2 - Episode 8
Adam visits Philadelphia, PA, for a mouth-watering Italian roast pork sandwich, a massive ice cream concoction known as Mt. Vesuvius and the Ultimate Cheesesteak Challenge at Tony Luke's.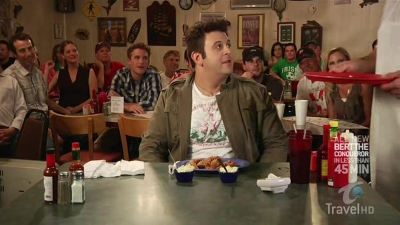 #25 - Oklahoma City, OK
Season 3 - Episode 9
The next leg of Adam's culinary quest took him to the capital of Oklahoma. The first stop for Adam was the Cattlemen's Steakhouse, Oklahoma City's oldest restaurant, where he sampled the "Presidential T-Bone" (named by former U.S. president George H. W. Bush), which is prepared with secret seasonings and drenched in au jus.