Magnum, P.I.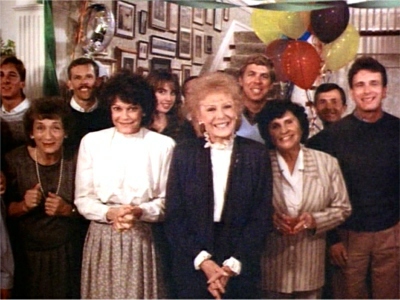 #1 - Resolutions (1) 8.50
Season 8 - Episode 12
Thomas ponders his future while paying a visit to his family in Virginia, where he unexpectedly meets his grandfather and considers an offer to be reinstated to the Navy; Thomas returns to Hawaii to ascertain whether former girlfriend Linda Lee Ellison is being stalked; Rick prepares for his wedding to Cleo; Thomas and Linda renew their relationship as he searches for her stalker; Thomas becomes increasingly certain that his daughter Lily may still be alive.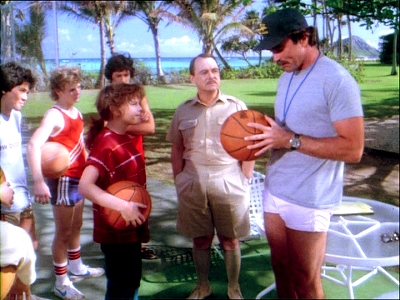 #2 - Basket Case 8.47
Season 3 - Episode 15
T.C. and Magnum train their respective junior basketball teams for an upcoming game. T.C.'s team seems to have the advantage until Magnum meets a plucky teenager with a great game, and persuades her to join his team. Magnum and Higgins take a shine to the girl, and discover that her foster parents are criminals who are using her as a pawn in running their con games.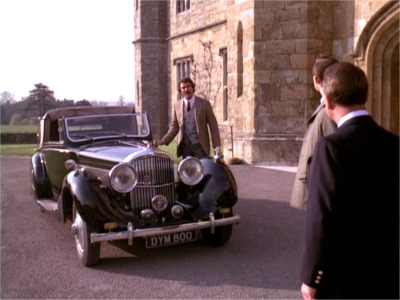 #3 - Deja Vu (2) 8.40
Season 6 - Episode 2
Conclusion of this feature-length / two-part story. As Thomas and Penelope investigate the mystery surrounding Geoffrey's death, they become close to each other, and Thomas with this and with flashbacks to his haunting dream that seems to have predicted Geoffrey's death, he feels as though he's almost stepped into Geoffrey's life. The pair uncover that Geoffrey was once part of a powerful group of assassins, and seems to have been killed to stop him from having chance to expose the group. Meanwhile, Thomas learns that Higgins is reluctant to use the stay in England as an opportunity to visit his father, whom he has not seen in forty years after a falling out...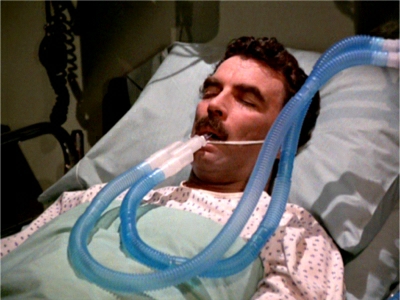 #4 - Limbo 8.40
Season 7 - Episode 22
Thomas is delivering key evidence in his latest case to the court house, when he is shot in the parking lot by a hit man. Thomas, in a coma, discovers he is not dead, but not alive, and needs to help Michelle, who is in danger, and being chased by killers. He meets up with the ghost of his former Naval buddy Mac. He also spends time with each member of the cast individually, and, in one way or another, says good-bye and how important they are all to him, in case he does not survive.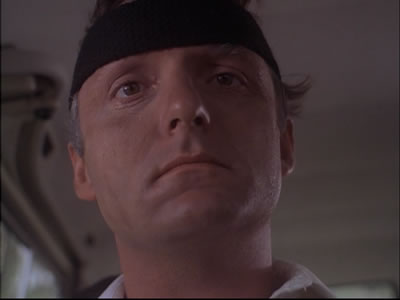 #5 - Did You See the Sunrise? (1) 8.39
Season 3 - Episode 1
First part of what was originally shown as a feature-length story. Nuzo, an old war comrade of T.C. and Magnum's, suddenly arrives in Hawaii, and finds T.C. to warn him that Colonel Ivan, a sadistic Russian agent who once held them captive and tortured them in a P.O.W. camp in Vietnam, is after them. At first, T.C. puts his old buddy's fears down to delayed stress, but it gradually begins to seem that there might be some truth in his claims. Meanwhile, Lt. MacReynolds resigns from the Navy, and Magnum lets him stay with him for a few days, but a fatal accident meant for Thomas - as yet unaware of Nuzo's warnings - adds ground to the fears that maybe Ivan is on the trail after all...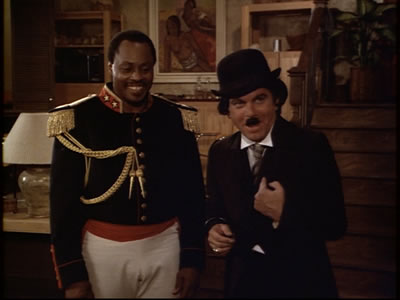 #6 - The Case of the Red Faced Thespian 8.38
Season 4 - Episode 12
Higgins sustains a concussion hours before the guests are to arrive for a charity gala at the estate, and begins to lapse in and out of believing he is famed Shakespearean actor Sir Fearing Pangborn; Thomas enlists Rick and T.C. to cover security for the event while he takes up the slack left by Higgins's injury, and has his hands full when all the guests, dressed as famous characters of the 1920s in keeping with the gala's ""Great Gatsby"" theme, begin to arrive hours ahead of the appointed time; a crime wave breaks out when someone dressed in the same Charlie Chaplin costume as Rick is seen fleeing from a guest's room moments before thousands of dollars in cash and jewelry are reported missing and an addled Higgins is the prime suspect in the murder of one of the guests; as he begins to realize that people and events are not what they seem, Thomas takes his inspiration from the six-hour First Annual KHKU Agatha Christie Film Festival he viewed the previous night to solve the crimes a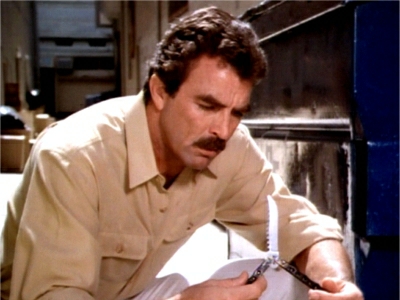 #7 - Resolutions (2) 8.38
Season 8 - Episode 13
As Rick's wedding looms ever closer, Thomas continues surveillance on Linda to catch the psychopathic killer who is stalking her; T.C. faces a reconciliation with his estranged wife; Thomas gets surprising news about his theory that Higgins is really Robin Masters, as well as the true fate of Lily.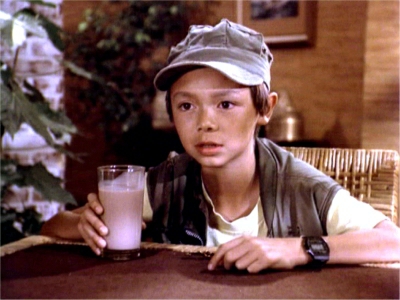 #8 - Tran Quoc Jones 8.36
Season 5 - Episode 9
At request of Robin Masters, Thomas begrudgingly is to provide protection for a political candidate whom he has reason to dislike. He is also waiting for a female client, but in her place arrives a young Vietnamese boy, Tran Quoc Jones, who wants to hire Magnum to find his long lost father, a pilot in the Vietnam war. Tran cannot go to the authorities for help as he is an illegal immigrant and would face deportation, and as Thomas does his best to trace the boy's father, he and his friends, especially T.C., become attached to the boy. But Magnum learns that the woman who was originally to have hired him was found murdered - and the politician, the dead woman and the young Vietnamese boy all tie in to the same case...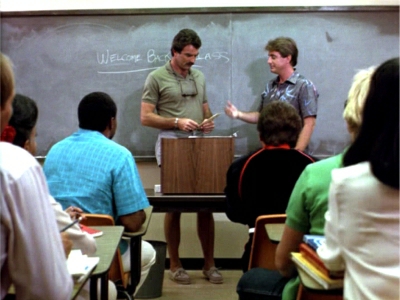 #9 - Murder 101 8.33
Season 5 - Episode 8
At the urging of the students in the private investigation class that Thomas is teaching at a local college, Thomas takes on the investigation into the disappearance of a fellow student's fiancé as the class's field work. The teacher and his pupils soon discover that while the student's fears that her fiancé is having an affair are unfounded, this anything-but-textbook case involves a man sought after by both sides of the law for trying to prevent a crime.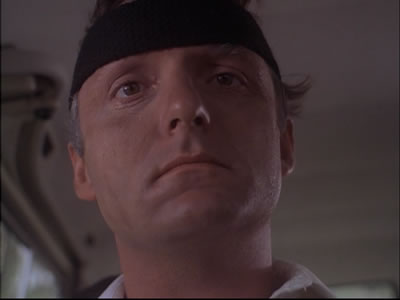 #10 - Did You See the Sunrise? (2) 8.33
Season 3 - Episode 2
Conclusion of this feature-length / two-part story. As Magnum, T.C. and Nuzo plan to get to Ivan before he kills them, the Navy – inparticular Colonel Greene and Admiral Hawkes – have their own concerns in the situation and questions regarding Mac's death. But things are not as previously thought about Nuzo, and not only is T.C.'s life in great danger, but many other people's too as a result, in part of an assassination plot of a Japanese prince...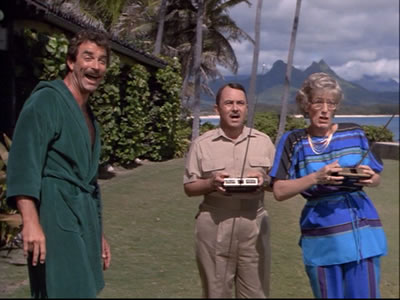 #11 - Distant Relative 8.32
Season 4 - Episode 4
Under protest, Thomas agrees to chaperone Rick's visiting 22-year-old sister Wendy while Rick works at the club, and quickly discovers that she's not the convent school innocent her brother thinks she is; after Wendy gives him the slip, Thomas scours the city searching for her and is devastated when the police find her murdered in an alley; when Rick blames Wendy's death on Thomas, the relationship between the men is dealt a severe blow, and Thomas vows to find her killers, even though Rick is determined to do the job himself with the help of information and an Uzi provided by Ice Pick; Thomas and T.C. follow Rick to Molokai, where the murderers are killed in a fiery crash as they are pursued by the three friends; to spare Rick's feelings and ease his grief, Thomas tells his friend the convincing lie that Wendy was a good kid who was just in the wrong place in the wrong time, instead of the truth that she was a drug mule murdered by the men for whom she worked.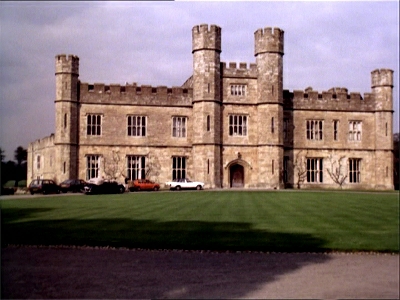 #12 - Deja Vu (1) 8.27
Season 6 - Episode 1
Magnum and Higgins travel to London, England to oversee the establishment of Robin Master's new castle, Robin's Keep, in time for a large banquet. While Higgins is busy training Ian MacKerras for the running of the castle, Thomas takes the opportunity to visit Geoffrey St. Clare, an old friend from Vietnam, but upon arrival, Geoffrey's wife Penelope informs him that Geoffrey has been killed, after being run down in a hit-and-run incident with a black Jaguar. But there is mystery surrounding the death - Geoffrey was supposed to be in France, and the circumstances suggest that, far from being an accident, the death was deliberate murder.The events of Geoffrey's killing seem to be echoing a disturbing, bizarre dream that Magnum had on the journey to England...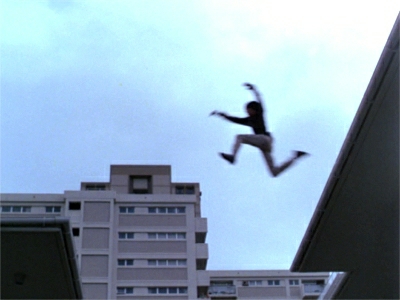 #13 - The Hotel Dick 8.27
Season 6 - Episode 5
Magnum has given up life at the estate to get a ""real"" job as the in-house detective at the large, plush Hawaiian Gardens Hotel, where he must keep trouble out, stop prostitutes who work from the hotel, and most importantly, put an end to the rash of burglaries that have been plaguing the hotel by catching the thief, dubbed ""the Catman of Kawaii"". But he does nothing but irritate his new, snobbish boss by helping a prostitute he's befriended while letting the cat burglar escape him, and must capture the elusive thief before the upcoming International convention of jewellery designers to be held at the hotel, where the burglar is sure to strike if not caught in time...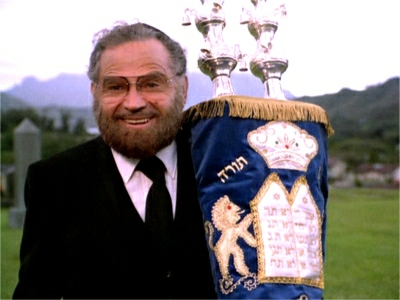 #14 - Torah, Torah, Torah 8.27
Season 5 - Episode 21
Higgins asks Magnum to collect an old friend, Asher Solomon, from the airport – who Magnum finds is a Rabbi, arriving in Hawaii with a sacred Torah that was recently returned by the Antiquities Department of Taiwan. But on the journey back to the Estate, they are ambushed and the valuable Torah is grabbed from the Rabbi. As Magnum helps the Rabbi try to recover the sacred artefact, their search leads them to a ring of smugglers...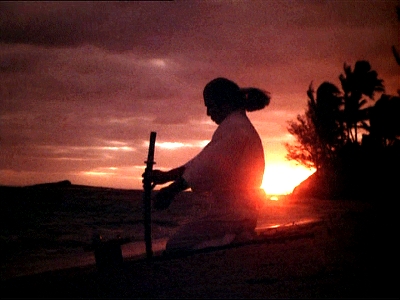 #15 - The Arrow That is Not Aimed 8.25
Season 3 - Episode 14
Higgins sends Magnum to collect a valuable Kenzan porcelain plate, newly purchased by Robin Masters, from the airport, but the artefact, which was entrusted to the care of a Samurai warrior while in transport from Japan, has been stolen. At first, Thomas thinks the whole thing is a joke, especially when the Samurai, Tozan, claims that the plate was stolen by a ninja, but the situation is for real, and the pair team up to try and find the stolen artefact. But they must work fast, as Tozan's centuries-old culture dictates that he must commit sepuku – which means taking his own life – if the precious plate isn't retrieved...
#16 - Memories Are Forever (1) 8.22
Season 2 - Episode 5
While working on a routine divorce case, Thomas catches a brief glimpse of a woman on a passing boat that he is certain is Michelle, the girl he married during the Vietnam war seven years ago, and whom he previously believed to have been killed shortly afterwards in a bombing raid. All he has of the brisk sighting is some blurred photos he managed to take, and T.C. and Rick, whilst not completely convinced, help as he scours the local area looking for her. But there are several parties that intend to see that Thomas is unable to make contact with Michelle, and the search sees them stumbling into dangerous political territory.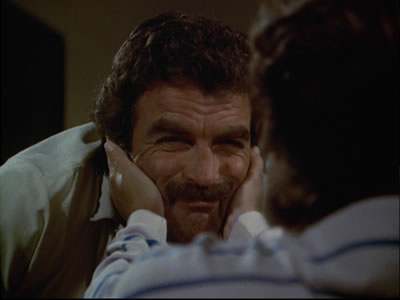 #17 - On Face Value 8.20
Season 4 - Episode 19
Carol persuades Magnum to do some surveillance work for a case she's working on, but the job leads to a high-speed car chase which ends in near tragedy when Thomas returns gun-fire only for it to accidentally hit another car, causing it to crash and severely injuring the young woman driving it. With the girl, Emily, facing never being able to walk again, Thomas is racked with guilt, and befriends her, determined to help her regain use of her legs. But unbeknown to Magnum, the two thugs that he was pursuing are still tailing him...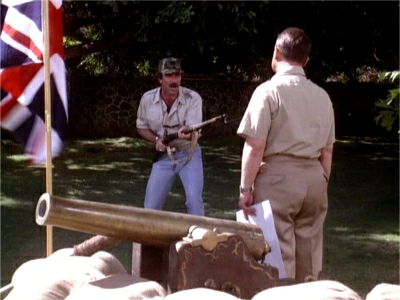 #18 - All For One (1) 8.20
Season 5 - Episode 15
First in a two-part story. Tyler McKinney, an old commando acquaintance, asks Thomas, Rick and T.C. to help him rescue a buddy who is held prisoner after being captured in Chong Ker, Cambodia. The three have no reason to like or trust McKinney after he involved them in a dubious mission in Vietnam, but individually they all eventually agree to help him on the mission. They head off to Cambodia, with the unexpected accompaniment of Higgins, but the mission has dangerous consequences in store for Rick...
#19 - Heal Thyself 8.19
Season 3 - Episode 12
When Karen Harmon, a nurse whom Magnum knew in Vietnam whom was once traumatised when a wounded soldier she was treating was killed in a bombing, and is now a doctor, is accused of the murder of three patients in her care, he is determined to help her clear her name. All but one of the entire hospital board believe her to be guilty, and when his offer of help is rejected by Karen and her now husband, Thomas feels compelled to look into the case anyway. A hounding reporter determined for a story does not help the issue; and the whole matter only serves to trigger off delayed stress syndrome for Karen from that fateful bombing in 'Nam...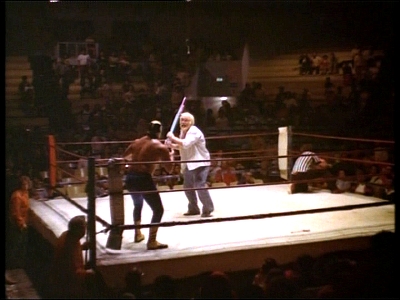 #20 - Mr. White Death 8.19
Season 3 - Episode 9
Magnum, Rick and T.C. are at a wrestling match to try and collect some betting money owed to Rick, when they find themselves in a tight corner up against some heavies, but they are helped out of the tight spot by ageing, cheerful wrestler Earl. When their new acquaintance - a former boxing champion who now wrestles in down-and-out clubs - learns that Magnum is a Private Investigator, he asks him to find him son, whom he was forced to leave many years ago. Higgins finds that he indirectly knows Earl through an old war friend, and the pair strike up a friendship, but as Thomas searches for Earl's estranged son, it begins to seem that elements of Earl's story do not completely add up...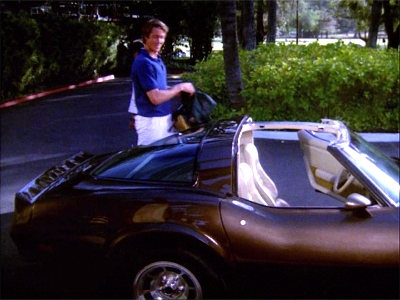 #21 - Legacy From a Friend 8.19
Season 3 - Episode 19
When his friend Marcus is found dead on the beach the day after he's seen sporting an expensive new car he can't afford, Thomas suspects foul play in the demise of the former lifeguard and volleyball player. A young woman with an ambition to rise in the ranks of the police department joins Thomas in his investigation, and they uncover the married woman, the blackmail, and the fencing operation in the center of Marcus's secret life which led to his death.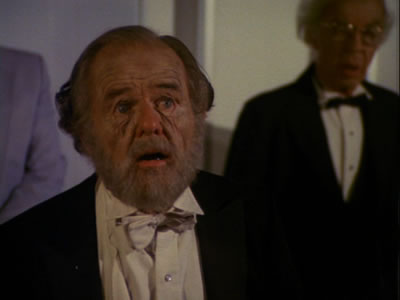 #22 - Ghost Writer 8.19
Season 2 - Episode 12
Magnum is hired by an attractive ""ghost writer"" who is writing a biography of eccentric millionaire Harold Farber - whom she has never met in person, communicating only via phone – when all her notes on Farber are stolen, in an obvious attempt to stop the book ever being written. As they investigate, they find themselves in the middle of a highly mysterious situation. Meanwhile, T.C. has landed himself a highly lucrative but shady piloting job delivering chemicals to a high-rise, but the building he is making the deliveries to turns out to be at the centre of the mystery...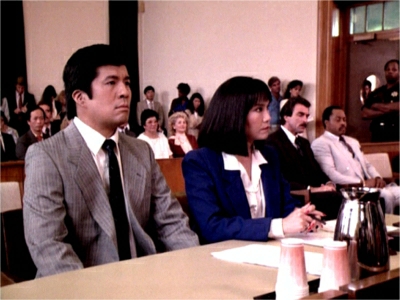 #23 - Unfinished Business 8.17
Season 8 - Episode 8
Magnum prepares for the trial of Quang Ki, who attempted to kill both him and his family. But when the case is suddenly, unexpectedly acquitted, angered Thomas suspects some other hand is behind Ki's release. It becomes evident that his arch-nemesis will stop at nothing to destroy Thomas and his family, when he receives a video-tape containing terrible information about the fate of his former wife and young daughter. As Thomas plans his revenge against Ki, he is thrust into a quagmire of intrigue endangering a sensitive P.O.W. prisoner exchange programme...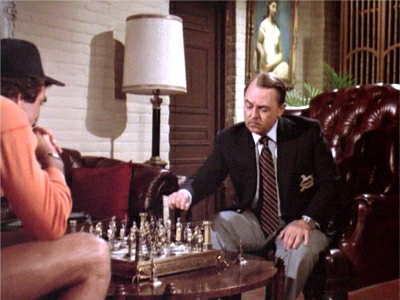 #24 - Who is Don Luis Higgins, and Why is He Doing These Terrible Things to Me? 8.17
Season 6 - Episode 19
Higgins is preparing for a prestigious chess tournament, and the arrival of an important visiting dignitary, the President of Costa Del Rosa, who will be attending it. There have been threats made on the President's life, and Magnum is asked to apprehend those responsible. But both Magnum and Higgins have even more to contend with when yet another of Higgins' illegitimate half-brothers, the flamboyant Don Luis Mongueo, the last of the royal line of Costa Del Rosa, makes an appearance on the scene. But with the plots to assassinate the President, Don Luis emerges as the prime suspect...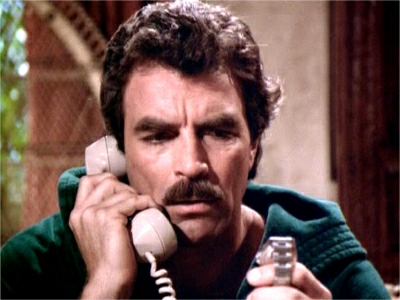 #25 - Death and Taxes 8.14
Season 7 - Episode 6
It is almost the 4th of July, and Higgins heads to Maui for an annual writers conference, and Rick and T.C. take a trip away, leaving Thomas on the Estate to face the horror of his tax audit. But that's nothing compared to the terror yet to come when Magnum becomes the focus of a crazed, obsessed killer, who repeatedly phones him with cryptic nursery rhyme riddles of upcoming killings. At first he thinks it is a crank caller, but the full reality of the sitution hits home when a prostitute is murdered in circumstances reflecting the clues given, and the menacing calls continue, with the deranged killer boasting about his crimes and giving clues of the next one...