Madam Secretary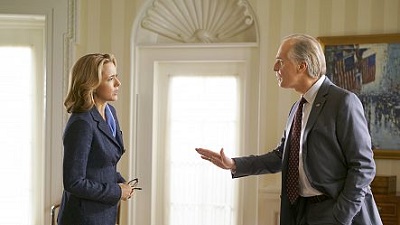 #1 - Vartius 8.14
Season 2 - Episode 23
When Elizabeth receives shocking news about an important political operative, she navigates a tricky political situation with President Dalton, who she learns may be considering replacing her as Secretary of State. Also, Stevie and Jareth get engaged.
#2 - Tamerlane 8.00
Season 1 - Episode 16
Elizabeth secretly travels to Iran in an attempt to prevent a coup that could impact President Dalton's administration. Also, she brings her staff up to speed on the investigation into Marsh's death.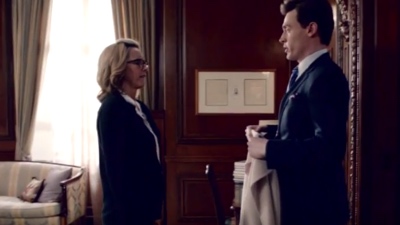 #3 - Render Safe (2) 7.97
Season 2 - Episode 22
The United States debates enacting a "render safe" mission to secure nuclear weapons that belong to the Pakistani government before it collapses, while the Murphy Station pursues the terrorist Jibral Disah.
#4 - Lights Out 7.96
Season 2 - Episode 8
As tensions rise with Russia, Elizabeth, Russell and Mike B. hatch a plan to oust Craig Sterling from his role as National Security Advisor without tarnishing President Dalton with a scandal. Also, Ephraim Ware, the Director of National Intelligence, identifies who hacked Air Force One
#5 - Russian Roulette 7.95
Season 2 - Episode 9
Shortly before Elizabeth is to deliver a speech at the United Nations accusing Russia for the attack on Air Force One, Henry shares information that makes her reconsider her theory.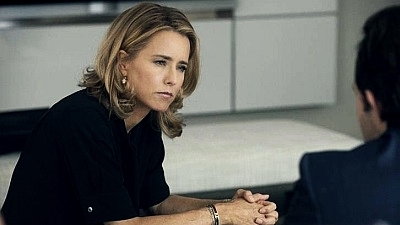 #6 - So It Goes 7.95
Season 1 - Episode 9
Elizabeth, Henry, and Isabelle investigate the plane crash that killed former Secretary of State. Nadine takes a step back into the dating pool when she agrees to go on a date with a NASA scientist.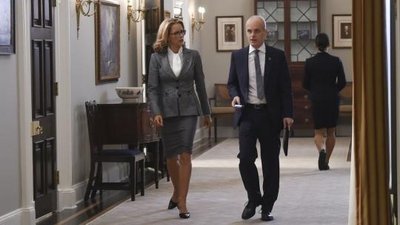 #7 - The Show Must Go On 7.93
Season 2 - Episode 1
The President's plane is declared missing and Elizabeth is thrust into a situation of power she never imagined possible. Also, Henry butts heads with his new Defense Intelligence Agency handler, Jane Fellows, when he's asked to recruit one of his Russian students for the NSA.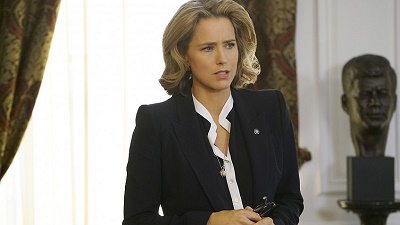 #8 - Connection Lost (1)
Season 2 - Episode 21
When President Dalton gets word that the world's most wanted terrorist, Jibral Disah, is hiding in Islamabad, he sends the "Murphy Station" – Henry, Jane and Jose – on a dangerous mission to eliminate the threat. Also, Elizabeth and Henry go to couples therapy.
#9 - Invasive Species
Season 2 - Episode 13
After his father's death, Henry's family uncovers shocking secrets that open old wounds for them, including his grieving sister Maureen, who blames Henry for not spending enough time at home. Also, Russell keeps important information from Elizabeth's team at the State department.
#10 - The Middle Way
Season 2 - Episode 12
Elizabeth goes to Myanmar to sign a Pacific Rim trade agreement which will modernize their power grid and benefit several of its trading partners, but she is met with resistance by the country's American ambassador who has immersed himself into the local culture. Also, Nadine attempts to mend her relationship with her estranged son.
#11 - Right of the Boom 7.92
Season 2 - Episode 15
Following a shocking event on U.S. soil, Elizabeth rushes to find answers to President Dalton's many questions about how it was able to occur.
#12 - The Greater Good 7.91
Season 2 - Episode 10
After they uncover a secret that could ruin Maria Ostrov's reputation, Elizabeth and President Dalton head to Switzerland to meet with her and use the information as leverage to find a peaceful solution to the escalated conflict with Russia. Also, Dmitri requests to be released from his duties as a spy.
#13 - Left of the Boom 7.91
Season 2 - Episode 14
While Elizabeth oversees a mission to track down the culprits behind a uranium heist in Eastern Europe, she also contends with highly sensitive issues in Saudi Arabia, including the apprehension of two American teenage girls who intended to join a terrorist group, that threatens to dismantle an important arms deal.
#14 - The Linchpin 7.90
Season 3 - Episode 2
With Algeria on the brink of a civil war, Elizabeth delicately negotiates a regime change, but her plans go awry when Roy Curtis, the trusted U.S. Ambassador to Algeria, dies unexpectedly. Also, Henry fights to save religious antiquities in Algeria when he discovers they are being destroyed by Hizb al-Shahid, and the McCord children get their own security detail after Jason's computer is hacked.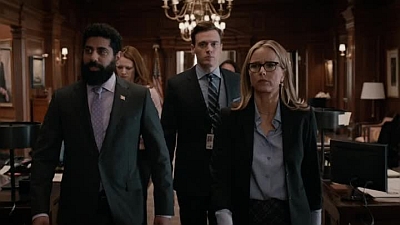 #15 - Sea Change 7.90
Season 3 - Episode 1
When a storm destroys a naval base in Bahrain, Elizabeth urges President Dalton to reexamine his approach to climate change and his overall foreign policy, something that could jeopardize his re-election campaign. Also, Jose Campos tries to bring Henry back into the DIA fold, and the McCords worry that their family is being stalked when they discover Jason's laptop may have been hacked.
#16 - The French Revolution 7.86
Season 3 - Episode 5
When an imminent U.S.-France state dinner is jeopardized after a CIA operative is captured by French intelligence, Elizabeth must negotiate the operative's release while keeping the event on track. Also, Russell tries to woo back big donors to Dalton's campaign, and the McCords get an important lead in their family's stalking case.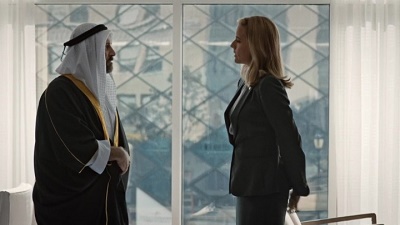 #17 - The Statement 7.84
Season 3 - Episode 6
When Elizabeth discovers that a terrorist bombing at an Illinois coffee shop was funded by someone with close ties to the Saudi government, she makes a bold move after the Saudi ambassador refuses to bring the man to justice. Also, Matt refuses to issue a statement when news breaks that he and the bomber are linked to the same mosque, and Henry reaches out to Dmitri when he hears he's having trouble adjusting to his new life in Phoenix.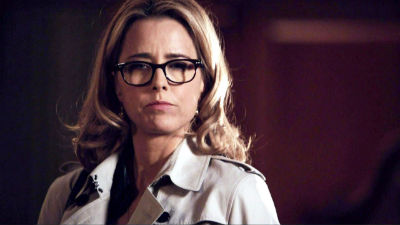 #18 - Game On 7.82
Season 1 - Episode 11
Elizabeth, Henry and Isabelle work together to find former Secretary of State Vincent Marsh's secret bank account, but soon uncover that one of Elizabeth's staff members already has access to it.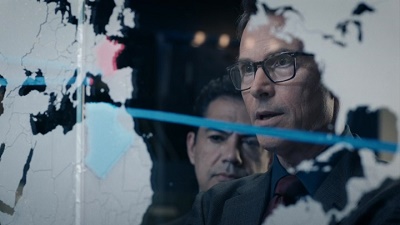 #19 - The Dissent Memo 7.81
Season 3 - Episode 4
After a bombing at a political rally in Angola, Elizabeth must find a way to respond to a "dissent memo" from the Bureau of African Affairs when they criticize the Dalton Administration's lack of attention to the upcoming Angolan election. Also, Russell enlists Elizabeth's help to get President Dalton on the ballot in Ohio, and Henry and Jose get closer to locating the antiquities stolen by Hizb al-Shahid.
#20 - Whisper of the Ax 7.80
Season 1 - Episode 14
Elizabeth is humiliated at a public budget hearing when her staff fails to find the corruption that exists in her microloan program. Also, the investigation into Marsh's death continues.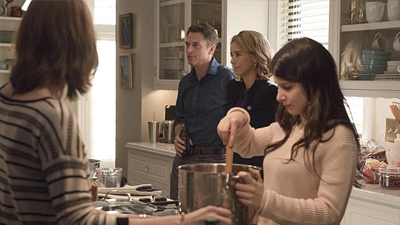 #21 - Blame Canada 7.79
Season 1 - Episode 5
When Elizabeth faces the daunting task of negotiating with Iran over their escalating nuclear program, she is determined to deal with the situation in a peaceful manner, despite the President's position of using military action. Jason has new admiration for his father when he interviews him for a school report.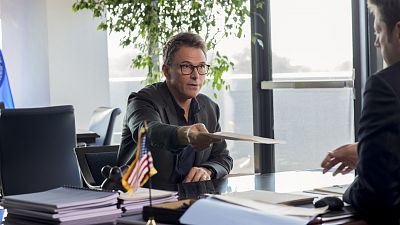 #22 - South China Sea 7.77
Season 3 - Episode 3
After U.S. environmental activists protesting China's damage of a South China Sea reef are arrested for spying, Elizabeth finds herself in a stalemate with the Chinese foreign minister as she lobbies for their release. Also, Henry pushes the FBI to investigate one of Elizabeth's former students who he suspects is his family's cyber-stalker, and President Dalton's trade visit to Vietnam brings back memories of serving there during the war.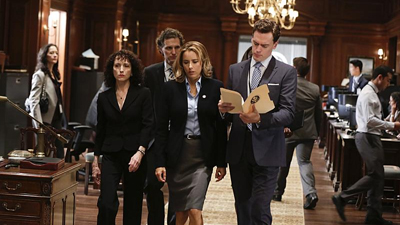 #23 - The Operative 7.77
Season 1 - Episode 3
Elizabeth is confronted by a hostile reporter who threatens to publish confidential documents that were leaked from inside the State Department. Henry is dragged into an international negotiation when his wife uses his job as leverage to broker a deal with Pakistan.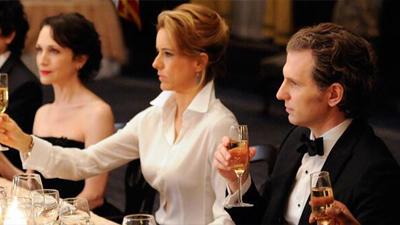 #24 - Pilot 7.77
Season 1 - Episode 1
Newly-appointed Secretary of State Elizabeth McCord is immediately faced with a maelstrom of complex political challenges, and an international hostage situation is her top priority. Elizabeth also questions whether she did the right thing by taking the job, as her children are finding it difficult to adjust to their new schools.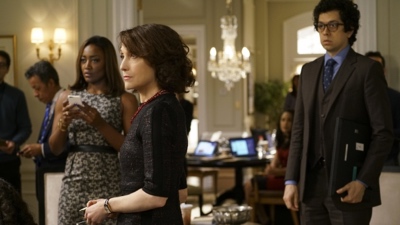 #25 - Desperate Remedies 7.76
Season 2 - Episode 19
After learning that a member of the inner circle of the terrorist organization "Boko Haram" has fallen ill with a deadly virus, Elizabeth formulates a plan to leverage his weakness and release a group of schoolgirls they are holding captive. Also, Henry gets new information on the terrorist Jibral Disah that leads his team closer to pinpointing his location.