King of the Hill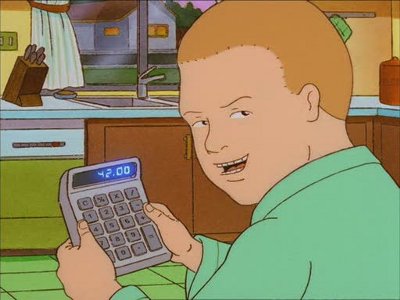 #1 - Rich Hank, Poor Hank 8.45
Season 8 - Episode 8
After becoming inquisitive about how much money the family makes, Bobby decides that he will do some investigating of his own. After seeing some old paperwork in the garage, Bobby determines that Hank is a rich miser. Feeling that Hank is just being greedy, he goes on a shopping spree with Hank's emergency credit card. Meanwhile, news of Hank's hidden wealth spread through the alley and out about town.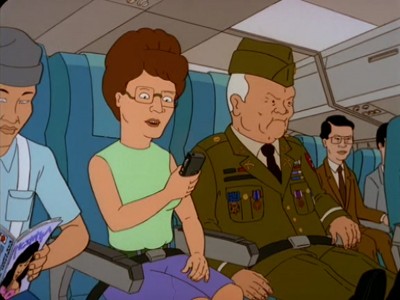 #2 - Returning Japanese (1) 8.41
Season 6 - Episode 21
The Hills head to Japan because Cotton wants to apologize for his actions in WWII. The grizzled vet says he plans to address the widow of a soldier he killed. Peggy arranges to cover the visit for the local paper, but the family arrives to find it has become an overblown media event. Cotton admits to Hank that the "widow" was never married, and the "action" did not occur in battle. Meanwhile, back home, Dale and Bill prove themselves dedicated house sitters by dressing up as Hank and Peggy; and Luanne finds a replacement dog when she thinks she has killed Ladybird.
#3 - The Exterminator 8.40
Season 5 - Episode 14
A doctor tells Dale that inhaling dangerous chemicals is affecting his health, and if he doesn't give up exterminating, he'll die. Hank gets Dale a new job as a faceless drone at the adhesives company, Stik Tek. But Dale's experience at killing living things proves invaluable when he is placed in charge of telling people they're fired. Meanwhile, Joseph and Dale are preparing for a "hatch".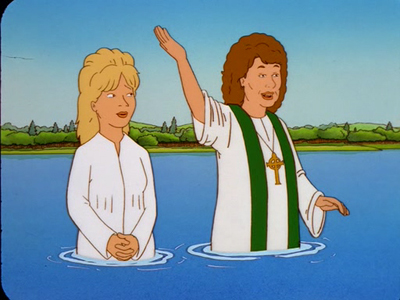 #4 - Luanne Virgin 2.0 8.37
Season 5 - Episode 15
With Hank's encouragement, Luanne signs up for a "born-again virgin" program at the church. This leads Peggy to confess something that Hank doesn't know: she had already slept with one other man before she married Hank. Luanne meets a 22 year-old "real virgin," Rhett Vandergraaf, who wants to sleep with Luanne so much that he asks her to marry him, and she accepts. When Peggy objects, Luanne blurts out her secret in front of Hank.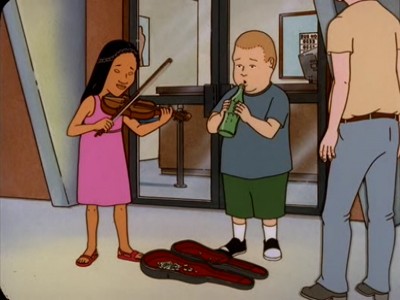 #5 - The Bluegrass is Always Greener 8.37
Season 6 - Episode 9
Kahn wants Connie to practice classical music so she can become a great concert violinist, but Connie discovers she has a talent playing bluegrass. Hank and the guys form a band with Connie, the "Dale Gribble Bluegrass Experience," and go to Branson, Missouri to participate in a contest. But in his desire to win, Hank pushes Connie to practice and takes all the fun out of playing, just like Kahn did.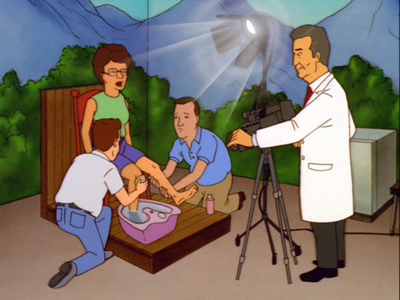 #6 - Transnational Amusements Presents: Peggy's Magic Sex Feet 8.35
Season 4 - Episode 23
Peggy feels ashamed of her big feet until she meets Grant Trimble, who tells her that her feet are beautiful and even videotapes them. Soon Peggy's big feet are a hit on an internet fetish site, peggysfeet.com.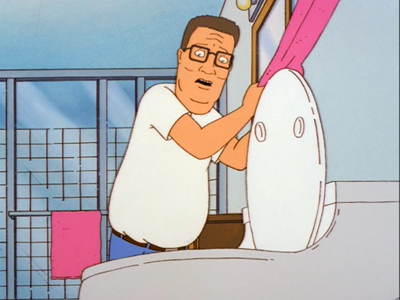 #7 - Flush with Power 8.33
Season 4 - Episode 22
During a drought, Hank installs low-flow toilets in his house. But he soon finds that they require so many flushes that they actually waste more water than the old toilets. Hank joins the Arlen zoning board in an attempt to get high-flow toilets legalized again.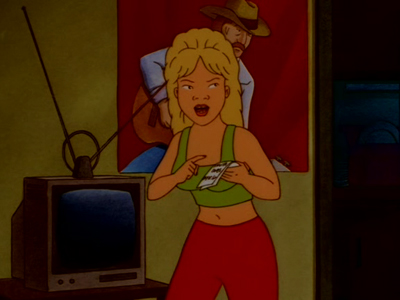 #8 - Movin' On Up 8.33
Season 4 - Episode 16
Frustrated with having to obey Hank's house rules, Luanne moves out and rents a house across the street with three other college students. In trying to get her selfish housemates to help out and pay the bills, she finds herself becoming more like Hank.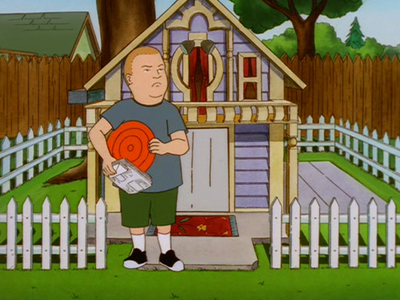 #9 - Hank's Choice 8.33
Season 5 - Episode 16
When Bobby's runny nose and constant sneezing turn out to be an allergy to dander, he is given some medication, and Hank is told to get rid of Ladybird. Hank is taken aback, trying to find any way around it...so he builds a luxurious new doghouse. During the 'Grand Opening' of the house, Ladybird refuses to go in. Hank rethinks his options, and sends Bobby out to live in the house. When he finds that he enjoys living on his own, he finds ways to stay allergic.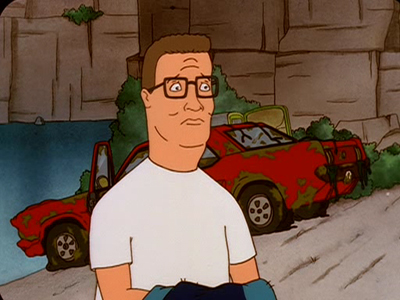 #10 - It's Not Easy Being Green 8.32
Season 5 - Episode 17
Bobby takes up a new interest in environmental issues, provoked by a new teacher. When the cause rallies to drain the quarry, and rid it of all waste, Hank is dead set against it. Years earlier, while in high school, the gang wrecked Boomhauers car, and pushed it into the quarry, pleading ignorance. Bobby finds out, and lets Boomhauer in on the secret, just before they pull out 'Ol Betsy', to his horror.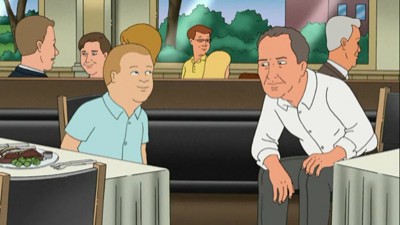 #11 - To Sirloin With Love 8.32
Season 13 - Episode 20
In the series finale, Bobby's new found passion for judging the quality of meat brings the Hill men closer as they bond as father and son for the first time. Jeff Boomhaeur's job as a Texas Ranger is finally revealed.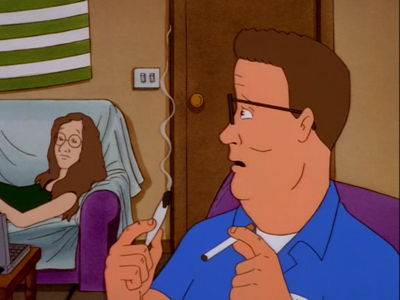 #12 - High Anxiety (Part 2) 8.32
Season 4 - Episode 14
Debbie is found dead in the dumpster behind Sugarfoot's restaurant, and Hank is a suspect. Hank was with Debbie's roommate Gayle at the time, but he's afraid to tell the police, because he'd have to admit that he accidentally smoked some of Gayle's marijuana. Buck decides that he loves his wife after all.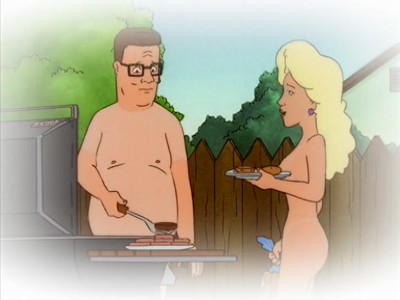 #13 - Sug Night 8.29
Season 6 - Episode 19
Hank repairs a propane-powered hot tub for a bikini-clad Nancy Gribble, and starts to have dreams about him and Nancy grilling burgers in the nude. When Peggy finds out, she concludes that Hank is bored with her and that they need to spice up their marriage by going to a nude beach.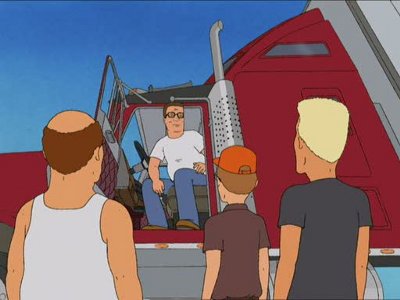 #14 - Livin' on Reds, Vitamin C, and Propane 8.29
Season 8 - Episode 7
Hank needs to take some antique furniture to his mother in Arizona, so he rents an 18-wheeler and takes Bobby on a road trip (with Dale, Bill and Boomhauer stowing away). At a truck stop, they meet several tough truckers who scoff at Hank for trying to "play trucker." Meanwhile, Peggy and Luanne try to write a Christmas novelty song.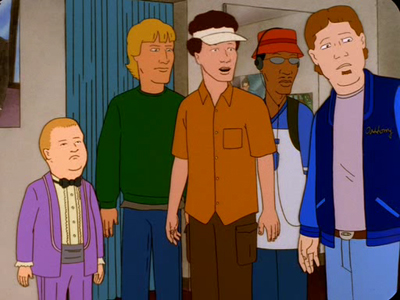 #15 - Kidney Boy and Hamster Girl: A Love Story 8.28
Season 5 - Episode 20
Bobby passes himself off as a high school student (explaining his height by claiming that he suffers from a kidney condition), and gets caught up in the school's attempt to get the band No Doubt to play at their prom. Meanwhile, Dale creates the perfect outhouse, the Port-a-Gribble the envy of all the neighbors.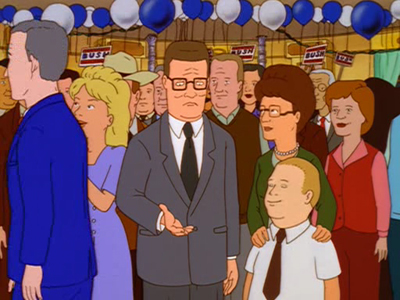 #16 - The Perils of Polling 8.23
Season 5 - Episode 1
Appalled that Luanne is unprepared to vote, Hank takes the family to the local fair where she can meet the political candidates. Hank is further appalled to find that Luanne has decided to vote Communist because the candidate is handsome. Bobby saves the life of a drowning pig at the fair and is invited to meet Texas Governor (and presidential candidate) George W. Bush. Hank, staunchly pro-Bush, takes Luanne to the rally where she falls for Bush. Unfortunately, Bush's wet, limp, awful handshake leaves Hank shocked and disappointed.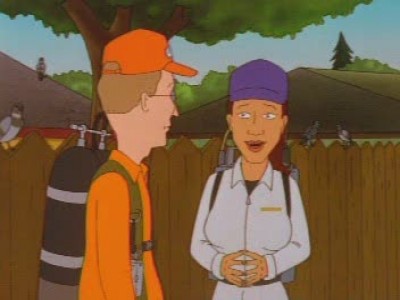 #17 - Night and Deity 8.22
Season 7 - Episode 21
After Peggy organizes a bird society, Bill begins trying to attract birds by laying out food in everyone's yard. When pigeons begin to flock to Bill's yard as well as all the neighbors, Dale is called in to exterminate but can't get rid of them. Dale calls in the "pigeon god," Arlen's greatest exterminator, Sheila Repkin, who turns out to be a beautiful woman who takes an interest in Dale. When Sheila invites Dale to go on an all-night exterminating session with her, Nancy fears that Dale may cheat on her the way she used to cheat on him. Meanwhile, Luanne celebrates her 21st birthday by going to a bar with two friends, and brings Hank along as the designated driver.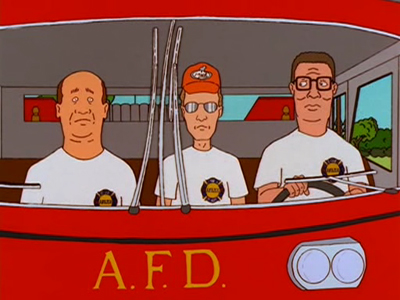 #18 - A Fire Fighting We Will Go 8.22
Season 3 - Episode 10
Hank and his friends become volunteer firefighters. They manage to wreck a fire hydrant, ruin a funeral, and finally burn down the Arlen firehouse. When the Fire Captain comes to ask what happened, the trio turns the story around to match each of their scenarios.
#19 - Megalo Dale 8.22
Season 7 - Episode 10
The Mega Lo Mart has a pest-control problem, and the manager asks Hank to recommend an exterminator. Though fearing that Dale will screw it up, Hank reluctantly recommends him for the job, because he needs the work. The extermination process begins, and he soon suspects that the real culprit is not rats, not mice, but Mega Lo Mart spokesman Chuck Mangione. With hank's reputation on the line, he takes matters into his own hands.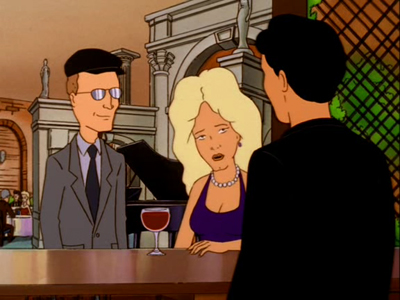 #20 - Nancy Boys 8.21
Season 4 - Episode 21
Nancy and Dale go to a romantic restaurant and fall in love all over again. Nancy decides to end her affair with John Redcorn and be faithful to her husband. But she soon starts to wonder whether she made the right decision.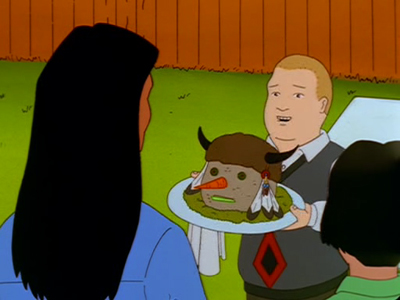 #21 - Spin the Choice 8.20
Season 5 - Episode 4
When John Redcorn comes to Bobby and Joseph's class and tells them about the way his people were treated by the white man, Joseph doesn't care, but Bobby is so horrified that he decides to boycott Thanksgiving. At Hank's Thanksgiving party, Bobby stages a tribute to the heritage of John Redcorn's tribe... including their history of cannibalism. Meanwhile, Luanne tells Peggy that everyone hates her annual Boggle tournament, so Peggy invents a new game, "Spin the Choice."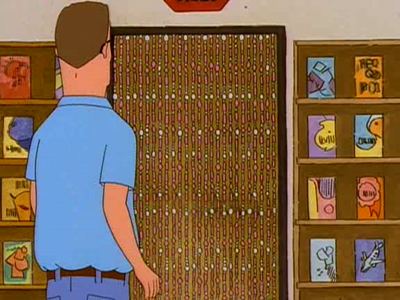 #22 - Hank's Dirty Laundry 8.19
Season 2 - Episode 17
When Hank tries to buy a new dryer, he is told that his credit is no good because he owes money to Arlen Video. The video store's computer says he rented and never returned a pornographic movie, Cuffs and Collars. Hank refuses to pay for a movie he never rented, and sets out to prove that the computer was wrong.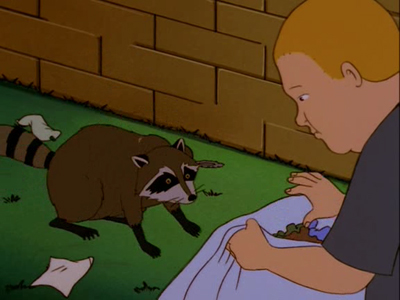 #23 - To Kill a Ladybird 8.19
Season 4 - Episode 9
Bobby adopts a raccoon, Bandit, who bites Ladybird and Dale and then runs off, pursued by Ladybird. Fearing that Bandit might have been rabid, Hank tries to save his dog, while Bobby just wants to find Bandit. Meanwhile, Dale, convinced that he has rabies, runs off to the woods and starts living on mushrooms, which give him hallucinations.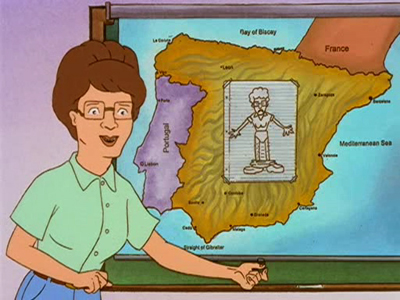 #24 - To Spank with Love 8.18
Season 3 - Episode 11
After being taunted and pantsed by one of her students, Peggy loses it and spanks him. She is immediately fired, but Cotton and his old buddies start a campaign to get "Paddlin' Peggy" reinstated. Once she is back teaching, Peggy uses her reputation for violence to scare her students, and takes things too far, in true Peggy fashion.
#25 - Returning Japanese (2) 8.17
Season 6 - Episode 22
It is revealed that Hank has a long-lost half-brother, who disowns his American relatives. Angered by this, Cotton plans to spit in the face of the Japanese Emperor Akihito at a ceremony honoring WW2 veterans later that night. As the Hill Brothers try to stop their father, they come to realize how much they have in common. Meanwhile, Bobby develops a relationship with his dance partner at the local arcade.