Jane the Virgin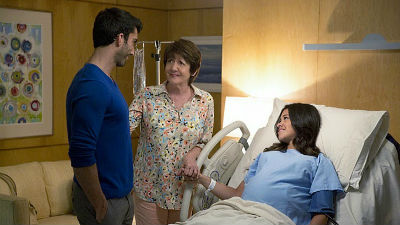 #1 - Chapter Twenty-Two 8.24
Season 1 - Episode 22
After having false labor, Jane insists that Xo and Rogelio go to Las Vegas to perform their show, but once they are gone the labor turns very real. Xo does everything she can to get back to help Jane, but ends up making Rogelio feel like he's not part of the family. The truth about Michael and Rafael's feelings for each other, and Jane, are put aside to help make Jane's labor easier. With the good news on the birth of Jane's baby, Alba is excited to tell her special friend. Meanwhile, Petra learns some very important information that concerns Rafael, leaving her to decide if she should tell him.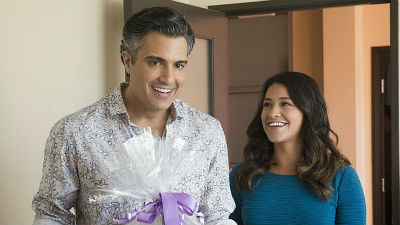 #2 - Chapter Twelve 8.18
Season 1 - Episode 12
Jane gets a big break in her career, but it all seems too good to be true, especially when it involves Rogelio. Rafael is stressed about Sin Rostro's connection to the hotel and begins to fear for his family's safety. Meanwhile, Petra's past is quickly catching up with her and she is disheartened when she learns the truth about someone very close to her.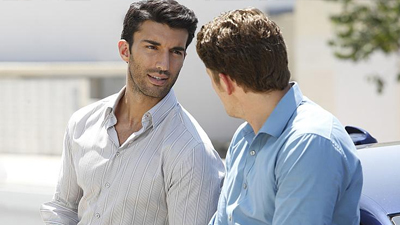 #3 - Chapter Twenty-Three 7.97
Season 2 - Episode 1
After Jane discovers Mateo's abduction, chaos ensues, especially when they all learn Sin Rostro is involved and demanding a ransom. Trying to help, Rogelio tweets about Mateo's kidnapping making the Villanueva family targets of the paparazzi. Despite everything that has happened, Jane must also focus on motherhood and turns to Xo and Alba for help, leaving Rafael feeling left out. Meanwhile, Petra is conflicted with what to do with Rafael's remaining sperm sample.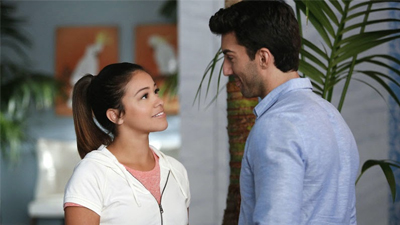 #4 - Chapter Ten 7.91
Season 1 - Episode 10
As a hurricane rips through Miami, Jane is forced to stay at the Marbella, but the storm soon becomes the least of her concerns. When Rogelio hears about Alba's condition, he rushes to Xo's side at the hospital to comfort her. Rafael is reinstated as boss, but he is soon faced with a difficult decision regarding layoffs at the hotel. Meanwhile, Michael helps Alba, but does his best to keep it a secret.
#5 - Chapter Thirty-Nine 7.90
Season 2 - Episode 17
Jane's bachelorette party doesn't go as she envisioned thanks to input from Xo and Lina. Meanwhile, Rogelio's plans for Michael's bachelor party disrupt Michael's evening with his friends; and Rafael attempts to unearth Derek's true motives.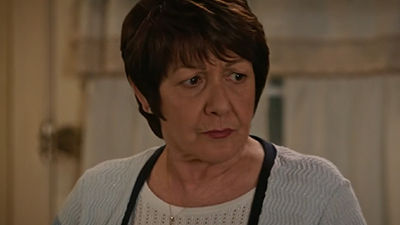 #6 - Chapter Thirty-Six 7.90
Season 2 - Episode 14
Jane and Michael are back together and Jane wishes she had never left Michael in the first place. Rafael appears to have regressed to his playboy ways and Petra is concerned about him. But Petra is not aware that Rafael is helping Michael find Mutter's other son, Derek. Rogelio's new assistant, Paolo, is actually his stalker Lola. Finally, Petra gives birth to the twins.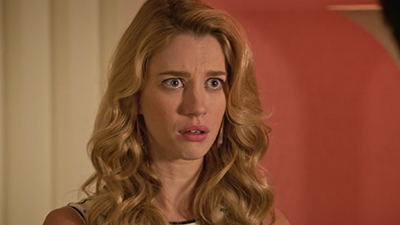 #7 - Chapter Twenty-Six 7.89
Season 2 - Episode 4
As Jane tries to juggle motherhood and school, she forgets to plan Lina's surprise 25th birthday party leading to friction between the best friends. Rafael tells Jane that he still wants a romantic relationship with her, but she is blindsided when he asks for joint custody. Petra tries to enlist Michael's help to keep Jane and Rafael apart. Rogelio's ex-wife, Luciana, is blackmailing him with secrets from years ago to get her role back on "The Passions of Santos." Meanwhile, Michael gets a new partner and a possible lead in the Sin Rostro case.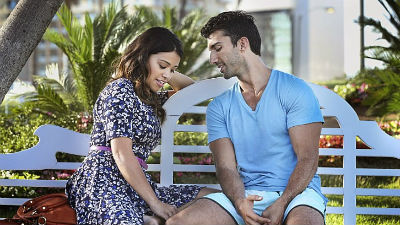 #8 - Chapter Six 7.87
Season 1 - Episode 6
Jane and Rogelio begin to grow closer until she meets his mean twin teenage stepdaughters, who are determined to make her life miserable. Rogelio insists Xo uses his band for her big performance at the Mirabella Hotel, but the band is not what she was expecting. Elsewhere, Rafael finds himself arrested after Petra files a complaint against him. Meanwhile, Jane is conflicted about the direction of her relationship with Michael and what will be the best choice for her.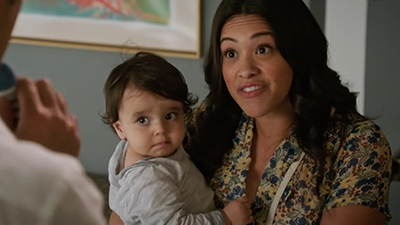 #9 - Chapter Thirty-Three 7.87
Season 2 - Episode 11
Jane's crush on Professor Chavez is popping up in her dreams and she needs to evaluate her feelings towards him. Xo and Jane find Liliana's engagement ring and think that Rogelio is going to propose. Rogelio IS planning to propose, but with a different ring, one that gets swallowed accidentally by Mateo! Michael comes to a realization about Rose and Mutter.
#10 - Chapter Thirty-Eight 7.85
Season 2 - Episode 16
A flood hits Jane's home, disrupting her wedding plans with Michael. Meanwhile, Jane and her dad clash over how big a wedding she should have; Rafael objects to Jane moving 45 minutes away with Mateo; and Petra continues to struggle with motherhood.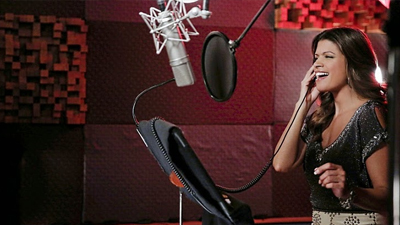 #11 - Chapter Eight 7.84
Season 1 - Episode 8
Jane and Rafael both reveal shocking secrets to each other. Xo is excited when a music producer, Elliot, contacts her to record a demo, but little does she know that Rogelio had a hand in making it happen. Meanwhile, Michael is close to a big break in his case, and Petra finds new was to make Rafael's life difficult.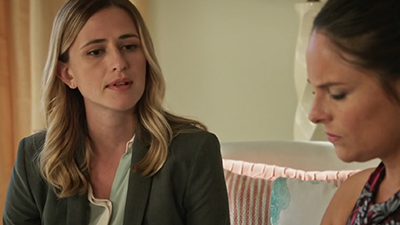 #12 - Chapter Thirty-One 7.84
Season 2 - Episode 9
Jane's latest parenting obstacle is sleep training Mateo, a struggle that has the Villanueva woman divided on what is the best method. At the same time, she is beginning her new job as a TA and is faced with a class full of basketball players looking for an easy A. Petra confesses all to Rafael and is determined to put her mother away for good. Rogelio's mother Liliana comes for a visit and reveals a 40 year old family secret. Meanwhile, Michael discovers the truth about Luisa's mother and new information about Rafael's mother. Andrea Navedo and Ivonne Coll also star. Uta Briesewitz directed the episode written by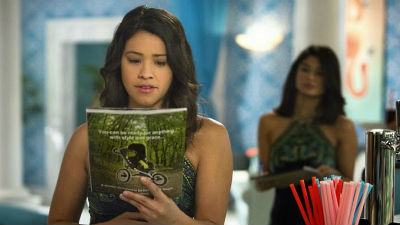 #13 - Chapter Fourteen 7.82
Season 1 - Episode 14
Michael is convinced that Rafael is helping to hide his father, and puts the thought into Jane's head as well, making her grow suspicious of Rafael's recent actions. Elsewhere, Jane forces Xo and Rogelio to reveal how they really feel about each other, but neither is prepared for what the other has to say. Petra finds a new way to torture Rafael that even he could not have imagined. Meanwhile, Jane's friends want to throw her a baby shower, but it brings up some serious questions about her and Rafael's future.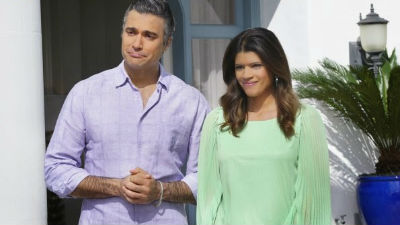 #14 - Chapter Eighteen 7.81
Season 1 - Episode 18
Jane unintentionally ruins Rafael's chances of getting the hotel's liquor license back, but her attempt to help fix it means missing the Villanueva's Easter festivities. Rafael gets information about his birth mother from the private detective he has hired, but doesn't like what he hears. Rogelio's mother, Sofia, comes for a visit but she and Xo do not have the best history. Alba takes a big step in the romance arena, but is shocked when she learns what Edward does for a living. Meanwhile, Petra becomes more convinced about the secret she thinks she has stumbled upon and enlists Michael's help to get confirmation.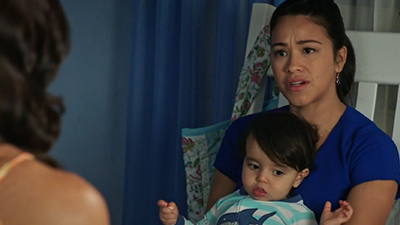 #15 - Chapter Thirty-Seven 7.79
Season 2 - Episode 15
Rafael and Petra are new parents but Petra is already back to work and appears to be not interested in motherhood. Xo has invited Alba's old flame Pablo to visit. This does not sit well with Alba as she believes Pablo is cursed and will bring bad luck. Jane is growing concerned that she can't get in touch with her father, Rogelio, who is being held captive by Lola.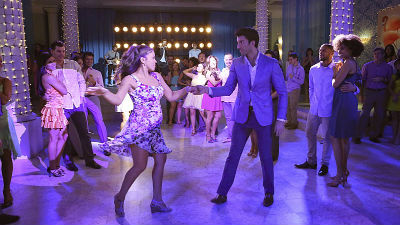 #16 - Chapter Sixteen 7.79
Season 1 - Episode 16
Jane is feeling distant from Rafael so she focuses on her writing instead, but is stuck with a case of writers block. When Jane runs into Michael he mentions a romance writing workshop, and she thinks she has found the solution. Petra has a solution to finding a musical performer for the Mirabella's Calle Ocho celebration, but it forces Rafael to ask Rogelio for help. Rogelio is struggling with his new character as a detective, so he gets the brilliant idea to shadow Michael for real cop experience. Meanwhile, Xo has made a decision about her life with Rogelio which causes a rift between her and Alba.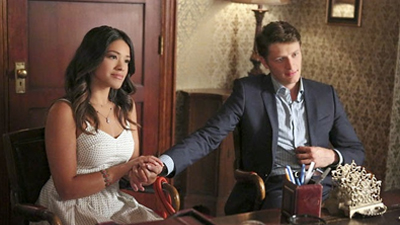 #17 - Chapter Four 7.78
Season 1 - Episode 4
In addition to being overwhelmed with all the wedding planning, Jane begins to feel guilty about her emerging feelings towards Rafael and decides to tell Michael during their pre-wedding counseling. Elsewhere, Rafael and Petra are faced with someone from their past and neither are happy about it. Meanwhile, Rogelio learns about Jane's impending nuptials and pushes Xo to let him be part of his daughter's wedding.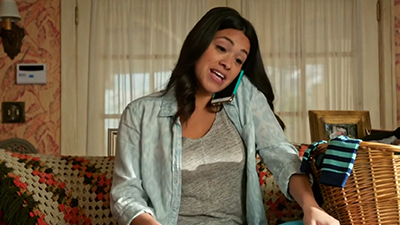 #18 - Chapter Thirty-Five 7.78
Season 2 - Episode 13
Jane and Michael are back together – almost! Jane attempts to get Rafael and Michael to reconcile, but it doesn't go well. While Rafael is sulking over losing Jane, he is ignoring Petra and her pregnancy needs. Xo and Rogelio have broken up over the baby issue, but they are still acting like a couple, something Jane sees as a problem. Rogelio hires a new assistant, Paolo, who appears too good to be true.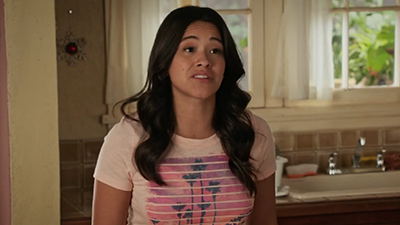 #19 - Chapter Thirty
Season 2 - Episode 8
Jane and Rafael are still at odds with each other as they are about to celebrate Mateo's first Christmas. Jane discovers that the scholarship she thought she had been awarded isn't quite that and now needs to find a way to pay for grad school. Rogelio has employed an intern and is having trouble trusting him. Petra is struggling with the latest dilemma her mother has gotten them into. Meanwhile, Michael is trying to find Luisa's mother who he now suspects is not dead and may be involved with Sin Rostro.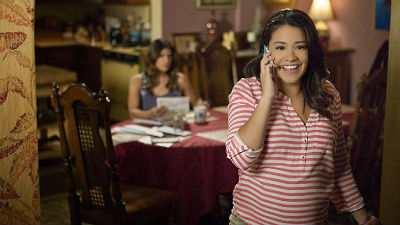 #20 - Chapter Twenty-One
Season 1 - Episode 21
Jane is nervous to attend her five year high school reunion because she feels her life is not what she expected it to be. Rafael confides in Petra about Jane's custody request, making Petra think she can fix the problem and become the hero. Xo is confused about Rogelio's reaction during their show rehearsal until she learns the real reason behind it. Meanwhile, Jane agrees to attend Michael's commendation ceremony, but she has a few ground rules.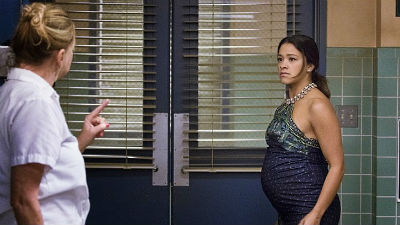 #21 - Chapter Twenty
Season 1 - Episode 20
Jane is determined to do what's best for the baby, especially after she and Rafael learn that the baby is breech. Xo continues to try to apologize to Rogelio, but faces an uphill battle. Rogelio is offered a big career opportunity that could bring him back to his glory days. Meanwhile, Alba shares what happened the night of her accident and Jane turns to Michael for help in catching Petra in a lie.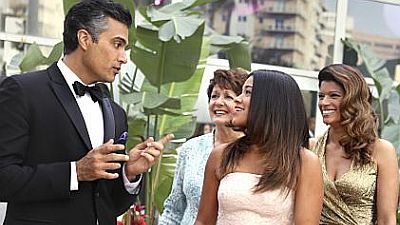 #22 - Chapter Nine
Season 1 - Episode 9
Jane and Rafael are both concerned about Petra's true intentions with the baby, especially after they discover one of her shocking secrets. Rogelio is nominated again for a Best Actor award and invites Jane, Alba and Xo to attend the show with him. Xo is about to give up on her dreams, but when she meets her ultimate idol, Paulina Rubio, she has a change of heart. Meanwhile, Michael unveils a huge clue in his ongoing investigation.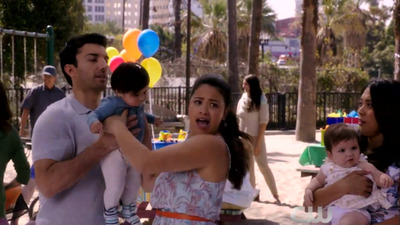 #23 - Chapter Forty-Three
Season 2 - Episode 21
Jane has made big plans to celebrate Mateo's first birthday, but things start to fall apart when she learns there might be an issue with her wedding venue. Rogelio faces a challenge on set that could jeopardize Jane's big day. Jane is excited when Alba gives her a lead on a book publisher, but soon begins having doubts about her writing. Jane and Petra try to help Rafael figure out his troubles, but they have differing opinions on how to handle the situation. Meanwhile, Michael is convinced that Derek is really in cahoots with Mutter and has a plan to prove it.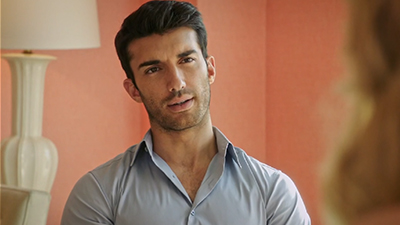 #24 - Chapter Twenty-Five
Season 2 - Episode 3
When a slot opens up in the graduate program that Jane has been waiting for, she is faced with her first big motherhood dilemma – leaving Mateo sooner than expected. Rafael is still reeling from Petra's news as he tries to help plan Mateo's baptism with Jane. Xo helps Rogelio confront his past even though it makes Xo uncomfortable. Meanwhile, Michael takes some advice from Rogelio about how to handle Jane, but it is easier said than done for him.
#25 - Chapter Twenty-Four
Season 2 - Episode 2
Jane is finally in a rhythm with Mateo, but finds herself out of step with Rafael and Michael and the potential love triangle that is brewing between them. In order to not be sued for missing their Vegas arrangement, Xo and Rogelio must perform on a cruise ship. Petra and Rafael are suspicious of Lachlan and his recent business proposal, but are soon faced with an even more shocking revelation. Meanwhile, Alba makes a very big decision that will impact her life.