It's Always Sunny in Philadelphia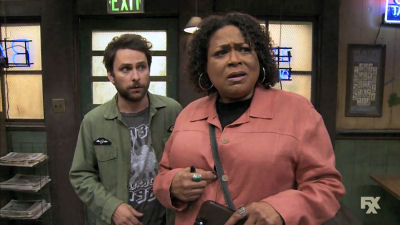 #1 - Charlie Work 8.70
Season 10 - Episode 4
Charlie directs The Gang in balancing a scheme involving live chickens, steaks and airline miles with a health inspection, in a fast hectic manner.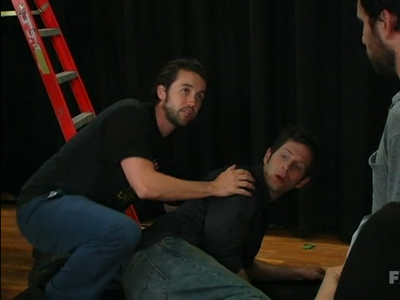 #2 - The Nightman Cometh 8.49
Season 4 - Episode 13
In the season finale, Charlie gets the gang to help him put together a rock opera based on his song "Nightman."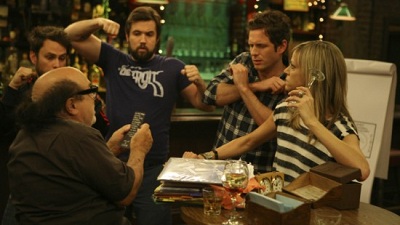 #3 - Chardee MacDennis: The Game of Games 8.36
Season 7 - Episode 7
The gang plays the most twisted board game ever. Dee and Dennis face Mac, Charlie and Frank.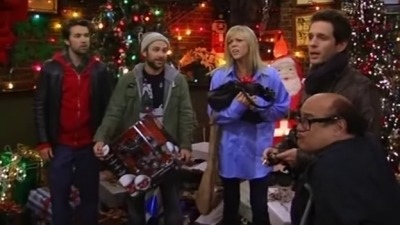 #4 - A Very Sunny Christmas 8.30
Season 6 - Episode 13
After years of being mistreated by Frank during the holiday season, Dennis and Dee decide to teach him a lesson. Meanwhile, Mac and Charlie reflect on their childhood Christmases, and realize that they were not as joyous and wonderful as they remembered.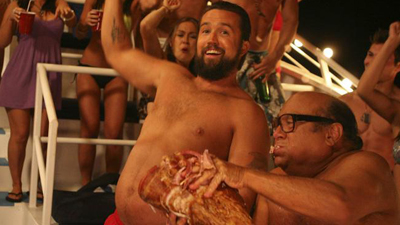 #5 - The Gang Goes to the Jersey Shore 8.28
Season 7 - Episode 2
Dee and Dennis take the gang to their favorite childhood vacation spot where things aren't quite how they remember. While Dee and Dennis see the seedy side of the Jersey Shore, Mac, Frank and Charlie have the nights of their lives.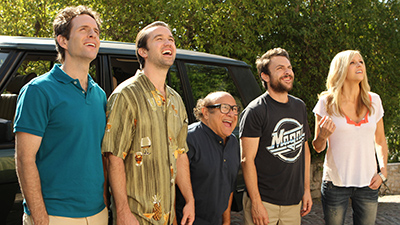 #6 - Charlie and Dee Find Love 8.28
Season 8 - Episode 4
Charlie and Dee become romantically involved with two members of a wealthy family, which arouses jealousy in Mac, Dennis, and Frank.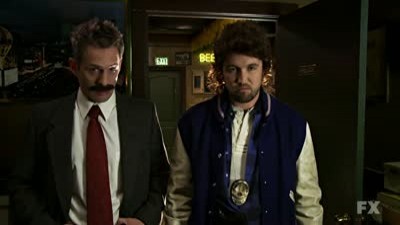 #7 - Dee Reynolds: Shaping America's Youth 8.27
Season 6 - Episode 9
Motivated by the drama teacher who inspired her, Dee takes a job as a substitute teacher, and exposes her students to the culture of Paddy's with a field trip to see the Gang's take on the Lethal Weapon series: Lethal Weapon 5.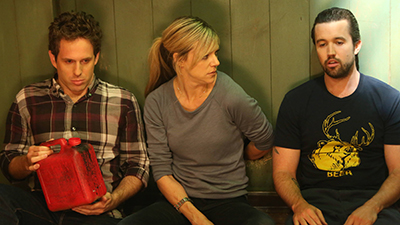 #8 - Flowers for Charlie 8.27
Season 9 - Episode 8
When an experiment successfully multiplies Charlie's intellect and takes him away from the bar, the rest of the gang find themselves struggling to complete the menial "Charlie Work" that has kept the bar running for so long.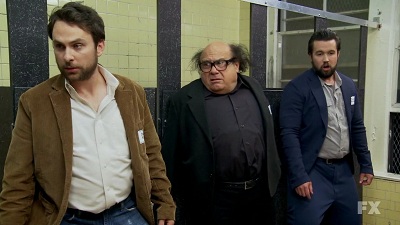 #9 - The Gang's Revenge (2) 8.27
Season 7 - Episode 13
The gang come up with a new plan to buff their tarnished high-school reputations at their reunion.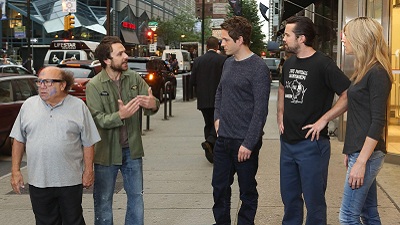 #10 - The Gang Tries Desperately to Win an Award 8.26
Season 9 - Episode 3
Tired of failing to be recognized for their years of service in the bar industry, the gang changes their ways to give the patrons what they think they want.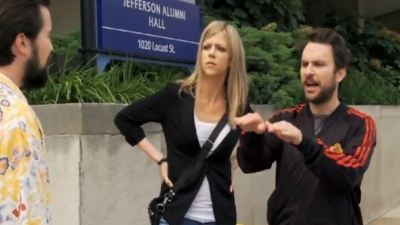 #11 - Thunder Gun Express 8.26
Season 7 - Episode 11
Traffic problems as a result of the President's visit to Philadelphia makes it difficult for the gang to see the summer's biggest film, "Thunder Gun Express".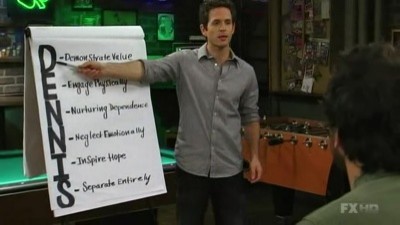 #12 - The D.E.N.N.I.S. System 8.25
Season 5 - Episode 10
Dennis reveals his foolproof system for seducing any woman to the rest of the gang, but they don't grasp the concept.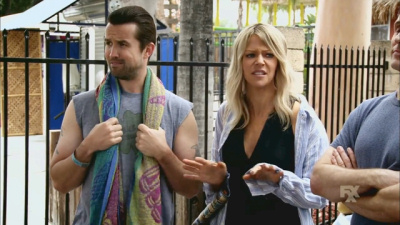 #13 - The Gang Goes to a Water Park 8.23
Season 12 - Episode 2
The gang takes a trip to a local water park, ripe with personal agendas and ulterior motives. Dennis feeds off his mantra of "the park provides" and takes on a protégé. Frank and Charlie are determined to ride every ride by any means necessary and Mac and Dee get stuck in a tube slide for most of the day.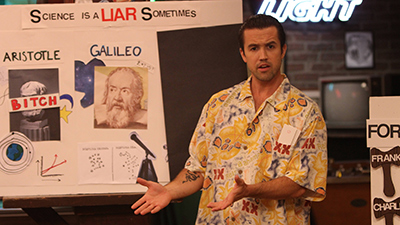 #14 - Reynolds vs. Reynolds: The Cereal Defense 8.23
Season 8 - Episode 10
Court is in session at Paddy's Pub as Frank and Dennis present their cases to the rest of the gang, resulting in a verdict that will change their lives FOREVER... but not really.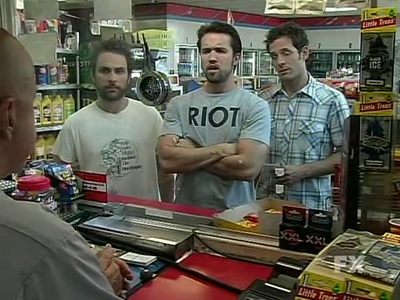 #15 - The Gang Solves the Gas Crisis 8.23
Season 4 - Episode 2
Charlie, Mac, and Dennis formulate a plan to take advantage of the rising gas prices. By purchasing excess amounts now, they can sell it in the future and profit. As usual, things don't go as planned. Dee is also out to make money when she learns that Bruce is going to give the family fortune to a Muslim cultural center. She and Frank try to stop him and get the cash for themselves.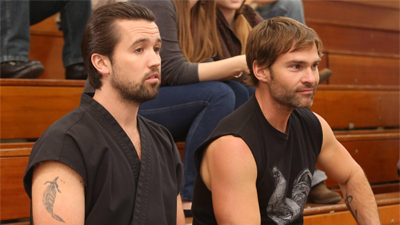 #16 - Mac Day 8.22
Season 9 - Episode 5
Everyone in the gang gets a day to do what they want while everyone else in the gang must participate willingly. This is Mac's Day... and its got twice the "Mac".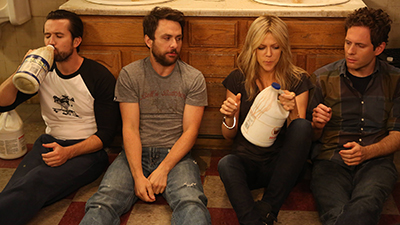 #17 - The Gang Gets Quarantined 8.22
Season 9 - Episode 7
When a severe flu outbreak sweeps through Philadelphia, the gang chooses to voluntarily quarantine themselves inside of Paddy's in an attempt to keep their singing voices pristine for an upcoming singing competition.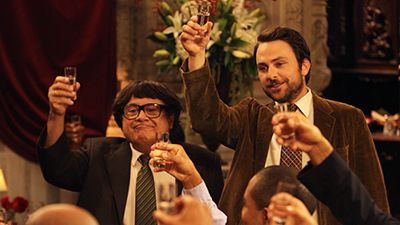 #18 - The Gang Dines Out 8.22
Season 8 - Episode 9
Every member of The Gang has something to celebrate at Guigino's, Philly's finest eatery, but when Mac and Dennis' private dinner is interrupted by an unexpected sighting of Frank and Charlie, the in-fighting begins. Dee also turns up at a table for one, and over the course of the night, the "one-ups-manship" soars to new heights.
#19 - Charlie Kelly: King of the Rats 8.22
Season 6 - Episode 10
Keeping the basement rodent-free drives Charlie to the brink. The gang throws Charlie a surprise party.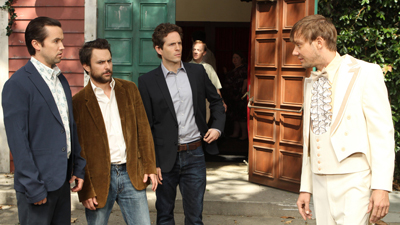 #20 - The Maureen Ponderosa Wedding Massacre 8.20
Season 8 - Episode 3
The gang make a disturbing discovery after crashing Maureen's wedding.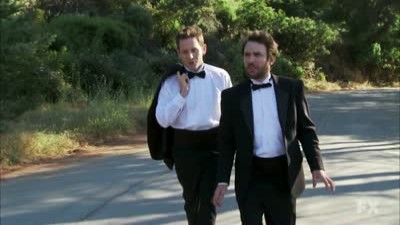 #21 - The Gang Gets Stranded in the Woods 8.19
Season 6 - Episode 11
En route to Atlantic City for a charity event, Mac, Frank and Dee get lost. Meanwhile, Dennis and Charlie hitch a ride to town.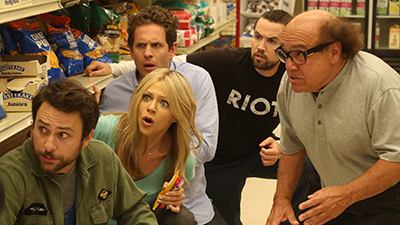 #22 - The Gang Saves the Day 8.19
Season 9 - Episode 6
When a routine trip to a convenience store places the gang in the middle of an armed robbery, each of them is forced to explore how they react in extreme situations.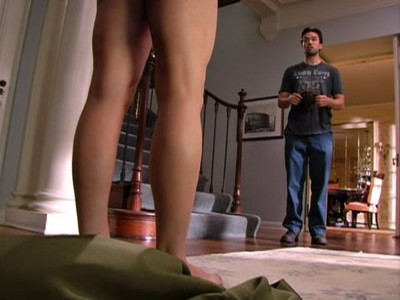 #23 - Mac Bangs Dennis' Mom 8.19
Season 2 - Episode 4
Barbara hooks up with Mac to make Frank jealous, which leads to retaliation from Dennis.
#24 - Frank's Pretty Woman 8.19
Season 7 - Episode 1
With Frank intent on marrying a prostitute, The Gang tries to make the best of it by attempting an image makeover to uncover the heart of gold that exists deep inside Frank's "pretty woman."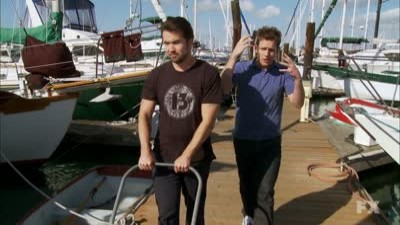 #25 - The Gang Buys a Boat 8.17
Season 6 - Episode 3
The gang attempts to find adventure on the sea after they purchase their 'new' boat.