In Plain Sight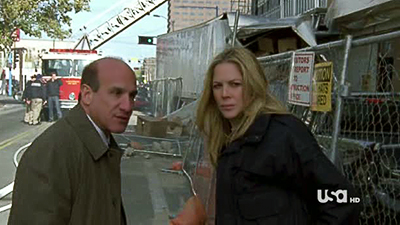 #1 - Rubble with a Cause 8.73
Season 2 - Episode 4
A building collapses on one of Mary's witnesses, leaving him exposed to outside threats, so Mary has to risk her life in order to keep her witness safe.
#2 - Aguna Matatala 8.62
Season 2 - Episode 5
An Orthodox Jew enters Witness Protection, but his wife refuses to join him. The situation is made more complicated by the fact he is being pursued by a man motivated by a higher authority.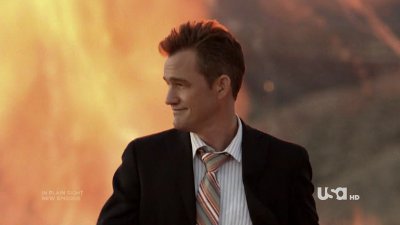 #3 - Second Crime Around 8.61
Season 4 - Episode 5
Mary works with an unapologetic con artist.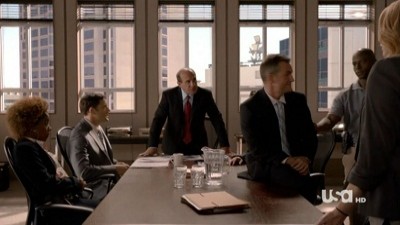 #4 - Something Borrowed, Something Blew Up 8.60
Season 4 - Episode 13
Mary must protect her least favorite witnesses on the day of her sister's wedding.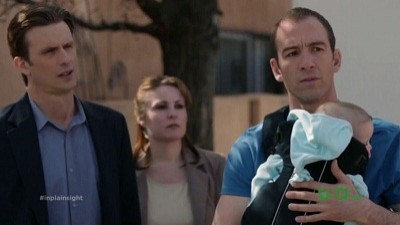 #5 - The Medal of Mary 8.57
Season 5 - Episode 6
Mary is still reeling from the flood of emotions stirred-up after having to arrest her father, James, when he unexpectedly shows up on her doorstep after being AWOL for 30 years. Bad goes to worse when Special Agent Robert O'Connor, Mary's "favorite" FBI agent, demands her assistance to get James to provide critical information regarding his old partner-in-crime, Cormack "Sully" Sullivan, one of the FBI's 10 Most Wanted.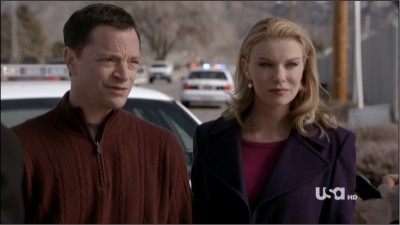 #6 - The Art of the Steal 8.45
Season 4 - Episode 1
Mary uses a thief to catch a thief when she asks a witness to consult on a crime in order to exonerate Brandi of grand theft auto.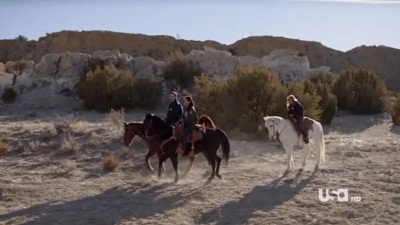 #7 - Reservations, I've Got a Few 8.42
Season 5 - Episode 3
When Marshall's witness escapes from the WITSEC offices and disappears on an Indian Reservation, Mary and Marshall will need the help of a Native American detective to track him down.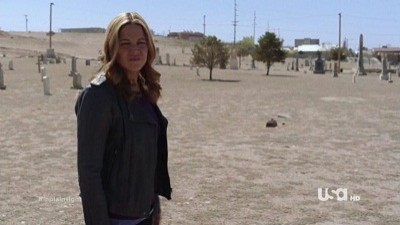 #8 - All's Well That Ends 8.40
Season 5 - Episode 8
Series Finale: Drastic changes take place at the Albuquerque WITSEC office. Mary finds herself caught between a witness and an unexpected family reunion.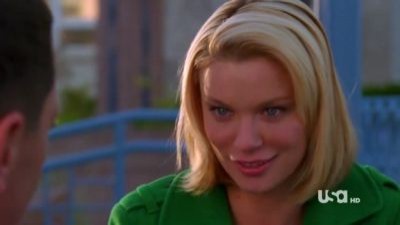 #9 - A Stand-Up Triple 8.39
Season 2 - Episode 3
A witness finds herself having difficulty in managing her own brood of children, so Mary offers to babysit the trio of problem kids.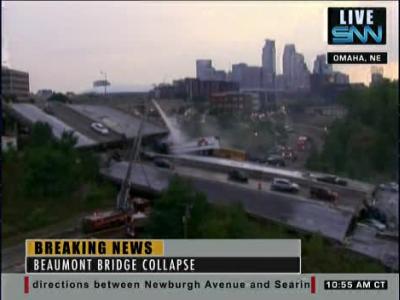 #10 - Duplicate Bridge 8.38
Season 2 - Episode 7
An engineer blamed for a bridge collapse enters the program after being targeted by angry family members of the victims who died in the tragedy.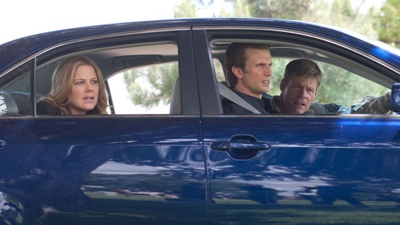 #11 - Provo-cation 8.37
Season 4 - Episode 11
Mary helps protect a guilt-ridden Army veteran; Marshall & Abigail consider the next step.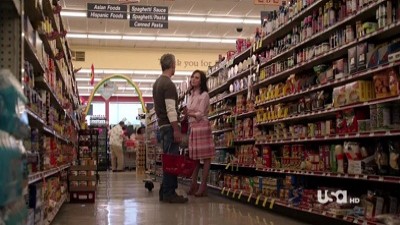 #12 - Sacrificial Lam 8.37
Season 5 - Episode 7
Having slipped through the fingers of the FBI, James Shannon is on the run again and heading for the border, but first he must stop to take care of a little unfinished business. Agent O'Connor, convinced that she was somehow involved in James' escape, places Mary under investigation, but when he refuses to listen to her suggestions about the possible whereabouts of her father.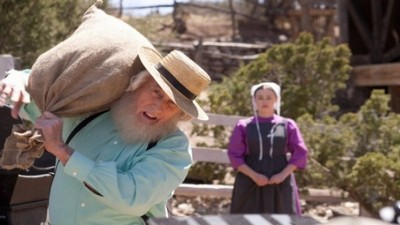 #13 - Something's A-mish 8.34
Season 4 - Episode 6
An Amish witness comes into the program and must learn to adapt.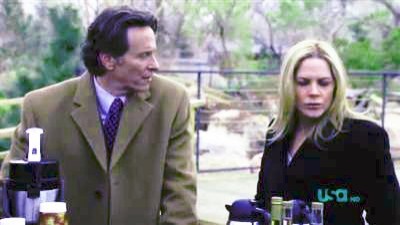 #14 - Whistle Stop 8.33
Season 3 - Episode 4
Mary and Marshall try to help FBI Agent Mike Faber convince his informant to enter WITSEC. Despite their best efforts, the informant refuses their protection and gets himself into a heap of trouble. After Mary, Marshall and Agent Faber save the informant from certain death, he and his family join Witsec.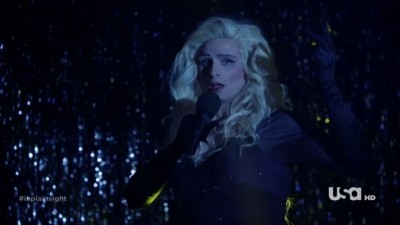 #15 - Drag Me to Hell 8.24
Season 5 - Episode 5
Even with Joanna babysitting Norah and Brandi addressing her alcohol problems in rehab, things are still chaotic in Mary's life. Douglas Hampton/Harvey, a drag performer, joins the program after accidentally interrupting a drug deal between a club manager and a member of a dangerous drug cartel. The team tells Douglas that he must leave Kandy and his performance act behind, but the frustration of his new life sends him back onto the stage and into the spotlight.
#16 - Who's Bugging Mary? 8.24
Season 2 - Episode 9
FBI agent O'Connor arrests Brandi on charges of drug trafficking and murder. Insisting her sister is innocent, Mary works to help Brandi while ultimately trying to discover O'Connor's real motive for his actions.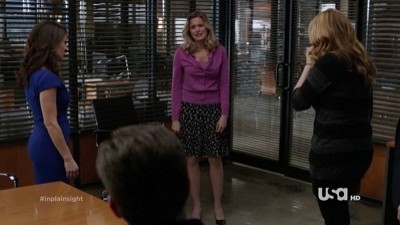 #17 - The Merry Wives of WITSEC 8.24
Season 5 - Episode 4
Mary protects a bigamist not only from his former employer, but also his two wives. In WITSEC, cheating the black market can be dangerous; but cheating on multiple wives is a death sentence.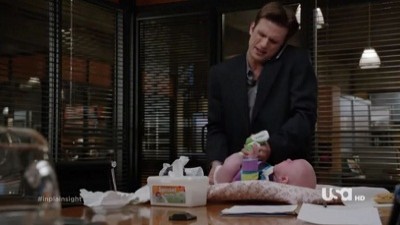 #18 - Four Marshals and a Baby 8.22
Season 5 - Episode 2
With Jinx out of town and Mark busy with a last minute business trip, Mary has no choice but to head to work with Norah in tow. But when Mary arrives, Delia points out the obvious: Mary can't be with Norah and a witness at the same time. Meanwhile, Marshall and Abigail are trying to determine whether or not Kristi Owens should enter WITSEC and Associate Director Campbell gives Stan some surprising news about the future of the Albuquerque office.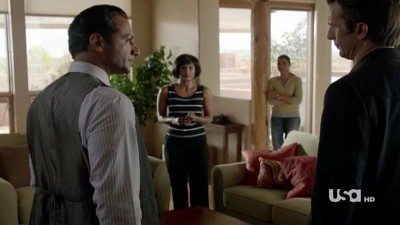 #19 - Kumar vs. Kumar 8.21
Season 4 - Episode 8
Mary plays marriage councilor in order to mediate a WITSEC divorce. Not only must she reconcile a stubborn witness, but also thousands of years of Hindu tradition, in order to save the case and keep a family out of danger.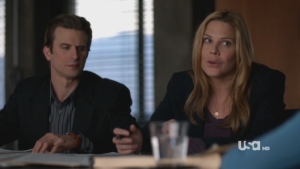 #20 - Her Days Are Numbered 8.19
Season 3 - Episode 10
A witness with Aspergers who has no social filter and can't lie stymies Mary, particularly when the witness refuses to testify against her only friend – the key conspirator in a numbers case. Meanwhile, Marshall and Stan race to figure out why an Immigration and Customs Enforcement agent is holding up the visa of a key witness before she is deported. Plus, Brandi reveals her plan for the money she made by investing with Scott.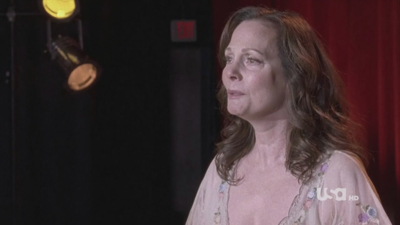 #21 - Stan by Me 8.19
Season 1 - Episode 11
After watching her mother audition for "Sweet Charity" Mary is kidnapped; in New Jersey, Brandi's boyfriend Chuck is abducted and two FBI agents are killed; when federal agents suspect a connection, a nationwide manhunt ensues.
#22 - When Mary Met Marshall 8.17
Season 3 - Episode 2
In 2003 Mary meets Marshall for the first time as they get lovers CLAUDIA TOBIN and HENRY DOER into the WitSec program, and it's a toss-up whose relationship is going to last: Claudia and Henry's, or Mary and Marshall's.
#23 - In My Humboldt Opinion 8.16
Season 2 - Episode 2
A northern California marijuana mastermind cannot testify without using the drug to neutralize his anxiety disorder.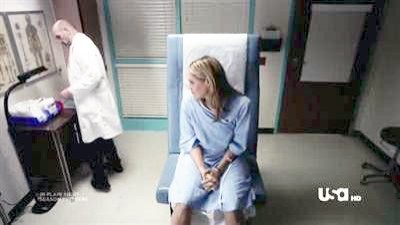 #24 - Father Goes West 8.15
Season 3 - Episode 1
A former high line thief from Boston tries to give up crime for the sake of his teenage son, and Mary and Marshall search for the person who nearly killed Mary.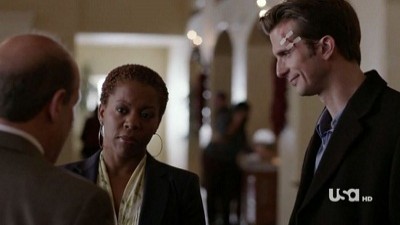 #25 - The Anti-Social Network 8.15
Season 5 - Episode 1
Mary sees whether she can balance motherhood with a demanding profession and a dysfunctional home life, or if she will put her baby up for adoption.