iCarly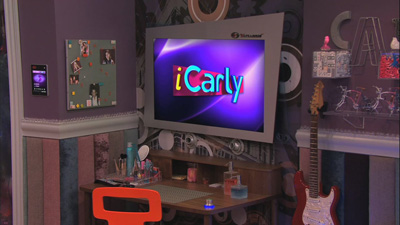 #1 - iGot A Hot Room 8.81
Season 4 - Episode 1
Spencer tries to give Carly the best birthday ever. He lets Gibby's grandfather cut his hair and Spencer makes Carly a gummy bear lamp. Everything thing goes bad after a gummy bear lamp Spencer made catches Carly's room on fire. Spencer then finds out that his relative's watch that Carly had was destroyed and was worth $82,000. Spencer convinces Carly to get a part-time job at the Groovy Smoothie while he, Freddie, Sam, and a working crew put together an amazing new room to Carly's surprise.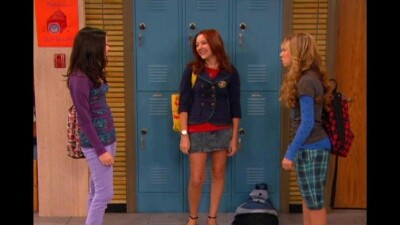 #2 - iReunite With Missy
Season 2 - Episode 20
Carly's old friend Missy Robinson returns to Seattle and tries to become Carly's only best friend and replace Sam because she was Carly's best friend first. Sam was given expired chocolate by Missy, and she destroyed Sam's cell phone, and in addition, Missy texted Sam the wrong address to a helicopter base, that she intended to go on with Missy, and Carly. Missy's actions are claimed "accidental", however Sam realizes what Missy is trying to do, but no one believes her as they think Sam is being "her usual paranoid self", because she was being paranoid when she thought Lewbert was an undercover cop, because she thought his giant wart was a spy cam and thought Gibby was a mermaid because he doesn't like wearing shirts. Missy confesses to Sam, but since no one will believe her, she is forced to ask Freddie for help, so when Freddie wins a six month cruise, he gives it to Missy so she will go away. Shortly after Missy is awarded with the cruise, Carly discovers Missy's plans to destroy her and Sam's friendship. Meanwhile, while packing for a camping trip, Spencer is locked in the basement by a psychotic boy, Chuck, seeking revenge from Spencer for telling on him and getting him grounded in the episode "iHurt Lewbert". Chuck is eventually caught at the end of the episode and is grounded by his father.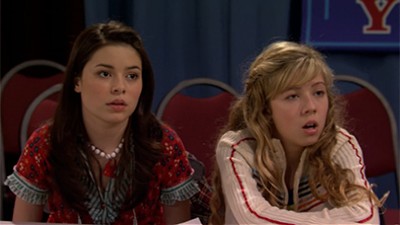 #3 - iPilot 7.92
Season 1 - Episode 1
Carly's teacher, Ms. Briggs puts her in charge of the school talent show. After Freddie uploads the auditions, hosted by Carly and Sam, to the Internet, it becomes a huge sensation. So Carly and her friends decide to create a weekly variety show.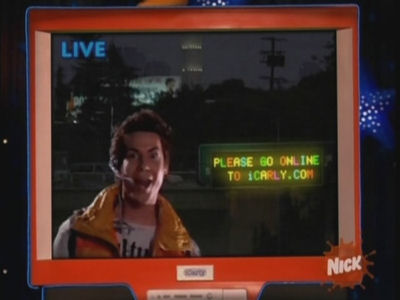 #4 - iWant More Viewers 8.07
Season 1 - Episode 2
It's Carly and Sam versus Freddie and Spencer in the ultimate competition to see who can attract more viewers to the show. Things go crazy when they carry out their plans.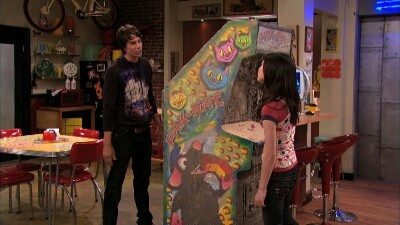 #5 - iStage an Intervention 8.11
Season 2 - Episode 2
Spencer finds a Pak-Rat video game cabinet in a junkyard and becomes addicted to it, whilst procrastinating on a commissioned Labradoodle sculpture. To curb his addiction, Carly brings Sasha Striker, the top Pak-Rat player in the world, to compete against Spencer to defend her title as the world champion of Pak-Rat. Meanwhile, Freddie experiences a streak of "bad luck" after deleting and not forwarding a chain email, passing it off as a superstition.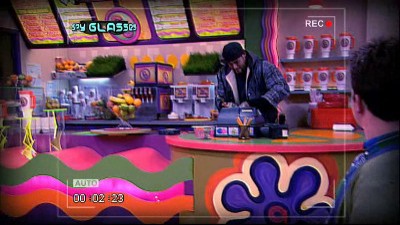 #6 - iSam's Mom 8.21
Season 4 - Episode 2
Sam moves in with Carly after fighting with her mother; Freddie is stalked by a dangerous criminal.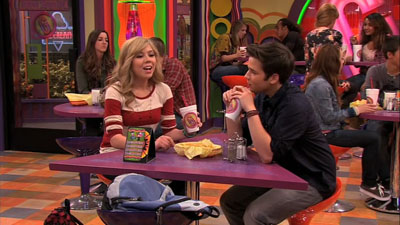 #7 - iDate Sam & Freddie
Season 5 - Episode 2
Carly settles a disagreement between Sam and Freddie, and soon they rely on her to play peacemaker.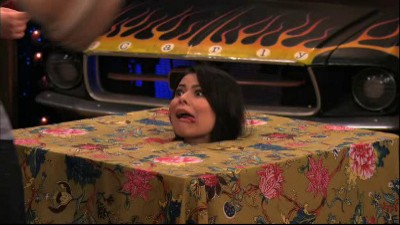 #8 - iGet Pranky 8.47
Season 4 - Episode 3
After Carly recruits Spencer to help her prank Sam and Freddie, Spencer can not stop pulling pranks.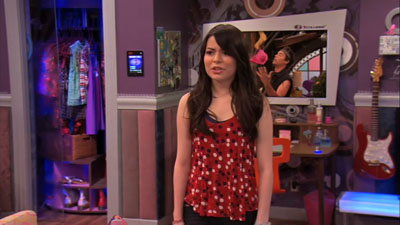 #9 - iCan't Take It 8.14
Season 5 - Episode 3
Gibby wants to sabotage Sam and Freddie's romance, and Carly is torn about whether to help him.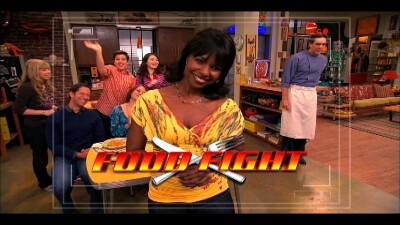 #10 - iCook 7.81
Season 3 - Episode 2
On iCarly, Sam and Freddie show their viewers how to make "Spaghetti Tacos". Food TV enjoyed their presentation, and called their apartment to tell them that they were going to be interviewed. During the interview, "Ricky Flame" comes in and challenges them to a "Food Fight", a parody of the real Throwdown! with Bobby Flay, competing over who can make the best Spaghetti Tacos. When the iCarly gang wins, Ricky is crushed, and quits cooking forever. The iCarly gang try to cheer him up by tempting him with cooking, but his head falls in the salad. Later, he sends them a video, telling them to meet him at the wrestling ring. When they get there, Ricky is wrestling little kids because he figured out that he doesn't like to cook, but he likes to win, and when he's fighting kids, there's no way he can lose. Then Sam brings him down, and the show ends. Meanwhile, Spencer has a vision of the future, that he will hug a character from Galaxy Wars when he is shocked by Sam's new 100 volt locker security system and goes to great measures to make sure it comes true.
#11 - iSpeed Date
Season 3 - Episode 3
When Carly has trouble finding a date to a dance, Sam asks for Seattle-area boys to apply to be her date. When the gang is overwhelmed by the amount of boys who show up, they hold a speed-dating session. Meanwhile, Carly convinces Sam to ask Gibby to the dance since no one else did, but Sam becomes enraged when Gibby turns her down. Carly finally finds a boy, whom after the dance, she dumps for being so talkative. In the end, Carly and Freddie share a dance together at the Groovy Smoothie, which Sam walks in on. Upon seeing them, she silently leaves.
#12 - iOwe You 7.98
Season 2 - Episode 3
Sam owes Carly and Freddie $526, so she gets a job to earn the money, and pay them back. Carly, Sam, and Freddie make a broadcast on iCarly to all their fans to donate money to Sam. However, they find out its illegal to solicit money over the internet. Meanwhile Spencer tries to impress an attractive single mom by helping her daughter sell fudge balls, an equivalent to Girl Scout cookies, but two scouts stole Spencer's place at the market. Spencer comes up with the idea to send every iCarly fan who sent them money to send them fudge balls. Carly and Freddie then hire someone to give the money they earned to Sam in a tip. At the end, everyone enjoys what Sam got with her money except Spencer.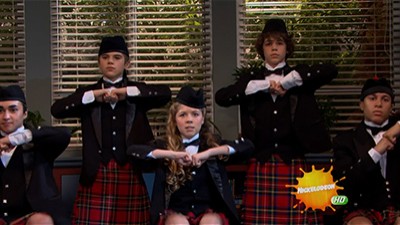 #13 - iDream of Dance 7.97
Season 1 - Episode 3
Carly and Sam get inspiration to dance from dance videos sent by fans of their web show. Carly struts her stuff in a dream with her charming partner.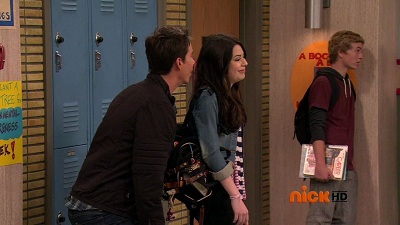 #14 - iLove You
Season 5 - Episode 4
Carly suggests that Sam and Freddie try each other's favorite hobbies; Spencer asks his former babysitter to dinner. Also, Sam and Freddie go see her Uncle Carmine and his friend, Chaz, in prison. Chaz threatens Freddie so Sam and Freddie must come to terms with their relationship.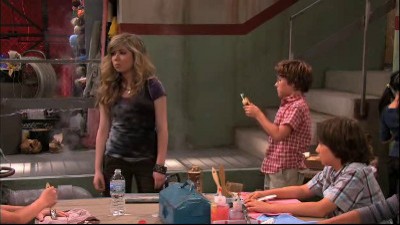 #15 - iSell Penny-Tees 7.80
Season 4 - Episode 4
When the gang goes into business selling penny T-shirts, Sam recruits children in fourth grade to help make them.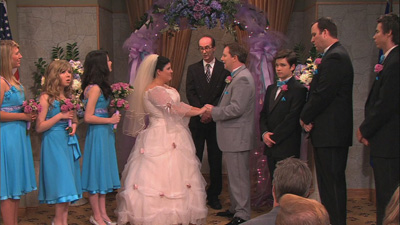 #16 - iDo 8.04
Season 4 - Episode 5
An iCarly fan proposes to his girlfriend live on the web show; Carly must come to the rescue when a bride gets cold feet.
#17 - iFind Lewbert's Lost Love 8.22
Season 3 - Episode 6
After a prank on Lewbert Sam loses her phone in his office, when her and Freddie get it back Sam steals a personal box from Lewbert's office. Sam, Freddie and Carly look through it, only to find some interesting stuff about Lewbert, biggest him having had a girlfriend. Getting an Idea they set out to reunite him with her so he can be happy and leave them alone, only to find out Lewbert doesn't exactly "like" her. Meanwhile after a rash of robberies Ms. Benson signs Spencer up to a watch group with a little pest from his past.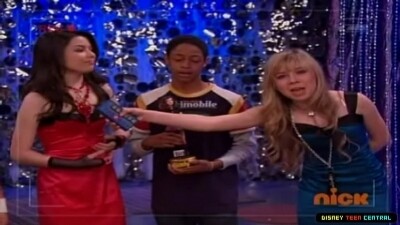 #18 - iCarly Awards 7.88
Season 3 - Episode 4
Carly, Sam and Freddie present iCarly awards for best user-generated content; Spencer enlists the help of European swimsuit models to make statuettes.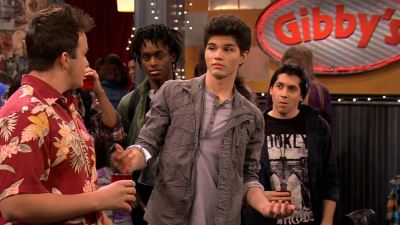 #19 - iOpen a Restaurant
Season 6 - Episode 3
After their computer and TV have been stolen, Spencer starts developing a security robot. At first, he builds one that blinds intruders, but takes it apart after it blinds Carly. He then makes one that shoots corn at intruders, but it malfunctions and attacks Carly, Freddie and Spencer. They try to have it focus on Mrs. Benson and unplug it, but Spencer doesn't manage to pull the plug out of the outlet before the machine runs out of corn, so Mrs. Benson is heavily pelted with corn. Meanwhile, Sam and Gibby open a secret restaurant named Gibby's in the basement at school. Bully Billy Boots, who just got out of juvie, harasses and irritates Gibby. Sam tries to diffuse the situation by sending Gibby to go on a walk and trying to talk to Billy, but when Gibby returns later, Billy attacks him and Sam beats up Billy with a Butter sock. The next day, Billy tells Mr. Howard about the restaurant and hopes it gets shut down. Even though Principal Franklin, one of Gibby's customers himself, agrees that the restaurant violates school rules, he allows Sam and Gibby to keep running it in secret as soon as Mr. Howard is out of earshot.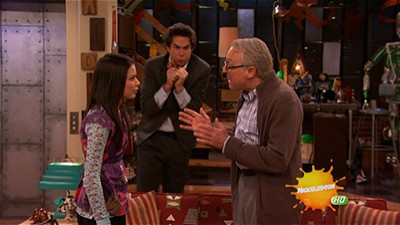 #20 - iWanna Stay With Spencer
Season 1 - Episode 5
Carly's grandfather comes for a visit and is appalled by Spencer's unusual behavior, so he questions Spencer's ability to be in charge. Carly must convince him that Spencer is capable of being her guardian.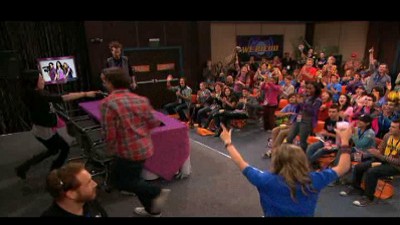 #21 - iStart a Fan War (1) 7.47
Season 4 - Episode 6
Carly, Sam, Freddie, and Spencer finally get to attend a Webicon. However when they arrive, Spencer meets an old nemesis, and the web-hostesses find themselves caught in a heated rumor over which of the two girls are dating Freddie.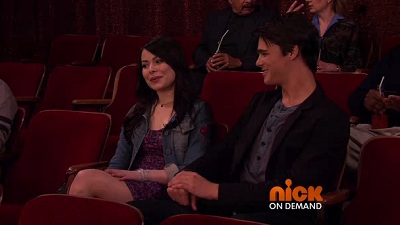 #22 - iQ
Season 5 - Episode 5
Carly pretends to be very brainy to score points with her new boyfriend. Meanwhile, T-Bo needs to find a new home after he's evicted from the Groovy Smoothie.
#23 - iHurt Lewbert 8.14
Season 2 - Episode 4
Lewbert, Carly's doorman, is injured during an exploding muffin basket prank. Spencer suggests that Carly, Sam, and Freddie help him until he's back on his feet, but it is more easily said than done. When Freddie's mother takes over, she makes it look easy, but leaves the group extremely concerned. Freddie's mother and Lewbert fall in love. Meanwhile, while using a CB radio, Spencer upsets two truckers nicknamed Porkchop and Sledgehammer.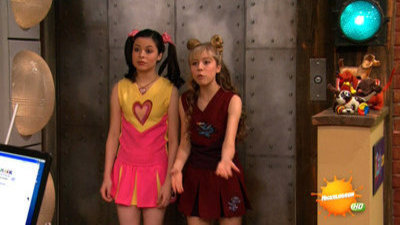 #24 - iGo To Japan (1)
Season 2 - Episode 5
Carly, Sam, Freddie, and Spencer travel to Japan after the show is nominated for a prestigious iWeb award. However, the residents of Japan sabotage the gang and its up to Carly to stop them. They were asked to be kidnapped by the competing web show cast.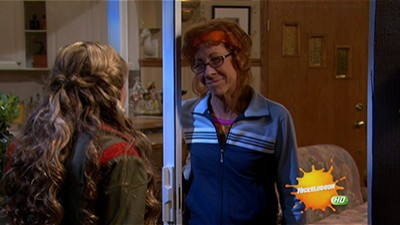 #25 - iSpy a Mean Teacher 8.05
Season 1 - Episode 8
The topic for the next iCarly webcast is figuring out what mean teachers do outside of school. When Carly and Freddie follow Ms. Briggs home, they get stuck inside her house.