I Love Lucy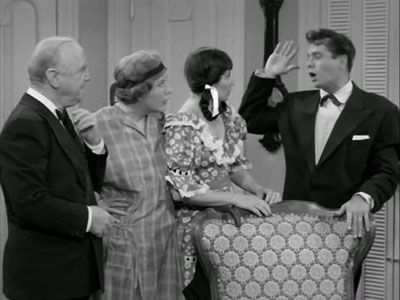 #1 - The Girls Want to Go to a Nightclub 8.14
Season 1 - Episode 1
It's the Mertzes' eighteenth wedding anniversary. Ethel longs to celebrate it by going to the Copacabana, while Fred wants to attend the fights. As can be guessed, an argument soon ensues among the couples. Ethel and Lucy decide that they will go to the club-with dates! Now, this is perfectly fine with Fred, but Ricky is worried. So he and Fred call an old friend, Ginny Jones, for dates so that they can go to the nightclub and spy on their wives. Coincidentally, Lucy and Ethel have also called Ginny about getting dates to go to the club. When Ginny tells the girls about the boys' plans, Lucy decides that she and Ethel will impersonate the boys' blind dates. Thus, the two of them enter the Ricardo apartment decked out like country bumpkins, which makes for some superb Lucille Ball schtick.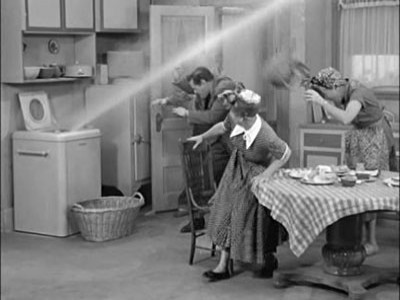 #2 - Never Do Business with Friends
Season 2 - Episode 31
The Ricardos sell their old washing machine to the Mertzes for $35. When it breaks down the next day, the Mertzes want out of the deal. A tug-of-war ensues, however, when the Mertzes want the machine back after a repairman offers them $50 for it.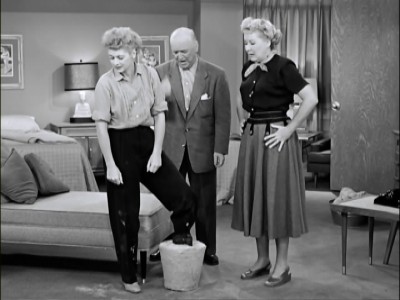 #3 - Lucy Visits Grauman's
Season 5 - Episode 1
With only a week left in Hollywood, Lucy weeps about her lack of souvenirs. Her collection already includes a tin can run over by Cary Grant's rear tire, a napkin boasting Lana Turner's lip-prints, and a few other goodies. But when Lucy discovers that John Wayne's concrete block at Grauman's Chinese Theatre is loose, she decides to take home a souvenir to end all souvenirs.
#4 - Ricky's 'Life' Story
Season 3 - Episode 1
Lucy is upset because a 'Life' magazine feature on Ricky's home life didn't include a picture of her.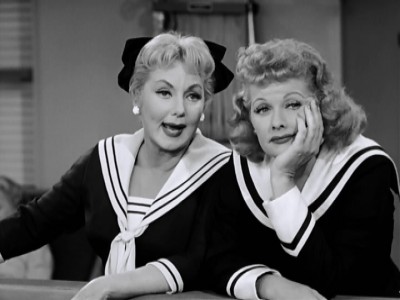 #5 - Lucy Takes a Cruise to Havana 7.80
Season 7 - Episode 1
Newspaper columnist Hedda Hopper comes to the Ricardos' home in Connecticut to interview them about how they met. They then weave the tale about how Lucy and her best friend, Susie MacNamara, went on a cruise to Havana and Ricky and Rudy Vallee caught their eye. After much adventure, Lucy and Susie must figure out a way to get Ricky and Rudy to America.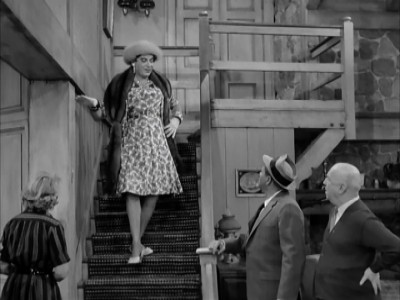 #6 - Milton Berle Hides Out at the Ricardos
Season 9 - Episode 1
In order to get Milton Berle to perfom at a benefit at Little Ricky's school, Lucy uses Ricky's name to spark his attention. When Ricky catches her, Lucy must act in secret and decides to visit Mr. Berle's office. At the office, she overhears Milton's agent saying that Mr. Berle needs a secluded place to work on his new book. After discussion, Milton's agent suggest he write his new book at Lucy's farmhouse. Later, when Fred catches a "mysterious man" visiting Lucy while Ricky is at work, Ricky becomes furious.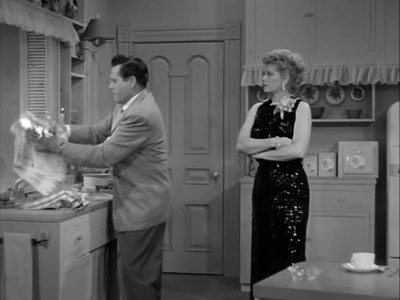 #7 - Be a Pal 7.81
Season 1 - Episode 2
In order to keep the honeymoon from ending with Ricky, Lucy consults a book that leads to all sorts of hilarious situations as Lucy tries to follow the book's advice.
#8 - The Girls Go Into Business
Season 3 - Episode 2
Lucy and Ethel are all set to go into business when they buy a new dress shop. But what to call it? Ethelu's? Lucyeth's? Unfortunately, naming the shop isn't their only problem when they are unable to sell any dresses and must sell the shop.
#9 - Lucy and John Wayne
Season 5 - Episode 2
Lucy is spotted while attempting to ""collect"" a cement block with John Wayne's footprints from Grauman's Chinese Theater. To avoid publicity and keep Lucy out of jail, Ricky enlists John Wayne's help in replacing the block. One mishap leads to another, and the plot thickens -- as does the cement. John Wayne guest-stars.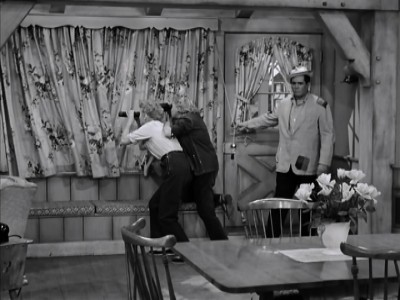 #10 - The Celebrity Next Door 7.89
Season 7 - Episode 2
Lucy and Ethel find out they have a new next-door neighbor moving in. When she comes to use their telephone, they find it's none other than Tallulah Bankhead, prolific stage and film actress. Suddenly, Lucy realizes this means she has a chance at getting Bankhead to appear at her local PTA benefit. To impress the star, she invites her to dinner, conning the Mertzes into posing as her hired help. The meal and a series of meetings after it, creates a riff between Ms. Bankhead and Lucy. With this riff, who will perform at the PTA benefit?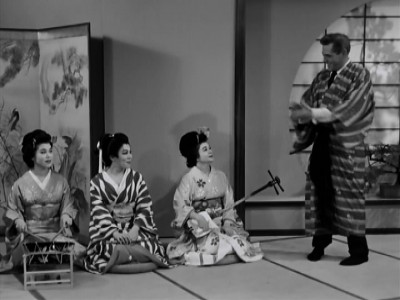 #11 - The Ricardos Go to Japan 7.57
Season 9 - Episode 2
Ricky's band is scheduled to perform in Tokyo, Japan and when they get settled, they meet Bob Cummings. Lucy, from her mother's suggestion, wants to get some new genuine pearls in Japan. Bob Cummings, who end up rooming next to the Ricardos has pearls, so Lucy and Ethel sneak into Fred's money belt while he's asleep and snag some cash. While planning to pay it back to Fred when they get back, Lucy and Ethel buy the pearls, but they end up not being able to afford them. They need to hatch a plan to give the pearls back to Mr. Cummings.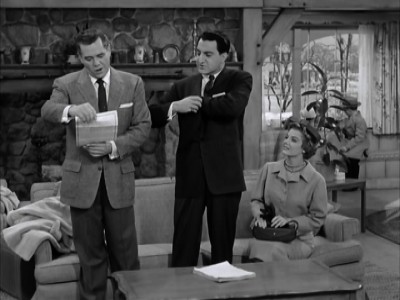 #12 - Lucy Makes Room for Danny
Season 8 - Episode 2
The Ricardos prepare to go out of town for two months and decided to rent their home out to Danny Williams and his family. But when their plans fall through, Lucy and Ricky are forced to move in with Fred and Ethel in their guest house! Lucy, however, drives Danny crazy with her constant visits, and things get a bit out of hand. Danny Thomas, Marjorie Lord and Gale Gordon guest star.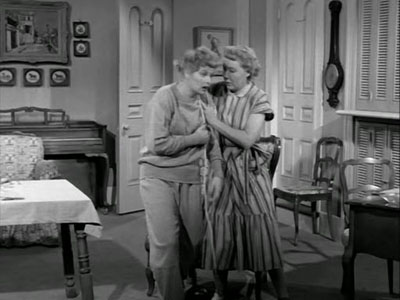 #13 - The Diet 8.29
Season 1 - Episode 3
To her dismay, Lucy finds out that she's put on 22 pounds since marrying Ricky. Complications arise when one of the girls in Ricky's new show quits, making a vacancy for a dancer who can wear a size twelve costume. At the auditions the next morning, Lucy tricks Ricky into saying that if she loses enough weight (12 pounds) in four days, then she can be in the show. Thus, she starves and exercises, with Ethel as her coach. In one funny scene, she tries to steal food from the Mertzes' dog Butch, because she is so hungry! She finally resorts to using a steam cabinet, and manages to get down to the required 120 pounds. At the end, Lucy and Ricky perform ""Cuban Pete/Sally Sweet."" She's a hit, but at the end she collapses, suffering from malnutrition.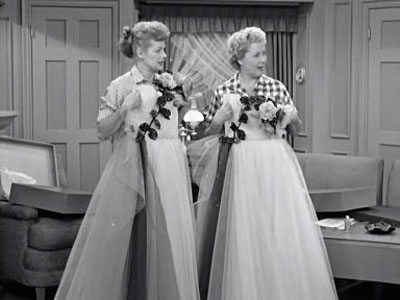 #14 - Lucy and Ethel Buy the Same Dress 8.36
Season 3 - Episode 3
Lucy and Ethel buy the same dress for the upcoming talent show for the Wednesday Afternoon Fine Arts League. True, they'll be doing a duet, and their number is Cole Porter's corny ""Friendship,"" but wearing the same dress isn't exactly what they had in mind. Meanwhile, Lucy needs to persuade Ricky to host the show, so she decides to use a little reverse psychology.
#15 - Lucy Meets Orson Welles
Season 6 - Episode 3
Lucy tries to get in a skit with Orson Welles at Ricky's club, thinking it is a Shakespearean play that he will be doing. When Orson Welles tells Lucy she can be in the show, she calls her old high school drama teacher to tell her the news. Lucy's old teacher sends her whole drama class to Club Babalu to see Lucy perform. But poor Lucy! It turns out Welles only wanted her to be his assistant for a magic trick.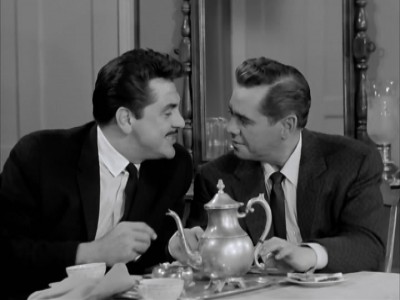 #16 - Lucy Meets the Moustache
Season 9 - Episode 3
Ricky is depressed because he hasn't gotten any movie or television offers lately. Lucy wants to cheer him up, and remembers that Ernie Kovacs and his wife, Edie Adams, live nearby -- and they have their own television show. Lucy invites them to dinner, and Ernie ends up inviting Ricky to appear on his TV show. Little Ricky, that is. When Lucy tries to remedy the situation, trouble ensues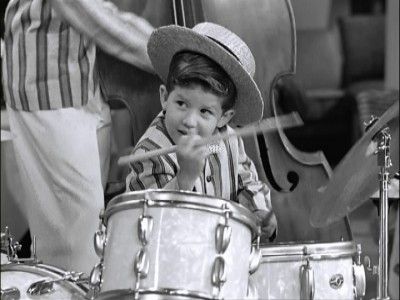 #17 - Little Ricky Gets Stage Fright
Season 6 - Episode 4
Little Ricky is scheduled to play the drums in a children's orchestra. Although his parents and their friends the Mertzes are overcome with nervousness, Little Ricky seems calm until his big moment arrives; then he goes to pieces. His next performance is six months away, but Lucy feels she must do something about his stage fright now. Howard McNear, who played Floyd the barber in ""The Andy Griffith Show,"" guest-stars.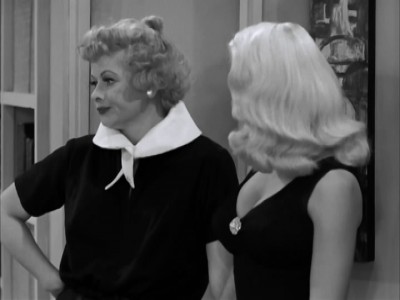 #18 - Lucy Wants a Career 7.75
Season 8 - Episode 4
Lucy gets tired of the same old daily routines that being a housewife has to offer, so she decides to get a job. While looking in the newspaper, she finds out that Paul Douglas is looking for a female assistant (a "Girl Friday"). Lucy lands the job; but on the first day, as usual, goofs up. However, the public thinks her blunders are scripted (and funny) and want more. She is signed into a contract with the show, but has mixed feelings when she begins to miss her family.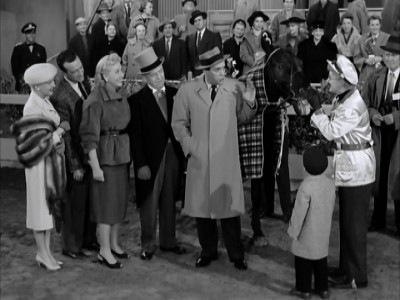 #19 - Lucy Wins a Race Horse 7.78
Season 7 - Episode 4
Lucy pesters Ricky about getting a horse for Little Ricky but he refuses because a horse is too expensive. She ends up winning a horse after entering a contest and there's a lot of horsing around as she now has to figure out a way for Little Ricky to keep the horse without sending the family to the poor house. Harry James and Betty Grable guest star.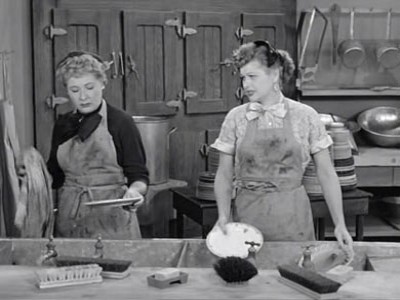 #20 - Equal Rights
Season 3 - Episode 4
Lucy and Ethel demand equal rights for women. Okay, say Ricky and Fred at the restaurant: separate checks for the four of them. Thus begins Lucy and Ethel's careers as restaurant dishwashers. So they plot revenge: they'll scare their husbands by claiming to have been robbed.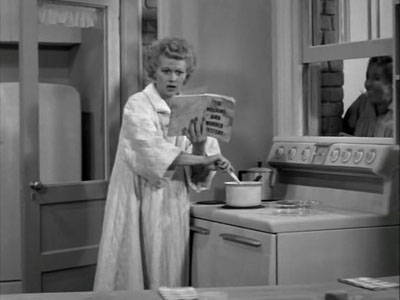 #21 - Lucy Thinks Ricky Is Trying to Murder Her
Season 1 - Episode 4
Lucy 's new whodunit and a misunderstood phone conversation work together to lead Lucy to think Ricky is trying to poison her. So with what she believes is her last burst of energy, Lucy hastens to the Tropicana to confront Ricky with a gun.
#22 - Lucy Cries Wolf
Season 4 - Episode 3
Lucy cries wolf once too often when she decides to see whether Ricky would come to her aid in an emergency. He assures her that he'd rush home from the club ""between the 'baba' and the 'lu' "" if she were in danger, but that's not enough reassurance for her, and soon she's in a precarious position.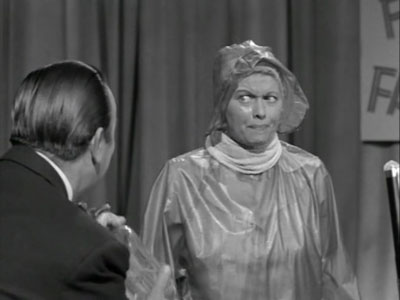 #23 - The Quiz Show
Season 1 - Episode 5
After hearing a radio quiz show, and having Ricky answer all the question correctly, Lucy manages to get herself and Ricky on the show. Little does she know that Ricky knew the answers beforehand. The show is called ""Females are Fabulous,"" a title that Lucy justifies elaborately. In this episode, Frank Nelson makes the first of many cameos as Freddy Fillmore.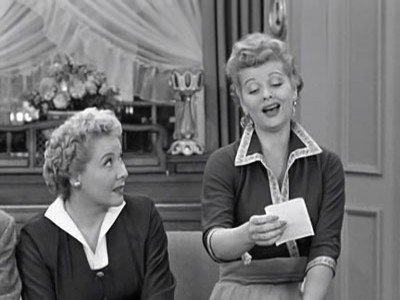 #24 - Baby Pictures
Season 3 - Episode 5
The Ricardos and the Applebys always brag to each other about their little sons. But when Lucy's and Caroline Appeby's exhanges turn hostile and sarcastic, Ricky worries that it will jeapordize a TV job that's been offered to him by Caroline's husband.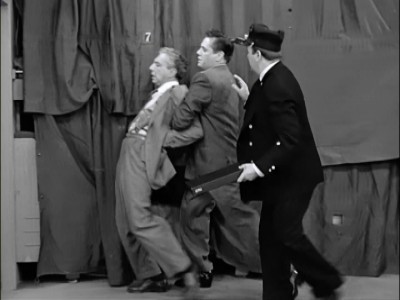 #25 - The Great Train Robbery
Season 5 - Episode 5
Lucy gets mixed up with a jewel thief on a cross-country rail trip that marks the end of the series' Hollywood sojourn. That's not the only reason it's a bumpy ride. Another is that Lucy keeps pulling the emergency-brake cord.