I Dream of Jeannie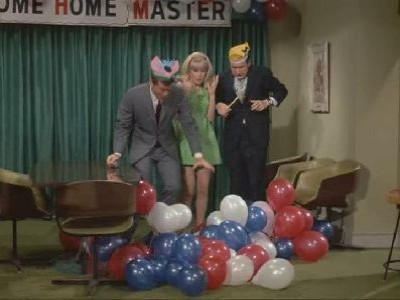 #1 - Blackmail Order Bride 9.17
Season 4 - Episode 26
After Tony refuses to give information on his private life at a press conference, an unscrupulous reporter disguises himself as a plumber to try to get information (and earn himself a Pulitzer Prize), but when he fails, he sends Tony a fake wife and kids!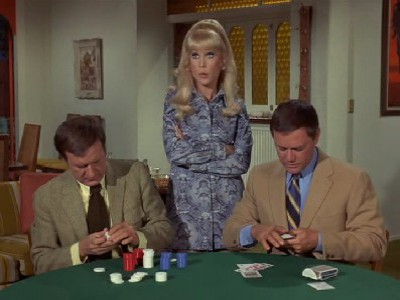 #2 - One Jeannie Beats Four of a Kind 9.14
Season 5 - Episode 25
After Tony and Roger win at poker, thanks to Jeannie, they are under suspicion of being card sharks. Worse still, the mobsters who are the real card sharks believe that Roger is a card shark too, and give him an ultimatum; win for them or take a swim in the river wearing cement shoes.
#3 - Jeannie's Beauty Cream 9.12
Season 5 - Episode 5
Jeannie gives Amanda Bellows some face cream. Mrs.Bellows applies it to her face, and is transformed into a beautiful younger woman. She is unaware of her transformation. But, Roger notices her, and like the gigalo Astronant that he is, tries to make a date with her. Mrs.Bellows is flattered, but Roger is serious. As usual the problem's are resolved by both Tony, and Jeannie at the end, leaving both Mrs. and Dr. Bellows confused.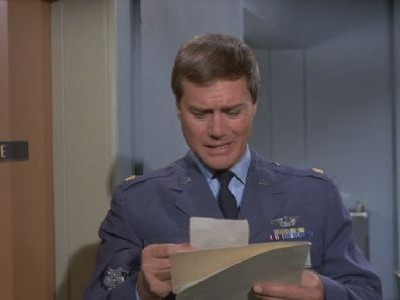 #4 - The Case of My Vanishing Master (1) 9.10
Season 4 - Episode 13
NASA, suspecting a leak, sends Tony to a secret location to finish design work on a spacecraft, while a lookalike substitute for Tony at the base and at home where he discovers Jeannie.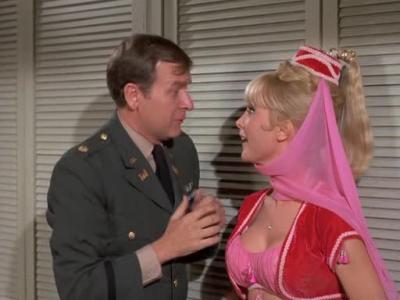 #5 - The Case of My Vanishing Master (2) 9.10
Season 4 - Episode 14
The substitute Tony blabs about Jeannie to Doctor Bellows who either finally has his answers about Major Nelson or thinks that the imposter is crazy.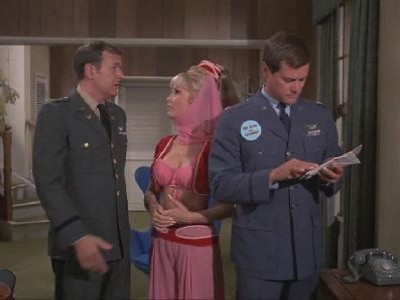 #6 - Jeannie, the Governor's Wife 9.00
Season 4 - Episode 17
Jeannie wants Tony to run for governor, with Roger's enthusiastic approval.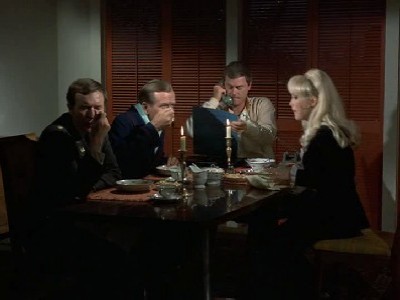 #7 - Hurricane Jeannie 9.00
Season 5 - Episode 24
A hurricane traps Tony, Jeannie, Roger and Dr. Bellows overnight in the Nelson's house. Tony dreams Dr. Bellows figures out the real truth about Jeannie and her powers.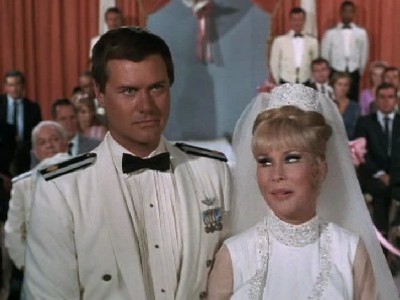 #8 - The Wedding 8.90
Season 5 - Episode 11
Jeannie and her master's wedding day arrives and NASA wants photos of the wedding. -- only genies don't photograph!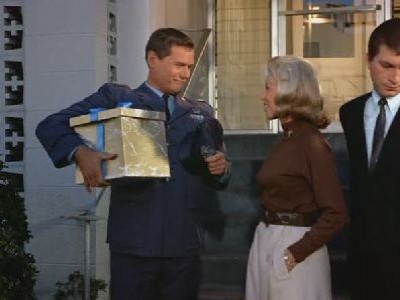 #9 - Haven't I Seen Me Someplace Before? 8.90
Season 3 - Episode 26
Its Roger's birthday and Jeannie and Tony throw a small party for him. Instead of a normal gift Jeannie decides to give Roger something he has always wanted, his very own wish. As Roger is leaving the house, Tony mentions the fact that the next day he is going on an important space flight and Roger then blurts out that he wishes that he was going on that flight and at that instant, Roger and Tony switch bodies. When Tony realizes what has happened, he and Jeannie go searching for Roger not only before he goes on the mission, but to keep Dr. Bellows from finding out what happened.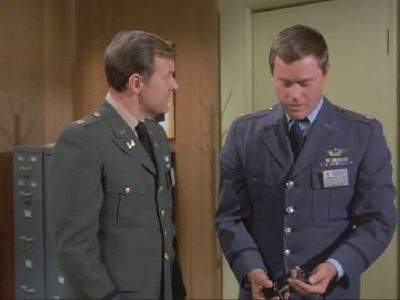 #10 - The Case of the Porcelain Puppy 8.90
Season 4 - Episode 20
Jeannie; reading a genie's magazine; has found a new spell that turns ordinary objects into porcelain. this causes Dr. Bellows and his wife to think Tony is a real artist and Tony then asks jeannie to blink up amateur works of art in his garage. Things go wrong when Djinn Djinn the dog shows up and Jeannie accidentally turns him into porcelain and now she has to find a counter spell or risk losing her dog.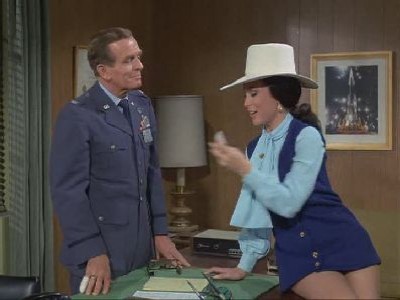 #11 - Jeannie-Go-Round 8.89
Season 4 - Episode 24
Locking Jeannie in her bottle, her wicked lookalike sister Jeannie II trails Tony to the Cocoa Beach Cabana. In her efforts to win Tony's affections, Jeannie II also replaces the nightclub's regular singer and renders a seductive ballad ("Electric Days, Electric Nights"). Alas, from this point forward everything goes wrong, with Tony being publicly embarrassed and Dr. Bellows virtually being hand-delivered enough evidence to wash Tony out of the space program!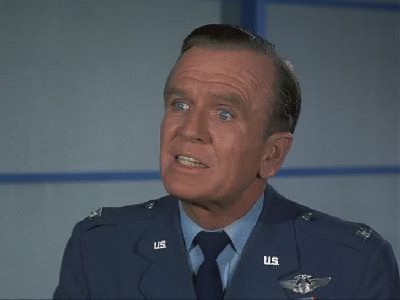 #12 - Jeannie and the Secret Weapon 8.89
Season 4 - Episode 25
Jeannie turns a top secret project into a scale model, and this model ends up getting into the hands of an amateur toy inventor.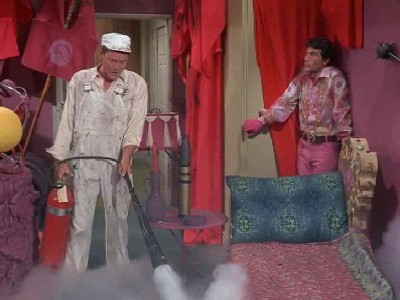 #13 - Jeannie and the Mad Home Wrecker 8.76
Season 5 - Episode 9
The Bellows' give Tony and Jeannie an early wedding present; a grotesque looking piece of artwork. That's not all, they and others chip in to hire a redecorator to redecorate their home. As it turns out, the redecorator has no taste and Jeannie ends up redecorating their home in the blink of an eye.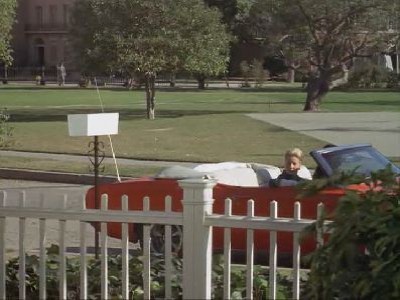 #14 - Invisible House For Sale 8.74
Season 4 - Episode 16
Following Roger's suggestion, Jeannie decides to sell the house so that Tony will have more time with her. But when Tony finds out and tells her that he does not want anyone else seeing the house, she makes it invisible.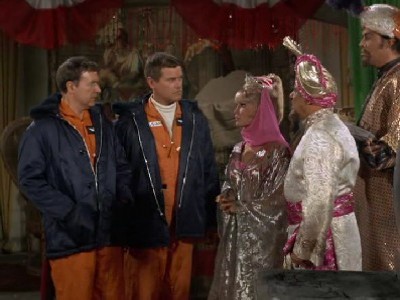 #15 - Guess Who's Going to Be a Bride? (2) 8.70
Season 5 - Episode 4
Roger and Tony serve three weeks in the Arctic as punishment. When Tony learns Jeannie is to be married just as he and Roger are about to be retrieved he goes straight to Basenji. As he risks his life for love of Jeannie, Jeannie refuses to be queen and leaves. Jeannie and Tony go to NASA where he introduces Jeannie as his fiancée. Even though stunned from the announcement, Jeannie blinks Roger back as he is about to be executed and as Tony and Roger get a day off as celebration, all three go home.
#16 - Ride 'Em Astronaut 8.67
Season 4 - Episode 15
Jeannie is roped into being a rodeo queen.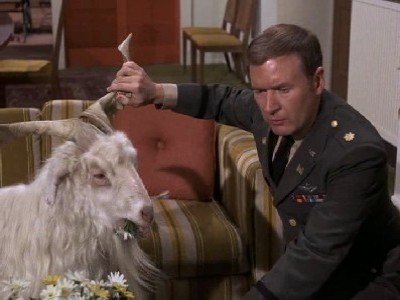 #17 - An Astronaut in Sheep's Clothing 8.67
Season 5 - Episode 23
On Jeannie and Tony's 6 month wedding anniversary, Jeannie wants desperately to please Tony by knitting him a cashmir sweater while Tony wants to get her a string of pearls. None of which ends up being accomplished.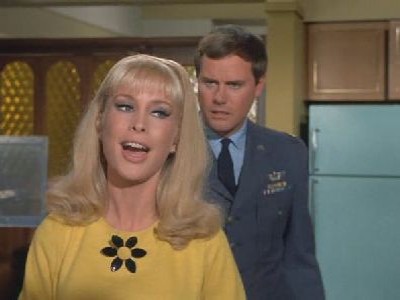 #18 - Tony's Wife 8.67
Season 3 - Episode 11
Jeannie's sister convinces her that she was born under the sign of the Jinx and only disaster will come to her master. When Tony complains of the bad luck he's been having, Jeannie is certain her sister is right.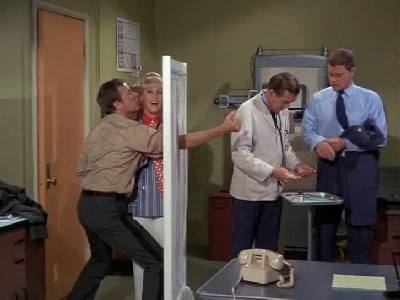 #19 - The Blood of a Jeannie 8.67
Season 5 - Episode 7
When it's discovered that Jeannie has green corpuscles instead of red ones (or so she thinks), Tony tells her to find a substitute for the blood test to get their certificate of perfect health in order to go ahead with their marriage.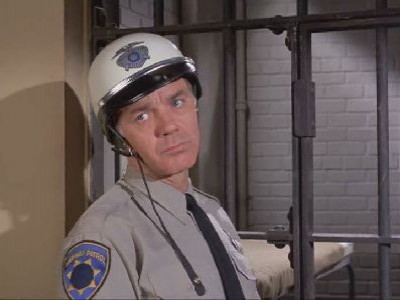 #20 - Jeannie for the Defense 8.67
Season 4 - Episode 21
While traveling through a small town, Tony and Roger bump another car. The occupants fake injuries and sue them. Dick Sargent plays Tony and Roger's lawyer, and J. Pat O'Malley plays the judge.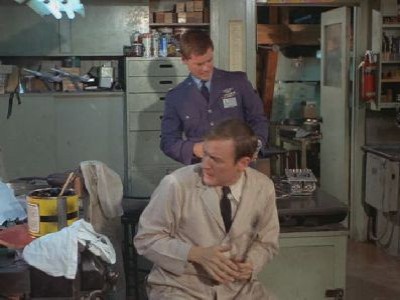 #21 - The Greatest Invention in the World 8.64
Season 2 - Episode 17
Roger convinces Tony to let Jeannie grant him a wish. Roger accidentally wishes that he hadn't dropped coffee on Tony when he accidentally does. The result is a fabric that cannot be burned, stained, or cut. Dr. Bellows witnesses the impossible destruction of the fabric and attempts to find out how Tony had concocted this great invention.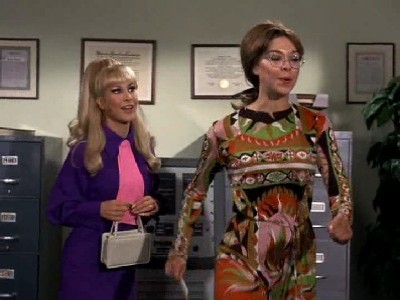 #22 - Jeannie, the Matchmaker 8.64
Season 5 - Episode 13
Jeannie; feeling sorry for Roger; decides to help him out by going to a computer dating agency and setting him up with a girl while Tony is trying to set Roger up with the General's niece.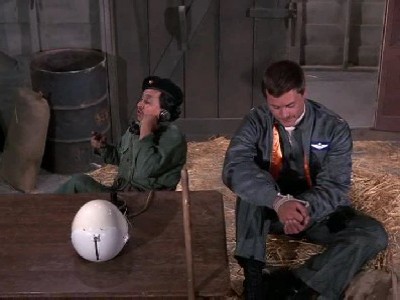 #23 - I'll See You in Cuba 8.62
Season 5 - Episode 8
Jeannie blinks Tony off of a plane in order to plan for a party, but when she puts him back in it he mistakenly lands in Havana, Cuba instead of Puerto Rico thanks to Jeannie's guidance of the plane.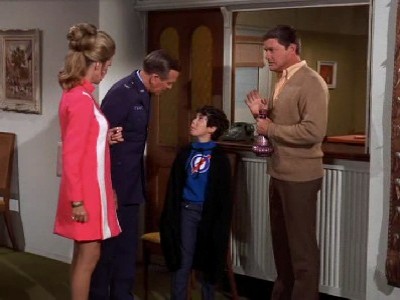 #24 - Jeannie and the Curious Kid 8.60
Season 5 - Episode 19
The Bellows' troublesome nephew stays at the Nelson house for a couple days and figures out the truth about Jeannie when he sees her smoke into her bottle.
#25 - Jeannie, the Recording Secretary 8.59
Season 5 - Episode 20
Jeannie has just recently joined a club at NASA and voted recording secretary. She then learns that there is an award competition coming up for the best husband and that the prize is a trip for two to Hawaii. She wants Tony to win so badly that she blinks him off his training and returns him at home in his sleepy state.