Hotel Babylon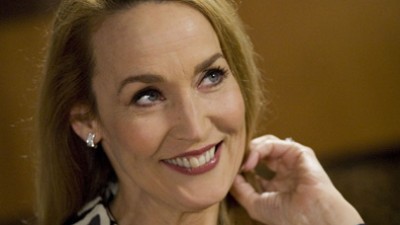 #1 - Episode 15 9.17
Season 2 - Episode 7
Charlie and Rebecca are now a couple, and Jackie isn't finding it easy to cope with seeing them together. Then Charlie has more trouble to deal with when his younger brother Dan turns up at the hotel, followed closely by a few heavies who are out to cause trouble.Meanwhile, the wine list is not what it could be, and the rich Mrs Klein suggests a wine tasting competition. James agrees, but he is worried about coming out of the event well.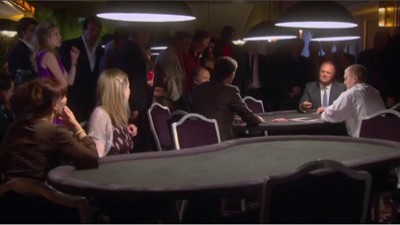 #2 - Episode 28 9.00
Season 4 - Episode 4
When Emily's estranged father turns up at Babylon, she wants him to leave, but he has something he needs to tell her first. Meanwhile, Sam gambles Hotel Babylon and loses, and Tony meets his doppelganger and they put their uncanny resemblance to good use.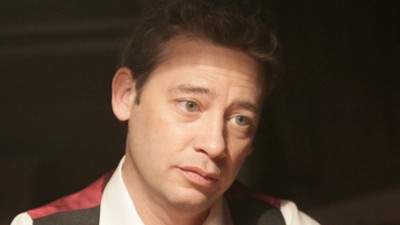 #3 - Episode 14 8.83
Season 2 - Episode 6
Tony is left seething when he loses out on a prestigious award. He decides to modernise his skills, only to find himself embroiled with a gang of Russian drug dealers.Meanwhile, Rebecca improves staff morale by reinstating a Christmas party, and things hot up as she and Charlie prepare it. Then Anna sees her chance to make a lot of money out of a British actor and renowned sex addict who is staying at the hotel.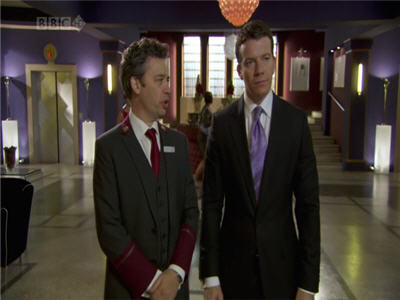 #4 - Episode 21 8.82
Season 3 - Episode 5
Charlie feels the pressure of management when he receives a letter from head office criticising his accounting and the chambermaids threaten to go on strike over unpaid wages. The arrival of an old friend visiting a jewellery auction hosted at the hotel perks him up, but a further financial crisis leads him to seek help from an unsuitable source and brings danger to everyone in the building.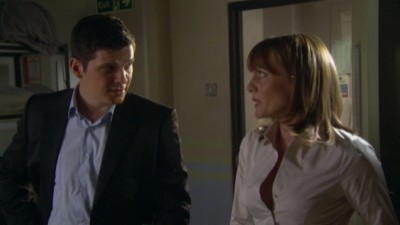 #5 - Episode 27 8.75
Season 4 - Episode 3
The staff take part in a treasure hunt around the hotel searching for valuable emeralds claimed to be hidden there. Gino finds himself being conned by a man staying at the hotel. Tony discovers that a former film star staying at the hotel isn't quite as she seems.
#6 - Episode 20 8.65
Season 3 - Episode 4
Tony is surprised when his 13-year-old daughter arrives for a West End audition, but a crisis stops him giving her the attention she craves. Charlie sets the socially inept final deputy manager candidate a challenge, and Gino's brother pays him a visit, but when the sibling wins over the staff and even makes better cocktails, jealousy sets in.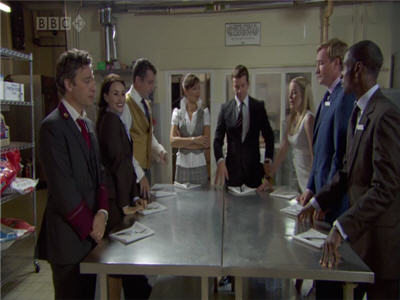 #7 - Episode 18 8.57
Season 3 - Episode 2
The team have just a day to recover from a terrible restaurant review with a Valentine's Day relaunch using a celebrity chef. Charlie struggles to contain his jealousy over Anna's interest in the rich, upper-class hotel guest Giles, and an excited Gino is convinced that a porn film is being shot in one of the rooms, but Tony worries about the business's reputation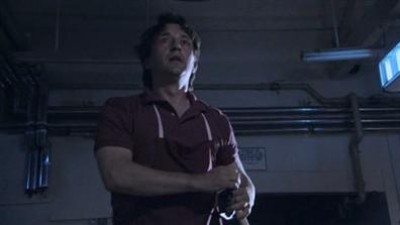 #8 - Episode 6 8.38
Season 1 - Episode 6
Rebecca leaves Charlie in charge on the night shift, while she takes off on a holiday break with her husband. Then Anna thinks a hotel guest has killed his wife in their room. She becomes increasingly alarmed as she investigates, influenced by Tony's tale of horror at another hotel.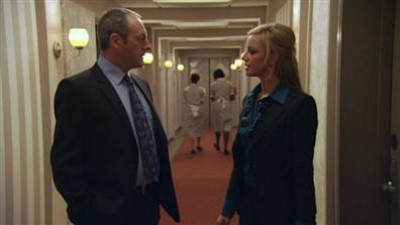 #9 - Episode 8 8.37
Season 1 - Episode 8
The hotel is inspected, and the report makes terrible reading, leaving Rebecca's future as manager in doubt. Her troubles increase when Adrian McBride, European director of the company which owns the hotel, arrives unexpectedly. But Rebecca is amazed to be offered a promotion.Meanwhile, Charlie is kept busy looking after Mr Wiltshire, an armed robber who is a key witness in a criminal trial and is staying in the hotel with a police protection team - he has to give evidence against some London gangsters, so his life is in danger. And at the end, Charlie gets caught up in a dramatic gun fight.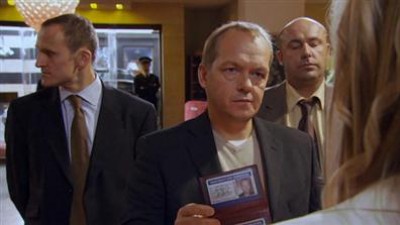 #10 - Episode 5 8.35
Season 1 - Episode 5
Immigration officers visit the hotel, which depends on migrant labour. This puts Jackie in a difficult position, as her own visa is months overdue, and Charlie hints that she should marry him.Meanwhile, Rebecca's marriage is back on the rails, Gino is pretending to be gay, and Charlie helps a guest to cover up her affair at the hotel.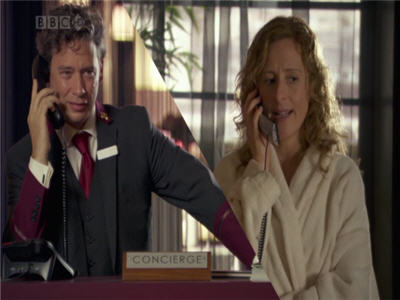 #11 - Episode 17 8.33
Season 3 - Episode 1
New series of the glossy drama, recently promoted General Manager Charlie, who is about to discover that being the boss means making some unpopular decisions. Meanwhile, Tony is tempted by a female guest, a journalist asks the staff some awkward questions, and Anna sets out to expose a fashion company's use of sweatshop labour.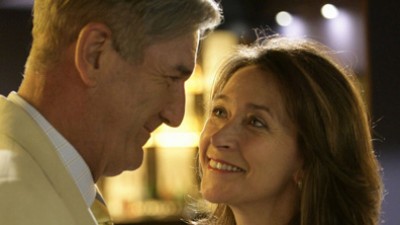 #12 - Episode 9 8.33
Season 2 - Episode 1
Charlie is back after the gun incident, and Hotel Babylon has more press coverage than ever. A member of parliament's wife is staying at the hotel after her husband has been cheating on her, and with the story all over the newspapers Rebecca helps her to take revenge. But something is not quite right...Other staff are busy helping a couple who have checked in separately, not knowing that their rooms are next to each other. Meanwhile, the staff are having a war against a rival hotel.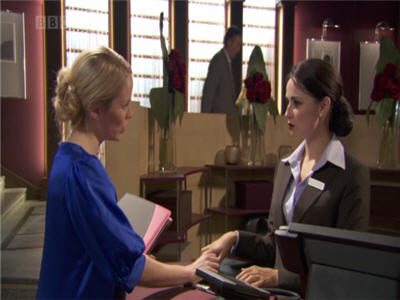 #13 - Episode 19 8.32
Season 3 - Episode 3
The team have one day to organise a society wedding, but when it emerges the bride's family are bankrupt Charlie is faced with a stark choice. Temptation threatens to get the better of Ben putting him at the mercy of mercurial celebrity chef Otto, and James gets a shock from his past in the shape of a weight-loss guru.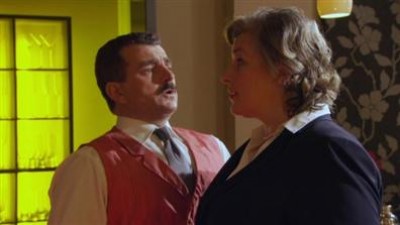 #14 - Episode 7 8.29
Season 1 - Episode 7
Three thousand pounds in cash is stolen from hotel guest Lady Patton, and although she is so rich that she hardly turns a hair, Rebecca is determined to find the thief and sack anyone responsible. But who did steal the missing money? Tension is high, with everyone under suspicion.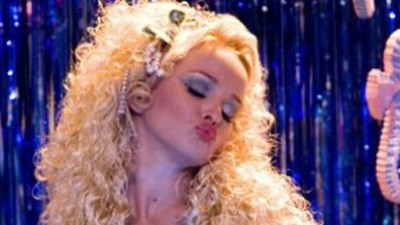 #15 - Episode 13 8.29
Season 2 - Episode 5
A former nurse who has found fame as a reality TV star reserves a room in the hotel. Gino becomes besotted with her, while Luke sees an opportunity for blackmail. Jackie is delighted when a novelist she admires checks in but a private meeting leaves her shaken.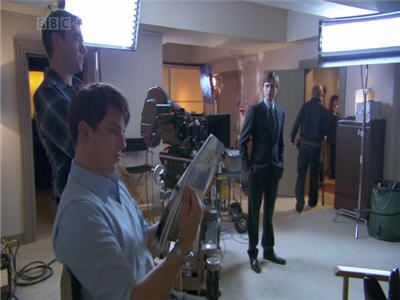 #16 - Episode 22 8.20
Season 3 - Episode 6
A movie is shot on location at the hotel, but the stars don't get on and it is Jack's job to keep both of them happy. Gino and Ben compete for the attentions of the director in a bid to be `noticed', and Anna is preoccupied by thoughts of Charlie which do not go away even when Ned invites her to accompany him on a trip to New York.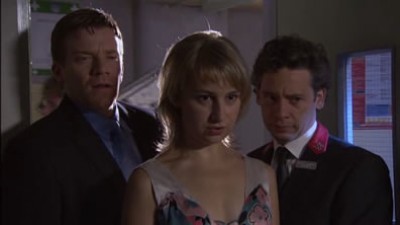 #17 - Episode 3 8.19
Season 1 - Episode 3
Natasha, the student daughter of a Russian billionaire, wants to get married in a hurry, so that she can stay in the UK. Charlie and Tony find her a man and set it all up for her - though they don't dare to tell Rebecca what is going on. And what will Natasha's tycoon father make of it all when he arrives - will he foot the hotel's inflated bill for the reception?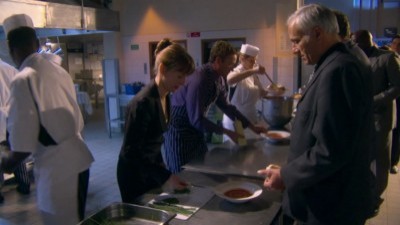 #18 - Episode 25 8.17
Season 4 - Episode 1
Hotel Babylon is closing. Tony desperately pitches the hotel to an Asian businessman, but the deal goes into freefall when Tony refuses to meet his demands. Meanwhile, a terror alert throws Central London into chaos, and a crowd seek refuge in the hotel. The team pull together fantastically, and a millionaire caught up in the bedlam is so impressed that he decides to buy Babylon, securing its future. Elsewhere, Anna is nearly eight months pregnant, but is in total denial.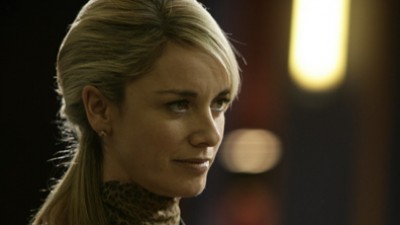 #19 - Episode 16 8.14
Season 2 - Episode 8
Ruthless tycoon Donovan Credo wants to take over the hotel. He is well known in the business for replacing existing staff with his own people.Credo likes Rebecca and tells her her job is safe. She can also choose two members of staff who will not be sacked.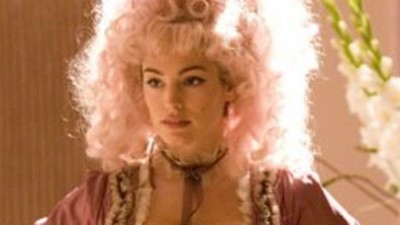 #20 - Episode 11 8.00
Season 2 - Episode 3
An old workmate of Anna's is holding a smart charity ball at the Hotel, and some of the staff are out of uniform. One guest, Lady Stanwood, is known to all, as she is a former chambermaid at the hotel. But Anna is not going to be upstaged. Meanwhile, an old school friend of Ben's checks in. In the kitchen, European co-operation is the order of the day.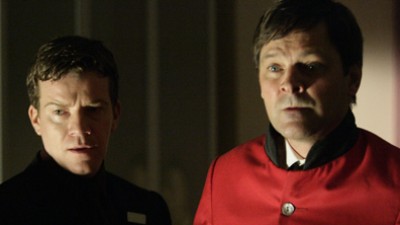 #21 - Episode 12 8.00
Season 2 - Episode 4
Charlie rushes to help Robert Kane, a heart-broken business man who threatens to kill himself by jumping off the hotel's balcony.Meanwhile, Rebecca's divorce is at last finalized, and she throws a party to celebrate. But some shocking news leaves everyone reeling.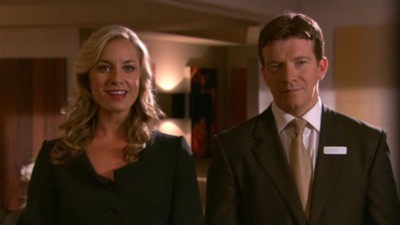 #22 - Episode 1 7.97
Season 1 - Episode 1
Rebecca Mitchell, general manager of Hotel Babylon, interviews the hotel's ambitious head receptionist, Charlie Edwards, and outsider Anna Thornton-Wilton for the job of deputy manager. As he is already on the spot, Charlie has the chance to prove himself by extracting as much money as possible from a world-famous rock band. Meanwhile, Rebecca seems to be avoiding going home at night.In the end, Charlie gets the job, and Anna is the new head receptionist.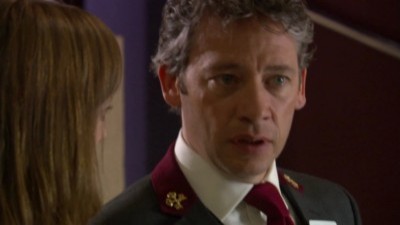 #23 - Episode 26 7.75
Season 4 - Episode 2
A couple who are both celebrities hold their joint 40th birthday party at the hotel. Anna finds out that they are not as happy as they seem together. Sam ignores Juliet's advise and better judgment when he lets lets two rival boxers stay at the hotel.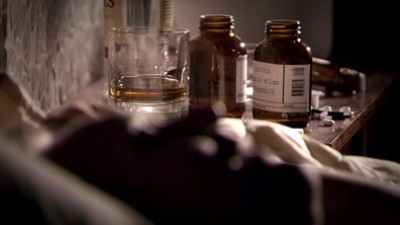 #24 - Episode 2 7.73
Season 1 - Episode 2
A jingle writer called Machin checks in to the hotel. During his last stay, he tried to kill himself, so tension is high and Rebecca gives Charlie the job of keeping Mr Machin alive.The hotel's concierge, Tony, makes a disastrous mistake when he mistakes a woman guest for a prostitute.Meanwhile, the staff help a former employee celebrate her golden wedding in style.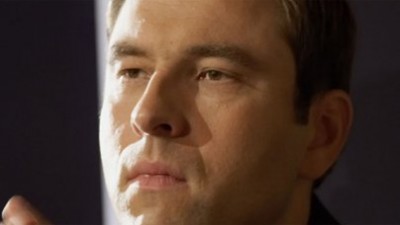 #25 - Episode 10 7.60
Season 2 - Episode 2
Adrian Tintagel, the leader of a strange cult, checks in. Then Anna discovers Tintagel's doomsday mission and finds herself in danger. Meanwhile, a Premiership football team is staying at Hotel Babylon. While their nefarious requests do not bother Tony, their appalling behaviour towards the hotel staff tips him over the edge.