Homicide: Life On The Street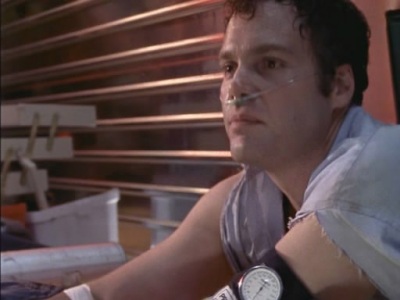 #1 - Subway 9.08
Season 6 - Episode 7
A man falls between the cars of a subway train in front of horrified witnesses. Was he pushed? While the man is still alive, the prognosis is he will be dead the moment they extract from the position he currently occupies: pinned between the train and platform. Homicide is called in light of this condition and the fact he may have been pushed. Pembleton questions the victim, and Bayliss questions the witnesses, especially a strange one named Larry Biedron. The victim has no relatives in the Baltimore area. He does have a girlfriend who is supposed to be jogging in the area; Lewis and Falsone try to find her to bring her to the scene.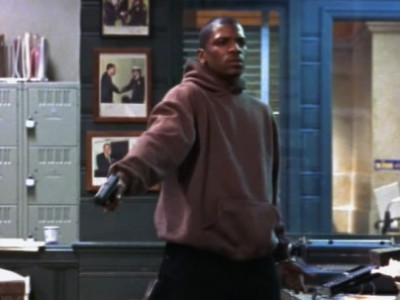 #2 - Fallen Heroes (1) 8.74
Season 6 - Episode 22
Judge Gibbons has been stabbed. On their way to the crime scene, Bayliss and Pembleton talk about a book that Bayliss is reading, then Pembleton wonders if anyone would ever write a book about their Homicide unit. A probation officer is murdered in a drive-by shooting. The FBI gets involved with investigation of the Gibbons death. Agent Bauer mentions to Bayliss that Kellerman's confrontation with Gibbons probably got the judge killed. He wants Kellerman clear of the case. A fingerprint lifted from the Gibbons' crime scene points to Georgia Rae's son, Junior Bunk. Falsone and Stivers get a lead on their probation officer shooting case. As Junior Bunk is brought in for questioning, he eyeballs a handgun being put in a drawer. Pembleton and Bayliss get Junior in the box and he is no longer able to be intimidated. While waiting to be transferred to central booking, Kellerman, Lewis & Gharty harass Junior. Slightly freed up to make a phone call, Junior gets the gun out of the desk and begi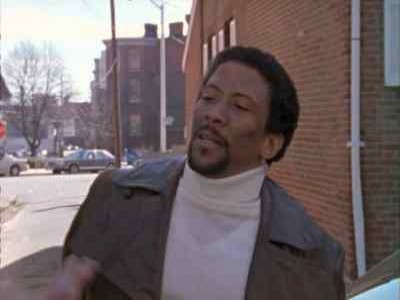 #3 - Full Court Press 8.74
Season 6 - Episode 18
Munch and Gharty probe the death of a high-school athlete who appeared to have everything going for him. Pembleton and Bayliss have only one lead to a potential suspect, a pager number; however, Bayliss has a plan that should lead to the apprehension of their suspect. Kellerman and Ballard get a case with a drug dealer that Kellerman is less than enthusiastic to work. The victim is one of Georgia Rae Mahoney's lieutenants and there are four other unsolved murders in the last two weeks where the victims were members of the Mahoney organization. Pembleton and Bayliss apprehend the wrong suspect, but the fact the suspect was trafficking 200 Kg of narcotics gets them a commendation. Meanwhile, using the information provided to him by Falsone, Lewis has had members of the Mahoney organization under surveillance. Is Lewis involved in these murders? Kellerman receives some good news for a change; passing a tape of his conversation with Judge Gibbons onto the FBI won't be necessary. The FBI is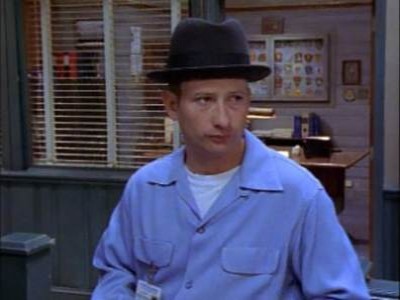 #4 - The Documentary 8.74
Season 5 - Episode 11
On New Year's Eve, the detectives sit back in the quiet of the evening and watch a documentary that Brodie has made about them and their work. During the filming, Brodie also happens to capture the lunchtime bandit red-handed.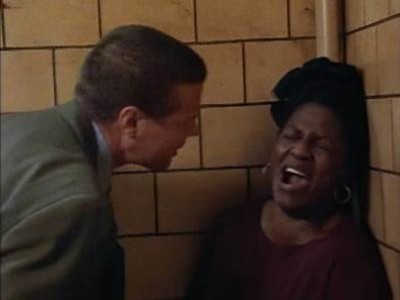 #5 - Betrayal 8.71
Season 5 - Episode 12
Frank and Tim investigate the death of a young girl whose abused body was found by the side of the interstate. Brodie goes to an interview with a new potential roommate. Kellerman finally gets his day in court, where he is supposed to take the 5th amendment. Frank and Tim disagree with their pursuit of the investigation. Frank tries a different approach with the mother and she tells him the story-- only they won't be able to get a murder one conviction. Julianna comes down to the courthouse to offer Mike some moral support. He sees Connelly come out of the courtroom and thinks things are going bad, so he prepares to give it all up. However, his appearance before the grand jury doesn't go quite as he expected. Brodie walks out of the building with his new roommate. The detectives try to celebrate Kellerman's freedom, though he has different thoughts about the situation. Tim tries to come to grips with the child abuse he experienced in his past and also tells Frank he doesn't want to be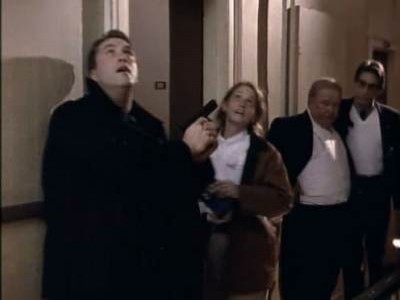 #6 - The City That Bleeds (1) 8.68
Season 3 - Episode 12
Bolander, Munch, Howard and Felton all meet to serve a warrant, but Bolander, Howard and Felton are shot in an ambush. Pembleton becomes the primary in the investigation and is partnered with a detective who specializes in the psychology of their prime suspect: a pedophile. Stan's ex-partner Mitch Drummond offers his help. Kay's father and Beau's wife and the kids come to the hospital. A clerical error is discovered to be the cause of why the detectives went to the door marked 201, instead of 210.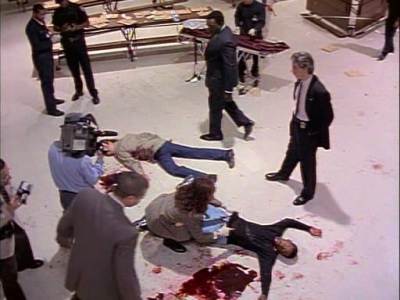 #7 - Prison Riot 8.67
Season 5 - Episode 3
A riot breaks out at the prison, where two inmates are killed. The squad goes to the scene, but Frank must still stay behind. Bayliss, Lewis, Kellerman and Howard interview the inmates; many of them have familiar faces. Frank works on his target practice. Bayliss thinks that one inmate really wanted to tell him something, so he puts together a deal to get the information. The inmate confesses to the murder and Bayliss doesn't believe him. Another riot breaks out and the truth is finally discovered.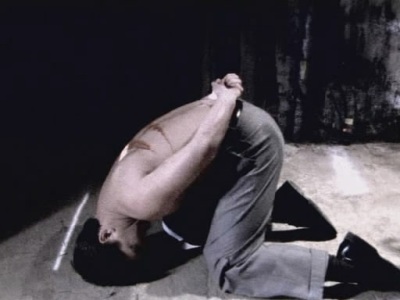 #8 - Sins of the Father 8.66
Season 6 - Episode 10
A white man is found lynched in a historic black section of the city; Falsone and Lewis investigate. The day after Tim's dinner date with the male restaurant owner that Tim was positive about, Frank is perplexed by Tim's interest in Laura Ballard. The autopsy reveals that the hanged man was also whipped. Gharty worries about Ballard getting involved with ""switch-hitter"" Bayliss. Lewis is convinced the lynching is related back to the victim's Civil War ancestor, infamous runaway-slave catcher and free-blacks abductress. Tim and Laura attend an art show.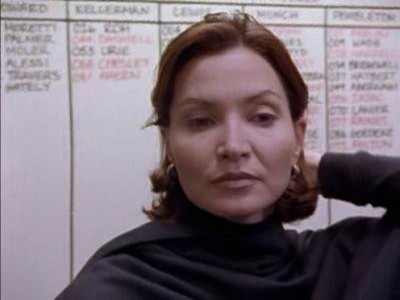 #9 - Partners and Other Strangers (1) 8.64
Season 5 - Episode 21
Bayliss has disappeared again as Pembleton and Brodie make their way to the scene of a shotgun suicide. The victim appears to be Beau Felton. Gee's letter, including information gained in the ""Burundi"" case, begins to make an impact at the highest levels of the department. Frank returns to the department with the news about his case. Lewis goes off, wondering who is going to be next. Det. Falsone comes to the squad with news about why he thinks Beau Felton killed himself. Lewis and Stivers discuss the Mahoney shooting. Cox finds something interesting about the Felton case; she digs in deeper and the results change the case to a murder. Bayliss turns up the next day and disappears again to his Uncle George's place. Pembleton and Howard try to work with Falsone to find Beau's killer. Gee finds out that Beau had been working undercover for the past six months on the Cantwell auto-theft ring. Megan Russert returns from France.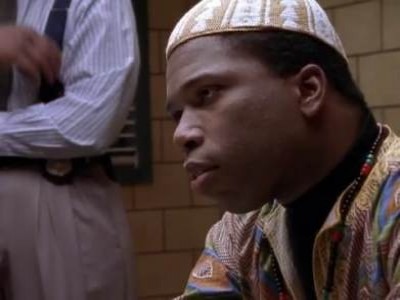 #10 - Narcissus 8.62
Season 5 - Episode 20
There is a major police chase after an armed suspect, as he holes himself up in a row house that is the headquarters of ARM (African Revival Movement). The head of that house, a former cop, calls in a favor, high in the police department. Munch and Pembleton try to work the case as Bayliss seems to be missing. Their investigation seems to be thwarted every step of the way. Stivers' has second thoughts about what she saw at the Mahoney shooting. An attempt to serve ""Burundi"" Robinson an arrest warrant breaks out into a war between the police and ARM. Gee goes into the house to confront Robinson and finds out who and what he knows.
#11 - Three Men and Adena 8.60
Season 1 - Episode 5
Pembleton and Bayliss have only twelve hours to grill their prime suspect in the Adena Watson case before they must let him go.
#12 - Shaggy Dog, City Goat 8.58
Season 6 - Episode 11
Julianna wins the recognition of her peers. At dinner, Julianna and her colleagues swap stories about how they've cracked cases. Julianna relates a story that happened a few weeks earlier, a suicide might actually be turn out to be murder, when it is determined that the victim was shot in mid-jump. A bickering elderly couple proves to be the key to the crime. Meanwhile, Falsone investigates the legal possibilities of obtaining custody of his son. Ballard and Gharty investigate the death of a drug dealer, which takes them up into the hills of western Maryland in search of their suspects. Georgia Rae Mahoney sues Stivers, Lewis, Kellerman, Giardello, Cox, the department and the city for the wrongful death of her brother, to the tune of $60 million. Lewis confronts Georgia Rae and winds up with a suspension for his trouble.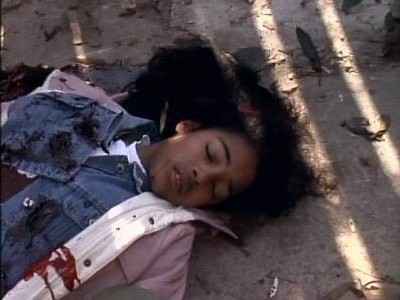 #13 - Requiem for Adena 8.53
Season 4 - Episode 16
A young girl is murdered, in a style similar to Adena Watson's murder. Frank demands to work the case alone as Bayliss begins to think that the two crimes might be related. Bayliss' obsession with trying to get this case solved and linked to Adena's murder causes the two of them to clash. Howard learns that Brodie has a crush on her and tells him she doesn't like the joke that's being pulled-- only problem there is that it's the truth.
#14 - Kaddish 8.53
Season 5 - Episode 17
A woman that Munch had a crush on in high school is found murdered. He struggles with his faith as he works with Kellerman on the case. Meanwhile, Frank also struggles with his faith and the fact that Mary has left him.
#15 - Finnegan's Wake 8.53
Season 6 - Episode 21
Bayliss suffers from a recurring dream about the Adena Watson, his first homicide case and one that remains unsolved. An elderly man comes to the Homicide unit to confess to Bayliss that his father had committed a murder 66 years ago. Falsone is assigned to the case, only the case file is missing and found to be in the possession of retired homicide detective, Thomas Finnegan. Gee allows Finnegan's request to participate in the reopened investigation. Questioning the elderly man leads to the recovery of the gun that might close the case. Falsone, Finnegan, Lewis and Kellerman celebrate their potential victory as Bayliss recontemplates the Watson case.
#16 - Forgive Us Our Trespasses 8.53
Season 7 - Episode 22
Sheppard and Bayliss await the trial of Luke Ryland, the Internet killer. A number of delays keep the hearing from being held; the last time it is because Danvers can't make it due to being held up in another trial. Because of a technicality in the law, Ryland is set free. Bayliss is outraged and winds up pushing Danvers, who later threatens to put Bayliss up on charges. Gee's daughter Teresa arrives, to help with the celebration of her father's promotion. Gee asks Bayliss to apologize to Danvers and Bayliss declines. Lewis and Falsone look into the murder of a drug addict whose husband looks like the most probable suspect. The victim's mother-in-law isn't very cooperative and her sister is a nun who thinks her brother-in-law is an architect. Gee worries about whether or not he will be able to perform in his new role as Captain of the property crimes division, later he turns down the promotion. Bayliss and Lewis have words about the way each other handle their memories of the past.
#17 - Closet Cases 8.51
Season 6 - Episode 9
The semi-nude body of a man is found in a dumpster outside of a restaurant. Bayliss returns Cox a pair of her earrings that she'd left at his place the night before. Disturbed by him doing that in public and while at a crime scene, she suggests they take some time off, instead they decide to break it off. The owners of the restaurant thinks that this murder might be tied to another murder (one that Munch is working). Lewis confronts Kellerman about the Mahoney videotape and the need to let Stivers know that she is also ""in the soup."" Lewis tells Stivers about the videotape, so she demands a meeting with Kellerman. Falsone confronts his ex-wife about getting to see his son more often; however, they argue and he plans to pursue getting joint custody. Kellerman decides that he will try to force Georgia Rae's hand, since he doesn't plan on doing anything corrupt for her anyway. Kellerman tells Georgia Rae that she can do whatever she wants with the videotape, he doesn't care. Bayliss decid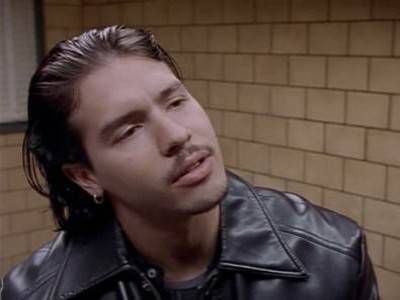 #18 - Strangers and Other Partners (2) 8.50
Season 5 - Episode 22
Mike and Julianna wake up the morning after a night of drinking and passion. The investigation into Beau's death continues; Howard wants to be the primary while Frank tries to maintain control. Gee asks her to step aside and let him do the job with a more unbiased approach. The investigation creates some unlikely pairings: Pembleton with Gharty and Bayliss with Falsone and Munch on his own. Meanwhile, Howard and Russert make arrangements for Beau's funeral. Lewis and Kellerman's investigation into a homicide is stalled; when Kellerman's hangover laden police work is shoddy. When it appears as thought the investigation is going nowhere; Kay demands to be put on the case. Gee refuses. Because of his bad day and finding Julianna drinking with someone at the Waterfront Bar, Kellerman suggests that they should stop drinking. Frank tries to call Mary; eventually they connect and reconcile; with Frank saying that he is willing to give it all up. They find out who killed Beau, but when they go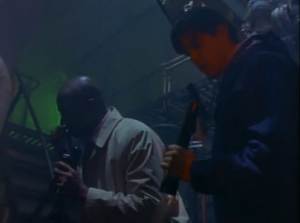 #19 - Dead End (2) 8.49
Season 3 - Episode 13
The detectives continue chasing their only lead, the child molester. Munch is teamed with Stan's old partner. Beau has no feeling in his foot, but feels guilt about Kay's condition. Stan's ex-wife arrives in town, but has a hard time going to see him at the hospital. Barnfather and Granger want Russert to review Gee and see if he was negligent in his duties regarding the paperwork that led to the shooting. The pedophile is located and it is discovered he was responsible for the strangulation of a young boy, but not the shooting of the three detectives.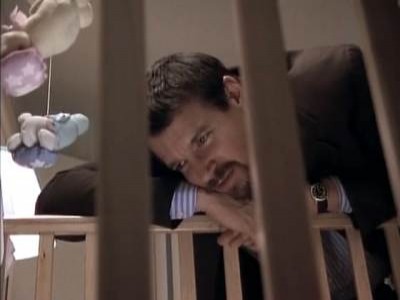 #20 - Work Related 8.48
Season 4 - Episode 22
Mary gave birth to a girl named Olivia; Tim is more excited about it than Frank. Their latest case involves a multiple shooting a restaurant. Lewis is back from his honeymoon, but while working a case with Kellerman, he confesses that they have yet to consummate their marriage. Later he tells him that they've separated. Tim stops by to see Frank and Mary's baby. They get a suspect for their case in the box. Frank collapses in the box while interrogating a suspect. Frank is put under the knife to release the pressure built up in his head from the stroke he had. After the surgery the doctor tells them that he doesn't know if Frank will recover.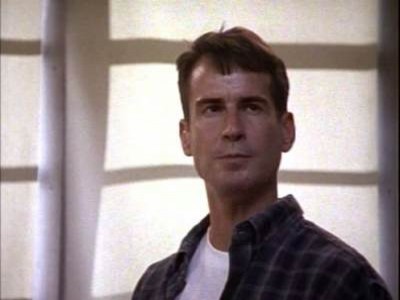 #21 - Hostage (2) 8.47
Season 5 - Episode 2
Night has fallen and the crisis is no closer to being resolved. Gee demands that Barnfather make a decision. Frank continues to trying to adjust. Frank insists on going to the hostage scene. The identity of the hostage-taker is made when he demands that his pig be brought to the school. When the pig doesn't arrive in time, he sets a fire and seriously wounds a hostage (who later dies) and then becomes badly burned. Brodie takes issue with Munch's treatment of Pembleton. The paperwork gets completed and the hostage-taker is formally charged. Frank makes a decision regarding his recovery.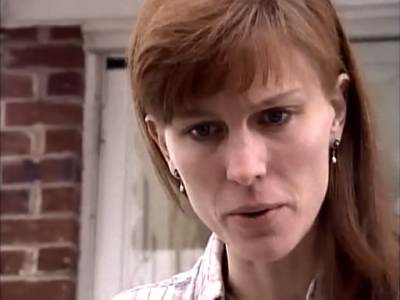 #22 - Justice (2) 8.47
Season 4 - Episode 14
Jake Rodzinski has trouble dealing with the verdict of the trial and takes justice into his own hands. Kellerman is back from a family wedding in Wisconsin picks up the case of the murder of Kenny Damon. Lewis is not allowed to know all the details of Kellerman's investigation, because of his past relationship with Rodzinski, their chief suspect. Bayliss is at odds with Pembleton over the disposition of a grilled cheese sandwich.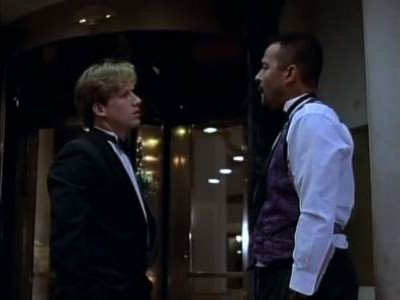 #23 - The Wedding 8.47
Season 4 - Episode 21
A trash-talking radio talk-show host makes a proposal to his listening audience. Lewis announces to Kellerman that he is getting married today, then he throws up. He motivates the rest of the squad to help him with the final details as he is getting married ""tonight after the shift ends."" Kay brings her sister with her to the station. Since the whole squad is busy with Lewis' wedding, Gee takes Howard out to work the homicide of the radio talk-show host. One of his listeners took him up on his proposal. Munch is skeptical about the Lewis wedding; he thinks it's an elaborate practical joke. Bayliss and Kellerman vie for the attention of Kay's sister. Gee shoots and kills a potential suspect, but the suspect was in jail at the time of the talk show host's murder. The guy who fingered him admits that he did it as a joke. The wedding is no hoax. During the festivities Pembleton's wife goes into labor.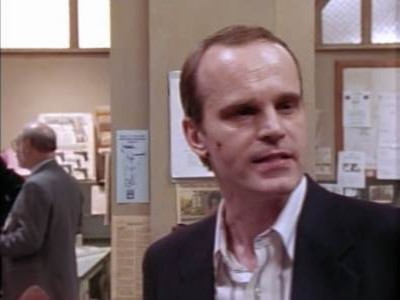 #24 - Blood Wedding 8.46
Season 5 - Episode 10
Frank gets his first case as a primary-- unfortunately it is a case that involves the shooting of Danver's fiancée. Danvers is concerned about Frank being the primary and keeps throwing his opinions into the investigation. Danvers changes his perspective on the death penalty and also reflects on his past performance in many of the cases he's tried. Brodie continues to look for housing; the latest place he tried staying was the morgue. Kellerman is discouraged when it appears as though Cox may have only been looking for a one-night stand and nothing more-- so he takes a sick day. Gee takes some time out of his day to have a talk with Kellerman's former partners to see where they stand with him in regard to their testimonies to the grand jury. He also sees the Deputy Commissioner to see what can be done for Kellerman; what he learns instead are some truths about the Gaffney promotion.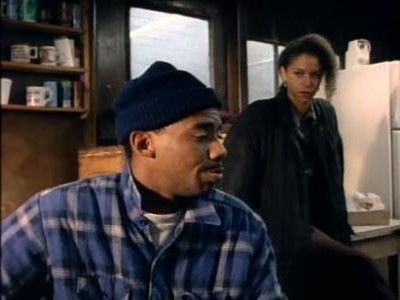 #25 - End Game (3) 8.45
Season 3 - Episode 14
Bolander has a relapse. The detectives sound off to the local news about the shooting. Apartment 201 is opened up and the occupant, Gordon Pratt, is a gun freak who once tried to be a cop. Russert and Howard declare a truce. They find the shooter, but lack of a weapon gets him released; later he is found with a bullet in his head.