He-Man and the Masters of the Universe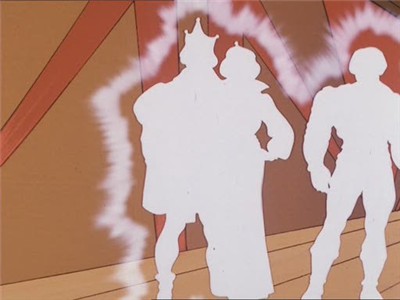 #1 - Diamond Ray of Disappearance 7.88
Season 1 - Episode 1
Skeletor has managed to find the legendary 'Diamond Ray Of Disappearance', a mystical jewel that sends who or whatever it is aimed at vanishing into another dimension. Calling his warriors from around the Universe, Skeletor plans to use the magical gem to get rid of He-Man once-and-for-all. His first victims are King Randor, Queen Marlena, and Man-At-Arms, as well as The Sorceress of Grayskull, and it is up to He-Man to destroy the jewel, freeing his friends from the distant limbo-like dimension that they are trapped in...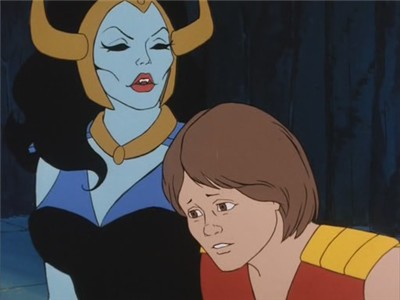 #2 - The House of Shokoti (Part 2)
Season 1 - Episode 62
Now that the House of Shokoti has been risen from the Sands, and Lord Masque has been defeated, the heroes retire to bed for the night, planning to investigate the temple in the morning. But Stanlin, whom Melaktha has refused permission to join the expedition, is determined to see inside the temple for himself, and forces Ram Man (who has been put on night guard) to ram down the temple's door for him. Ram Man gives in to his wishes, but is knocked unconscious by the force of the blow, and Stanlin soon finds himself a helpless prisoner of Shokoti herself.....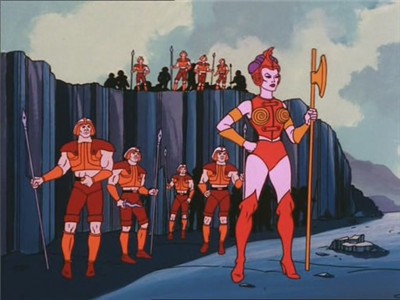 #3 - The Time Corridor
Season 1 - Episode 6
The Sorceress sends He-Man, Man-At-Arms, Orko and Battle Cat back in time after Skeletor, who, with Tri-Klops and Fang Man, has gone back into Eternia's past to plant an effective time bomb on the spot where Castle Grayskull now stands, that will destroy it in the present unless He-Man manages to stop it "in time"...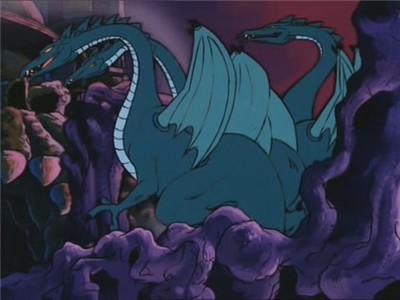 #4 - The Dragon Invasion 7.78
Season 1 - Episode 4
Skeletor and Beast Man steal a dragon's eggs and transport them into the court-yard of the Royal Palace. With their special growth enhancer, the dragons soon hatch and grow, attacking the Palace, and leaving the Heroic Warriors distracted trying to deal with the ever-growing dragons leaving Skeletor and his cronies free tackle Castle Grayskull...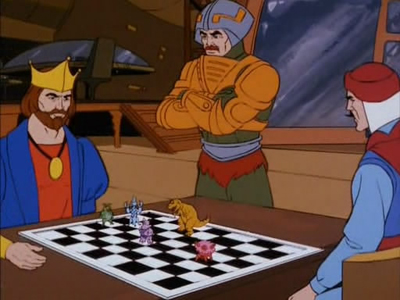 #5 - The Gamesman
Season 2 - Episode 4
A chess-playing nobleman called Lord Todd, from a far-off land, visits Palace Eternia and instantly charms and astounds the Royal Family with the wonderful gifts he provides them, and his incredible skill at chess. To repay King Randor for allowing him to visit, he offers to take Teela on a tour of his own home- the far-off Castle Star. The two of them depart together. However, things turn disturbing when Man-At-Arms is called to Grayskull by The Sorceress, who tells him that a great evil has arrived on Eternia from another dimension... and it has taken its base nowhere other than Castle Star.....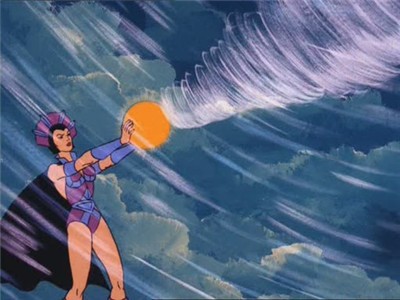 #6 - The Curse of the Spellstone 7.07
Season 1 - Episode 5
Skeletor and Evil-Lyn break into the temple of the Fire People and steal the Spellstone, with which they unleash a terrible storm. While He-Man, with Ram Man, Stratos and Battle Cat, goes off to try and retrieve the Spellstone, Evil-Lyn magically disguises herself as an old lady, and convinces Eternia's peasants that the storm was a result of the Elders being angry at the Royal family. She soon convinces them to unleash the Creeping Horac - an ever-growing weed-like entity that covers buildings and gradually sucks away the air - onto the Royal Palace...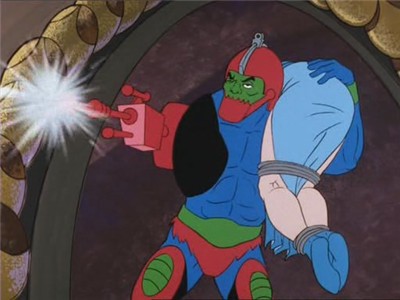 #7 - Song of Celice
Season 1 - Episode 8
Adam, Teela, Orko, Cringer and Lizard Man are on a visit to Pangus, the King of the city of Tarinth, when the city comes under a fierce trembling. Adam is about to come to the rescue as He-Man when a young woman called Celice appears and soothes the tremors with her singing. Pangus explains that a terrible creature lives beneath the city, and only Celice's soothing singing can calm it. Skeletor oversees the whole scene and decides that Celice's singing powers would be of great use to him. Evil-Lyn kidnaps the girl with Trap Jaw, and possesses her; Skeletor plans to use her siren song to hypnotise The Sorceress and then to sing Castle Grayskull's jaw-bridge open...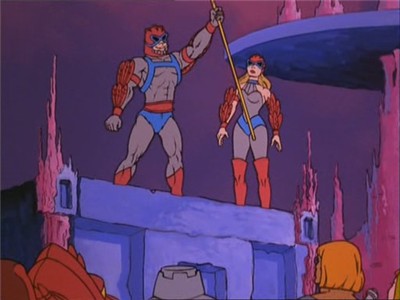 #8 - Reign of the Monster
Season 1 - Episode 10
Skeletor and his latest allies, the tribal-like Torgs, are trying to awaken Mulkram, a giant, diabolical monster who was frozen by the Elders centuries ago to stop his reign of terror. He-Man, Teela, Man-At-Arms, Orko and Ram Man are in the city of Avion for the annual ceremony where Stratos presents the magical Staff of Avion to his people, but just as the ceremony is about to begin, the Torgs attack, capturing Stratos and the staff. Skeletor intends to use the staff's amazing powers to awaken Mulkram, and to use the mighty creature to enter Castle Grayskull...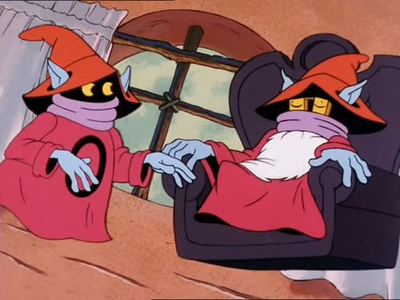 #9 - Trouble in Trolla
Season 2 - Episode 10
Dree Elle comes to Eternia to enlist Orko's help, explaining that an ambitious Trollan wizard called Snoob has defeated Uncle Montork and taken his position as head of the Academy of Magic. Since Montork claims to have felt inexplicably weak when fighting Snoob, they suspect unfair play was used. Orko and Dree Elle go to Trolla, followed by He-Man and Battle Cat, and it soon transpires that Snoob is being controlled by Whiplash, who is trying to learn magic in order to impress Skeletor. It is up to He-Man to stop his scheme, with the help of his Trollan friends!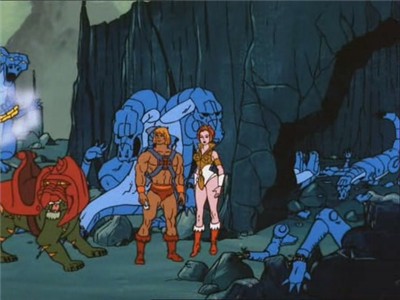 #10 - Like Father, Like Daughter 7.83
Season 1 - Episode 11
The Sorceress warns He-Man that Skeletor is amassing an unstoppable army. It's up to He-Man and company to discover this army, and put a stop to it. But with Trapjaw and Beastman doing Skeletor's dirty work, it won't be easy!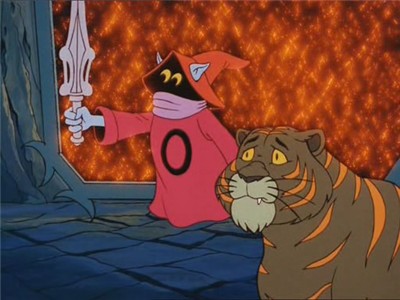 #11 - Disappearing Act 8.20
Season 1 - Episode 12
After He-Man puts an end to their latest plot, Skeletor and Beast Man plan to get rid of him once and for all; with use of invisible helmets they sneak into the Royal Palace and kidnap Prince Adam, to use as bait to lure He-Man out into a trap. Unfortunately, one of Orko's magic spells has gone wrong, teleporting the Sword Of Power away into Eternia's distant past, leaving Adam unable to transform into He-Man. While the Sorceress sends Orko and Cringer back in time to try and retrieve the sword, she has a special assignment for Man-At-Arms to trick Skeletor into believing that He-Man is about when he is not...
#12 - Betrayal of Stratos
Season 2 - Episode 13
An attack on Avion by Skeletor causes serious damage when the kingdom's defence shield is sabotaged. A female citizen named Hawk has framed Stratos for the crime, so she can have him exiled from Avion. Once he has been banished, Hawk helps Skeletor steal the Egg of Avion, which provides the Birdpeople with the power of flight... but instead of giving her riches as he promised, he imprisons her in the Demon Zone, the home of Whiplash! Stratos teams up with He-Man, and they are faced with the three tasks of recovering the Egg, releasing Hawk, and proving Stratos' innocence!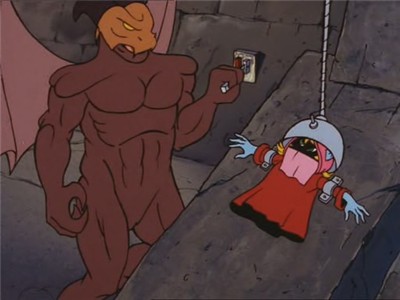 #13 - Dawn of Dragoon 7.50
Season 1 - Episode 14
Orko's magic pyramid inadvertently saves Dree Elle, a female Trollan (Orko's species), who was hiding from Dragoon, an evil fire-breathing half man, half dragon who is terrorising Orko's home word of Trolla. On hearing the threat to his world, where he is a great magician, Orko promptly returns with Dree Elle in the pyramid. Knowing that their friend will need some help, He-Man and Battle Cat get The Sorceress to open a portal to send them to Trolla to help their friend, and find themselves in Orko's bizarre, back-to-front world, where they must put an end to Dragoon's reign of terror before sundown, or the portal back to Eternia will close...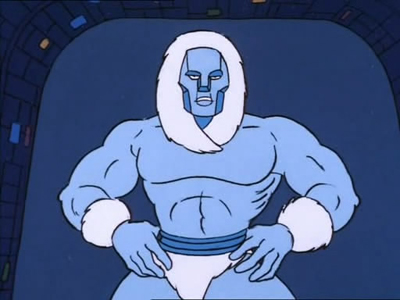 #14 - The Ice Age Cometh
Season 2 - Episode 14
An irresponsible junior guard called Philip fails to notice Whiplash sneaking into the palace grounds to steal the King's Ice Raider. He-Man stops Whiplash just in time, but King Randor relocates Philip to the Eternian Weather Station to improve his responsibilities. Skeletor, determined to get hold of the Ice Raider, consults his agent in the North, Icer, and orders him to take over the Weather Station. Icer has no trouble in taking over, and before long weather disasters are occurring all over Eternia.
#15 - Prince Adam No More 8.00
Season 1 - Episode 15
Angered by his continual defeats, Skeletor blames Beast Man, banishing him from Snake Mountain and his evil forces. Meanwhile, King Randor is preparing for a Royal tour of Eternia, accompanied by Man-At-Arms and a guard of his choice. The King chooses He-Man, but Adam, upset that he always has to play down his qualities to hide his alter-ego, convinces the King to choose him instead. Beast Man spots the touring party, and aided by his Shadow People followers, he ambushes them. Determined to prove his worth to his father, Adam resists transforming into He-Man and instead tries to stop the attack as himself, but he is overpowered, and Beast Man captures Randor, intending to use his capture to win his way back into Skeletor's good books...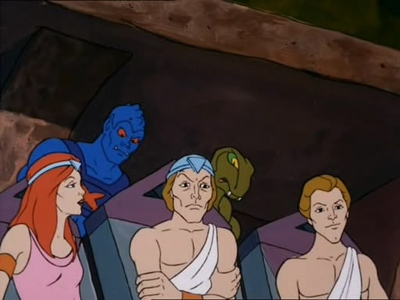 #16 - Disappearing Dragons
Season 2 - Episode 16
He-Man is summoned to Darksmoke by Granamyr, who tells him that dragons have been mysteriously disappearing from Dragon Mountain, and he wants He-Man to investigate. He-Man calls upon his most trusted spies, Mekaneck and Buzz-Off, to investigate the mystery, and they spot Kobra Khan and Webstor using a strange machine to transport the dragons to another dimension. A spell by Orko accidentally transports all of them- both heroes and villains- to the alien world, and the heroes discover that the dragons are being used to fight for amusement by three gamers on this world. It is up to the heroes to put a stop to the games and free the dragons from cruelty.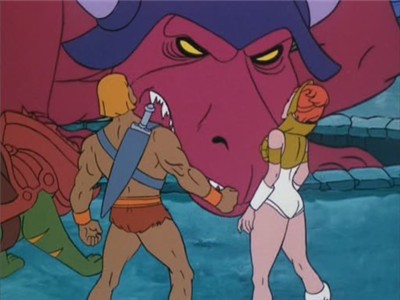 #17 - The Dragon's Gift 7.63
Season 1 - Episode 18
An ambassador from another kingdom visits the Royal Palace to present King Randor with a gift. But Man-At-Arms recognises the man as Skeletor in disguise, and in an attempt to stop him, is turned into a crystal statue. He-Man and Teela must journey to the Isles of Darksmoke, where the great and ancient dragon Granamyr knows the only spell to reverse the effect on Man-At-Arms. But their task proves far from easy- for not only is Granamyr suspicious of humans and reluctant to help them, but he says he will only give them the spell if they cut down the living tree named Skytree. Will He-Man willingly take a life if it is the only way to save that of his friend?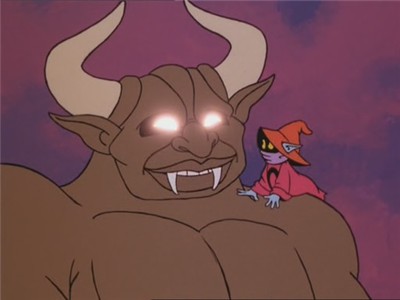 #18 - Daimar the Demon 6.44
Season 1 - Episode 17
While bored, Orko casts a spell to bring a small, cute creature called Daimar, from a book about the dimension of darkness, to Eternia. But Daimar doesn't stay cute for long- he soon turns into a giant demon and is threatening to overcome Grayskull with his power, which Skeletor is also determined to acquire for himself!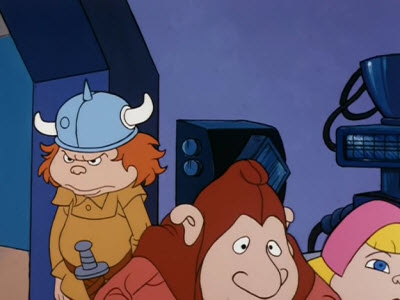 #19 - The Littlest Giant
Season 2 - Episode 19
Squinch the Widget visits Snake Mountain, hoping that Skeletor may be able to help him become bigger and stronger. Evil-Lyn gives him a gift for He-Man, and tells him she will make him big if he delivers it to He-Man. But of course, when he delivers it it turns out to be a trick- the box contains soporific mist which makes He-Man and Battle Cat fall asleep, thus enabling Skeletor to capture them! Realising he has been tricked, Squinch vows to make up for his mistake. But with his small size, is he big or strong enough to rescue Eternia's hero himself?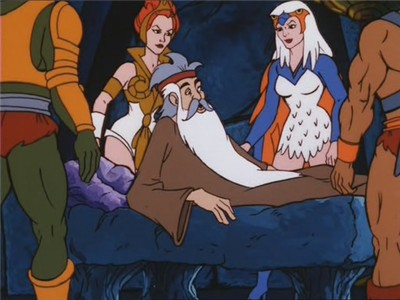 #20 - The Cosmic Comet
Season 1 - Episode 20
Skeletor has gained control of the Cosmic Comet above Eternia, and intends to use it to blow open the jaw bridge of Grayskull. He-Man, Teela, Man-At-Arms, The Sorceress and Orko set out to stop Skeletor's scheme, with the help of Zagraz, a wizard with power over comets.
#21 - A Friend in Need 7.57
Season 1 - Episode 16
An inventor called Zicran visits the Royal Palace to deliver a Transmutator machine to Man-At-Arms, accompanied by his daughter Ileena, a friend of Teela's. Ileena is vulnerable and lacking in self-confidence, feeling inferior compared to Teela's agility. Meanwhile, an evil sorcerer called Jarvan, who was previously defeated by He-Man and Man-At-Arms, has escaped from the prison mines and has set his sights on the Transmutator. Preying on Ileena's depression, he disguises himself as a kindly old woman and gives Ileena a 'magic potion' that will boost her confidence and strength. But the potion contains a dangerous drug, and Ileena soon finds herself addicted to the drug, and almost causes several serious accidents while under its effects. She also finds herself unwittingly obeying Jarvan's commands, and helps him to obtain the Transmutator! Can the heroic warriors cure Ileena's addiction before she causes more damage to herself and the people around her?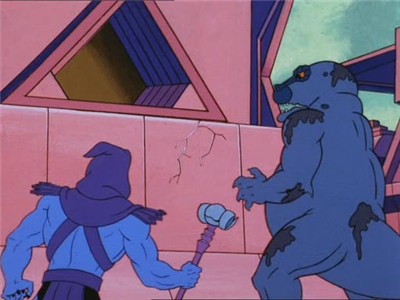 #22 - Creatures from the Tar Swamp
Season 1 - Episode 7
When King Randor's beautiful but snobbish and stuck-up niece Lady Edwina comes to stay at the Palace, Orko is attracted to her and tries unsuccessfully to impress her. He thinks back to a magical medallion that he once had when he arrived on Eternia years before in a freak storm, when he saved a young Prince Adam and Cringer from the Tar Swamp, loosing the medallion in the process. He heads off to the swamps to try and find the lost charm to impress Edwina, but unfortunately he is there at exactly the same time as Skeletor, who, with Evil Lyn and Beast Man, has come up with a magical potion to resurrect ancient beasts from the swamp to use in an attack on the Royal Palace...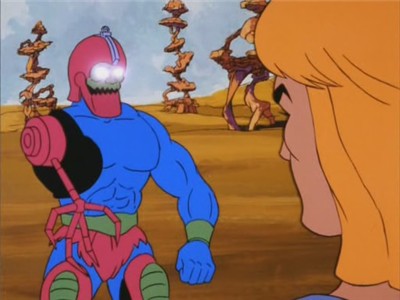 #23 - Double Edged Sword
Season 1 - Episode 22
Palace Eternia has run out of Eternium, the fuel which generates all power in Eternia. A young boy called Chad finds a sample while practising his training with his grandfather in the desert, and He-Man and Teela set out to collect it from them. But the Eternium is stolen by Trap Jaw, who intends to use it to gain equal power to He-Man! As He-Man fights to recover the Eternium and stop Trap Jaw, Chad learns a thing or two about the real dangers of fighting.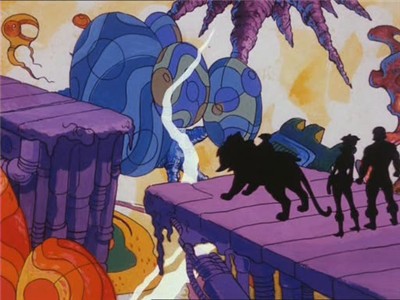 #24 - The Taking of Grayskull
Season 1 - Episode 21
Orko thinks that everyone has forgotten his birthday, when Man-At-Arms reports word of strange destruction the town of Becilia. He-Man, Teela and Ram Man go to investigate, and find themselves in the middle of a tornado some very curious effects – one of which is He-Man's sword disappearing, as a result of some strange influence somewhere. Meanwhile, Orko, upset at his birthday seemingly being forgotten, heads off to see The Sorceress, only to find that Castle Grayskull is gone! Skeletor has managed to harness a White Hole, with which he has sucked the castle, with The Sorceress inside it, into a strange reverse dimension, where he is trying to use the backwards laws of the dimension to harness it's powers. He-Man, Battle Cat and (unintentionally) Teela head into the White Hole to try and stop this latest evil attempt...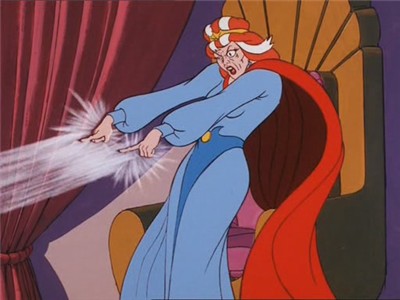 #25 - She-Demon of Phantos 7.50
Season 1 - Episode 9
For many years, the Royal Palace of Eternia has had shipments of photanium (the strongest metal in the Universe) from the moon of Phantos to make weapons with, but Skeletor intends to from now on step in and have the photanium all for himself. Man-At-Arms is given worthless ore instead of the photanium, and when the moon's ruler, Queen Elmora, puts up a fight against the plans, Skeletor casts a spell on her that ages her and turns her evil. Realising the metal they've been given is useless, He-Man and co. head to Phantos to see what's going on, only to find themselves on the moon where Skeletor now drives slaves mining for the metal...