Hanasaku Iroha: Blossoms for Tomorrow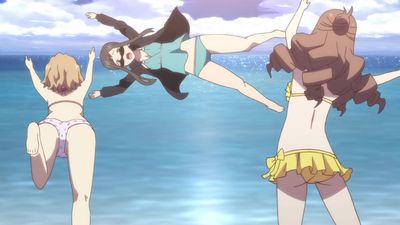 #1 - This Is My Way of Life
Season 1 - Episode 14
Ohana's school goes on a field trip to another hot spring inn, run by Yosuke Himawari, who is Yuina's distant relative and her alleged fiancé. They visit the beach, where a boy who was previously turned down by Minko before tries his luck again. Later than night, Ohana and Nako overhear Yosuke asking Yuina if she wanted to come work at his inn when she graduates. The next day, a group of part-timers working at the inn decide they want to quit. As Yosuke becomes irritated by this, Yuina tells him that people will only do things they enjoy doing, declining Yosuke's offer of running his inn.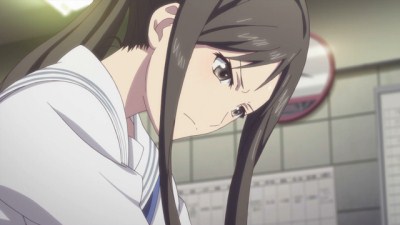 #2 - A Tearful Chef Romance
Season 1 - Episode 5
As Minko continues to be downhearted from the other day, she overhears Ohana, Nako and Tomoe talking with Tarō, who claims Tōru had been scouted by Fukuya Inn. Tomoe reveals to Ohana that it was Tōru that allowed Minko, who wanted to become a chef, to work at the Kissuiso. After a failed attempt to try and get Minko to show her true feelings, Ohana goes by herself to the Fukuya Inn, where she learns from Yuina that Tōru was simply filling in for an absent chef for the day, and she herself only wanted to have a ride on his motorbike. Afterwards, Minko allows Ohana to call her by her nickname, whilst Ohana finally responds to her text from Kōichi.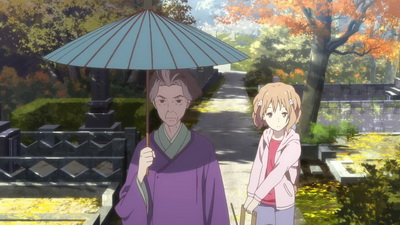 #3 - Sui Shijima, The Final Boss
Season 1 - Episode 24
After spending some time with him, Ohana invites Ko to come to the Bonbori Festival before leaving Tokyo again. As Ohana arrives back at the Kissuiso, they start getting a flood of reservations thanks to a positive review written by Satsuki. However, Sui insists that she intends to close the Kissuiso down after the Bonbori Festival. The next day, Sui takes Ohana with her to visit her husband's grave, where Sui suddenly collapses. Sui explains that she wanted to close Kissuiso down so the others could do what they want. Upon returning to the Kissuiso, the others are at odds against Sui, with only Ohana offering to help out with the Bonbori Festival preparations.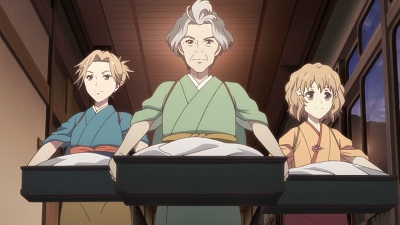 #4 - The Kissui Inn I Love
Season 1 - Episode 25
With the growing number of reservations, Ohana grows concerned about the changes Kissuiso is making and the lack of sleep the employees are getting. She is also finds herself at odds with some of the others for siding with Sui. Ohana tells Nako about what Sui told her, who tells her why her opinion differs. Things turn bad for the Kissuiso when Tomoe sprains her ankle on the day before the festival, but Sui and Satsuki arrive to fill in as waitresses and together they manage to make it through the day of the festival. Afterwards, everyone goes to the Bonbori festival.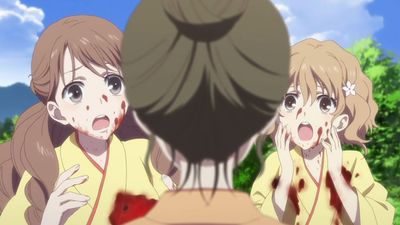 #5 - Pool on the Hill
Season 1 - Episode 17
Satsuki calls Sui, warning her that there might be something fishy about the film crew. The next day, they hear the project has been called off, putting Enishi in a tough spot as he had paid them a lot of money. Satsuki later calls him, telling him that the director was a scam artist trying to pay off his debts. As Enishi and Takako argue over the incident, they fall into the pool together and reconcile. After Sui explains her situation to the neighbourhood association, she commends Enishi for his defense of Takako.
#6 - The Return of the Word 'Die'
Season 1 - Episode 21
Enishi and Takako announce they are getting married, with Sui insisting that they hold a proper marriage ceremony. With costs looking high, Ohana suggests that they hold the ceremony at the Kissuiso, with everyone else offering to pitch in. As Tōru takes Minko to the beach to calm her nerves, she becomes disheartened when he brings up Ohana out of the blue and starts lashing out at her again like she used to. With Takako concerned about the cost of the ring and willing to call off the wedding, Sui gives her her old weddding ring, telling her about how she and her husband got married. She entrusts Enishi's happiness to Takako, but states she does not intend to pass down the inn to her.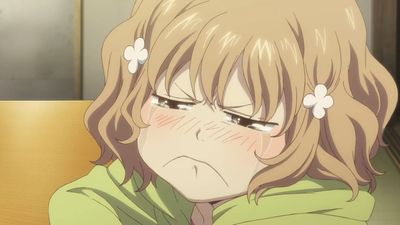 #7 - Bark at the Night
Season 1 - Episode 11
After the Kissuisō gets a scathing review in a magazine, it becomes apparents that all the hot spring inns in the area are receiving poor reviews whilst a newly constructed hotel is being praised. Wanting to get to the bottom of this, Ohana heads to Tokyo to find out who's responsible for the review, which turns out to be her mother, Satsuki. She reveals she wrote a poor review under orders from higher ups, which annoys Ohana, who had been bottling up her annoyances with her. When Satsuki refuses to go to Kissuisō to give her true opinion, Ohana decides to stage a protest. Whilst doing so, she decides to visit Kōichi, only to notice another girl seemingly attached to him. After hearing from Kōichi that the girl has an unrequited love for him, Ohana feels guilty and runs off into the rain in tears, but is found by Minko and Tōru.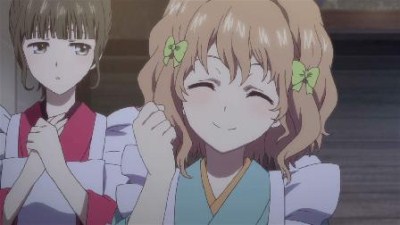 #8 - Nothing Venture, Nothing Win
Season 1 - Episode 6
Kissuiso is visited by a management consultant named Takako Kawajiri, wanting to revitalize the inn by having the mistresses wear new outfits. However, attempts to dress Ohana and Nako up in new outfits fares badly with the customers. After Takako takes her leave, Ohana's uncle, Enishi Shijima, feels downhearted that his efforts to help the inn are always rejected by Sui. As Ohana feels she should do something to help improve business, the janitor, Denroku Sukegawa, takes her to a secret room filled with old uniforms made by Sui over the years. Ohana and Nako decide to give these a try, which proves to be a hit with the customers.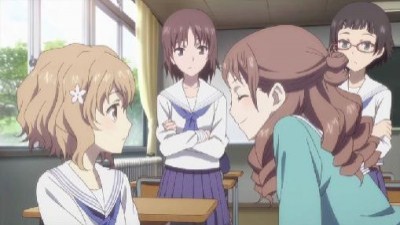 #9 - Grey Heron Rhapsody
Season 1 - Episode 4
The first day of the school trimester starts for Ohana, Minko and Nako, and Ohana soon finds herself popular with the other students in the class, including Yuina Wakura, who works at a rival hot springs inn, the Fukuya Inn. As Ohana tries to figure out how to respond to Kōichi's text, she and Nako go to the Fukuya Inn concerning the neighbourhood watch where they encounter a grey heron, before visiting a temple, where Nako talks about how she wants to get rid of her timidness. Later, Ohana learns that Minko actually has a crush on Tōru. As Ohana tries to apologise to Minko about it, they both witness Tōru picking up Yuina on his motorbike.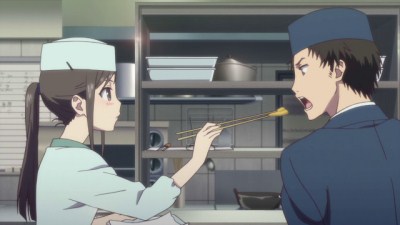 #10 - Kissuisō's Longest Day
Season 1 - Episode 9
Ohana ends up finding Tohru with the encouragement from Kōichi. He tries to book a stay in order to see Ohana except the rooms were full and he went home. Tohru says that if Ohana thinks he could solve the problem at Kissuiso, then he'll just have to fix it. In the end, they pull through and tend to every customer. A woman and her grandmother were actually the people who were from the magazine and due to Ohana's motto that every customer is equal, Kissuiso received a good rating.It was seen at the end that the Manager came back from the hospital.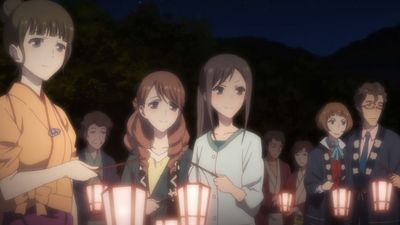 #11 - When the Flowers Bloom
Season 1 - Episode 26
As everyone explores the Bonbori festival, Ohana, who now dreams of being just like Sui goes to meet up with Kō, finally confessing her feelings for him. After the festival, a farewell party is held for Denryoku, where Enishi announces that he agrees to the Kissuiso being shut down until he feels he is talented enough to run it properly. As the Kissuiso closes down the next day and everyone parts ways, Sui sees off Ohana, who promises to return someday, giving her Denryoku's log as a keepsake.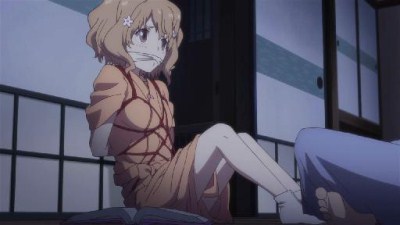 #12 - Balut
Season 1 - Episode 3
Minko and Nako discover Ohana has gone missing, as she has been confined by Tarō, who admits he was trying to come up with a sex novel to pay his hotel bill. When he discovered by Nako and the others, he attempts to make a run for it by stealing one of the inn's vans, so the staff give chase. They eventually find him at a seaside cliff where he jumps into the sea, but Nako manages to save him from drowning. As Tarō laments his lack of talent, Ohana tells him that, even though his novels were perverted, they showed a side of Ohana she never knew before. Afterwards, they arrange for Tarō to work at the inn to pay off his bill, and Minko eats the revenge meal Ohana prepared for her. Later that night, Ohana finds notes Minko wrote on devising an alternative insult to 'die', and also receives a text from Kōichi.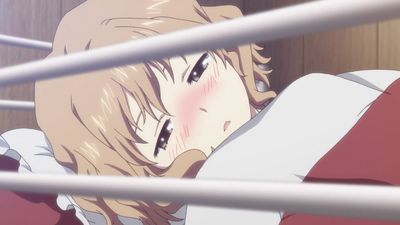 #13 - Slight Fever
Season 1 - Episode 10
As a result of constantly getting up early to help clean, Ohana collapses with a fever and is told to rest for the day. Tōru makes her some porridge and becomes slightly enamoured by her solemn appearance. Minko starts to become a bit jealous of the attention Tōru gives to Ohana. As various members visit Ohana and tell her to stay in bed, Ohana gets a strange dream where she is at the temple and Kō appears telling her to come back, Kissuisō doesn't need her. There is a little girl and a young fox hiding while watching Ohana. This dream worries Ohana about whether the Kissuisō even needs her. However, just as she is writing out a text to Kōichi about possibly going home, Minko and Nako convince her that she's still needed. She falls asleep and finds herself in the dream again where she tells Kō that she wants to stay at Kissuisō. The little girl and the young fox can still be seen watching her during the dream.