Hakuouki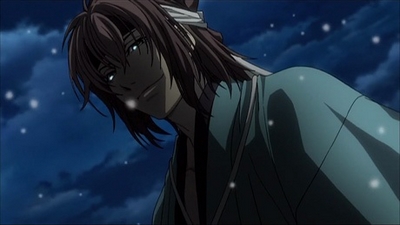 #1 - The Snowflake Capital 7.58
Season 1 - Episode 1
Chizuru Yukimura is a young woman who, disguised as a boy, traveled to Kyoto to search for her missing father. However, she is attacked by ronin. Just as one of the ronin is about to find her hiding place, he is attacked by demons. The demons close in on Chizuru, when she is saved by the Shinsengumi. In Shinsengumi headquarters, she explains who she is and why she is there. The Shinsengumi allow her to stay as they are looking for her father as well.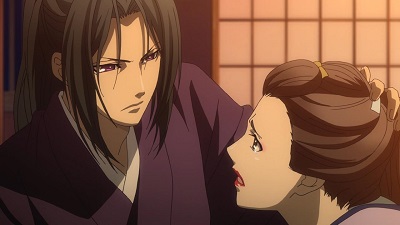 #2 - The Light of a Flashing Sword
Season 3 - Episode 9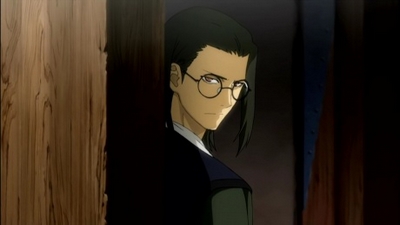 #3 - Turbulent Beginnings 7.50
Season 1 - Episode 2
Chizuru starts to work her way into the Shinsengumi's society, motivated by a desire to be useful and concern over the injured Sannen-san. She gains permission to leave headquarters in the company of the regular patrols, in order to continue the search for her father. Following one lead, she runs headlong into the Shinsengumi's enemies, and in the subsequent fight, the Shinsengumi learn of a Choushuu plot against Kyoto and the Emperor.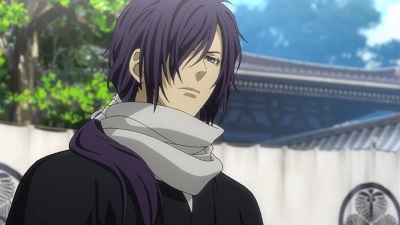 #4 - Stairway to the Blue Skies
Season 3 - Episode 5
#5 - The Hallway of Setbacks
Season 2 - Episode 2
Okita's tuberculosis is getting worse, and Hijikata refuses to let him accompany the rest, telling him to get better first. The troops leave Kondou in Hino, and proceed on. Nagakura shows disagreement with Kondou's actions, and Saito asks Hijikata if he think that they can win the battle. Hijikata replies that in their current state, they cannot match the enemy. Later, Chizuru has a nightmare and follows Saito outside the camp, where he tells her about his past and his opinions. They meet up a messenger, who tells them that the enemy has already entered Koufu Castle. Kondou refuses to let the army retreat, and Hijikata leaves to find more troops. Before he leaves, he makes a "Chiming Metal" oath with Chizuru, making her promise to stay alive and protect Kondou. Meanwhile, Kaoru talks to a mysterious man. The war starts just a few hours after Hijikata leaves, and Kondou agrees to forfeit after seeing the many men he let die in vain. Nagakura and Harada run into the Oni from before, and battle a strange group of Rasetsu. It is revealed that the creator of the Rasetsu is Chizuru's father, Koudou.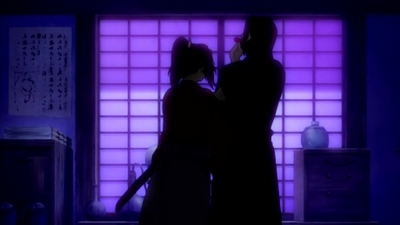 #6 - Rivaling Blades
Season 1 - Episode 5
After several months, Chizuru's service to the Shinsegumi has become a regular part of their everyday lives. Itou Kashitarou allies with the corps as an advisor, but not all the soldiers are happy with his presence. The Shinsengumi make plans to move to a larger headquarters. Meanwhile, Yamanami, discontented with his ability to contribute, continues research on "that medicine" in a dangerous way.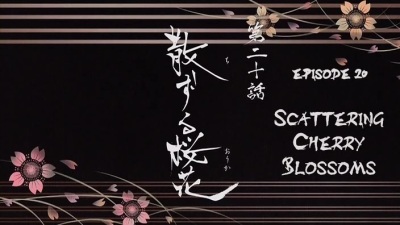 #7 - Scattering Cherry Blossoms
Season 2 - Episode 8
Hijikata meets up with an admiral in Sendai, who mentions that murders have been happening frequently outside the castle. He believes that maybe they have a strange unit, which Hijikata and Chizuru suspect to be the Rasetsu Unit. Shortly afterward, Heisuke shows up and reveals that Sannan has most likely joined Koudou, who is still alive. However, Koudou shows up with his Rasetsu unit and kidnaps Chizuru, leaving Heisuke fighting alone in the broad daylight. Koudou attempts to persuade Chizuru to lead the Rasetsu in order to rebuild the Yukimura Clan, but she refuses, saying that human and Oni lives are equal. Just as Heisuke and Hijikata appear, Sannan claims that he indeed was working with Koudou to build an empire that Rasetsu and Oni could live peacefully. But he reveals that he was actually spying on Koudou. Hijikata, Heisuke, and Sannan fight the Rasetsu, and Koudou is killed protecting Chizuru. Heisuke and Sannan crumble to dust after they have used all of their lifespan. The Shinsengumi makes plans to move to Ezo, and Hijikata orders that Chizuru stays behind in Sendai while he goes to fight.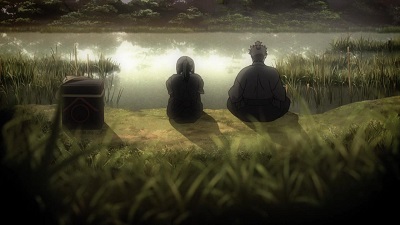 #8 - Oath Made on the Wind Blowing Over the Grass
Season 3 - Episode 7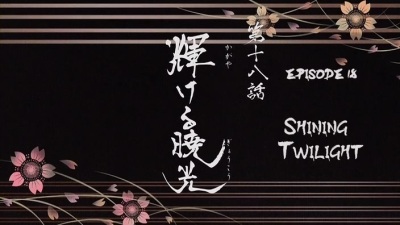 #9 - Shining Light of the Dawn
Season 2 - Episode 6
Okita gets angry at Hijikata, who failed to rescue Kondou before he was beheaded. Saito forces Hijikata to stay behind and rest while he takes the front line. The New Government Army attacks the Shougitai, and Harada and Shiranui run into Koudou and a group of Rasetsu coming to seek blood. The two of them manage to kill all of the Rasetsu with silver bullets, but Harada is mortally wounded. Just as Koudou is about to kill Shiranui with a bomb, Harada throws his spear at him, making the bomb backfire on Koudou. Harada and Shiranui are never seen again by the Shinsengumi. Okita overhears some men planning to assassinate Hijikata, and uses his Rasetsu powers to kill them all. Hijikata hears rumor of a white-haired man fighting dozens of men, and he and Chizuru run to the place where Okita is fighting. By the time they reach there, the only thing left is Okita's sword, Okita himself having used up all of his lifespan and disintegrated.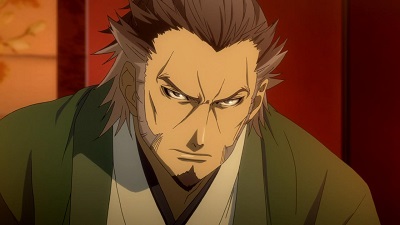 #10 - Rules for a Pack of Wolves
Season 3 - Episode 3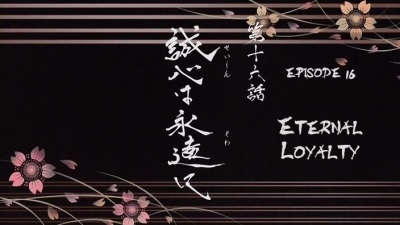 #11 - Undying Sincerity
Season 2 - Episode 4
Saito follows Sannan out at night, but loses him when he sees Amagiri killing a Rasetsu. In return for helping him kill the Rasetsu, Amagiri tells him a shocking secret about the Rasetsu. Saito relays this information to the Shinsengumi, and Hijikata orders Sannan to stop all experimentation on the Rasetsu Unit. They also decide to move to Aizu. Chizuru witnesses Hijikata having a vampiric impulse, but Hijikata refuses to let her give him some of her blood. Later, after the Shinsengumi make camp in Aizu, the enemy decides to attack the headquarters when all of the troops are out for training. Kondou orders Hijikata and the rest to escape while he stays behind. As they escape, they run into enemy soldiers. Despite Chizuru's plea, Hijikata uses his Rasetsu powers and kills them all. Kondou peacefully surrenders to the enemy, and Hijikata angrily laments his choice to leave Kondou behind.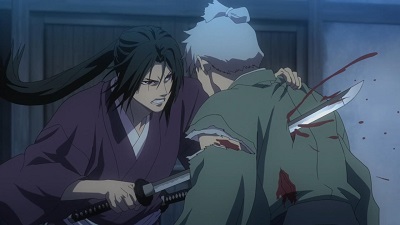 #12 - Howling from the Darkness
Season 3 - Episode 6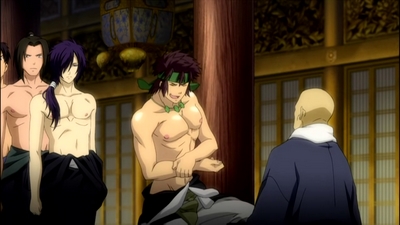 #13 - Fate of a Fetter 8.11
Season 1 - Episode 7
The Oni are foiled and vanish again. Chizuru makes friends with Sen, whom she rescues again from thugs. The Shinsengumi members undergo medical exams - and the doctor giving the physicals is a friend of Chizuru's father. His prescription: Clean the HQ! Chizuru finds out a terrible secret about Okita. Dr. Matsumoto also fills Chizuru in on some more details about the ochimizu and Rasetsu. Kazama gets into the headquarters to confront Chizuru again, and is later reproved by Amagiri for his interference with humans.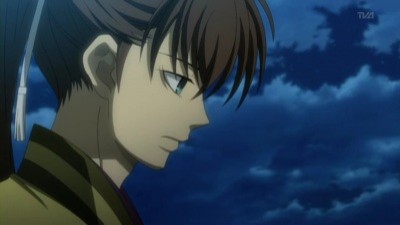 #14 - Where the Bonds Lead
Season 1 - Episode 10
The Shinsengumi learn of Itou's plot to assassinate Commander Kondou. The Shinsengumi is dispatched to Itou's compound, in spite of concerns over Heisuke's safety. After Itou is assassinated, Saito and Chizuru confront Heisuke directly, and persuade him to fight alongside them against Itou's men. Meanwhile Souji, severely weakened by his tuberculosis, is approached by Kaoru, who reveals his true identity and offers him a vial of the "medicine" that would heal him and make him a Rasetsu. Back at Itou's compound, the Shinsengumi forces are surrounded by Itou's men, Shiranui, and Amagiri. Heisuke engages Amagiri in battle, and is brutally attacked.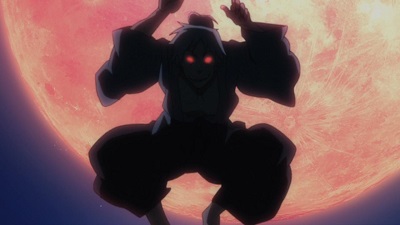 #15 - A Moonlit Night Filled with Flowers
Season 3 - Episode 11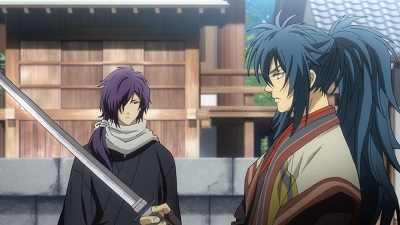 #16 - The Shackles of Pandemonium
Season 3 - Episode 8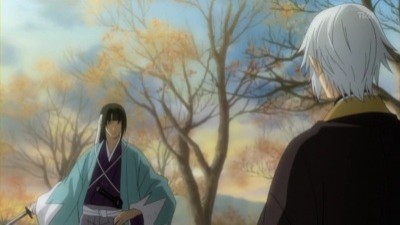 #17 - On the Opposite Side of Arms
Season 1 - Episode 12
The conflict between the Shinsengumi and imperialist forces breaks out into the Boshin War. During the Battle of Toba-Fushimi, Inoue is brutally murdered in front of Chizuru. Kazama appears and kills Inoue's murderers. Hijikata engages Kazama in battle, believing that he killed Inoue. During the fight, Hijikata drinks Ochimizu and becomes a Rasetsu to better his odds of victory. Yamazaki steps in and is grievously wounded. The fierce battle ends abruptly when Amagiri comes to collect Kazama. In the aftermath, the Shinsengumi bury the dead before departing by ship for Edo. En route, Yamazaki succumbs to his wounds and is buried at sea.
#18 - Twilight Blossom
Season 1 - Episode 3
The smaller squad of Shinsengumi out to apprehend the Choushuu conspirators find them at Ikedaya. Chizuru is sent with Yamazaki to update the other soldiers surveilling at Shikokuya so they can reinforce their brethren, but runs the message herself while Yamazaki fights off attackers. Back upstairs at Ikedaya, Okita and Heisuke engage with two mysterious and very powerful strangers. The Ikedaya Incident leads to a request for the Shinsengumi to fight on the front lines - the beginning of the Kinmon no Hen Incident.