Haikyuu!!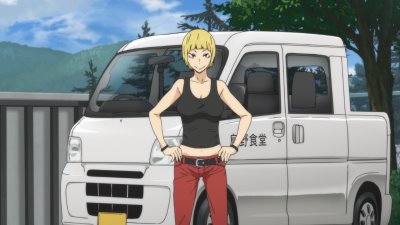 #1 - Center Ace
Season 2 - Episode 4
After Hinata and Kageyama finish their supplementary exam, Saeko Tanaka takes them to join Karasuno team at Tokyo training camp. Now they're on the team, Karasuno wins their first match on the day; however Eikichi from Shinzen High manages to touch on Hinata's quick's. Later on, Hinata meets the half Russian player from Nekoma Lev Haiba; Lev promises him that he will be the first one to stop his quick.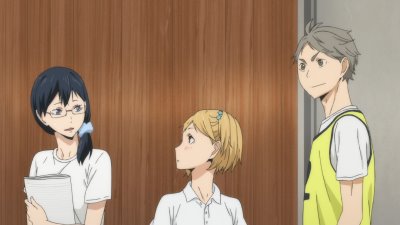 #2 - Cogs 8.45
Season 2 - Episode 10
The week-long training camp is finally on its last day. Karasuno's final opponent is Fukurodani High School, and they're determined to win at least one set against the powerhouse school. Are they going to be able to show the fruits of their labor?
#3 - Guarding Your Back
Season 1 - Episode 18
Karasuno manages to get on a roll in set 1 and steals the game 25-21. For set two they perform a double rotation to get Hinata away from the Giant #7. While this free's up Hinata for more quick attacks, it also means the matches result will rely heavily on Azumane's ability to blast through the Iron Wall as he faces #7. When Hinata becomes the vanguard up front, Karasuno is able to slowly increase their lead. However Hinata rotates to the back with the score 24-22. Should they go to a third game, Karasuno knows they will be at a disadvantage. It all relies on Azumane's skills to get past the wall. As the match ends and Karasuno is leaving the gym, they look over to see Aoba Johsai is up 24-13 in their 1st round match first set.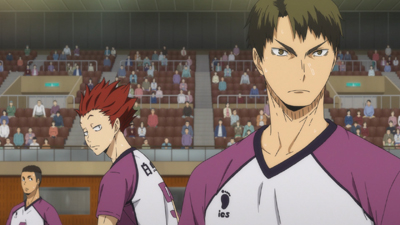 #4 - The Threat of the Left
Season 3 - Episode 2
The Miyagi Prefecture Qualifier finals of the Spring High School Volleyball Tournament. From the very beginning of the match, Ushijima attacks with his powerful spikes. Because he's not used to left-handed attacks, their Guardian Deity, Nishinoya, has a hard time receiving them. What is Karasuno's plan to deal with the mounting point difference?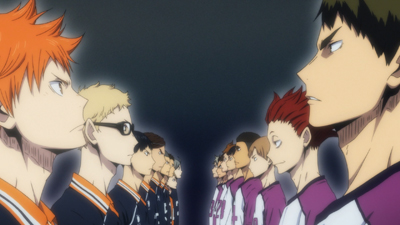 #5 - Individual vs. Numbers
Season 3 - Episode 5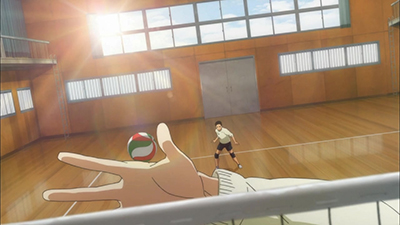 #6 - The View from the Summit
Season 1 - Episode 4
The practice match that will determine the future of Kageyama and Hinata begins as Kageyama, Hinata, and Ryuunosuke battle Tsukishima, Yamaguchi, and captain Sawamura in a 3-on-3 first years match. Kageyama begins to fall into his old setting habits, making it hard for Hinata and Ryuunosuke to spike the ball. When he does get in tune, Tsukishima is predicting his moves and is managing to block all their points. It looks like it will be an easy win in set 1 for the captain's team, but then Kageyama and Hinata start to succeed with their quick attack, which could completely change the outcome of the match.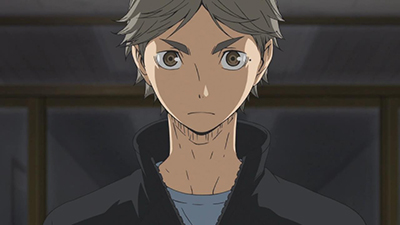 #7 - Decision
Season 1 - Episode 11
Karasuno heads off to training camp. During a jog on one of the days Hinata gets lost and runs into a volleyball player in a red jersey named Kenma. Before Kenma reveals which team he plays for one of his teammates shows up and leads him off to a practice match. After hesitating to decide a starting lineup, Ukai goes with Sawamura, Yu, Azumane, Ryuunosuke, Tsukishima, Kageyama, and Hinata. Ukai reveals in the past Nekoma hasn't had outstanding players, but they have been a team that thrives on receives and kills. Karasuno's players receive their jerseys, and Hinata has the number 10, the same number as his idol the "Little Giant." He learns the Little Giant was on the only Karasuno team that has made nationals and thinks it is fate. Finally it's practice gameday. Nekoma and Karasuno line up outside and meet each other face-to-face.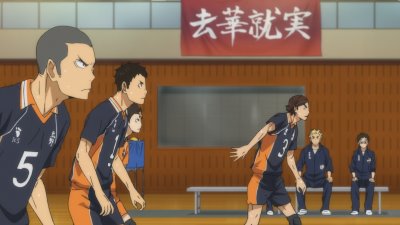 #8 - The Former Coward's Fight
Season 2 - Episode 22
As Seijoh takes the flow of the game, Keishin sends Yamaguchi out as a pinch server. Yamaguchi ran away from the Wakunan match, but now is he able to turn around this match?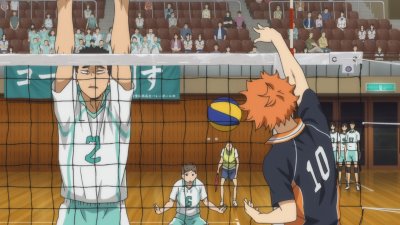 #9 - The Absolute Limit Switch
Season 2 - Episode 24
Neither team is willing to let the other team get ahead. They're both reaching their limit, yet the match continues. They proceed into the final battle to determine who will make it to the finals.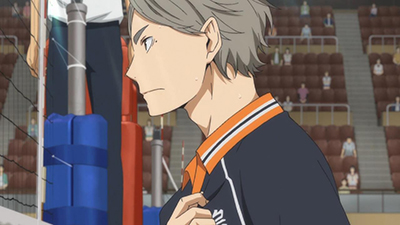 #10 - Senpai's True Abilities
Season 1 - Episode 21
Sugawara subs in for Kageyama, sealing the first set for Aoba Johsai. Kageyama is shocked as he watches the real ability of Sugawara in setting. Sugawara gives his best to set. Aoba Johsai is shocked when Hinata didn't speak or call for the sets that Aoba Johsai knows. Karasuno takes the lead in set 2, but Oikawa's predictions start coming true and allow Aoba Johsai back into the match.
#11 - Episode 8
Season 3 - Episode 8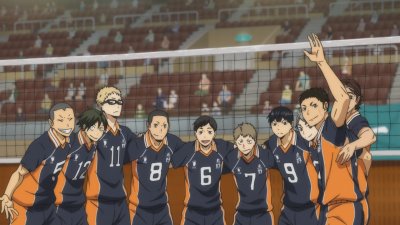 #12 - Declaration of War 8.32
Season 2 - Episode 25
After defeating their fated rivals, the Karasuno High School Volleyball Club finally move on to the finals of the Miyazaki Prefecture Qualifiers of the Spring Tournament. They will be facing the strongest school in the prefecture, Shiratorizawa Academy. Their battle for the "absolute king" in order to get the one ticket to nationals beings!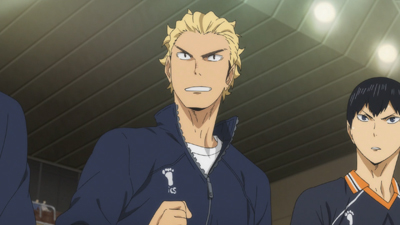 #13 - Obsession
Season 3 - Episode 7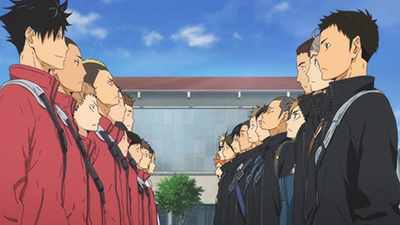 #14 - The Neko-Karasu Reunion
Season 1 - Episode 12
Nekoma and Karasuno begin their match with Kageyama and Hinata connecting on a quick attack that gives Karasuno the 1-0 lead. Nekoma realizes they're up against a genius setter, so they decide to start marking Hinata. Hinata's blocker gets used to his speed and feints and begins to start blocking his shots, allowing Nekoma to win the first set 25-22. However Kageyama uses the opportunity to teach Hinata how to do a straight attack and how to use his eyes to find the holes in the opponents defense. Hinata ends up managing to change his spike path in mid-air during set 2. It ends up going long, but Hinata realizes he has a new dangerous weapon to go along with his quick attack if he can master it.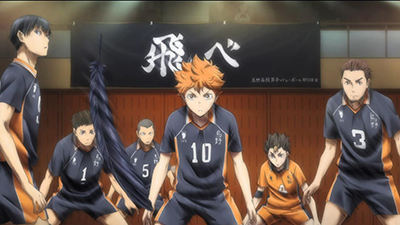 #15 - Revival
Season 1 - Episode 15
Karasuno arrives for their first matches on both the men's and women's sides of the tourney. On the men's side people talk about how Karasuno did well in the past bu they were now crashed ravens. On the women's side they contemplate how they should have practiced more. Aoba Johsai watches from the stands and wonders how the addition of a coach and two new players will change Karasuno's attack. As the match begins Kageyama sets to Ryuunosuke for the quick spike and kill. The second point goes to the ace, Azumane. Finally the quick attack of Kageyama and Hinata is unveiled on the third point. It is only set 1. Karasuno now leads 3-0, but others have just realized that Karasuno is back and possibly better than ever.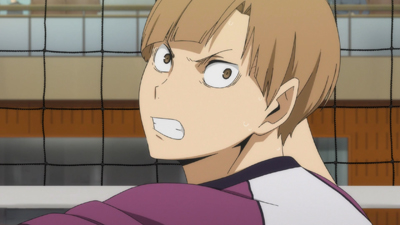 #16 - The Halo Around the Moon
Season 3 - Episode 4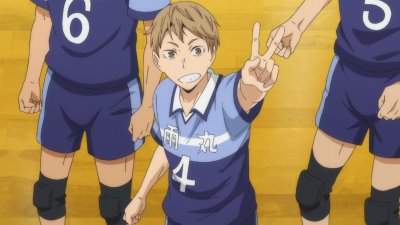 #17 - Moonrise
Season 2 - Episode 7
In order to achieve a new form, Hinata and Kageyama start practicing on their own. The other members of Karasuno have also started practicing on their own to better themselves, and they have shown some evolution. However, Tsukishima seems indifferent about change and one day after practice, he is asked to serve as blocker...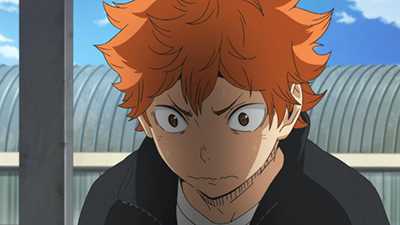 #18 - A Coward's Anxiety
Season 1 - Episode 5
Kageyama and Hinata begin to get in sync. As Kageyama's sets start hitting Hinata's hands every time, Tsukishima is forced to change his tactics at blocking. This frees Ryuunosuke up on the other side, and the team of Kageyama, Hinata, and Ryuunosuke is able to rally and win the 3-on-3 first year match. With the win Kageyama and Hinata are acepted as official team members. Just then advisor Ittetsu Takeda arrives and says he has been able to arrange apractice match with Aoba Johsai. However there is one condition. Tobio Kageyama must act as the setter for the entire match.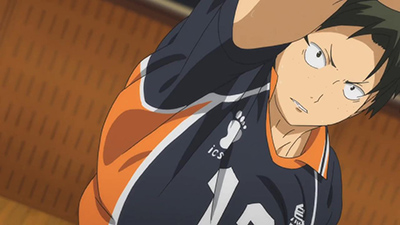 #19 - The Point that Changes the Momentum
Season 1 - Episode 23
Aoba Johsai begins to pull away in set 3, forcing Coach Ukai to make some drastic decisions. Yamaguchi is subbed in as an ace server, but the pressure proves to be too much to overcome. A service error occurs, but the error allows Karasuno to calm down and climb back within two.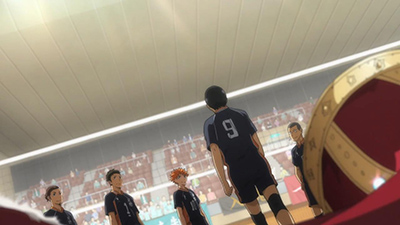 #20 - Removing The Solitary King
Season 1 - Episode 24
Kageyama begins to match Toru point for point. The teams become dead even at 25 a piece. Long sets begin to drain both teams, and Toru acknowledges that Kageyama has realized what teamwork is all about and is no longer the solitary king. The game winning points are shown.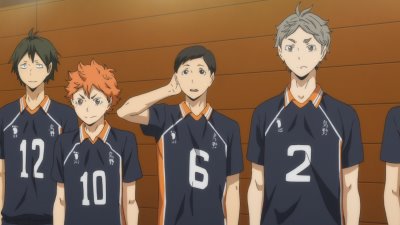 #21 - Place to Play
Season 2 - Episode 15
Karasuno is finally playing in the qualifier prelims. Their first opponent is the 4th best team from the Inter-High prelims, Johzenji High School. Their motto is to play. What will Karasuno do against their rather unconventional playing method?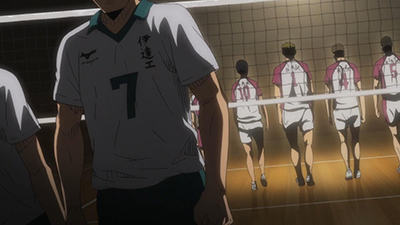 #22 - Formidable Opponents
Season 1 - Episode 14
The bracket for the Inter-High is announced. Karasuno has its final practices and works on back-end spikes and signals. The lost Karasuno flag that says Fly is revealed. Hinata and Kageyama reveal they've had a race every morning to the gym since they've been teammates. Kageyama currently leads 32-30, but Hinata vows to defeat him in every way possible until they can faceoff in a match against each other again. Yamaguchi secretly works on mastering the jump float serve so he won't be the only first year without an ability to contribute to the team. Ukai begins farming in the morning as another source of income for the family store.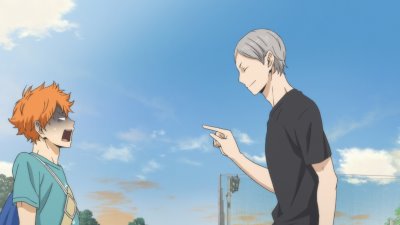 #23 - Tempo
Season 2 - Episode 6
Hinata and Kageyama are at oddds. Keishin decides to take Hinata to his grandfather, who lead Karasuno to the nationals. Meanwhile, Kageyama runs into...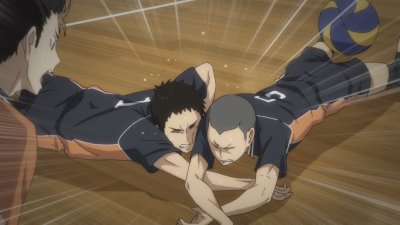 #24 - The Battle Without Will Power
Season 2 - Episode 17
The second ta of the Miyzaki qulifier prelims, and both teams give it their all from the very beginning of the game. Meanwhile, Karasuno's fearless leader, Sawamura, is hit with an accident, putting Karasuno in a pinch. The one who stepped up in the time of trouble was...
#25 - The Losers
Season 2 - Episode 18
Karasuno can't get back into rhythm without Sawamura, and are having a hard time playing to their full potential. Meanwhile, Hinata battles it out in the air with Wakunan's ace, who has a similar playing style to the Little Giant.