Guilty Crown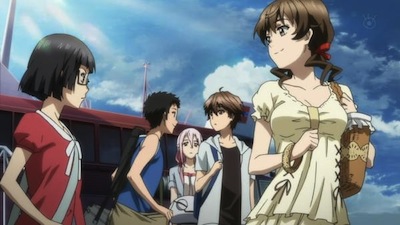 #1 - Courtship Behavior
Season 1 - Episode 8
Shu is going with Inori, Hare, Souta and Kanon on a beach retreat at Oshima which his mother tells him to also visit his father's grave. In truth, the retreat is actually a mission for the Undertakers to get Souta there so they can use his Void to enter a secret GHQ facility located at a shrine and steal a special item. As Shu and his friends have fun on the beach, Gai and the rest of the Undertakers monitor them. As Shu pays respects to his father, Kurosu Ouma, an expert on the Apocalypse Virus who he died during the "Lost Christmas" incident ten years ago, Gai suggest to Shu to use Souta's crush on Inori to get him alone so they can get his Void much to Shu's dislike. That night, Souta is alone with Inori and is about to confess to her but is stopped by Shu who immediately pulls out his Void and much to Shu's embarrassment, the Undertakers were watching him with Ayase and Tsugumi wondering what he was about to say about his relationship with Inori. As Gai, Inori and Shu enter the facility using Souta's Void, a camera that takes pictures of doors and opens them, they find too late to discovered the item, a canister containing the origin of the Apocalypse Virus, has been taken by Shuichiro earlier and cancel the mission. The next morning, Shu and Souta makes amends on their relationship and their hardship of understanding each other. As everyone leaves Oshima, Inori explains to Shu how people's Voids change based on his relationship with them.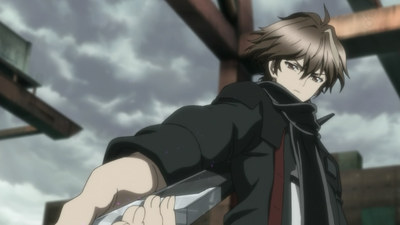 #2 - The Tyrant
Season 1 - Episode 16
Argo is airdropped into Loop 7 as part of his mission to rescue Arisa as the head of Shanghai's Ming Hua Group, who is in love with her and in exchange for rescuing her, promises her grandfather that he will have the Association of Asian Nations intervene in Japan. As he explores the area, he witnesses Tennouzu students with Void weapons attacking another group of survivors for vaccines and has one of them follow them to Tennouzu to see her Void. Recognizing Argo as a member of the Undertakers, they take him to meet Shu, where he is shock to see how much Shu has change. Since Hare's death and implementing the ranking system, Shu has ruled the school with an iron fist by making students with Void weapons as his Secret Service who enforce his rule and maintain order while searching for other potential void users in the area to join Tennouzu while the F-ranked void users remain infected with the virus and are ordered to work repairing a battleship they will use to escape Tokyo in exchange of getting vaccines.
#3 - Resurrection: The Lost Christmas
Season 1 - Episode 12
Shuichiro teleports to the crystal tower but not before giving Segai the information he wants as thanks for his service. Meanwhile, Shu finally recognize who Gai is but he tells Shu to rescue Inori before the youngster, who Gai calls "Death", teleports away. As Shu follows them through a portal, "Death" tells Shu he still doesn't remember his past and causes him to remember.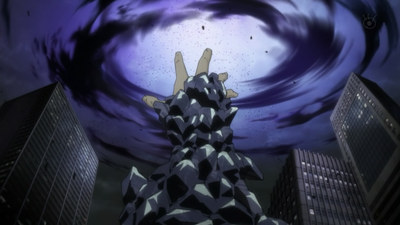 #4 - Resonance
Season 1 - Episode 11
While the virus is still spreading over Japan, Daryl arrives at the airport and kills everyone there in a rage of fury, including his own father Major General Yan. With the GHQ higherups gone, Shuichiro took over control of the entire military, and declares that the Funeral Parlor spreaded the disease as an act of terrorism. Meanwhile, after an call from Tsugumi, Shu finally regained control over himself. He then gathers Hare, Souta, Yahiro, Kanon, and Arisa, and explained to them that he wanted to go and rescue Gai and Inori. After witnessing Shu's power to draw out voids, the five students agreed to tag along. Back at the GHQ Headquarters, Haruka managed to escape from Shuichiro, but bumped into Inori and Gai. With Haruka's help, Inori was able to sing and broadcast her song "Departure" all over Japan. The song was able to reverse the effects of the Apocalypse Virus. At the same time, Shu and his friends arrives at the GHQ HQ, breaking through the barricades using different voids. When Shu finally reached Inori, a blond-haired boy appeared from behind and withdrew Inori's void, then sliced down on Shu. But Gai appeared and took the hit, saving Shu. The episode ends with Shu holding the unconscious Gai, while Shuichiro and Segai enters the Gate of Hell leading to Cocytus.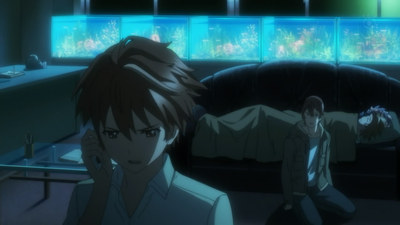 #5 - Prey
Season 1 - Episode 9
Hare and Kanon notices how much Shu has changed and is more active. In order to help Hare get close with him, Kanon lies to Shu that Hare needs his help for her shopping. As Hare is about to confess to Shu on the train, Yahiro suddenly appears which Shu tell Hare to go shopping herself as he wants to talk with Yahiro. Yahiro brings Shu to his hideout where his brother, Jun is also staying and reveals that he and his brother have been on the run from the GHQ because they wanted to euthanize Jun. While Shu won't forgive Yahiro for betraying him, he will help Jun escape for Yahiro's sake and calls the Undertakers to pick them up. However, the GHQ have been following them and sends Seiga and Daryl. Cornered in a warehouse, Shu forcibly takes Yahiro's Void before telling Yahiro he will never betray his friends just like him. Daryl's Endlave arrives and fight Shu using a new weapon that targets his Void while Seiga watches. But when Jun stands up, the weapon target him instead. Suddenly, the crystals on Jun's body migrate to Daryl's Endlave and takes control of it and proceeds to attack the GHQ and Yahiro. Shu stabs the infected Endlave with Yahiro's Void and enters Jun memories where Jun himself shows Shu his and Yahiro's past before the "Lost Christmas" incident. Jun also reveals because of the crystals on his body, he could see people's true self including his brother, who while loves and cares about him, also hates him for burdening him as well. Wishing for his final memories of loving Yahiro and not hating him, Jun begs Shu to use Yahiro's Void to end his life before he kills Yahiro which Shu is forced to do so which Jun thanks him. With Jun's death, the infected Endlave breaks down while Seiga leaves. As Yahiro regains conscious and asks where Jun is, a mortified Shu confess to Yahiro that he killed him, unaware that both of them were followed by Hare.
#6 - Flux
Season 1 - Episode 4
Shu is arrested by the GHQ much to his classmates shock and worry. He is sent to GHQ Isolation Facility Four where he remains silent about the Undertakers. Upon learning Gai and the Undertakers will attack the Facility to rescue their "comrade", Major Segai brings Shu to the Isolation ward, revealing Yahiro sold him out so his brother, a victim of the Apocalypse Virus, can get treatment. Furthermore, Major Segai justifies GHQ's harsher actions for the safety of Japan and uses Shu's feelings for Inori and his doubts about Gai. He reveals that the "comrade" Gai wants to rescue is mass murderer Kenji Kido, which makes Shu question Gai's trustworthiness. The Major gives Shu a transmitter disguised as a pen that he is to use if he comes in contact with Gai. Later that night, a disguised Gai visits Shu and tells him his plans to rescue Kenji, however, Shu doesn't want to be involved. Tsugumi informs the two that Inori has disobeyed Gai's orders to stand by in order to rescue Shu. Shu, worried, goes to save her, forcing Gai to change his plan. Protected by Ayase's Endlave Steiner, Shu heads to where Inori is at until he encounters Kenji himself and uses his Void, a Gravity gun to stop the GHQ Endlaves and rescue Inori. After Isolation Facility's destruction, Gai offers Shu to follow him. Shu reluctantly agrees, however, he keeps the transmitter given to him and does not inform Gai of his exchange with the Major.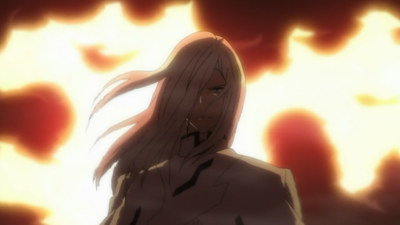 #7 - Dear...
Season 1 - Episode 18
Ayase, Tsugumi and Argo are shocked on what Gai has done and Daryl is bewildered upon given orders to protect Gai, their former enemy. An UN Stealth Bomber attempts to bomb them but Gai sacrifices the student ring leaders of the coup to destroy the plane. After destroying their Voids, Gai orders Ayase, Tsugumi and Argo to join him or die but are rescued by Daryl who is protective with Tsugumi and blames Gai for making him kill his father. In the confusion of Daryl's insubordination, Inori escapes with Shu while Ayase, Tsugumi and Argo escape on their own and Arisa defends Gai, revealing he was the one who told her to start the coup and joins the Anti Bodies.
#8 - Rebirth
Season 1 - Episode 19
Haruka opens a safe guarding the third and final Void Genome, but is stopped by Shuichiro, who is revealed to be her older brother. He confesses that he was the one who killed her husband, Shu's father, before shooting her, but she manages to escape with the Void regardless. An arrest warrant is issued on Haruka, Segai offers to lead the search for her. As she heads to the Kuhouin estate for shelter, her old friend Kurachi tells her the estate is no longer safe now that Okina is dead, and they head to an Undertakers hideout. Arisa is approached by Shu who convinces her to help him rescue Inori, as she wants to learn more about Gai's true intentions.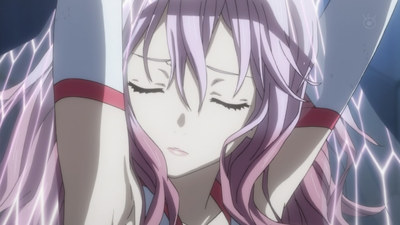 #9 - Emergence
Season 1 - Episode 21
As the combine forces of the Undertakers and the UN forces arrive at GHQ Headquarters, realizing the 256 Leukocyte satellites was a bluff, Shu helps Ayase into her new Steiner Endlave and promises his friends and allies that they will rescue Inori and stop Gai. As the UN forces attack, Gai uses Yuu, Kenji and Arisa voids to decimate them and Shuichiro orders the GHQ/Anti Bodies/Daath forces to destroy them. Daryl is forced to join the attack in his new Gespenst Endlave due to having his void taken. Thanks to Tsugumi's void, Shu and his Undertakers/PMC allies manage to sneak inside and hack into the base system, allowing the UN the chance to counterattack. As Tsugumi group split up with Shu and the others, Gai prepares to get rid of Inori's memories before Mana can take over her body but ask her why she loves Shu.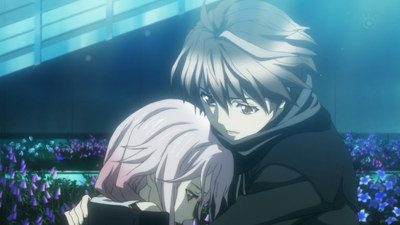 #10 - Exodus
Season 1 - Episode 17
As the blockade gets closer to the school , causing fear amongst the students, Shu become more ruthless to maintain order. Yahiro warns him the students will hate him if he continues acting like this, but Shu insists it's necessary or they might end up dying like Hare. Arisa, traumatized after being attacked by Inori, is contacted by an unknown individual (later to be revealed as Segai), who convinces her to turn the students against Shu. Arisa seduces Hirohide and convinces him to secretly spread a rumor to the students that they will die if their Voids are destroyed and Shu is keeping it a secret, creating greater resentment against him.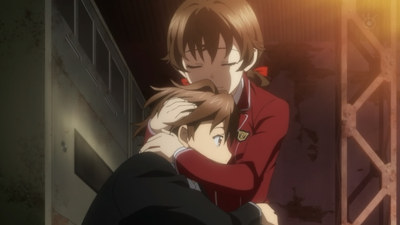 #11 - Sacrifice
Season 1 - Episode 15
The students of Tennouzu work together to improve their environment by making use of their voids provided by Shu. However, the situation starts to deteriorate as the blockade draws closer and the supply of vaccines starts running low. Rumors about Yahiro's plan to prioritize the survival of those with stronger Voids with a Void Ranking system create turmoil among the students, despite Shu being opposed to the idea. Meanwhile Hare is encouraged by Tsugumi to confess her feeling to him, but at the sight of a troubled Shu who is questioning his leadership, she refrains herself and comforts him instead, telling he is a kind "King".