Ground Floor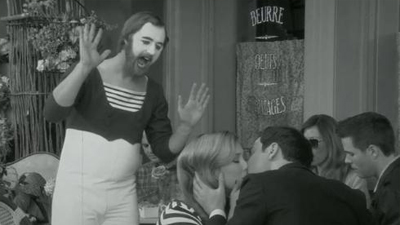 #1 - The Decision (1) 8.09
Season 1 - Episode 9
When Jenny cashes in eight years of credit card points for a trip to Paris without Brody, he's left wondering where he stands. The time has come for him to tell her exactly how he feels about her...if Harvard will get out of his way long enough to do it. After lying on his resume, Threepeat has to learn fluent Mandarin in one day or face Mansfield's wrath. Meanwhile, Mansfield makes an announcement that could change everything.
#2 - The Gift 8.05
Season 1 - Episode 4
Brody tries to buy the perfect gift for Jenny, but as Mansfield says, "What do you get for the girl who has nothing?" Brody's extravagant gift turns the downstairs gang against him and makes Jenny feel uncomfortable instead of flattered. Threepeat over-extends himself to buy matching jet skis and is now desperate for a bonus he's not sure he's going to get.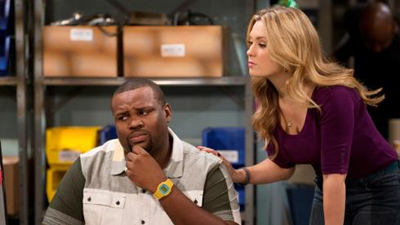 #3 - The Decision (2) 7.99
Season 1 - Episode 10
Brody faces a difficult choice between the job he always wanted with Mansfield and the love he never expected with Jenny. So he tries to come up with a third option. Threepeat is forced to stay with Harvard after losing his apartment, but he soon discovers Harvard's place in a converted funeral home isn't technically zoned for the living.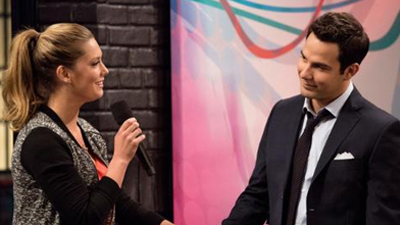 #4 - Woman on Top 7.95
Season 1 - Episode 7
When Brody's hyper-competitive ex-girlfriend from business school, Heather, comes back into the picture, Jenny's worried that Heather's a better match for Brody. When they all take the stage for karaoke, the sparks begin to fly. Meanwhile, Mansfield realizes that his office has become a boys' club and decides to get in touch with his feminine side.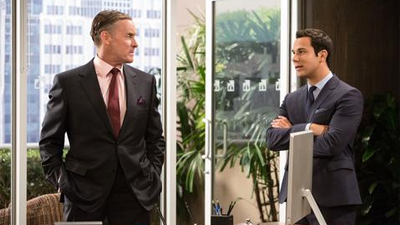 #5 - Off to the Races 7.90
Season 1 - Episode 2
Despite Mansfield's warnings, Brody tries to turn his fling with Jenny into something more by going on a date, but to his surprise, Jenny wants to keep things casual. Meanwhile, the downstairs gang gets fast and furious in a chair race gone wrong when they destroy Mansfield's irreplaceable office chair.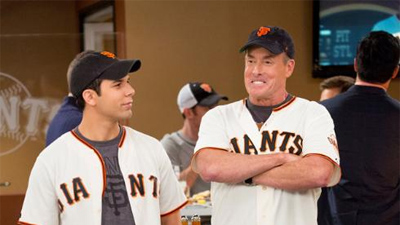 #6 - Take Me Out to the Ballgame 7.87
Season 1 - Episode 5
When Jenny and Mansfield each invite Brody to the same baseball game, Brody has to make a choice. Sit in the nosebleeds with his girlfriend or in the luxury box with his mentor. He ends up making neither happy and has to put things right with a gesture that has the whole stadium watching. Meanwhile Threepeat jockeys for position with Mansfield, and Harvard ends up out of his element in the wonderland that is the company luxury suite.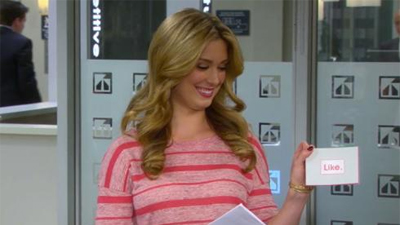 #7 - Dynamic Duo 7.83
Season 1 - Episode 8
When Mansfield's assistant calls in sick, Jenny steps up to fill in. But when Mansfield turns out to be hiding the fact he's sick too, Jenny has to treat the world's worst patient, while Brody steps up to take the biggest meeting of his life without Mansfield by his side. Meanwhile downstairs Harvard is left in charge, but the power goes to his head when he goes toe-to-toe with Threepeat and the upstairs crowd who are demanding new phones.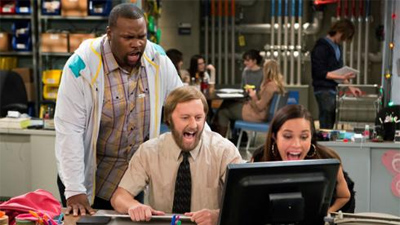 #8 - If I Were a Rich Man 7.74
Season 1 - Episode 6
Tired of watching Harvard, Derrick and Tori blow their money on lottery tickets, Jenny convinces them to invest with Brody. One white lie later, they're all convinced they're rich and would be millionaires and Harvard decides to give Mansfield a piece of his mind. Meanwhile Brody and Threepeat have to give bad news to some of the firm's temperamental clients, including a fiery John McEnroe.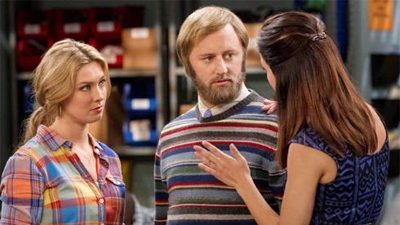 #9 - The New Office 7.73
Season 1 - Episode 3
When a new office opens up on the top floor, Brody will do what it takes to beat out Threepeat to get it. Jenny doesn't like this competitive streak in Brody, who then gives the downstairs crew something worth fighting over to prove everybody gets competitive. Meanwhile, Harvard is thrilled to have a new female admirer… until he discovers it's overprotective Mansfield's daughter. Now he has to end it before Mansfield finds out.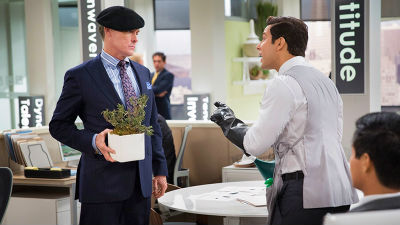 #10 - Unforgiven 7.61
Season 2 - Episode 1
When they return from Paris, Brody has to face the music for abandoning Mansfield and Jenny has to deal with the fact a spurned Harvard has fired almost everyone on the ground floor. Getting back in Mansfield's good books will be harder than Brody ever imagined, especially now that the number smart, but people challenged, Lindsay has already taken his place.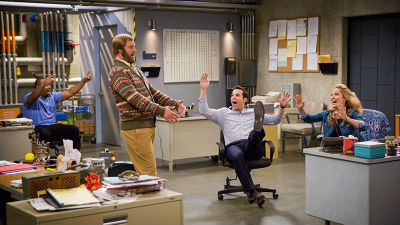 #11 - Baked and Toasted 7.61
Season 2 - Episode 2
Determined to prove to Mansfield, there's no place too low to start his climb back up to the top, Brody is working on the ground floor in an effort to get noticed. Unfortunately, the only people who seem to notice are Harvard and Derrick who are worried the super efficient Brody will soon have them out of a job. They come up with a mellow way to slow him down. Jenny is thrilled to discover she went to high school with Lindsay, but less thrilled when Lindsay's memories of high school cast Jenny in a whole new light.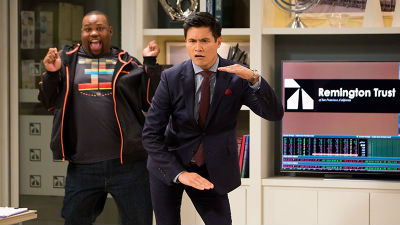 #12 - The Mansfield Who Came to Dinner 7.58
Season 2 - Episode 8
Brody panics when Jenny invites the cultured and sophisticated Mansfield over to their zero bedroom, half bathroom 'palace' for dinner to thank him for paying for college. Harvard and Lindsay are the perfect couple who never, ever fight. That is until all their pent up tension explodes in the middle of Jenny's dinner party. When Threepeat gets his 15 minutes of fame as a financial correspondent, he freezes up until he gets a little on camera help from former childstar Derrick.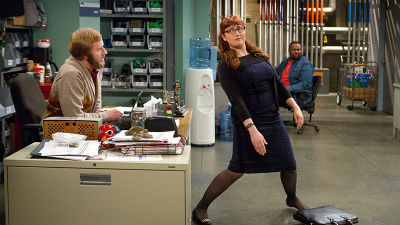 #13 - Love and Basketball
Season 2 - Episode 6
Brody is back upstairs in his natural habitat, and it's just in time for Mansfield's annual basketball tournament! He and Threepeat are psyched. But when Jenny, who always regretted losing her college basketball scholarship, decides she has something to prove, she signs the ground floor up to play too. Now it's upstairs vs. downstairs and boyfriend vs. girlfriend. Meanwhile, Derrick tricks Harvard and Lindsay to go on their first date and Harvard has to learn that dating is harder than he remembers it.
#14 - The Proposal (2) 7.49
Season 2 - Episode 10
Having found an engagement ring in Brody's bag, Jenny is freaking out. She discovers it's a misunderstanding, but not before she can shoot Brody down for a proposal he didn't even give. When Mansfield takes an instant dislike to his soon-to-be son-in-law, it looks like it's up to Brody to save the wedding. After winning hundreds of thousands at craps, Lindsay and Harvard go on the spree to end all sprees, and end up having to tap into Lindsay's shadowy past to pay off their debt. Having slept with Brody's ex-girlfriend Heather (Anna Camp), Threepeat has to either tell his friend or break it off with Heather.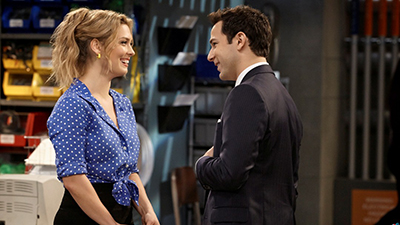 #15 - Pilot 7.44
Season 1 - Episode 1
When a driven young "top floor" Brody falls for the down-to-earth "ground floor" Jenny, it brings together two very different groups of friends – and raises the ire of one very disapproving boss.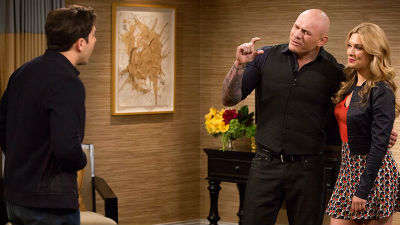 #16 - The Proposal (1) 7.40
Season 2 - Episode 9
Brody's ex-girlfriend Heather (Anna Camp) returns as a partner in the company and Brody thinks he's falling behind. As a birthday gift, Jenny decides to help Brody cross something off his life goal list to cheer him up. Mansfield has the perfect island wedding planned for his daughter, until the island sinks. With Lindsay's help, his hunt for a new wedding destination sends the whole office to sin city. Harvard feels out of place in Las Vegas until he finds the wonderful world of craps. Threepeat instantly reverts to being Heather's assistant until he snaps and finally stands up for himself. Things take a turn when Jenny finds an 'engaging' package in Brody's suitcase.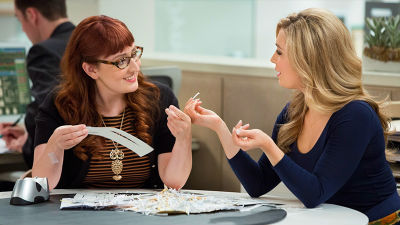 #17 - Space Invader 7.39
Season 2 - Episode 3
When Brody gets his first ground floor paycheck he gets the sticker shock of his life. In an effort to downsize, he gives up his apartment and crashes with Jenny. But when crashing feels a lot like living together, Jenny freaks out. Normally Brody would turn to Mansfield for advice, but his boss has made it clear that this time he is on his own. Harvard and Derrick bet they know how to stretch their modest ground floor pay further than Brody.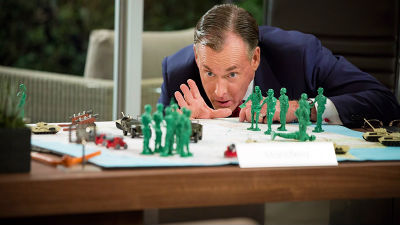 #18 - The Break-Ups 7.30
Season 2 - Episode 4
When a rival (Undateable's Brent Morin) starts poaching Mansfield's top guys, Brody thinks Mansfield will finally give him his job back, but when Mansfield makes it clear things can never be what they were, Brody has to make a big change. At Derrick's urging, Jenny has to "break-up" with Harvard - who she's never dated - so he'll finally move on and pursue other women, like the clearly interested Lindsay. Meanwhile Threepeat has a hard time accepting the fact that this rival has tried to poach everyone but him.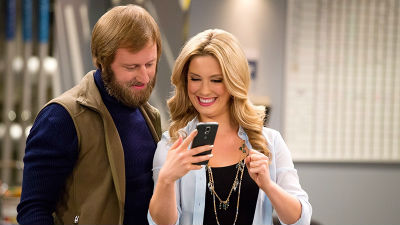 #19 - Mano-A-Mansfield 7.01
Season 2 - Episode 5
Brody is excited for the first day of his new job with his new boss (Undateable's Brent Morin). That is, until he gets his first assignment: take down Mansfield. Brody has to go toe-to-toe with the man he's looked up to for years, and possibly drive his hero out of business. Meanwhile Lindsay helps Threepeat fill the Brody-shaped hole in Mansfield's life. Downstairs, Jenny and Derrick help a "newly single" Harvard get back out there and introduce him to the world of online dating.