Grey's Anatomy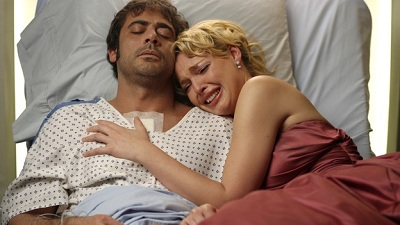 #1 - Losing My Religion (2) 8.82
Season 2 - Episode 27
This episode is the second part of a two-hour season finale. Richard tries to get information from Addison about a family member's condition. Callie and George have a talk about his feelings. Meredith and Derek have a talk about Doc.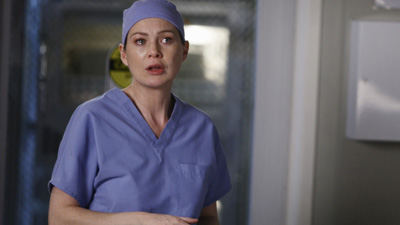 #2 - Death and All His Friends 8.77
Season 6 - Episode 24
Cristina and Meredith's surgical skills are put to the ultimate test.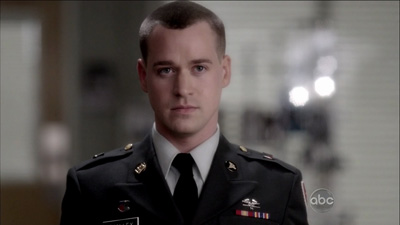 #3 - Now or Never 8.76
Season 5 - Episode 24
In the second part of the two hour season finale, George delivers stunning news to Bailey, sending shockwaves throughout the hospital, and Izzie's friends anxiously await her recovery from surgery. Meanwhile Bailey is surprisingly displeased after being accepted into the pediatric fellowship program, and the victim of a near-fatal traffic accident brings the talents of Seattle Grace's doctors together. This is the second hour of a 2-hour season finale.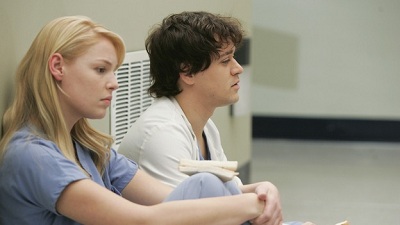 #4 - As We Know it 8.73
Season 2 - Episode 17
Derek is still operating when he finds out about Meredith's current situation. Meredith is freaking out about her situation. Webber and Bailey are dealing with medical health issues. Cristina and Izzie have their own issues to deal with because of Meredith's situation. Addison freaks out when George tries to find a solution to Bailey's impromtu postponement. Overall, Seattle Grace Hospital is still under code black and the situation is getting worse.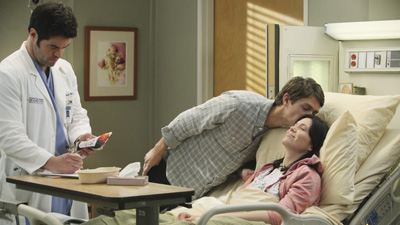 #5 - Sanctuary 8.70
Season 6 - Episode 23
Seattle Grace Hospital is hit with a crisis like no other in its' history.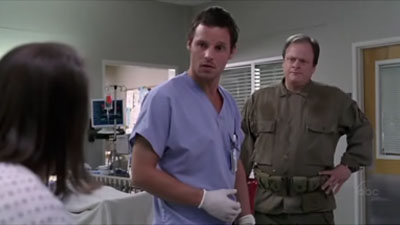 #6 - It's the End of the World 8.66
Season 2 - Episode 16
An explosive case arrives at the O.R. that might endanger all the lives of the people working there, which leads Dr. Burke to declare a "Code Black" for the hospital. Bailey worries where her husband is as she is in labor. Also Izzie and Alex may be creating some heat.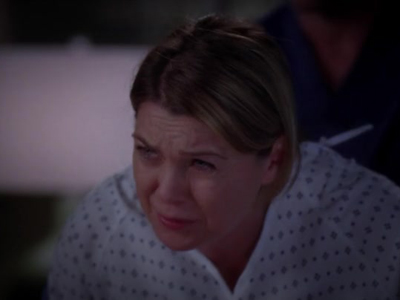 #7 - Perfect Storm 8.54
Season 9 - Episode 24
Grey Sloan Memorial Hospital enters crisis mode as the storm rages, resources become scarce and patients flood in by the busload. Meanwhile, one of the doctors fights for their life.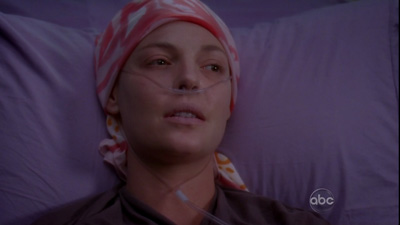 #8 - What a Difference a Day Makes 8.53
Season 5 - Episode 22
As Meredith, Derek and all of their friends prepare for the big wedding, a group of college students, injured in a car crash as they were heading to their graduation ceremony, is admitted to the ER. Meanwhile, Izzie fears the worst when she begins experiencing familiar symptoms.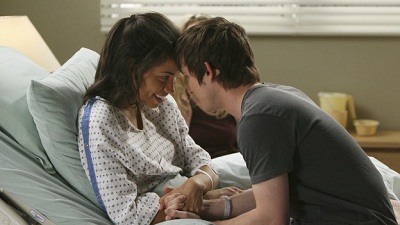 #9 - Freedom (2) 8.47
Season 4 - Episode 17
A couple undergoes surgery. Derek and Meredith's clinical trial gets a second shot from a new patient. Izzie helps Alex. McSteamy hooks up with someone.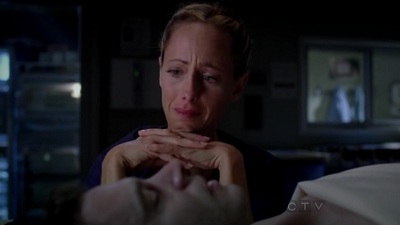 #10 - Suddenly 8.45
Season 8 - Episode 10
A severe car crash involving an entire family results in an all-hands-on situation in the ER, as the eldest daughter is left to make the toughest decision of her life. Meanwhile Teddy, still in the dark about Henry's death, calls upon Cristina to help with her patient in the O.R., and Lexie finds herself working alongside Mark's new girlfriend, Julia, during an eye surgery.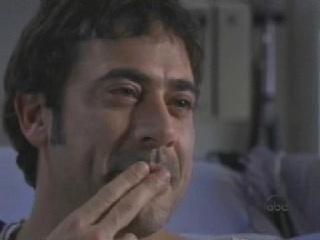 #11 - 17 Seconds 8.44
Season 2 - Episode 25
George and Derek work together, Denny still doesn't have a heart, and Meredith gets paired with Callie. A 12-week pregnant girl dies in the O.R. and her parents try to keep the baby alive. This causes tension between Derek and Addison. One doctor's overreaction unites two bickering patients. Finn is still treating Doc for medical problems.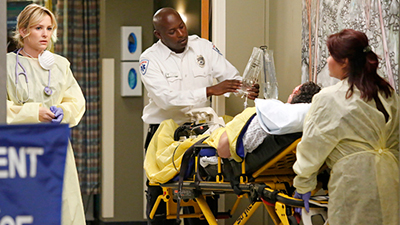 #12 - Fear (Of the Unknown) 8.43
Season 10 - Episode 24
The doctors of Grey Sloan Memorial Hospital bid an emotional farewell to the beloved Cristina Yang. A possible act of terrorism rocks Seattle and causes chaos at the hospital. Meanwhile, Meredith makes a life changing decision and one doctor receives shocking news.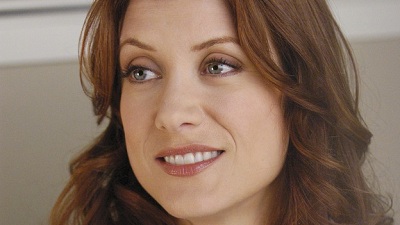 #13 - Deterioration of the Fight or Flight Response (1) 8.42
Season 2 - Episode 26
Denny needs a heart or else. Izzie and George go crazy trying to get him one. Derek has the life of a friend in his hands as he operates on Burke who has been shot. Burke cannot operate on Denny after Denny's heart stopped and now Denny is in a dire condition. Cristina gets put in charge of the ER and she is worried about Burke.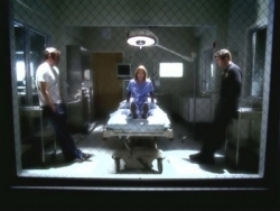 #14 - Drowning on Dry Land 8.41
Season 3 - Episode 16
Almost everyone searches for Meredith while they ponder her place in the world. Addison considers pursuing Alex. Izzie takes desperate measures to manage the situation she is in. Someone ends up on the brink of death. Cristina and Burke have a blow-up fight about their announcement.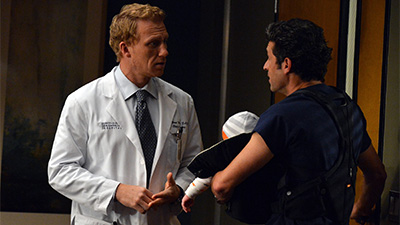 #15 - Get Up, Stand Up 8.40
Season 10 - Episode 12
On the day of April's wedding, the Grey Sloan Memorial doctors are all preoccupied with their own drama. Meredith and Cristina continue to argue about their research and careers, Bailey comes clean to Ben about her feelings regarding him moving back to Seattle, and Shane puts himself in a risky situation. Meanwhile, Derek gets a phone call that will change his life.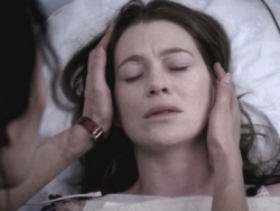 #16 - Some Kind of Miracle 8.38
Season 3 - Episode 17
Everyone is pushing for Meredith to survive, or in this case to be revived. People are still dealing with the fallout from the ferry disaster. A young man named Lucas is having problems with brain-mouth coordination. Someone else dies.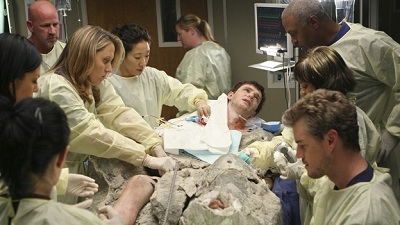 #17 - Freedom (1) 8.38
Season 4 - Episode 16
A couple undergoes surgery. Derek and Meredith's clinical trial gets a second shot from a new patient. Izzie helps Alex. McSteamy hooks up with someone.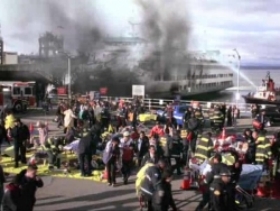 #18 - Walk On Water 8.36
Season 3 - Episode 15
The staff is trying to deal with antsy patients while dealing with a major disaster when a cargo ship strikes a Ferryboat in Seattle. The Chief must choose a team to go out on location and save what is left of the few lives spared.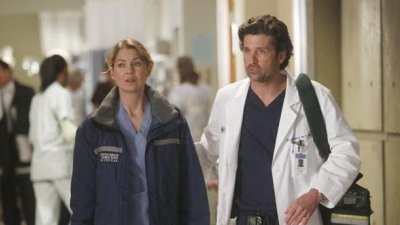 #19 - Dark Was the Night 8.35
Season 8 - Episode 9
Teddy puts her husband's life in the hands of her peers when Henry is sent to the OR for surgery and she's called away on another case; Meredith and Derek receive the long-awaited news about Zola; Callie and Jackson come under fire when their patient experiences post-surgery complications; and Meredith and Alex are involved in a life-threatening situation when they travel to a neighboring hospital to tend to a sick newborn, on Grey's Anatomy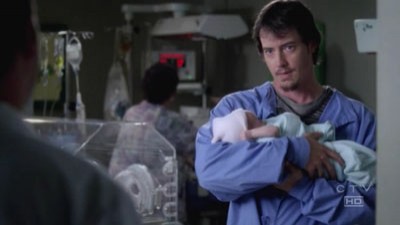 #20 - Didn't We Almost Have It All? 8.35
Season 3 - Episode 25
Callie and George make a big decision. A successor to Chief Webber is named. A man named Jeff Pope arrives. He is looking for his wife and newborn child. Cristina and Burke's wedding day has arrived and so have the interns first-year exam results.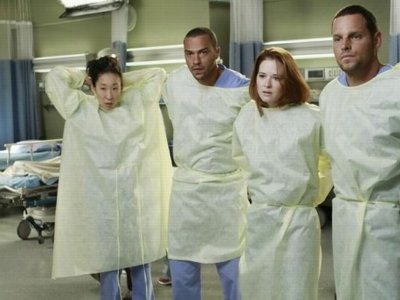 #21 - She's Gone 8.33
Season 8 - Episode 2
News of Meredith and Derek's unsteady relationship raises a red flag for Zola's adoption counselor; Alex quickly realizes that he has become the outcast of the group after ratting out Meredith; and Cristina makes a tough decision regarding her unexpected pregnancy. Also, Chief Webber brings Henry in for a last minute surgery, alarming Teddy. This is an historic episode that finally crosses a long-standing barrier.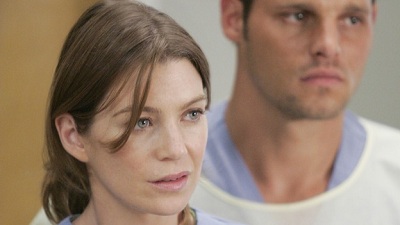 #22 - Into You Like a Train 8.31
Season 2 - Episode 6
Train Wreck victims come to Seattle Grace and all staff gets called in. Everyone deals with really weird cases. Except Addison and Izzie. They work with a woman who is pregnant.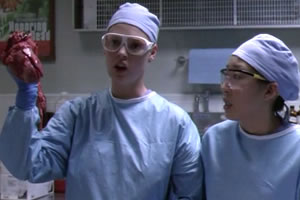 #23 - Who's Zoomin' Who? 8.24
Season 1 - Episode 9
A sexually transmitted disease breaks out and affects several members of the hospital staff. Chief Webber promptly calls a meeting. Meanwhile, the chief reluctantly tells Dr. Derek Shepherd about his own medical concerns. Izzie and Cristina worry about a patient's wife and daughter who can't agree on his care. Burke treats his college buddy Bill, whose medical diagnosis raises some questions regarding his wife's actions. Then just as Meredith and Derek grow more intimate, a surprise is revealed.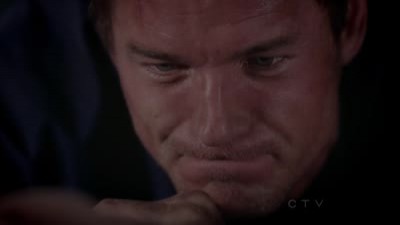 #24 - Flight 8.24
Season 8 - Episode 24
Faced with a life threatening situation, the doctors must fight to stay alive while trying to save the lives of their peers; Bailey and Ben make a decision regarding their relationship; and Teddy is presented with a tempting offer. Meanwhile, Richard plans a special dinner for the residents.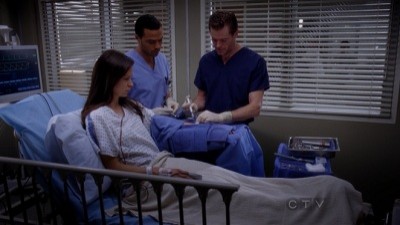 #25 - Migration 8.23
Season 8 - Episode 23
The residents determine their future as they make their final decisions regarding post residency positions; Mark admits to Derek that he is torn between his love for Lexie and the fact that Julia can give him everything he's ever wanted; Ben plans something extra special for Bailey, but she is preoccupied with her work; and Arizona encourages her childhood friend, Nick, to have surgery. Meanwhile a couple on their third honeymoon come to the hospital complaining of mysterious symptoms.