Gossip Girl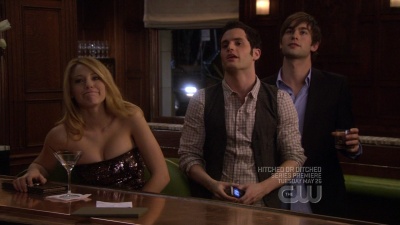 #1 - The Goodbye Gossip Girl 8.66
Season 2 - Episode 25
Gossip Girl decides to liven things up at the Constance Billard and St. Jude's graduation by sending out a shocking and damaging email blast in the midst of the commencement ceremony, stirring Serena to come up with a plan of attack. The Mean Girls challenge Jenny to throw her hat in the ring to succeed Blair as Queen Bee next year. Lily and Rufus struggle to repair their relationship after Lily's betrayal. As for the cliffhangers, Blair and Chuck finally… and Serena is shocked by… and Georgina decides to… and Dan, Nate, and Vanessa unknowingly…. Jenny and Eric do something they might end up regretting.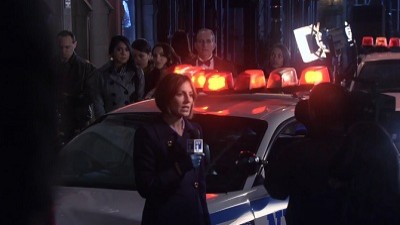 #2 - New York, I Love You XOXO 8.59
Season 6 - Episode 10
In a fashionable farewell to remember, our favorite Upper East Siders join forces for one last soiree, and the shocking identity of Gossip Girl is finally revealed.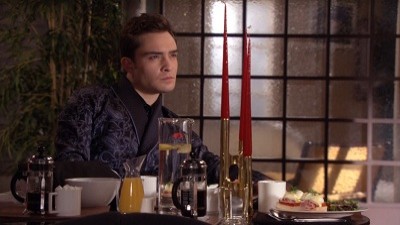 #3 - G.G. 8.40
Season 5 - Episode 13
The much-anticipated 100th episode will open with a musical dream sequence featuring Serena, Blair and all the men in their lives. Also, while Chuck wrestles with the reality that Blair is about to walk down the aisle with Prince Louis, the return of Georgina Sparks might make the royal affair a royal disaster.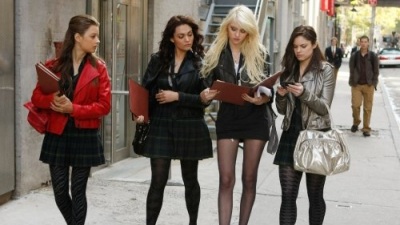 #4 - They Shoot Humphreys, Don't They? 8.36
Season 3 - Episode 9
Not satisfied with just being Queen of Constance Billard, Jenny sets her sights on becoming the Queen of all the Upper East Side by landing the hottest escort for Cotillion. Meanwhile Dan and Vanessa try to convince Olivia to stay in NY by showing her the "true college experience."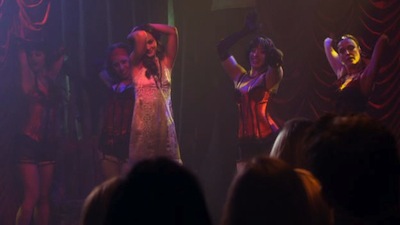 #5 - Victor (Victrola) 8.24
Season 1 - Episode 7
Serena and Dan finally accept that they are crazy about each other, despite that they come from polar opposite worlds. Chuck thinks of investing in a club trying to make his father Bart Bass proud of him. Nate confronts his father, about the drugs he found in his house but he denies having a problem. Jenny discovers a secret that her parents have been keeping from her. Finally, Blair is devastated by Nate's actions when Jenny reveals that Nate kissed her by accident thinking she was Serena.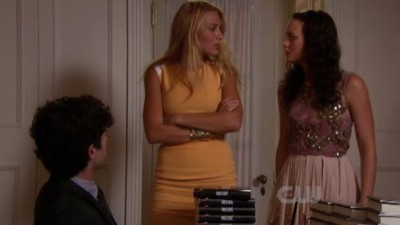 #6 - Memoirs of an Invisible Dan 8.23
Season 5 - Episode 4
After much deliberation, Dan decides to gather Serena, Blair, Nate, Chuck, Rufus and Lily to reveal the truth about his book in the hope that they will support him at his book party. Meanwhile, Blair and Louis hit a crises point after Louis reads Dan's book. Diana learns incriminating information about one of Nate's friends and uses it to her advantage.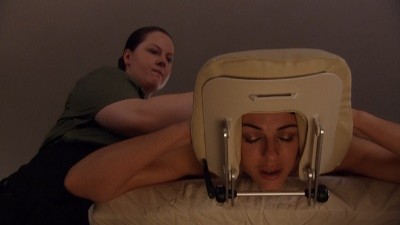 #7 - Raiders of the Lost Art 8.23
Season 5 - Episode 22
Chuck, Nate, Blair, Serena and Lola team up to uncover what they think is an explosive secret between Diana and Jack. Meanwhile, Dan is offered a prestigious fellowship in Rome for the summer.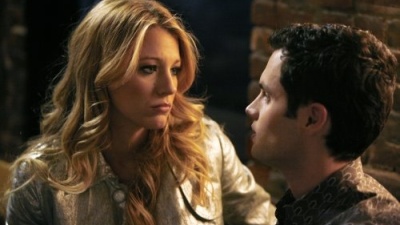 #8 - All About My Brother 8.22
Season 1 - Episode 16
Georgina informs Serena that she can reveal a deep dark secret from Serena's past, but no one is prepared for what Georgina does next. Blair and Jenny's power struggle continues when each of them start spreading scandalous rumors about each other on Gossip Girl. Dan sees Jenny's new beau, Asher, cheating on her, but Jenny won't listen to him. Rufus goes to Lily for advice on how to handle Jenny's new behavior. Serena tries to confront Georgina, but she leaves before Serena has a chance. After this, Serena says that she and Georgina are not friends.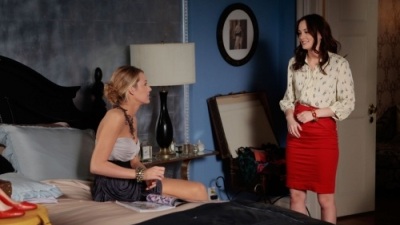 #9 - Last Tango, Then Paris 8.21
Season 3 - Episode 22
Blair must decide whether to meet Chuck at the top of the Empire State Building or risk losing their future together. A Gossip Girl gossip bomb involving Dan explodes Serena and Nate's relationship. Dorota and Vanya welcome their baby. Jenny hits rock bottom. Georgina returns to the Upper East Side... and she has an agenda.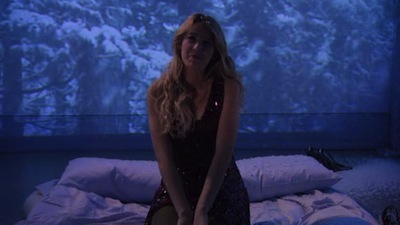 #10 - Roman Holiday 8.21
Season 1 - Episode 11
Blair's father, Harold, comes home for the holidays with an unexpected guest. Blair cannot hide her disappointment and makes a plan to get rid of Roman forever. Jenny and Vanessa help Serena get the best Christmas present ever for Dan, who has a surprise of his own for Serena. Rufus refuses to remain the understanding husband any longer after Alison's former lover sends a letter to the house.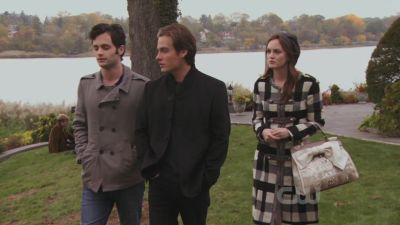 #11 - The Townie 8.21
Season 4 - Episode 11
Blair and Dan decide to team up to take down an MIA Juliet. The odd couple takes a road trip to Cornwell, where they find Damien Daalgard. He gives Blair and Dan some missing pieces to find out why Juliet is after Serena. Meanwhile, Juliet finds out about Blair and Dan's present in her home town and decides to return to New York to finish what she started. Lily is keeping a secret from Chuck, which Rufus finds out. Nate tells his mother about what the Captain has been up to and she decides to get through with the divorce. When Nate realizes he had it all wrong a last attempt to rescue his parent's marriage fails due to Anne's longing to the rich society of Manhattan.
#12 - Woman on the Verge 8.21
Season 1 - Episode 17
After Georgina reveals the true reason Serena left Manhattan, Serena goes back into her old habits. Her friends Blair, Nate, and Chuck, in order to help her, have to put their differences aside. Meanwhile, Rufus is excited when his band is invited to perform at a Rolling Stone-sponsored concert, but Lily is the last person on earth he expects to see at the performance, especially since her wedding rehearsal dinner is the same night.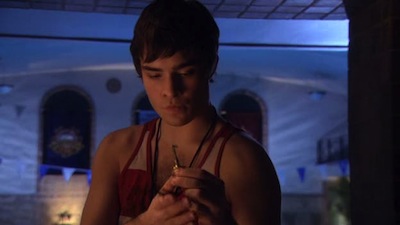 #13 - School Lies 8.20
Season 1 - Episode 12
Serena, Blair, Nate, Chuck and their class break into the school swimming pool for a night of fun, but when someone nearly dies, the school threatens to expel the person responsible for the break-in. Everyone agrees to not say anything, but this creates major problems between Serena and Dan. Vanessa, while working on a documentary project about private schools, accidentally captures Blair and Chuck discussing their affair. Lily tries to tell Rufus how she really feels about him.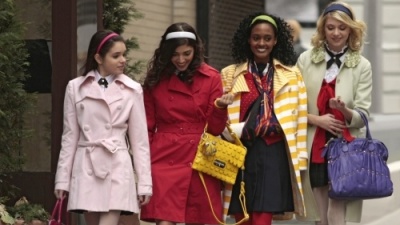 #14 - The Blair Bitch Project 8.19
Season 1 - Episode 14
Having been recently dethroned as Queen Bee, Blair returns to school with the support of Serena to find she is still on the outs with her old friends. Dan visits his mother over spring break, and when he returns, Jenny is on the verge of becoming a full-fledged member of the A-List crowd. Jenny must go to dangerous and even illegal lengths to fit in. Serena struggles to adjust to living with Chuck, and receives disturbing packages from an unknown sender.
#15 - Pilot 8.19
Season 1 - Episode 1
"It girl" Serena van der Woodsen has returned to Manhattan after a mysterious and self-imposed exile to boarding school. Serena's best friend, Blair Waldorf, has conflicted feelings about her friend's return since she has enjoyed being the Queen Bee during Serena's absence and might not be ready to relinquish her new position on the social ladder, not to mention the fact that she has always suspected there may be unspoken feelings between Serena and her longtime boyfriend, Nate.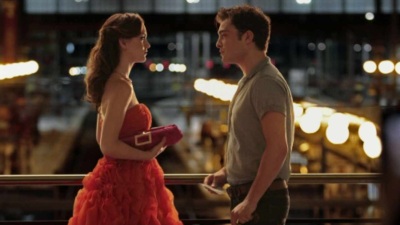 #16 - Double Identity 8.18
Season 4 - Episode 2
Living out a real-life fairytale in Paris, Blair is pursued by a handsome young man, Louis, who she suspects is a member of Monaco's royal family. A very concerned Lily asks Serena to help her find Chuck, who hasn't been heard from or seen in months. Meanwhile, Chuck Bass is as we've never seen him before, adjusting to a fresh start in Paris with a mysterious new woman, Eva, at his side. Juliet offers to help Nate win Serena back, suggesting that reigniting Dan and Vanessa's romance may just be the trick to remove Dan from the Dan-Serena-Nate love triangle.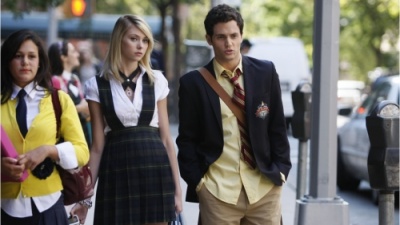 #17 - The Serena Also Rises 8.17
Season 2 - Episode 5
In the midst of Fashion Week, a furious Blair learns that her mother, Eleanor, at the suggestion of her protege Jenny, has given Serena and her new socialite friend, Poppy Lifton, front row seats to the Eleanor Waldorf show. Hurt once again by Serena's popularity and her mother's betrayal, Blair decides to sabotage the show. Meanwhile, Dan starts hanging out with Chuck, but a walk on the dark side always has its risks and Dan learns that the hard way. Lily learns a secret that her new husband, Bart, has been keeping from her.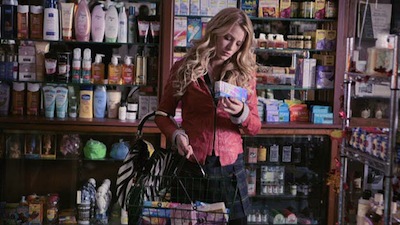 #18 - The Thin Line Between Chuck and Nate 8.17
Season 1 - Episode 13
Gossip Girl reports that Serena van der Woodsen was seen buying pregnancy tests. Of course, on the Upper East Side, the truth is often even juicier and more scandalous than the gossip. Nate finds out about Blair and Chuck's affair. Everyone else also finds out what happened and Blair's life comes crashing down. Dan struggles to tell Serena those three words.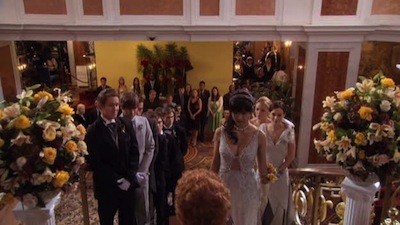 #19 - Hi, Society 8.17
Season 1 - Episode 10
Serena's grandmother announces that Serena has to go to Debutante Ball. However, Dan is not what CeCe wants as an escort for Serena, and she makes her opinion heard loud and clear, causing a rift between Serena and Dan. Although they are officially broken up, Nate asks Blair to go to the ball with him. A jealous Nate begins to suspect that Blair is seeing someone else. Jenny finds herself having to make the decision of either attending her mother's art opening or following her dreams to the Debutante Ball, even though her parents don't want her to go.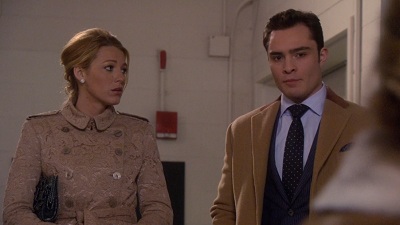 #20 - The Backup Dan 8.16
Season 5 - Episode 14
Blair must make a difficult decision about her future, the consequences of which could hurt those she loves most. Serena takes the blame for an incident with Gossip Girl in order to protect someone she loves. Georgina smells the scent of scandal and decides to follow its trail.
#21 - The Revengers 8.15
Season 6 - Episode 9
After a run-in with an increasingly paranoid Bart, Blair grows alarmingly concerned for Chuck's safety. However, feeling confident that his father will never hurt him, Chuck makes a deal that could change his life. Wanting to make things better for Chuck, Blair devises a plan with the help of Serena, Georgina and Sage to try and get what they need out of Bart. Meanwhile, Nate's financial dilemma finally lands him in a place that he never thought he would be.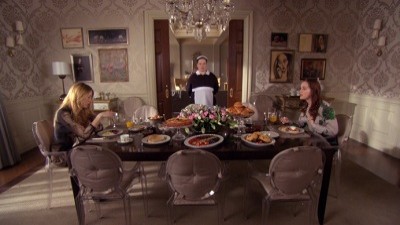 #22 - Cross Rhodes 8.14
Season 5 - Episode 16
Dan feels honored when he learns that Upright Citizen's Brigade is performing excerpts from his book, Inside. Blair tries to prove Serena's suspicions wrong in order to save their friendship. On her way out of town, Ivy ends up on a collision course with the van der Woodsens.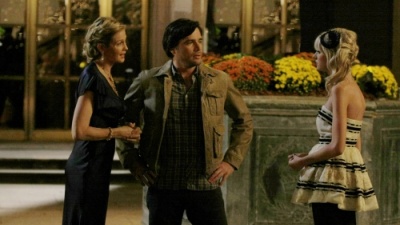 #23 - There Might be Blood 8.12
Season 2 - Episode 9
Serena invites Aaron to a charity event, but soon uncovers a secret Aaron has been keeping from her. Thinking it will help her get into Yale, Blair agrees to babysit the 15-year-old daughter of a Yale donor, but her plan quickly backfires. Meanwhile, Jenny and Agnes plan a fashion show.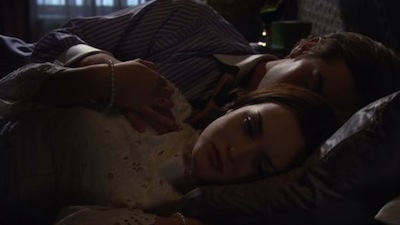 #24 - The Wild Brunch 8.12
Season 1 - Episode 2
It's the day right after the Kiss on the Lips party and Serena receives a cold reception from her former best friend Blair. Blair reveals that she knows that Serena and Nate slept together, before Serena mysteriously went to boarding school. Then Serena decides to take Dan to Chuck's fundraiser brunch at The Palace. Meanwhile little Jenny asks Blair for advice, and Blair realizes that she maybe gains something by allowing Jenny into her inner circle.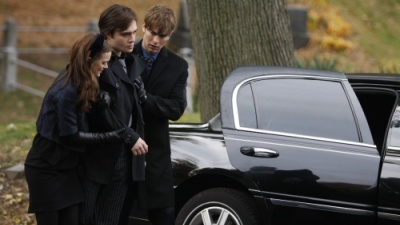 #25 - O Brother, Where Bart Thou? 8.12
Season 2 - Episode 13
The entire Upper East Side of Manhattan is rocked when Bart Bass dies suddenly in a limo accident. Serena and Eric take the news very calmly while Lily has a troubling time despite her mother, Cece's, awkward attempts to comfort her. Chuck begins to blame Lily for his father's death and threatens to reveal a secret that Bart found on her before his accident. Meanwhile, Blair's mother, Eleanor, prepares for her latest marriage to Aaron's father Cyrus.