Garfield & Friends
#1 - Big Bad Buddy Bird
Season 4 - Episode 2
Roy quits the show after being hit with one banana cream pie too many and begs his agent to get him a more serious role. The only role available was as the Buddy Bears' new friend, who just happens to disagree with them at every turn. Unfortunately, a 16-ton safe is dropped on Roy whenever this happens, and Roy begs for his job back at the farm.
#2 - The Man Who Hated Cats
Season 7 - Episode 42
A new man, called Theodore Block, moves to the Garfield's neighbourhood. When Jon and Garfield try to say hello to the new neighbour, he pushes them away by just a simple reason: he hates cats.
#3 - The Bunny Rabbits is Coming
Season 3 - Episode 2
Orson recieves a letter in his morning post telling him that the bunny rabbits is coming. Wade snaps into panic and starts shouting out, ""The Bunny Rabbits Is Coming!"" Sometime later, the crafty weasel is once again on the farmland and begins to kidnap the chickens and stuffs them into a sack. He then stuffs Roy, Wade and Orson into another sack. But his plans backfire when the bunny rabbits soon come and trample him. Orson, Roy and Wade escape and Roy is soon praised by the chickens when he rescues them. The crafty weasel then runs away and soon the farmer of the bunny rabbits asked where his herd went. That way!
#4 - The Impractical Joker
Season 2 - Episode 2
Roy's new joke book irritates everyone to the point where Orson fires him. His replacement, Fred Duck, proves to be far more annoying, prompting Orson to rehire Roy.
#5 - The Great Inventor
Season 5 - Episode 3
Garfield explains how he thinks Lasagna was invented.
#6 - Rip Van Kitty
Season 2 - Episode 4
Garfield, Jon, Odie and Nermal are having a picnic at the park. Garfield dreams that he sleeps for twenty years and Earth is invaded by aliens that look like him and eat everything.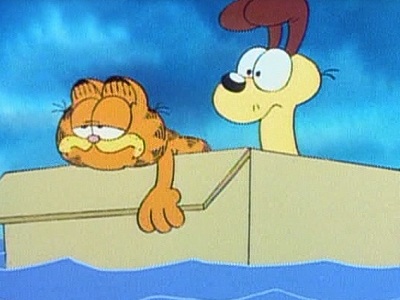 #7 - Box O'Fun
Season 1 - Episode 4
Garfield uses a box as a porthole to different imaginary adventures.
#8 - Pest of a Guest
Season 2 - Episode 1
It's a cold, winter's night and a stray cat rings on Garfield's door. Jon and Odie feel sorry for the stray and takes him in. However, the stray has a lot more to him than just a poor kitty cat look and soon Garfield takes action...
#9 - Wanted Wade 7.16
Season 1 - Episode 2
Wade removes a service tag from a sofa and then thinks that the police are going to come after him.
#10 - Home Away from Home
Season 5 - Episode 1
Jon gets mad at Garfield because he's being ungrateful, and sends him outside. While wandering around the neighborhood, an old lady picks Garfield up, mistaking him for ""her Fluffy."" Garfield goes along with her because she promises him a big meal, but she feeds him dry cat food! Then, the lady discovers a mouse in the house, and makes Garfield try to catch it. During the chase, Garfield finds the real Fluffy who ran away because of the horrible cuisine. So, Garfield and Fluffy make a deal with the mouse - they pretend to catch him, and they get real food as a reward.
#11 - Garfield Goes Hawaiian
Season 1 - Episode 3
Garfield becomes stricken with the Hawaiian cat flu.
#12 - Peace & Quiet 7.70
Season 1 - Episode 1
After Garfield stays up all night watching television, Jon and Odie leave the house to give him some peace and quiet. But Binky keeps showing up to give a birthday surprise... to the wrong house.
#13 - The Wright Stuff
Season 6 - Episode 4
Garfield tells the story of how a cat was actually behind the Wright Brothers' succes in the airplane.
#14 - Unidentified Flying Orson
Season 1 - Episode 5
Orson is determined to not get carried away any more while reading books, but Roy decides to bring Orson's latest story to life.
#15 - Cock-a-Doodle Duel
Season 3 - Episode 5
A rooster named Plato comes to the farm and is popular with the ladies, so Roy moves away.
#16 - Orson Express
Season 6 - Episode 5
Orson and Booker have trouble delivering a package to a hermit named Mr. Crab.
#17 - Cinderella Cat
Season 3 - Episode 6
After being chased by a man who runs a lasagna stand, Garfield finds a Cinderella book in the park and wishes for a fairy godmother to grant his wishes. Instead he gets a fairy godfather who grants him his wishes, but with a price. First he wishes for lasagna, so the godfather steals it from the stand, then Garfield wishes for money to buy lasagna, the godfather steals it from the bank and Garfield gets arrested. When Garfield is released he makes his 3rd wish worth his while....a fairy godmother. After she drags her no good husband back home, Garfield returns the book to the owner, and gets a tray of lasagna as a reward and gets his wish after all.
#18 - Supermarket Mania
Season 4 - Episode 6
A supermarket opens up across the street from the smaller, friendlier store where Jon usually buys his groceries. However, the new market isn't as super as it would seem.
#19 - An Egg-Citing Story
Season 4 - Episode 5
In response to a fan letter asking, ""What's the deal with the egg?"" Orson tells the story of Booker and Sheldon, when Sheldon saves Booker and his friends from the Weasel after they reject him.
#20 - Safe at Home
Season 6 - Episode 6
A thief steals in Garfield's house and he takes out everything, except the TV. The next day, Jon decides to install a security system quite complicated. Garfield doesn't trust the system and he decides to protect the TV from the thief, who returns to take it out.
#21 - Angel Puss
Season 4 - Episode 3
An incompetent guardian angel cat is sent to Earth to help Garfield and Odie get along, but by foiling all of Garfield's actions, his plan backfires.
#22 - Change of Mind
Season 7 - Episode 7
Nermal notices a shooting star in the sky and she wishes that Garfield was like her. But the things don't result like she expected...
#23 - Jon the Barbarian
Season 6 - Episode 7
Jon has been very tied up at work, and decides to take a little break by going to the park with Garfield and Odie. While he is there, a wise guru notices Jon is not at peace and offers to take him on as a student. The man gets rid of all of Jon's earthly possessions, and Garfield begins to go crazy without TV and all the kitchen appliances. Garfield tries to calm himself down by taking a nap on Jon's bed which is now a pile of straw! The wise man believes that if one has true peace, he or she can sleep on a bed of straw. Since Garfield can sleep anywhere, the guru decides to model his life after Garfield's!
#24 - The Great Getaway
Season 2 - Episode 7
Jon is taking a vacation in New York. On the plane, Jon meets an attractive young woman that is interested in him, and they make a date. As Jon gets ready, he discovers Garfield in his suitcase, and Jon becomes pretty angry. Garfield follows them, and hears a CIA-type agent saying that Jon's date is a pick pocket. Garfield tries to warn Jon, but he's very upset that Garfield followed him. Jon later discovers his wallet missing, and runs after his date who has just been apprehended by the police. To reward Garfield, Jon takes him out to eat, but wonders if it would have been cheaper if his wallet had been stolen.
#25 - Birthday Boy Roy
Season 4 - Episode 8
Its Roy's birthday and everybody pitches in and buys him a pocketwatch. But Roy's watch disappears and he begins to accuse everybody of stealing it. It's not long before everything on the farm starts vanishing and its up to Orson and his friends to catch the thief.