Fullmetal Alchemist: Brotherhood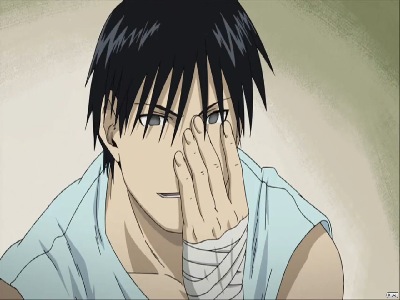 #1 - Journey's End 9.17
Season 1 - Episode 64
Deciding to help sort out Ishbalan policies, Roy is approached by Knox and Marcoh, who offer him a Philosopher's Stone to get his eyesight back, with Roy insisting it be used to fix Havoc's legs first. Olivier secretly rescues Scar so that he can assist Miles in rebuilding Ishbal. Having previously seen off Lin, who had promised to take care of May's clan among others once he becomes emperor, Ed and Al return to Risembool where an overjoyed Winry awaits them. Two years later, Grumman, who had become Fuhrer, visits Bradley's wife, who had been raising up Selim to be a compassionate child. Al decides to travel with Jerso and Zampano to Xing and other eastern countries to learn about alkahestry, whilst Ed learns what he can in the west, hoping to pool their research together. As Ed heads off, he and Winry finally express their love to each other using confusing terminology.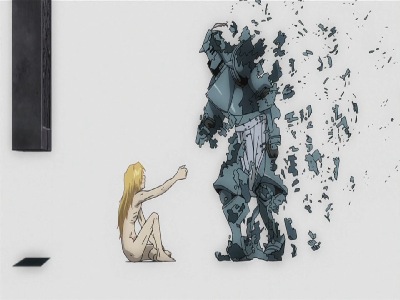 #2 - A Fierce Counterattack 9.02
Season 1 - Episode 62
Hohenheim and the others stop Father from making Philosopher's stones, but as Ed rejoins them, Father spawns humans resembling the people of Xerxes before attacking with a powerful blast which takes out half the headquarters. They barely manage to survive the blast, but Al and Hohenheim take some heavy damage protecting the others. Before Father can kill Ed and Izumi, the Briggs soldiers, along with several of Ed's allies, join up to attack Father and use up his stone supply. Father lets down his barrier temporarily to try and absorb Greed's stone, giving Ed, Alex and Izumi the opportunity to damage him to the point of defending himself manually. As Father starts to lose control, he creates a blast which traps Ed's arm whilst his automail arm is destroyed. With Ed in danger, Al convinces May to help him perform a transmutation, trading his soul for the return of Ed's right arm. Al rejoins with his body on the other side and with his arm returned, Ed frees himself to unleash a series of blows on Father.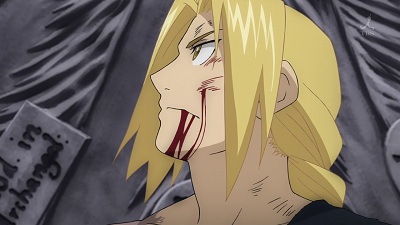 #3 - The Other Side of the Gateway 9.00
Season 1 - Episode 63
While being effortlessly pummeled, Father desperately tries to absorb Greed's Philosopher's Stone. Greed decides to part from Lin's body, and uses his carbonization ability to turn Father's body into weak charcoal. Father extinguishes Greed's soul, killing him, but Ed punches through Father's chest, releasing all the souls of the people of Xerxes and sending Father to the Gate of Truth where he is trapped for eternity. In the wake of Father's defeat, everyone mourns Al's sacrifice. Ed rejects using a Philosopher's Stone to bring him back to life, even after Hohenheim offers his final life as an apology for the pain Ed and Al were forced through. Ed ultimately decides to perform a human transmutation on himself, sacrificing his own Gate and his ability to use alchemy with it. As a reward for discovering he doesn't need to perform alchemy, Ed is allowed to bring Al back with him in his original body. As everyone recuperates from the battle, Hohenheim returns to Resembool and dies peacefully before Trisha's grave.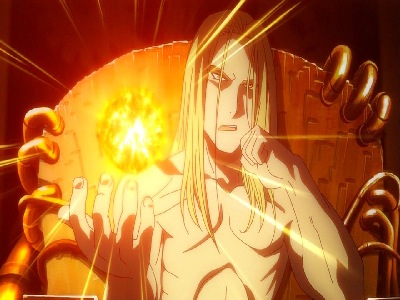 #4 - He Who Would Swallow God 8.80
Season 1 - Episode 61
Everyone closest to the center of Father's nationwide transmutation circle, including Ed's group, survives to discover that Father has used the souls of over fifty million Amestrians to suppress God within a new, youthful body. Father neutralizes everyone's alchemy, but, before he can annihilate them, Hohenheim reveals his countermeasure: he had spent years traveling the country, placing fragments of his own Philosopher's Stone into the earth to use as foundation for returning the Amestrian souls to their bodies. The stone fragments are activated by the eclipse's umbra, and the souls are ripped from Father's body back into their original bodies, which weakens Father to the point of barely being able to suppress God anymore. The eclipse then lifts, blinding Bradley with sunlight and allowing Scar to kill him. Scar activates the nationwide alkahestry circle his brother and fellow Ishbalans had been preparing, which restores everyone else's alchemy at their greatest potential. Facing the full strength of his opponents' attacks in his unstable body, Father retreats aboveground to find more souls and replenish his stone supply. Ed remains behind to fight Pride while everyone else chases Father. Pride tries to steal Ed's body to replace his own unstable one, but Kimblee's soul reappears within him and taunts him while Ed enters his body and destroys it, reverting him to the form of a small fetus-like creature. Ed spares Pride's life and leaves to join his friends.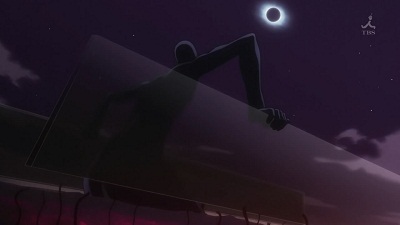 #5 - Eye of Heaven, Gateway of Earth 8.73
Season 1 - Episode 60
Ed and Al battle against Pride while May tries to take on Father. Meanwhile, Ishbalans make plans within the city. In his fight against Bradley, Scar reveals a reconstruction transmutation circle from his brother's research now tattooed on his other arm. Just as Ed's group start to gain the upper hand and despite the arrival of Greed, Father grabs the four sacrifices and uses them, along with Hohenheim, for his transmutation circle, absorbing all the souls in Amestris. This opens a giant gate flat on the surface of the Earth from which rises a giant Father. Then another gate opens in the sky with a giant eye looking out which Father calls "God" and pulls towards him.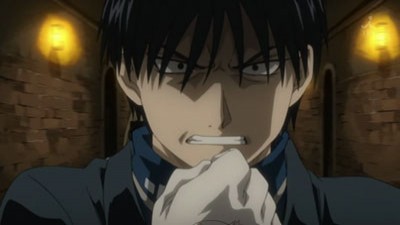 #6 - Beyond the Inferno 8.67
Season 1 - Episode 54
Riza sees through Envy's disguise as Roy and shoots him until the real Roy arrives and mercilessly incinerates the homunculus, reverting him back to his parasitic form. Before Roy can kill Envy, Ed, Riza, and Scar persuade him to let go of his anger and his need for revenge, for Amestris cannot be ruled by someone consumed with hatred. Envy becomes outraged by Roy's change of heart and rants about why everyone does not kill each other, trying to goad them into doing so by pointing out all of the terrible things they have done to each other. Ed determines that the reason Envy hates humans is because he is jealous of their capacity to continue living on, despite all the abuse they take. Humiliated and insulted by how Ed understands him, Envy commits suicide by tearing out and destroying his own Philosopher's Stone. Meanwhile, the Armstrong siblings begin to gain the upper hand in their battle against Sloth; Izumi arrives in Central, allied with Briggs soldiers, to participate in the coup; and Hohenheim confronts Father alone.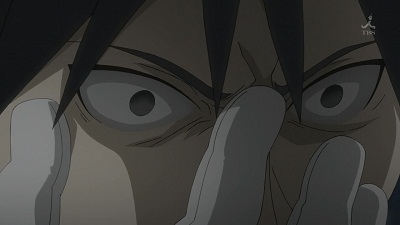 #7 - Lost Light 8.65
Season 1 - Episode 59
Following Riza's eye signal, Roy refuses to perform a human transmutation. May arrives with Zampano, Jerso, and Darius and heals Riza's wound. However, Bradley and Pride also appear and force Roy to perform a human transmutation anyway, using the gold-toothed doctor as a sacrifice. Roy passes through the Gate of Truth and reappears in Father's lair with Pride, Father, and the other sacrifices, and finds he has lost his eyesight in exchange. Scar battles Bradley above, and May crashes through the ceiling of Father's lair to find Al unconscious. Al stands before the Gate to find his body, but despairs that he will be unable to use it to fight alongside the others because it is so frail. He promises to return for his body and goes through the Gate, regaining consciousness in Father's lair and completing Father's count for the five sacrifices.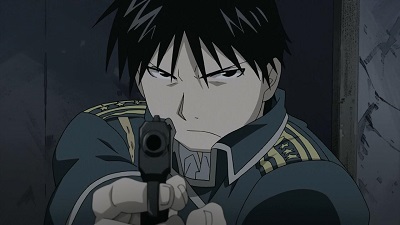 #8 - Death of the Undying 8.59
Season 1 - Episode 19
Alphonse joins up with Mustang and his subordinates as they follow after Barry's original body. The chase leads them to the Third Laboratory, where Barry infiltrates, and they take the opportunity to begin a thorough search of the laboratory. Unbeknownst to them, Lust doesn't intend for any of them to make it out alive.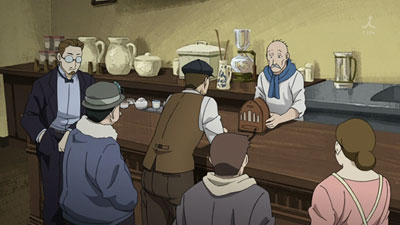 #9 - Flame of Vengeance 8.59
Season 1 - Episode 53
Mustang's team has Mrs. Bradley interviewed on live radio. With the power of radio and the help of the Ishbalans, word of a supposed coup d'état spreads, giving the rebels support from the citizens, while Briggs launches an attack on Central HQ. Meanwhile, Roy manages to destroy the Mannequin Soldiers surrounding Ed's party by burning them to ash. May lures Envy into a trap in the upper levels, causing them both to fall below into the chamber with Ed's group. Envy reveals that he was the one who killed Hughes, infuriating Roy who seeks to get revenge. Ed's group moves onward as Roy fights Envy, but Ed gets concerned that Roy may end up being consumed by his own hatred. Envy is no match for Roy and flees for his life. Upon seeing Riza heading towards Roy for backup, Envy gets an idea. Roy later encounters Riza, who aims a gun at his back.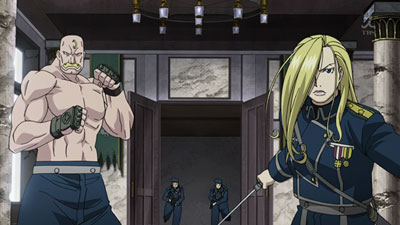 #10 - Combined Strength 8.59
Season 1 - Episode 52
Al begins using the Philosopher's Stone to battle against Kimblee and Pride. He manages to trap Pride once again, but is taken by surprise by Kimblee when he starts using his own stone. Meanwhile, as the Armstrong siblings start to gain the upper hand over Sloth, Sloth begins to use his true strength and reveals himself to be the fastest homunculus. Although Al gets apprehended by Pride again, Heinkel, having been healed by Marcoh, manages to deliver a fatal blow to Kimblee. Yoki arrives to rescue Al and the others and head towards Central, while Pride consumes Kimblee. As Alex manages to temporarily impale Sloth on a spike, both he and Olivier are attacked by Mannequin Soldiers. Meanwhile, May fends off both Envy and the Mannequin Soldiers, and Ed's group, overwhelmed by the soldiers, are joined by Roy and Riza.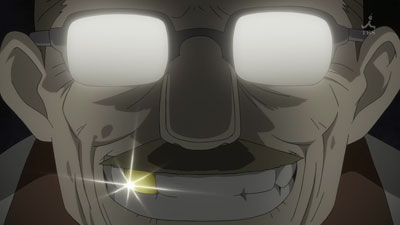 #11 - Eternal Leave 8.58
Season 1 - Episode 57
Greed, unable to hurt Bradley, is pinned down during their fight, which forces Fu to fight Bradley alone. Fu attempts to perform a suicide attack to kill Bradley using explosives strapped to his chest, but Bradley defuses them and mortally wounds Fu. However, Buccaneer thrusts a sword through Fu's body before he falls and successfully stabs Bradley in the stomach, allowing Greed to further harm him, while Lan Fan arrives to witness her grandfather's death. Meanwhile, Ed's group encounters the doctor who created Bradley, and are pit against the numerous rejected Fuhrer candidates. The doctor then activates a transmutation circle, connected by the five research labs in Central, and absorbs Ed, Al, and Izumi.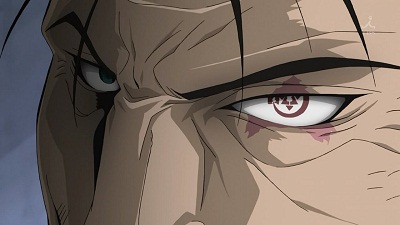 #12 - The Return of the Führer 8.56
Season 1 - Episode 56
Hohenheim, who had managed to converse with all the souls within his Philosopher's Stone, had infused the souls into Father's body to destroy it from the inside. However, Father shows his true form and is able to survive outside of his container. Meanwhile, Bradley begins his attack on Central HQ and single-handedly takes on the resisting forces, as well as destroying Buccaneer's arm. As he reaches the main gate, he finds himself against Greed, and Bradley reveals his hidden Ultimate Eye to fight him. Buccaneer allows himself to be stabbed in order to take away Bradley's sword, though Bradley soon arms himself with daggers. Meanwhile, Falman and the remaining Briggs soldiers try to fend off the Central army, and Fu later arrives to assist Greed in facing Bradley.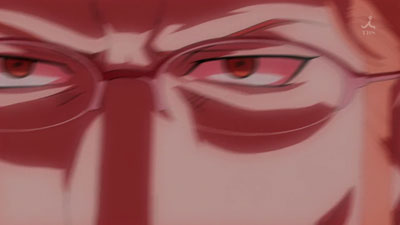 #13 - The Adults' Way of Life 8.55
Season 1 - Episode 55
The Armstrong siblings' and the Central forces' battle against Sloth rages on until Izumi appears and effortlessly pummels the homunculus, who is tossed and impaled on a spike by Alex and Sig, finally killing him. The Armstrongs and Curtises continue on around Central Command to wipe out the remaining mannequin soldiers, with Hohenheim and Father battling underground. With a majority of Central command captured, the Briggs forces are seemingly victorious until when King Bradley suddenly reappears, alive and unharmed, to overturn the coup and retake control of the country.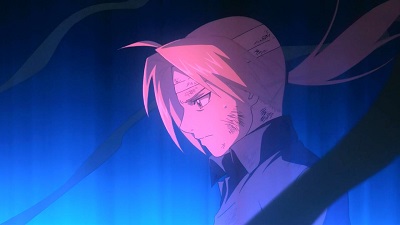 #14 - Reunion 8.53
Season 1 - Episode 26
Ed and Lin face off against Envy, and Ed finds himself hesitating to attack due to all the people embedded into Envy's body and gets swallowed. Meanwhile, Scar and May find Shao May with Al and Gluttony and decide to follow them down to an underground tunnel, fighting off several chimeras. Ed spots the Philosopher's Stone inside Envy and manages to figure out a way to escape from Gluttony after seeing the missing piece from the ruins of Xerxes. Bradley explains to Roy how he was trained from birth for leadership and was injected with the Philosopher's Stone. Using various pieces of the Xerxes ruins found in Gluttony's stomach, Ed reluctantly uses the souls inside Envy's stone to transmute himself and open the Door of Truth to escape through. Ed finds Al's body but is unable to bring it back since it isn't his. However, before the Door closes, he bursts through yelling to Al's body that he will come back to get him someday.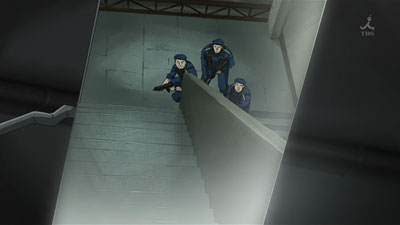 #15 - Upheaval in Central 8.51
Season 1 - Episode 50
As Team Mustang and Mrs. Bradley gets cornered by Central soldiers, Team Charlie, Mustang's old Ishbal squadron, intervenes and saves them. Team Mustang continues their attack on Central without killing anyone. Meanwhile, the Briggs soldiers lead by Buccaneer join the battle. Soon Team Mustang begins to run low on ammo, and they are saved by an ice cream truck driven by Rebecca and Maria Ross. Mustang calls whoever ordered Ross to return from Xing, and he is surprised to hear Havoc at the other end. During all of the chaos, Ed's group manages to sneak in underground through the Third Lab, where they split up. Ed, Scar, Darius, Zanpano, and Jelso go in one direction while Hohenheim and Lan Fan go in the other direction. However, at that moment, one of the Generals awakens the Army of Immortals.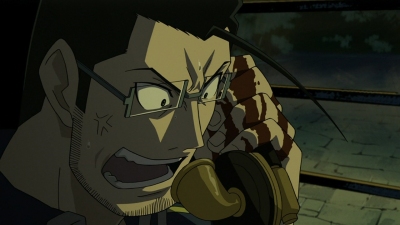 #16 - Separate Destinations 8.47
Season 1 - Episode 10
Ed and Al head to Dublith in order to see their former teacher, and Winry decides to tag along so she can visit Rush Valley on the way. Meanwhile, Lt. Colonel Hughes discovers some sensitive information and finds himself facing off against the Homunculus.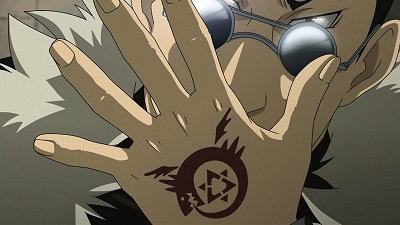 #17 - Beasts of Dublith 8.45
Season 1 - Episode 13
While trying to find clues on how to return to their original bodies, Al gets captured by a group of chimeras led by the homunculus Greed, forcing Ed to go to his rescue. Meanwhile, Colonel Mustang gathers a group of colleagues to support him in preparation for his transfer to Central HQ.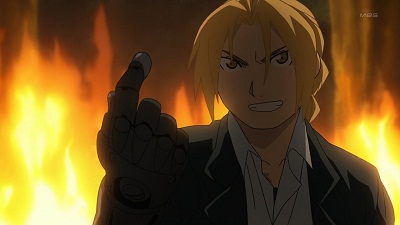 #18 - The Oath in the Tunnel 8.40
Season 1 - Episode 48
Lan Fan and Lin fight Gluttony, and Heinkel continues to fight Pride. Meanwhile, Roy visits Madam Christmas to confirm that Selim Bradley is in fact a homunculus. Pride manages to get back the upper hand in the fight and wounds Heinkel. However, before Pride can finish him off, Ed intervenes and saves Heinkel using his northern automail, now carbon-reinforced. Spies from Central are shown to have followed Roy to Madam Christmas's bar, and as they find out that the madam is Roy's foster mother, the bar is blown up by Roy, who escapes through the sewers with Madam Christmas. Roy then meets up with his subordinates before they attempt to take over Central. Pride takes over Al again, but right before he fights Ed through Al, Fu throws a flash bang into the air, overwhelming the shadows with light and breaking Pride's control of Al. Darius then takes Al away to a safer place, and Gluttony stumbles upon Pride and Ed's fight. Upon discovering that Lan Fan and Lin can sense homunculi, Pride consumes Gluttony, both to replenish his lives as well as to gain a sense of smell that can detect Ed and his group. Pride then smells Hohenheim, who has met up with Darius and Al. Back in Central, Mustang begins his upheaval plot by capturing King Bradley's wife.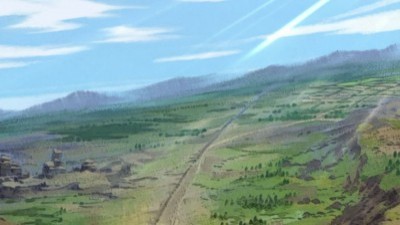 #19 - Homunculus (The Dwarf in the Flask) 8.38
Season 1 - Episode 40
Olivier goes to Central, where she admits to killing Raven and convinces Bradley to let her take his place. Riza uses a coded message to tell Roy that Selim is a homunculus. Meanwhile, 'Father' dreams of ancient Xerxes, where Hohenheim was raised as a nameless slave. There, Hohenheim met Homunculus, a being in a flask who was created from his blood, which gave Hohenheim his current name and taught him the basics of alchemy. One night, Homunculus was summoned by the King of Xerxes, who asked Homunculus to tell him the secret for immortality. Homunculus tricked the king into making a gigantic transmutation circle, using the whole country as a sacrifice, while it and Hohenheim stood at the center of the circle. When Hohenheim awoke, everyone else in Xerxes was dead, except for Homunculus. It created a body shaped like Hohenheim for itself, becoming 'Father.' Back in the present, after Hohenheim awakes from this shared dream, he runs into Izumi and Sig. When Hohenheim notices Izumi's sin, he rearranges her organs so that her blood can flow better. After this, Hohenheim tells Izumi and Sig that he is a Philosopher's Stone in human form.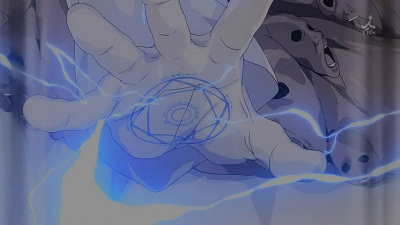 #20 - Bite of the Ant 8.38
Season 1 - Episode 43
Briggs is able to defeat the Drachman forces with ease, finally carving out the blood crest. Zampano brings Envy to Marcoh, where Marcoh reveals that it was their intention from the start to lure the homunculus out there, and Envy is easily hit and outsmarted by the multiple alkahestry traps set up by May. Out of anger, Envy transforms into his true form and begins to attack the group. After being captured by the homunculus, Marcoh destroys Envy's Philosopher's Stone and renders Envy into a tiny, parasitic creature. Scar gives it to May and tells her to return to her country. Marcoh and Scar decide to go their own way, and Al and the rest head for Liore. In Dublith, Bido, the last remaining chimera of Greed's, sees two military officers searching for Izumi. Thinking that they could lead him to Greed, he hides underneath their car. Olivier is told about Briggs's victory, and is then shown, by one of the military's higher ups, the secret behind forbidding human transmutation. Meanwhile, when reaching Liore, Al and co. meets with Rosé and Hohenheim.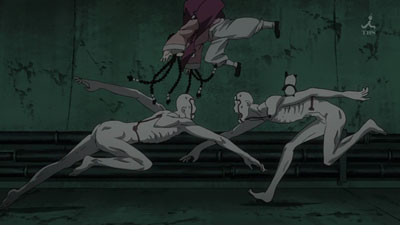 #21 - The Immortal Legion 8.37
Season 1 - Episode 51
The Mannequin Soldiers awaken and kill the general. As Ed's group arrive at the door where Al had fought against Lust, the mannequins emerges from the door and they turn out to be immortal indeed. Meanwhile, Olivier is attacked by Sloth, who had been ordered to kill her. Al and Heinkel learn too late that Pride had been sending a secret message from banging on Al's head and are soon attacked by Kimblee, who frees Pride from his imprisonment. In the sewers, May is also being attacked by mannequins and when Envy manages to merge with them, he is able to return to his regular form. As Olivier struggles against Sloth, Alexander rescues her and joins the fight. Al transmutes his legs off in order to help Heinkel, who then gives him the Philosopher's Stone that Kimblee previously discarded. Al uses it to restore his legs and face Pride and Kimblee.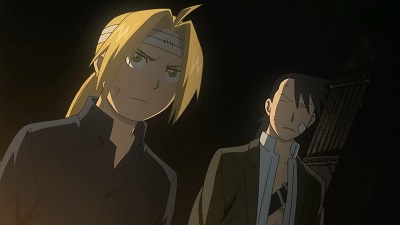 #22 - Doorway of Darkness 8.37
Season 1 - Episode 25
Ed and Lin find themselves in a dark place, realizing they're inside Gluttony's stomach, and try to find a way out. May is worried about Xiao Mei, explaining to Yoki about their circumstances, so Scar decides to help search for her. Ed and Lin are approached by Envy, who explains that Gluttony was a failed attempt at recreating the Door of Truth and there is no exit. Envy also reveals he was the one who started the Ishbalan war, before transforming into a giant beast. Meanwhile, Al gets Gluttony to take him to Father, who is apparently in Central, and Bradley gets leverage over Roy by transferring his men to various headquarters and assigning Riza as his personal assistant, effectively making her his hostage.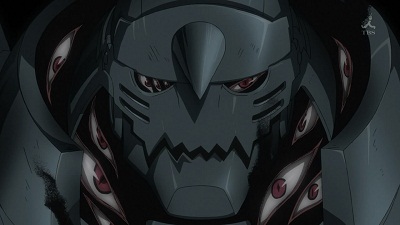 #23 - Emissary of Darkness 8.36
Season 1 - Episode 47
Ed and his group go to see Hohenheim, who tells them about the promised day. Ed also tells Hohenheim Trisha's last words to him. As Ed and his group leave, they run into Al, but after a warning from Lin, it is revealed he's being controlled by Pride. Pride gets the upper hand, but Ed responds by blacking out the slums, taking away the light to form Pride's shadows. Heinekel uses this opportunity to find and attack Pride, but Ed, Greed and Darius are attacked by Gluttony. Having a disadvantage in the dark, Greed switches with Lin who uses his homunculus detection abilities to fight Gluttony. As Gluttony starts to use his full power, he is overwhelmed by the arrival of Lan Fan, who is equipped with new automail.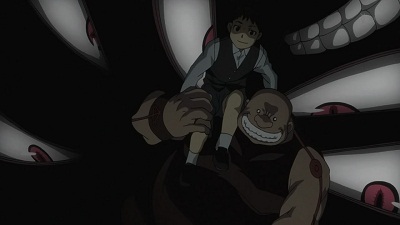 #24 - Looming Shadows 8.35
Season 1 - Episode 46
Some Briggs soldiers escort Winry back home, where she is surprised to find Ed and his group. He warns her to escape to another country, but declines, saying Ed should just make sure he protects everyone. Meanwhile, Scar has recruited several Ishbalans to help in his cause and Roy informs Olivier about Selim. Al, who had been suffering from more frequent blackouts, is ambushed by Gluttony and Pride and captured. On the day before the promise day, Bradley is tricked into taking a train back to Central and is caught in an explosion on the bridge. Meanwhile, Riza, Breda and Feury prepare for tomorrow. Also, within the military, as the "chosen" generals are panicking over Bradley's possible death, Olivier sees her chance to try and take control, but before she could do anything, she is halted by the sudden appearance of Father and Sloth.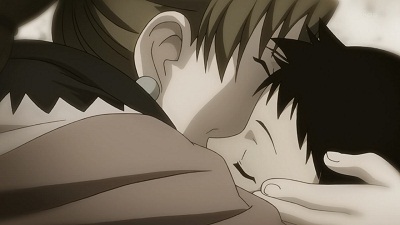 #25 - Filial Affection 8.34
Season 1 - Episode 49
Ed, Greed, and Lan Fan have a difficult time fighting Pride, who gained Gluttony's powers after devouring him. Working with Hohenheim, Al allows himself to be captured by Pride in order to grab him so that Hohenheim can trap Pride in a mountain of soil where there is no light, preventing him from using his shadows. Meanwhile, Kimblee begins to move just as Scar's group is told about the bombing of Bradley's train. As the Promised Day begins, Greed goes to Central on his own while Ed's group and Scar's group meet up again to devise a plan. In Central, Roy and his subordinates begin to attack soldiers while using Bradley's wife as a hostage. However, the military higher-ups give the order to kill everybody in the group except for Roy.