Frasier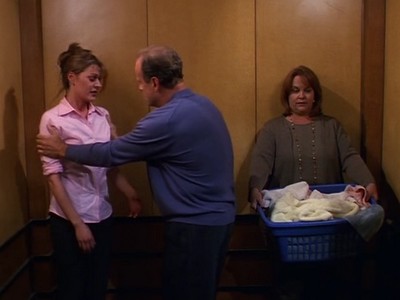 #1 - Something Borrowed, Someone Blue (2) 8.36
Season 7 - Episode 24
Frasier does not see Daphne again until everyone arrives at the hotel for her wedding. He offers his sympathy about Niles, but she claims that she was just suffering pre-wedding jitters. Frasier doesn't believe her. Martin warns him not to interfere unless he is absolutely sure that it is the right thing. Frasier observes Niles and Daphne sharing a dance after the rehearsal dinner, and realizes that they are obviously in love. He takes Niles upstairs to talk, and tells him about Daphne's feelings. A panicked Niles is unsure of what to do. He tries to talk to Daphne alone, but everyone keeps interrupting them. He finally tells her that he loves her and would leave Mel to be with her. Just as he asks how she feels about him, her family bursts in and takes over the room. Niles and Daphne take refuge on the balcony. She kisses him passionately and admits that she loves him, but then rejects him because she thinks it would be too hard to undo their commitments. The next day, Nil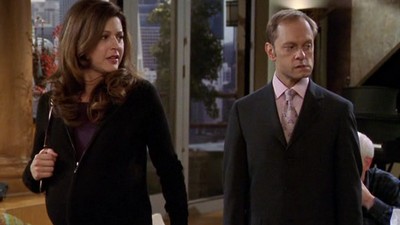 #2 - Goodnight, Seattle (2) 8.35
Season 11 - Episode 24
In part 2 of the finale of Frasier, Eddie is taken to the vet by the family during Martin and Ronee's wedding rehersals, Niles and Daphne have very good news. Martin prepares to move out of appartment 1901 and Frasier decides on the offer put to him by his agent.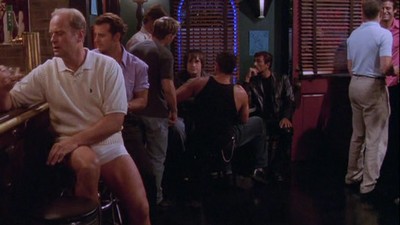 #3 - The Doctor Is Out 8.33
Season 11 - Episode 3
Frasier and Niles suspect that Roz's new boyfriend, Barry, is gay. They see Barry on the street and believe that he has gone into a gay bar. Frasier, worried that Barry is leading Roz on, goes inside to confront him. Niles discovers that Barry actually went into an apartment building next door to the bar. He goes into the bar to tell Frasier, and a misunderstanding causes the patrons to believe the Crane brothers are actually lovers. A caller then "outs" Frasier on his show the next day. Martin feels very uncomfortable about the public thinking his son is gay. Alistair Burke, the head of the Seattle opera guild, befriends Frasier and begins spending a lot of time with him. The rest of the family realizes that Alistair thinks of Frasier as his boyfriend, but Frasier insists that this is not true. Frasier, Niles and Daphne attend a party, where Frasier discovers that everyone in attendance thinks that he and Alistair are a couple. Frasier is finally forced to come clean with Alistair about his sexuality after learning that Alistair expects to take their relationship to the next level very soon.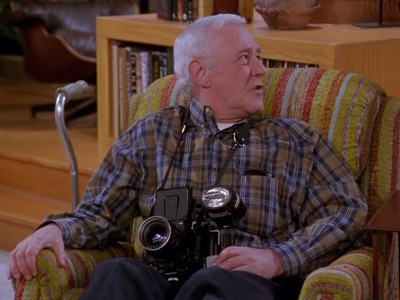 #4 - Star Mitzvah 8.20
Season 10 - Episode 6
As Frasier prepares for Frederick's bar mitzvah, Noel offers to translate Frasier's speech into Hebrew in exchange for an autograph from a science fiction convention. However, when Frasier doesn't keep his end of the bargain, Noel uses his wealth of Star Trek knowledge to take revenge.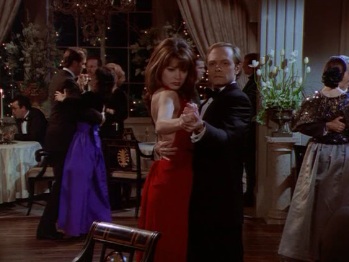 #5 - Moon Dance 8.17
Season 3 - Episode 13
Daphne gives Niles ballroom dancing lessons, as he prepares for the annual "Snow Ball". When his date falls ill, Niles takes Daphne to the ball, providing him with the night of his life.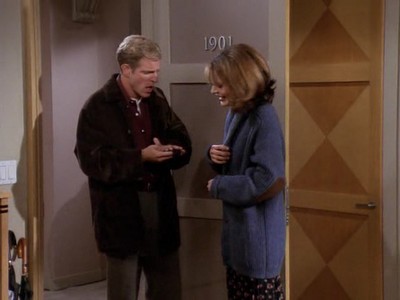 #6 - The Two Mrs. Cranes 8.16
Season 4 - Episode 1
When Daphne's ex-fiance comes to visit, she tries to let him down easy by pretending to be married to Niles. However, when Frasier, Martin, and Roz get involved in the charade, the evening spirals out of control.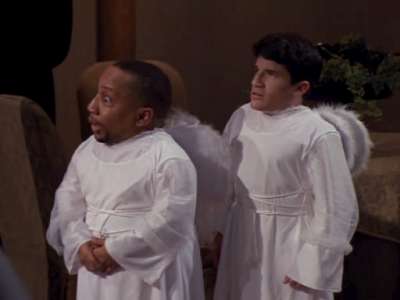 #7 - The Proposal 8.15
Season 9 - Episode 15
Niles plans on proposing to Daphne, so he prepares his speech; buys a ring; and hires a choir, a string quartet, a trumpet player and Wolfgang Puck. But Daphne's mother is still staying with them, and on the night Niles plans to propose, Daphne begins to feel ill.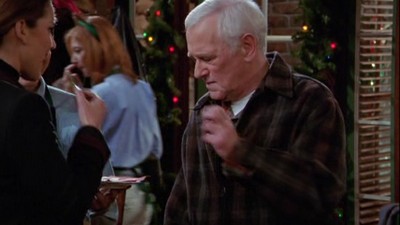 #8 - High Holidays 8.14
Season 11 - Episode 11
Frasier is shocked when Frederick comes to visit sporting his new "goth" look. Meanwhile, realising that he never rebelled in his adolescance, Niles decides to try marijuana...with unexpected results.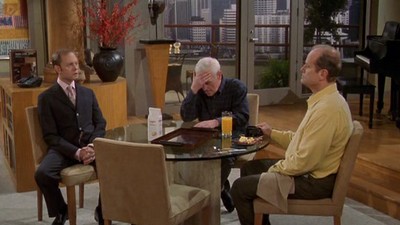 #9 - Goodnight, Seattle (1) 8.14
Season 11 - Episode 23
In part 1 of the finale of Frasier, Frasier struggles to put together a wedding for Martin and Ronee, Some of Daphne's brothers come to Seattle and Frasier gets an offer from his agent that he is considering whether to take or not.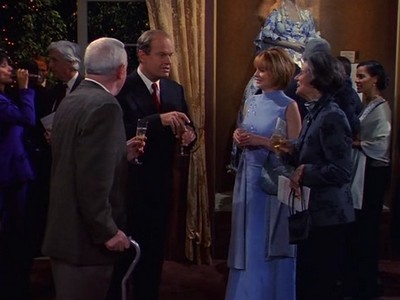 #10 - Out with Dad 8.14
Season 7 - Episode 15
An unlikely chain of events forces Martin to pretend to be gay on Valentine's Day.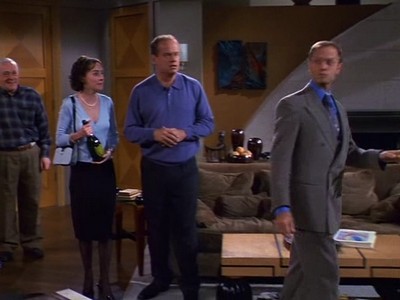 #11 - Something Borrowed, Someone Blue (1) 8.13
Season 7 - Episode 23
Daphne becomes extremely depressed the week before her wedding, and cannot stop crying. Niles tells Frasier that he is having second thoughts about his relationship with Mel.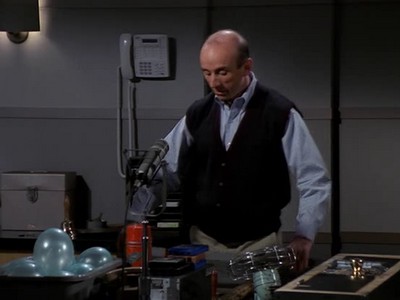 #12 - Ham Radio 8.11
Season 4 - Episode 18
Frasier's ambitious plans to put on a "classic" radio drama are foiled after the actors, perturbed by Frasier's tyrannical style, revolt.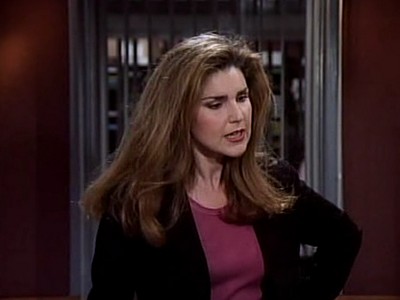 #13 - An Affair to Forget 8.08
Season 2 - Episode 21
Niles takes up a sword to fence for Maris' honor after a caller to Frasier's show gives Frasier the idea that Maris is having an affair with her fencing instructor.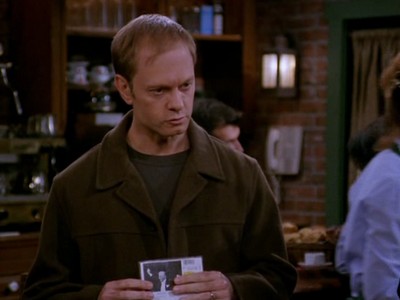 #14 - Don't Go Breaking My Heart (3) 8.08
Season 10 - Episode 9
Niles recovers rapidly from his heart surgery and receives the go-ahead from doctors to resume normal activities, but seems reluctant to do this. He maintains his strict post-operative diet, and refuses to exercise or share a bed with Daphne. He annoys everyone by constantly going around making speeches about his near-death experience and how much he appreciates life. Frasier refuses to argue with Niles because he promised God that he would never quarrel with his brother again if he recovered from his sickness. The frustration of having to agree with everything Niles says begins to drive Frasier crazy, especially when Niles starts monopolizing his radio show to give his own advice to callers. Frasier believes he has found a way to back out of his promise after he learns that Daphne had already made her own deal with God. In the meantime, Martin talks with Niles about the feelings he experienced after his shooting, and forces his son to overcome his fears and go on with his life.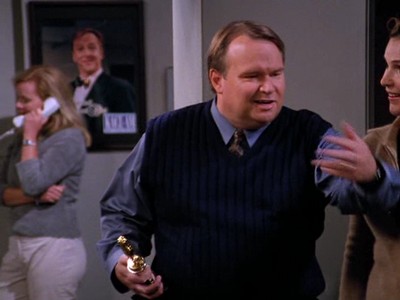 #15 - Kissing Cousin 8.08
Season 10 - Episode 4
Frasier is surprised to learn that Kenny has never unpacked the boxes in his office because he views all of his jobs as temporary. Roz's younger cousin Jen comes to stay with her for the week.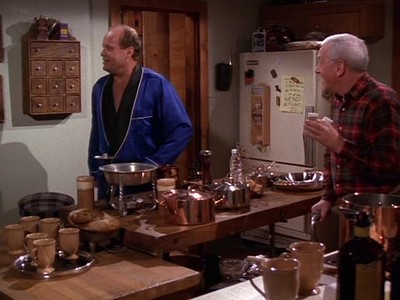 #16 - The Ski Lodge 8.08
Season 5 - Episode 14
The Crane household and Daphne's good friend Annie take a weekend trip to a ski lodge, leading to romantic misunderstandings.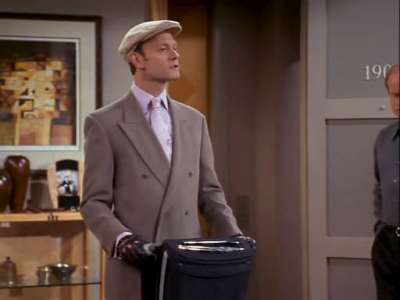 #17 - The Love You Fake 8.08
Season 9 - Episode 20
Frasier is still fighting with his neighbor Cam Winston, so Martin and Cam's mother pretend to be in love.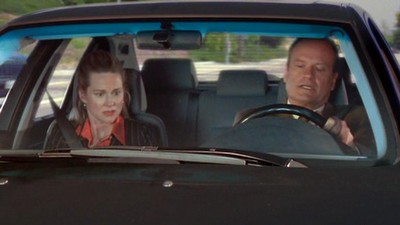 #18 - Detour 8.06
Season 11 - Episode 21
Frasier offers Charlotte a ride to the train station, as she is headed to Portland to give a speech at a businesswomen's convention. She seems evasive when he tries to make future plans, so he insists that she explain what is wrong. She tells him that she is moving back to Chicago in three weeks, and doesn't think they should keep seeing each other because it will just make saying goodbye more painful. Charlotte ends up missing her train as they talk.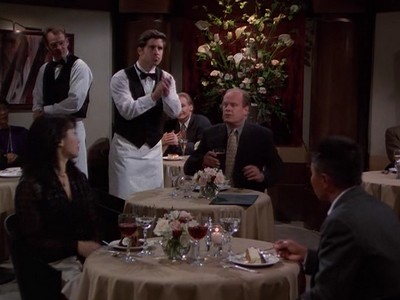 #19 - Odd Man Out 8.06
Season 4 - Episode 24
After dining at a "couples" restaurant alone, Frasier realizes the void that single living leaves in his life. He impulsively rushes to the airport to meet a total stranger after she accidentally leaves a message on his answering machine.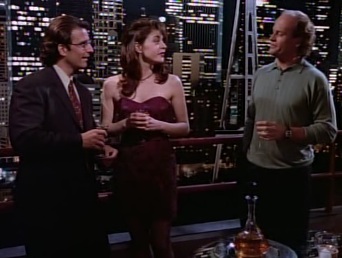 #20 - The Matchmaker 8.05
Season 2 - Episode 3
Frasier sets up a date for Daphne with the new station manager, Tom, unaware that Tom is gay and believes he's actually dating Frasier.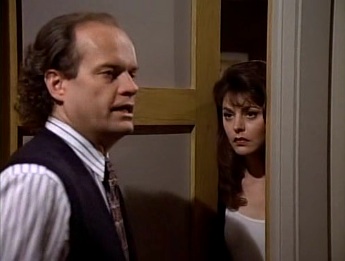 #21 - Daphne's Room 8.02
Season 2 - Episode 17
Daphne decides to move out of the Crane residence after Frasier continually invades the privacy of her room.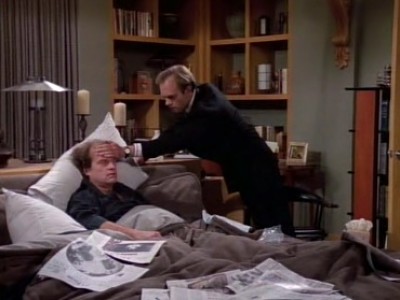 #22 - Frasier Crane's Day off 8.02
Season 1 - Episode 23
Frasier comes down with the flu, so food critic Gil Chesterton fills in for him. When paranoid Frasier believes both Gil and subsequent fill-in host Niles are after his job, he's more determined than ever to get back on the air.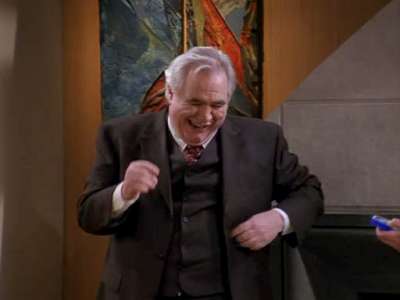 #23 - Moons over Seattle 8.02
Season 9 - Episode 24
Niles eventually persuades the reluctant Mr. Moon to come to the U.S. and talk with his wife. He is prepared to leave immediately after Mrs. Moon rejects him, but Niles convinces him to stay for a while. Daphne is furious at Niles for interfering, as she feels her parents would eventually work out their problems on their own. She criticizes Niles for acting without consulting her. Niles and Daphne convince the Moons to join them for a romantic dinner. The plan works initially, but the couple soon gets into a brawl. Mr. Moon talks with Daphne and tells her that he and Gertrude are not going to reunite. A devastated Daphne fears that there is no point to marriage, but her father assures her that Niles is the right man for her. He cites the lengths Niles was willing to take to please Daphne as proof that he loves her much more than Mr. Moon ever loved Gertrude. Daphne realizes that he is right, and heads over to see Niles. She stuns him by telling him that she wants to marry imm
#24 - Murder Most Maris (2) 8.02
Season 11 - Episode 8
Niles is questioned by the police because he loaned Maris the murder weapon--an antique crossbow--for use in a play. Maris insists that she acted in self-defense. She continually calls Niles from jail, leaving Daphne extremely angry. The media scrutiny surrounding the Cranes intensifies after Frasier--the self-appointed family spokesman--accidentally says that Niles and Maris will be "executed" rather than "exonerated." Niles and Daphne have to come stay with Frasier, and Daphne makes Niles sleep on the couch. Frasier worries that Niles is reacting too calmly, as he believes that the anxiety will build up and eventually lead to a breakdown. Overcome with stress and sleep deprivation, Niles winds up stripping off all his clothes in Cafe Nervosa. Roz and Frasier manage to handle the situation. Niles finally begins to display some anger about his predicament, and asks Maris to back off and stop calling him so often.
#25 - Breaking the Ice 8.01
Season 2 - Episode 20
Frasier realizes that his father has never told Frasier he loves him, so Frasier tags along with Niles and Martin on an ice-fishing trip to try to get closer to his father.