Food Wars! Shokugeki no Soma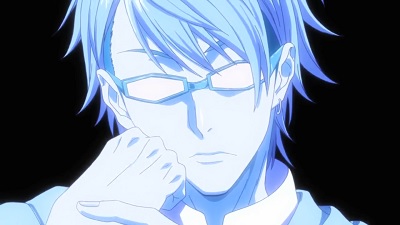 #1 - The Heavenly Recette 8.24
Season 1 - Episode 10
Soma bumps Erina and apologizes, but Erina refuses his help thinking that she is letting her guard down. Soma meets alumnus Gin Dojima in the bath and was surprised to see Soma finishing so quickly. Dojima wishes Soma good luck as the Aldini twins enter the bath. The next day, Soma and Megumi are given the assignment to make the Nine Vegetable Terrine alone with Kojiro Shinomiya judging as he tells the students to think of each other as enemies. At the start of the assignment, Megumi is knocked down as the students rush for ingredients, and she only sees bad heads of cauliflower still left on the table. Thinking about what Soma would do in such a situation, Megumi uses wine vinegar to preserve the color and enhance the seasoning of the cauliflower. Shinomiya passes Soma, however he fails Megumi for changing the recipe without his permission. Soma intervenes and Shinomiya explains that he intentionally left several bad cauliflower heads to limit the number of students who can pass. Soma challenges Shinomiya to a Shokugeki to get Megumi's expulsion reversed.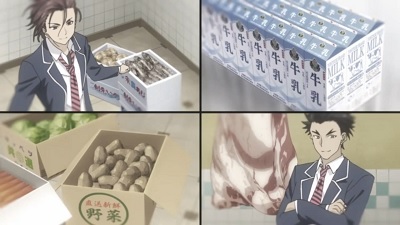 #2 - The Man Called the Demon 8.24
Season 1 - Episode 15
As the students make their way home, Shinomiya decides to return to France make his restaurant the best in Paris, while the other alumni explain how the training camp also serves as a recruitment ground to determine potential for future employment. Going back for his headband, Soma ends up missing his bus and has to hitch a ride back to school with Erina, who explains about the Autumn Festival while hiding the fact that she, along with Dojima, are shown to have fond memories of Joichiro. Returning to the Polar Star Dormitory, Soma is surprised to see Joichiro, who is revealed to be an alumnus and former member of the Elite Ten who went by the name Joujirou Saiba. As Joichiro treats the returning residents to a meal, Fumio explains that Joichiro and Dojima were once fellow Polar Star residents who were responsible for many of the luxuries the dorm has. Later that night, Joichiro tells Soma about his campus memories, filling him with more determination. The next morning, Joichiro decides to have a cooking contest against Soma.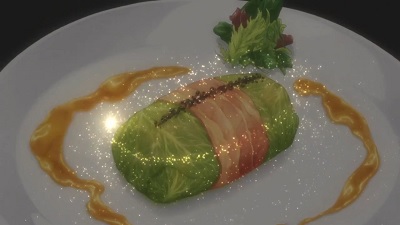 #3 - The Magician from the East 8.12
Season 1 - Episode 11
Soma recklessly challenges Shinomiya to a Shokugeki in order to have him retract his decision to expel Megumi. Shinomiya refuses, but Dojima half forces him to accept. However, Dojima also imposes a condition on Soma and Megumi--Megumi must be the main chef! If they lose, Soma will also be expelled. The unofficial Shokougeki is about to begin!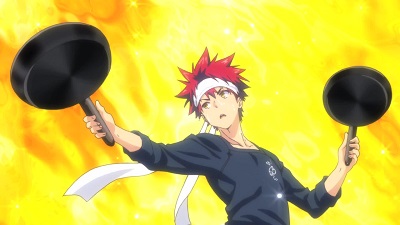 #4 - Metamorphosis 8.11
Season 1 - Episode 14
Due to the specific timing required for his soufflé omelette, Soma struggles to get any customers to try his dish before they end up deflating. With half an hour left in the challenge, Soma calmly analyzes the situtation and changes his approach, cooking in front of his customers in order to attract a crowd while also delivering the dish in its peak condition. Optimizing his preparation to cook his omelettes as quickly as possible, Soma manages to complete his 200 servings goal with merely seconds to spare. Afterwards, Soma is introduced to Erina's cousin, Alice Nakiri, who considers both Soma and Erina her rivals. Following another task a few hours later, Dojima treats all the surviving students with a banquet to celebrate the end of the training camp, while withholding information about the next event: the Autumn Elections.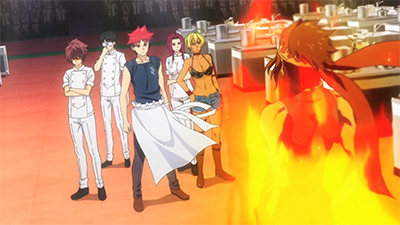 #5 - The Competition of the Blossoming Individuals 8.11
Season 1 - Episode 23
Back in Group A, contestants are struggling to score as one of the main judges, Natsume Sendawara, keeps giving out zero scores. This streak soon breaks when Ryo Kurokiba, Alice's aide, presents a lobster curry made using a cognac base, earning 93 points. Next, Ikumi presents a Dongpo pork curry, using what she had learned from her Shokugeki with Soma to impress the judges with a complete dish and earning score of 86. Afterwards, Ryoko presents a Dal curry made with charcoal-grilled natto and soy sauce rice malt, also scoring 86, while both Marui and Ibusaki earn 88 points with their white potage curry udon and smoked curry respectively. Akira soon presents his dish, an unconventional dish that soon turns out to be a fragrance bomb.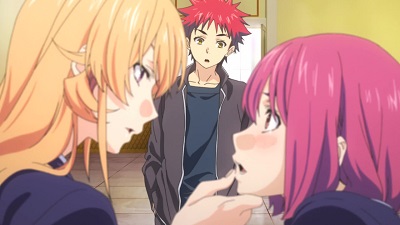 #6 - God Tongue 8.08
Season 1 - Episode 2
Under his father's orders, Soma attempts to transfer into one of Japan's top culinary schools, Togetsu Tea House Culinary Academy. His examiner, Nakiri Erina, is a student said to possess humanity's best palate: the God Tongue.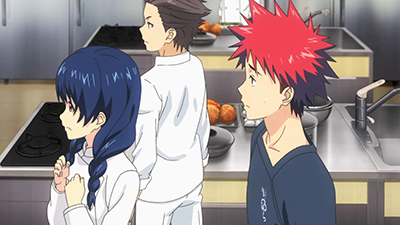 #7 - That Chef Never Smiles 8.06
Season 1 - Episode 3
Just barely squeaking past the academy's transfer exam, Soma causes and uproar at the opening ceremony by making a brash speech in front of the entire class. In his very first class, he's paired with Tadokoro Megumi, a girl who is at risk of expulsion and is intent on keeping a low profile in order to survive.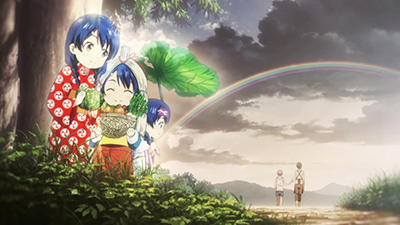 #8 - The Memory of a Dish 8.05
Season 1 - Episode 12
The unofficial Shokugeki between Shinomiya and the Megumi-Soma pair has begun. With expulsion on the line, the judging is underway. Megumi's first dish as the main chef is her own take on the nine-vegetable terrine Shinomiya assigned--the Rainbow Terrine, made from seven types of vegetables!
#9 - The Chef Who's Crossed a Thousand Leagues 8.01
Season 1 - Episode 16
With Fumio, Megumi, and Satoshi winding up as judges, Soma and Joichiro are challenged to use ingredients from the kitchen to make a light yet energizing breakfast dish that will wake them up. Soma presents an apple risotto, which provides a crisp taste which changes with the addition of black pepper. Joichiro, on the other hand, presents the unusual choice of ramen which, despite its heavy appearance, turns out to be a mellow and warming vegetarian dish, providing powerful flavor without meat or fish. The judges unanimously vote Joichiro's dish the winner, though Soma's dish also receives some praise. As Jouichirou takes his leave, he leaves a message recommending Soma visit the Yukihira Diner during the holiday.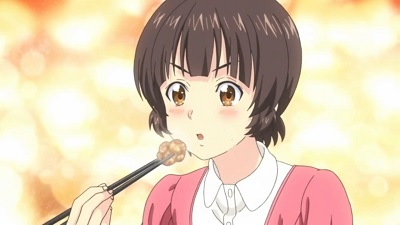 #10 - The Seductive Karaage 8.00
Season 1 - Episode 17
Arriving back home, Soma temporarily re-opens Yukihira Diner to serve his loyal customers, including his childhood friend, Mayu Kurase, who has a crush on him. He learns that the Sumire Shopping District has been doing poor business lately due to the arrival of a popular karaage chain shop, Mozuya. Wanting to help revive the shopping district, Soma decides to come up with a competing karaage recipe, calling in Ikumi as his meat expert while Mayu winds up as his taste tester. The three do some recon at Mozuya, where they find its CEO Kinu Nakamozu to be a spiteful woman, before beginning work on a recipe to compete with theirs. As Soma takes up Mayu's suggestion to use their shopping district location to their advantage, it is revealed that the figure behind Mozuya's success is one of the Elite Ten.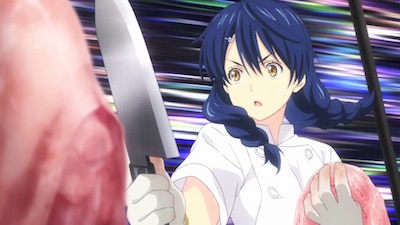 #11 - The Unknown Known 7.97
Season 1 - Episode 21
Soma awakens from his nap to tend to his dish, which involves a creamy rice infused with spices. Meanwhile, Megumi brings out a monkfish for her dish, having learnt how to butcher it in order to help her family. With the cooking period over, the judging soon begins with a harsh panel of judges hitting most of the students with low scores. In Group B, Nao Sadatsuka, a somewhat creepy girl with an obsession with Erina, presents an extremely pungent laksa ditch made using kusaya that secretly carries a delicious flavor under its strong odor, scoring 84 points as a result. Meanwhile, Erina's secretary and childhood friend Hisako Arato, who Nao has a rivalry with, presents a mutton curry made using medicinal cuisine which undoes the cursive effects of Nao's curry, scoring 92 points.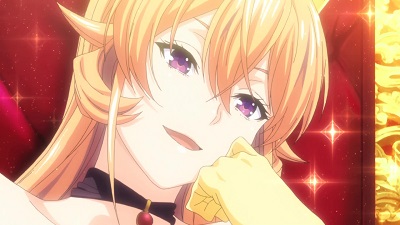 #12 - Eggs Before Dawn 7.93
Season 1 - Episode 13
Before the students have a chance to sleep for the night, Dojima announces his next task, in which the students must prepare a buffet-style egg dish to be served at breakfast early next morning. With everyone spending the night trying to come up with a recipe, Soma decides on a soufflé omelette, which is met with silent criticism from some of the other students. As breakfast comes the next day, it is revealed the judges will consist of the hotel's guests and staff, which students needing to hand out 200 servings of their dish in order to pass. While many of the students including Erina, Megumi, and Tatsumi all manage to impress with their dishes, Soma struggles to serve his dish to anyone.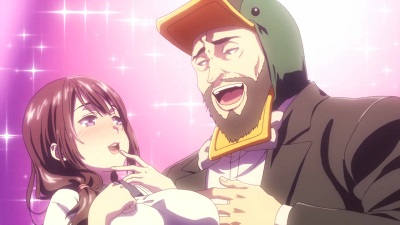 #13 - The Concerto of Inspiration and Imagination 7.92
Season 1 - Episode 8
The training camp is considered the first trial by fire for students in Totsuki's high school division. Dozens of students are said to be expelled and sent away every day, and the number of students is said to be reduced below half by the camp's end. Intent on survival, Soma and his friends embark on their journey to the hellish camp in one of Totsuki Resorts' hotels.
#14 - The Dragon Lies Down and Ascends the Skies 7.88
Season 1 - Episode 20
With the challenge of creating a curry dish set, many of the contestants set off to visit their families and study up on spices during the remainder of the summer while Soma stays at the dorms to try out various combinations. The Autumn Election preliminaries soon arrive, with only the top four from each group able to make it through to the tournament phase. As each of the contestants start bringing out each of their unique methods, Soma appears to have fallen asleep.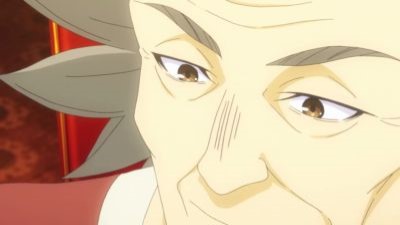 #15 - The Banquet of Warriors
Season 1 - Episode 24
Akira's dish, which on top of its powerful fragrance also uses the power of holy basil and yogurt, earns a score of 94 from the judges, two of which gave him a perfect 20. Finally, Soma presents his own fragrance bomb, combining his past two failures into a curry risotto omurice containing a mango chutney that deepens the flavor. The dish earns Soma 93 points, landing him second place behind Akira, though it is noted that three of the five judges ranked the dish higher than Akira's. As the contestants hold an afterparty celebrating and lamenting their victories and losses in the preliminaries, Soma becomes determined to improve his cooking finesse.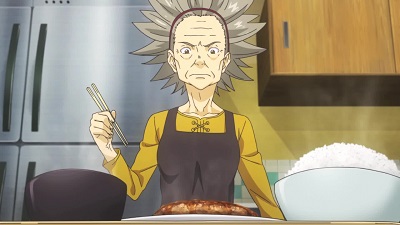 #16 - The Madonna of the Polar Star
Season 1 - Episode 4
Soma arrives at Polar Star Dormitory with high expectations, only to find it a creepy, run-down place. He is then informed by the dorm warden, Daimido Fumio, that he can only live at the dorm after he impresses her with his cooking. Soma rises up to the challenge!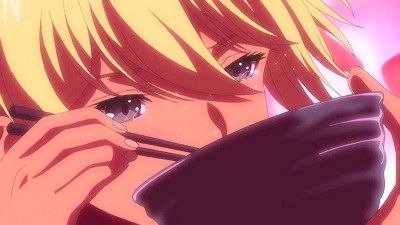 #17 - The Quiet Don, the Eloquent Don
Season 1 - Episode 7
The Shokugeki between Mito Ikumi and Yukihira Soma has begun! Everyone, including Erina, is convinced that Ikumi, the Meat Master, will win. Soma, on the other hand, is greeted by jeers the moment he enters the arena. Will Soma be able to save Don RS?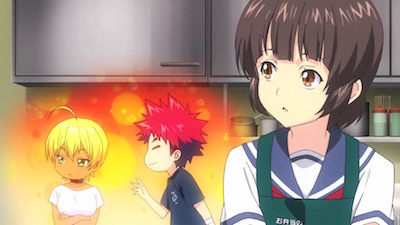 #18 - The Karaage of Youth
Season 1 - Episode 18
Noting that the shopping district focuses more on walk-and-eat food, as opposed to Mozuya's packaged approach, Soma shifts his focus towards creating a karaage that can be enjoyed straight out of the fryer. Opting to go with thigh meat with a chilli-based marinade, Soma gets inspiration from a bento shop owner and decides to serve his karaage in rice flour wraps with salad, providing enhanced flavor, portability, and appeal all at once. This brings a large amount of business, which in turns helps the rest of the shopping district come back to life, with Nakamozu having no choice but to admit defeat. Afterwards, Soma puts Mayu in charge of helping with the karaage's sales, having noted her good qualities. Returning back to the academy, Soma is brought before Mozuya's puppetmaster, Etsuya Eizan, the ninth seat of the Elite Ten, who informs him of the Autumn Elections.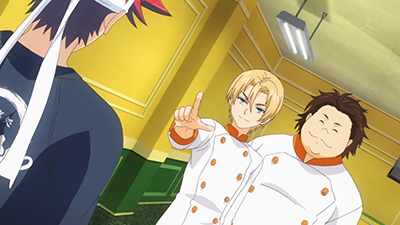 #19 - The Breading to Adorn the Mountains
Season 1 - Episode 9
Inui Hinako, a Totsuki alumna, has tasked Soma's group with making a Japanese dish using available ingredients in the area. Anything other than condiments and spices must be procured from their immediate environs. Soma, provoked by Takumi Aldini's challenge, has a flash of inspiration and dashes out with Megumi to find ingredients for their dish!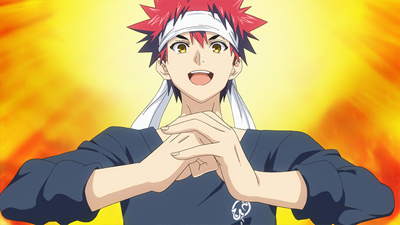 #20 - The Secret in the First Bite
Season 2 - Episode 5
Soma is approached by journalist Mitsuru Sotsuda, who asks to cover him as he works on a beef stew recipe for his Shokugeki against Subaru. Agreeing to taste test after letting her borrow some manga, Erina berates Soma's dish, stating that it isn't suited for the match's main topic. Thinking Erina's criticism over, Soma gets a burst of inspiration after receiving some meat from Ikumi. The day of the Shokugeki soon arrives, with Soma realising the importance of making his dish stand out on the first bite and deciding to make his stew using oxtail. However, as a result of his profiling, Subaru predicts Soma's actions and also uses oxtail, bringing out his own twist on top of it.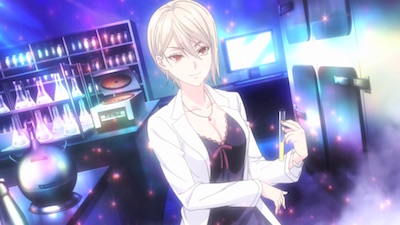 #21 - The One Who Surpasses the Ordinary
Season 1 - Episode 22
Miyoko scores 87 points with her pineapple-fragranced cha-han while Yuki gets 86 points for her wild game curry. Afterwards, the Aldini brothers face off against each other, with Isami presenting a curry calzone that scores 87 points while Takumi presents a curry pasta dish using tamari soy sauce and cheese filled pasta that scores 90 points. Alice then presents her deconstructed curry dish that leaves the judges bewildered, earning 95 points and taking the lead. Finally, Megumi presents her dish, monkfish dobu-jiru, which emphasises the taste of her hometown, earning her 88 points and landing her a spot in the next round alongside Alice, Hisako, and Takumi.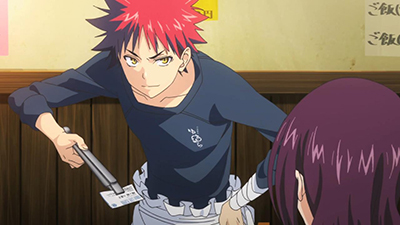 #22 - An Endless Wasteland 7.88
Season 1 - Episode 1
Yukihira is a popular neighborhood restaurant where Yukihira Soma helps out in the hopes of surpassing his father as a chef one day. But land sharks are after their restaurant, and one day Soma tells them that the restaurant will close if they couldn't serve satisfactory food to their customers. The land sharks are only too happy to sabotage the restaurant's fridge and gleefully orders Soma to serve them a meat dish...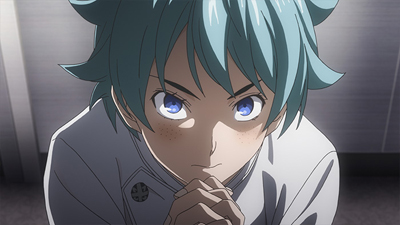 #23 - Pomp and Circumstance
Season 2 - Episode 13
At the end of the pre-open's final day, Shinomiya calls in his fellow alumni, along with his mother, for one final service, recalling what inspired him to pursue French cuisine. As the competition finally arrives, Soma uses about everything he's learned to put together a French take on a chicken and egg rice bowl using a quail stuffed with risotto. Despite ultimately deciding that dish isn't good enough as it is, Shinomiya helps Soma refine his recipé so that it can be become a item on his menu, leading Soma to pass the Stagiaire. With the Stagiaire over, Soma returns to Totsuki, ready to take on anyone who challenges him to a Shokugeki.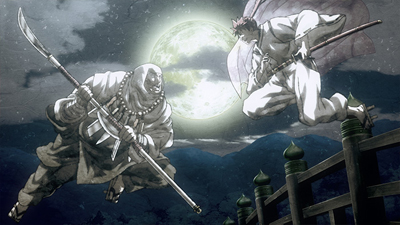 #24 - Dawn Will Come Again
Season 2 - Episode 6
Subaru uses smoked bacon as a garniture for his stew, revealing that he got his information from hacking into Mitsuru's notes. Even when Soma reveals his intent to use various cuts of beef to improvise his dish on the fly, Subaru still appears to have predicted Soma's move, remaining confident in his bacon addition. Although the judges are impressed by Subaru's bacon garniture, Soma astounds them with his dish by using various meats for his garniture, revealing he had created the dish from everything he had learned so far, unanimously winning the match. As a result, Soma manages to return all the tools Subaru had taken back to their original owners, with Takumi deciding to leave his mezzaluna with Soma until he can win it back himself.
#25 - The Chosen One 7.83
Season 1 - Episode 19
The contestants and rules for the Autumn Elections are announced, in which the sixty selected contestants are split into two groups which they must top in order to advance to the tournament phase. Meanwhile, Megumi is approached by a girl named Miyoko Hojo, who was interested in her shokugeki with Shinomiya but becomes disappointed when she hears she was helped by Soma. After learning the first dish of the elections is a curry dish, Soma and Megumi pay a visit to Jun Shiomi, an instructor and former Polar Star alumna who specializes in curry and spices, along with her assistant Akira Hayama, who is also in the elections. Using Jun's theories on spices, Akira demonstrates how preparing the same ingredients of a curry dish in different ways can yield drastically different results. Becoming wowed by the powerful flavors of Akira's curry, Soma becomes determined to beat him with an even better curry dish at the preliminaries.