Flashpoint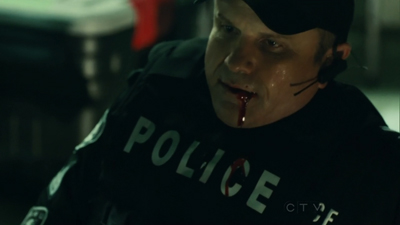 #1 - Keep the Peace (2) 9.06
Season 5 - Episode 13
The second of the two-part series finale, and Team One faces a serial bomber who takes an entire city hostage. They are put to the ultimate test in this shocking conclusion, changing Team One forever.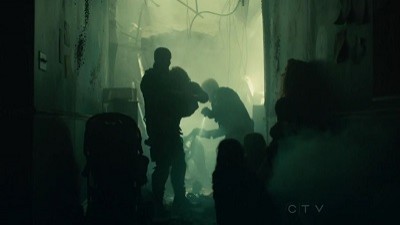 #2 - Keep the Peace (1) 8.90
Season 5 - Episode 12
In part one of the series finale, Team One faces it's most chilling adversary yet: a brilliant serial bomber who takes an entire city hostage. They are put to the ultimate test in this shocking conclusion, changing Team One forever.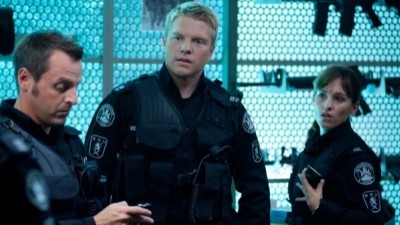 #3 - Blue on Blue 8.78
Season 4 - Episode 15
Spike responds to a distress call from Sam's sister and finds himself in a hostile situation. The rest of Team One races to a call at the ultra-secure Metro Evidence Depot and finds a deadly connection between the two cases - one that puts Spike's life on the line.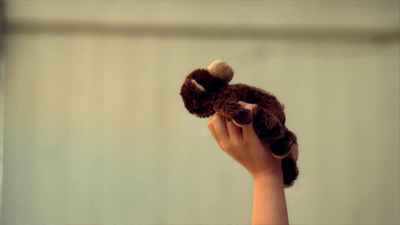 #4 - Jumping at Shadows 8.66
Season 3 - Episode 6
A girl calls a 911 dispatcher to say an intruder in trying to break in, the dispatcher doesn't believe that an actual intruder is breaking into the house until gunshots are heard. When SRU arrives on scene there is no sign of the girl. Greg's son comes for a visit.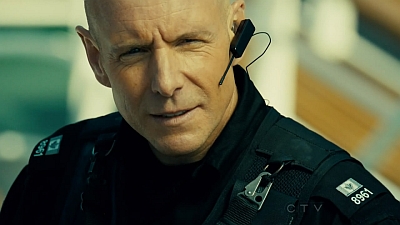 #5 - Fit for Duty 8.56
Season 5 - Episode 11
A tragic shooting on a city ferry forces Ed to confront his deepest fears – and threatens to tear Team One apart.
#6 - Broken Peace 8.51
Season 5 - Episode 1
Team One tears through the city in pursuit of James Mitchell, an armed and volatile man hunting for his ex-wife Michelle. James's frantic daughter May fills the team in on the history of violence and abuse that she and her mother have escaped. As the team corners James on a hotel rooftop, a shocking turn forces Ed into taking a tragic shot he wasn't prepared for.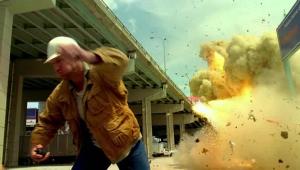 #7 - One Wrong Move 8.49
Season 2 - Episode 14
A wave of terrorist bombs shuts down the city, pushing Team One to the limit and putting one of their own on the line.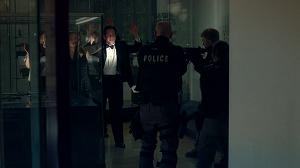 #8 - Acceptable Risk 8.44
Season 3 - Episode 7
In the wake of a museum gala shooting spree, the SRU's actions and judgments are called into question; however, the investigator seems to be focusing on Sgt. Parker in particular.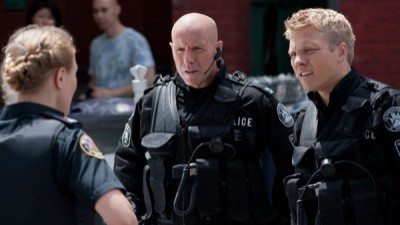 #9 - A Call To Arms 8.43
Season 4 - Episode 13
Team One investigates a violent kidnapping in Chinatown where a store owner and his daughter have disappeared. They discover that a ruthless street gang is behind the crime and, in the process, uncover a tragic family secret.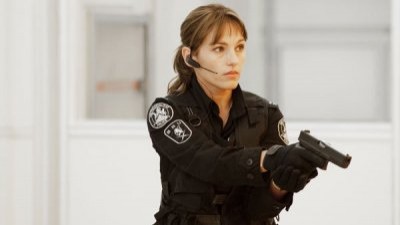 #10 - Priority of Life 8.42
Season 4 - Episode 17
Dr. Toth confronts Parker with devastating news; Team One responds to a break-in at a bio-lab across town.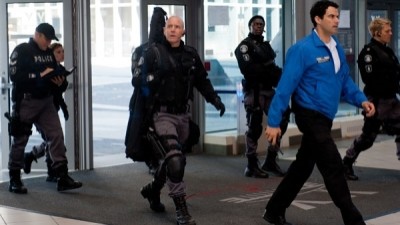 #11 - Day Game 8.42
Season 4 - Episode 14
Team One races to Fletcher Stadium, where a knife-wielding robber has taken a hostage. When a security guard tries to be a hero, the situation turns bloody.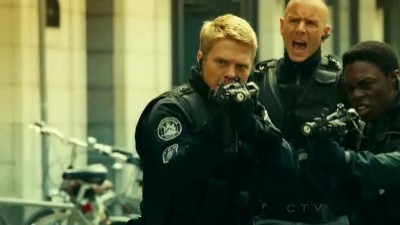 #12 - Wild Card 8.42
Season 4 - Episode 11
An armed robbery exposes a mother's double life, while Ed gambles with his own safety and a promise he made to his family.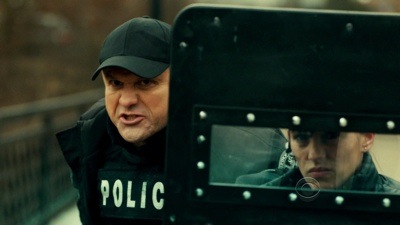 #13 - The Better Man 8.40
Season 4 - Episode 5
As a city-wide drug bust takes place, Team One struggles with a team member's secret that could compromise their assignment and end Wordy's career, on FLASHPOINT.
#14 - Eyes In 8.39
Season 5 - Episode 4
Team One is stunned when someone hacks into their ultra-secure computer system -- to show the team the video of a crime in progress. The team speeds after the thieves, who've stolen an eighteen-wheeler full of volatile chemicals. Ed is forced to take a risky sniper shot as Spike tracks down the hacker who set Team One on the case. Untangling the hacker's motives, Spike finds a young man who's put his life at risk to rescue the girl he loves.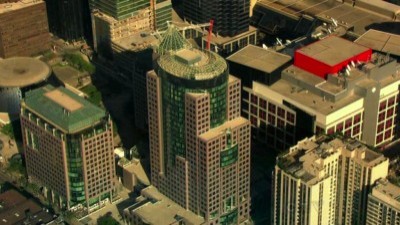 #15 - Thicker Than Blood 8.35
Season 3 - Episode 9
Team One arrives on the scene of a bank robbery where a man claiming to be Roger Finch has turned to desperate measures after trying to withdraw $40,000 from his account. But the case is not so simple: the Team discovers the bank robber is actually Garth Scarrow (J.D. Nicholsen), and the real Roger Finch (Hamish McEwan) has gone missing. Finch has been kidnapped by the bank robber's daughter, Ava (Erin Karpluk) and her husband Mark (Warren Christie). But it's not his money they're after. As Finch's secret past comes to light, the couple leads the Team to a hospital showdown. Roger Finch holds the key to a child's life... and Ava and Mark will stop at nothing to save their son.
#16 - A New Life 8.34
Season 4 - Episode 12
Ed walks his friend Donna Sabine down the aisle. It should be the happiest day of her life, but the peaceful wedding is shattered by gunfire. Then Donna and Ed make a shocking discovery.
#17 - Team Player 8.33
Season 4 - Episode 16
Team One is called to a high-security psychiatric hospital where a violent patient has taken a guard hostage and injured a fellow patient.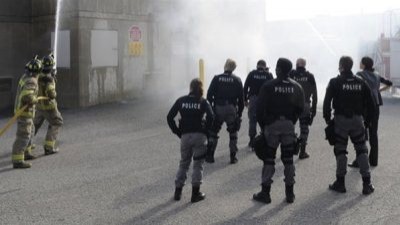 #18 - Slow Burn 8.32
Season 4 - Episode 18
During the season four finale, Team One races to a hospital when Fire Captain Simon Griggs interrupts the attempted murder of a badly burned firefighter. When they corner the suspect, the team learns he's behind a series of deadly fires in the neighbourhood. Meanwhile Fire Captain Simon Griggs is forced to make a horrific choice – one that pushes him to the edge of revenge and suicide. Parker, wrestling with his own decision about his future on Team One, must convince this broken man to live.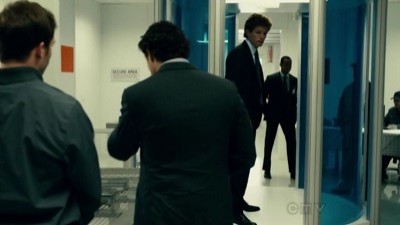 #19 - Forget Oblivion 8.32
Season 5 - Episode 7
A young man with a brilliant memory is abducted and forced to remember the specifications for a new "smart gun" in a high tech research facility.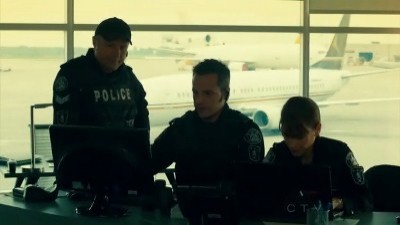 #20 - Grounded 8.31
Season 4 - Episode 8
Hijackers commandeer a passenger jet to bargain for a prisoner release. The lives of forty passengers and crew hang in the balance of negotiations over the prisoner, a relative of the terrorists. An ambitious passenger irks the hijackers, when she starts to text the police. Team One eventually storms the jet at the city airport. Stressed, Parker agonizes over shooting the hijackers.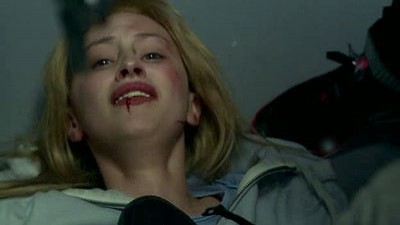 #21 - Attention Shoppers 8.30
Season 1 - Episode 6
When a group of girls torment a troubled teen at the mall, the teenage rivalry turns deadly. The SRU is forced to put a lock down in place to control the situation.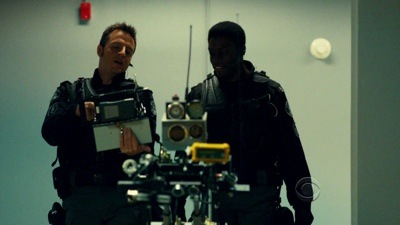 #22 - Shockwave 8.27
Season 4 - Episode 7
Torn from his dying father's bedside, Spike joins Team One to face their largest bomb threat yet, but realizes the only way to diffuse the bomb is to get inside the dangerous mind of its creator.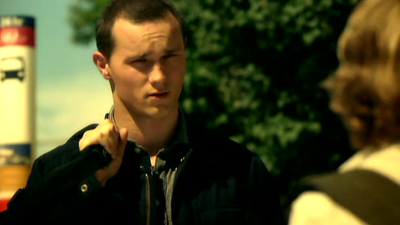 #23 - Between Heartbeats 8.27
Season 2 - Episode 4
SRU has to deal with a sniper that has taken over City Hall, who just happens to be the son of a man Ed killed during a mission. Meanwhile, a team member's health is in question after being caught in the line of fire.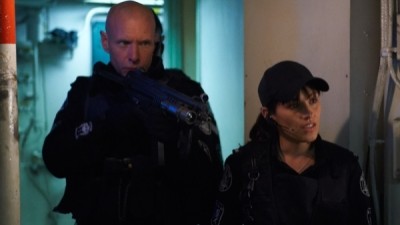 #24 - Cost of Doing Business 8.27
Season 4 - Episode 10
When a ransom drop goes wrong, Team One is drawn into the dangerous world of "express kidnapping" and the nightmare of a woman haunted by the brutal experience of captivity. Meanwhile, Greg finds out about Sam and Jules' secretly renewed relationship.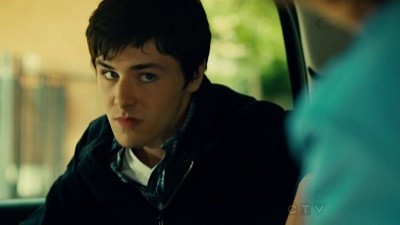 #25 - Lawmen 8.25
Season 5 - Episode 9
Parker's son and Ed's son join Team One in a "ride along" on a routine call. But when a shootout at a drug den reveals a conspiracy among local cops to clean up the neighborhood their own way, the two boys are exposed to the brutal realities of their father's jobs.